Inductee Hall of Fame 2019
Black bitch, (Head Bound – It's A She), Whelped April 2010, Owners Russell Milner and Debbie Cannan, Trainer Edward Medhurst
Bell Haven, or "Ellie", becomes trainer Ted Medhurst's second chaser, alongside Buckle Up Wes, to make Hall of Fame status. She came from the somewhat unfashionable but amazing April 2010 mating of Head Bound –It's A She. This brilliant litter of seven high-class pups went on to win 114 races between them and accumulated over $608,000 in prize money.
The top-class all-rounder Jethro (25 wins) won the Group One Hume Cup, Beaudine (11) and Miss Hetti (11) were powerful stayers also, whilst Tiny Tilly(17) and Li Li (11) were above average. Zavanace Man (13), the final sibling, was also raised from a young age and trained by Ted Medhurst. He won 9 of his first 10 starts including the 2012 Maiden Thousand.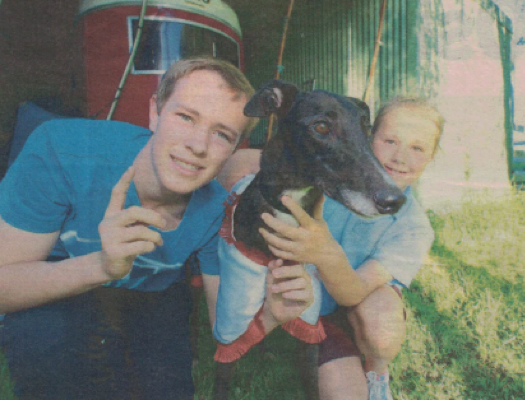 Bell Haven's career can be broken into two clearly defined halves. Her rise to fame commenced in a rather normal progression, with her first 32 starts all in Tasmania. Her stamp of stardom was in the last 35 starts of her 67 race career, of which only 2 were in the Apple Isle.
"Ellie" was a natural, from breaking in, to her 11 November 2011 debut in a 461-metre Juvenile. At $1.70 she led and careered away to score by 11 ½ lengths in a brilliant 26.14. Her next 10 stars yielded 4 victories, but she was often finding trouble in the run. The one constant, however, was the rate at which she was finishing off her races. At start 12, Ted lifted the distance bar to the Hobart 599 metres, and Bell Haven despatched a useful field easily in 34.52. The signs of a stayer were just emerging.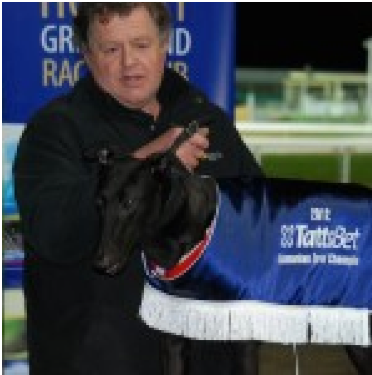 Briefly back in distance, "Ellie" won her Heat, then Semi of the 2012 Breeders Classic at Launceston. In the latter, she ran a fabulous 29.58 in winning by 8 ½ lengths. In a Final full of stars, she wound up a 1 ½ length 3rd behind the great bitch Emerald Lee, and her brother Jethro; another brother, Beaudine was 4th. Apart from a 600-metre victory, five of her next six runs were sprints, yielding just one win. And that was it! After start number 20, Bell Haven never raced in a sprint race again. Ted had identified the strength and power of his mighty miss, and it was to be a staying path from here on. As with most top-notch Tassie stayers, that would mean travelling; some of which can handle it, and many that cannot!
At start 21, and at 25 months of age, Bell Haven ran a gallant 2nd to Damek's wonderful brother Decembrist over 599 metres at Hobart. But her next appearance at Launceston announced her pending greatness. Leading immediately from box five, she recorded super splits of 9.45 and 22.45, before running a record-shattering 34.57. It took 11 hundredths off the previous mark of yet another Ted Medhurst great, in Supa Instinct; and his record had stood unchallenged for seven years! It is now 7 ½ years since Bell Haven's record run, and no dog has even come close to it.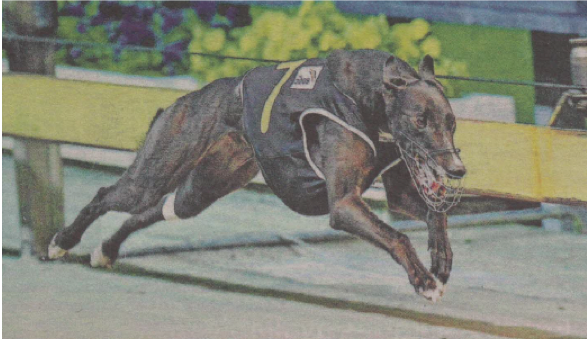 A repeat 600 metre Launceston demolition a week later, also marked the end of her middle-distance career. From June 18 2012, and at a mere 26 months old, the remaining 44 starts of her vocation would all be in staying events. As such, her 720-metre debut saw her lead from the cherry, and thrash Paper Trail by 12 lengths in a Heat of the Tote Distance Championship at Mowbray. She reduced her fast 42.49 to 42.45 when she beat the same chaser by 9 lengths in the Final a week later. Any doubts over "Ellie's" distance capabilities were further quashed with her Hobart 709 metre debut in the Chinatown Lad Heat of 2012. Leading and defeating her brother Beaudine by 2 ½ lengths, Bell Haven set a new track record of 41.33. Despite leading after some early trouble, Beaudine nailed her by a neck in the Chinatown Lad Final, in a lesser 41.61.
Returning to the Mowbray 720 metres, Bell Haven twice ran into monstrous strife, firstly in an FFA 2nd to Harry's Pick, then when 3rd to her brother Jethro in the 2012 Winter Stakes. From August 9 2012, the bar was raised for Bell Haven, and from this point onwards, she only mixed hostilities with Australia's finest stayers. The 2012 Nationals were looming, and on August 9 she exited the red box and thrashed Beaudine by 11½ lengths in her Hobart 709 metre Heat. "Ellie's" brother Jethro reduced her track record to 41.30 in his heat, setting up a National Distance State Final for the ages. And it was a classic edition. Bell Haven worked hard from box 4 to lead after 100 metres, but Jethro was stalking her from the back straight on. Try as he may, Jethro just couldn't pick his sister up, and she ran another super 41.35 in her 1 ½ length victory. In a litter trifecta, Beaudine ran 3rd.
The National Final for 2012 was at the same Elwick track. Whilst the Western Australian superstar Miata led throughout in a new track record 41.24, and beat the Victorian champ Irma Bale, both Bell Haven in 4th and Jethro in 3rd, took significant ground off the winner late, thus proving their rightful presence in the most nonpareil company.
Ted Medhurst now set a programme for Bell Haven, that would see her attack most the Group staying features up and down the Eastern Seaboard of Australia. Tassie fans would only see her race here twice more. The doubters may have scoffed at her fledgling Mainland starts; a Wentworth Park 5th in the Group 3 Chairman's Cup Heat, and a Meadows 4th in the Topcat Video Cup Heat.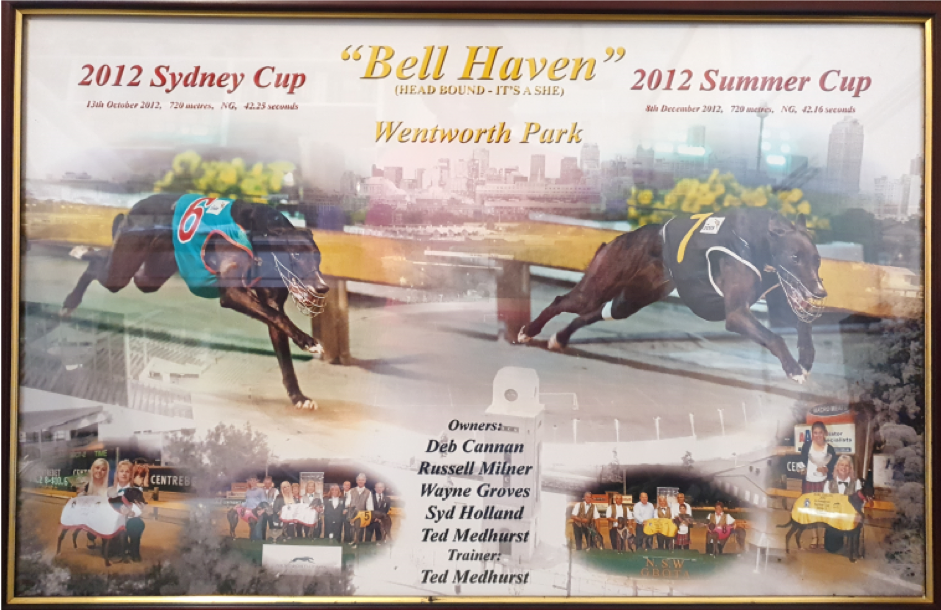 Unperturbed, Ted headed back to Wenty for the 720-metre 2012 Group 3 Sydney Cup. At the outsider odds of $12 in her October 6 2012 Heat, Bell Haven wearing black, tracked the tearaway leader Irma Bale, before overrunning that star, then holding off the mighty He Knows Uno by ½ a length in 42.71 Still at $6.70 in the Sydney Cup Final, she was magnificent. From box 6 and again tracking Irma Bale (which missed a place), Bell Haven raced away to score by 3 lengths from Ebby Miss in a smart 42.25 and pocketed the $34875 first prize. She had truly arrived on the biggest stage!
Down to Victoria for he Sandown Park debut, Bell Haven made light work of a Grade 4/5, beating Micky Gee by 6 ¾ lengths in a best of night 42.07. Next up and still at Sandown was the Group One Bold Trease … and everyone's nemesis…Miata! From the back early, Bell Haven ran home gamely for a 8 ½ length Heat 2nd to the superstar but finished a much closer 4 ¼ length 4th to Miata in her highly respectable Group one debut.
Nine days later, it was back to Wentworth Park for the Group 3 Summer Cup. Now a $1.60 hot favourite, Bell Haven stepped cleanly from box 4, cruised away by 6 ½ lengths from Hotwire. Her smart 42.26 was .03 slower than the other Heat winner Off My Trout. At an identical $1.60 quote, Bell Haven was simply awesome in the Group 3 Final. From 5th early, "Ellie" led for the last lap, destroying Zsa Zsa by 7 lengths in a brilliant PB of 42.16 seconds. Yet another $34875 jumped in. By doing so, Bell Haven became the first chaser to bag the Sydney Cup – Summer Cup double. Even for the slow learners, she was officially a champion by now! Her last run for 2012 was in the 650-metre Group 1 Sale Cup Heat. Sent out a $2.0 favourite, Bell Haven copped a pasting in the early stages, before working home well into 4th behind Proven Impala.
2013 started back at her beloved Wentworth Park for a crack at the Group 2 Summer Plate. From box 5 in her Heat, she began like a sprinter, and thrashed Back Page Lead by 8 lengths, running a fabulous 41.88. Drawing the red in the big Final, she went to the start at $1.50. History will show that her great rival Irma Bale took the spoils with our girl running 2nd. But to watch the replay would make a grown man weep. She was simply smashed shortly after the start and was 5th and ten lengths arrears of Irma Bale with 300 metres to go. She virtually sprouted wings late but left wanting by 1 ½ lengths. Commentator Paul Ambrosoli's exclamation just past the finish was " what a run by the fave". She earned another $10,000, but it should have been $40,000.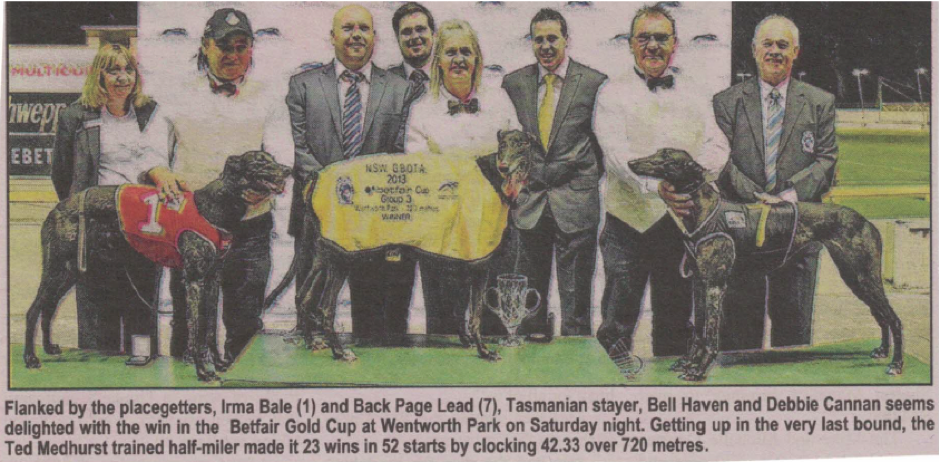 The bad luck then followed her to the Meadows, where another crack at Group 1 level, saw her just miss by millimetres to reel in Destini Fireball in the 2013 Zoom Top. With this 2nd she picked up another $22,000, and even more impressively, Australia's greatest in Miata, was 1 ¼ lengths away in 3rd spot. At odds on, Bell Haven ran 6th at The Meadows, then 5th at Wentworth Park, before staying in the Harbour City, for what would be her greatest success, albeit in the most unusual circumstances.
Bell Haven earned her spot in a classic renewal of the 2013 Group One Association Cup Final at Wentworth Park, with a strong 2nd, from 5th early to Destini Fireball. A week later, she led initially from box four in the Group One Final, but N.S.W. gun Fancy Liza railed under her and raced away to score easily. Bell Haven bravely held onto second, but drama followed. In the weeks ahead the winner returned a positive swab, and despite the process taking upwards of three years to resolve, Bell Haven pocketed the $75,000 for her slice of Group One glory.
Still at Headquarters, and one month later, it was a crack at the Group 3 (Betfair) Wentworth Park Cup. She scraped into the Final with a Heat 4th to Smart Valentino but proved she was the darling of Sydney's premier track with arguably the greatest run of her career. Flattened in the early stages, and giving the great Irma Bale some ten lengths down the back, Bell rushed up on the home turn but was hampered wide again. Still, she kept coming and nailed her adversary right on the post. Paul Amrosoli declared " what a travesty of justice had she been beaten!" Enter another $34,875 to her balance sheet.
Back to Melbourne in search of staying's holy grail … the Group One Sandown Cup, our mighty miss went oh so close. Her Heat 2nd to Proven Impala was followed by an astonishing photo finish 2nd to Irma Bale, once again spotting that bitch a herculean start form 7th early, and going down in a photo finish. Now the consummate seasoned traveller, she ventured to Queensland. At $1.60 favourite, she grew wings late to overpower Honey Bouquet in her Heat of the Group One Gabba Gold Cup. Giving away yet another massive start in the Final, she ran past all bar Destini Fireball in winding up a courageous 1 ¼ length 2nd. A week later, she actually led and made mincemeat of her opposition in winning the Invitation-only Super Stayers feature.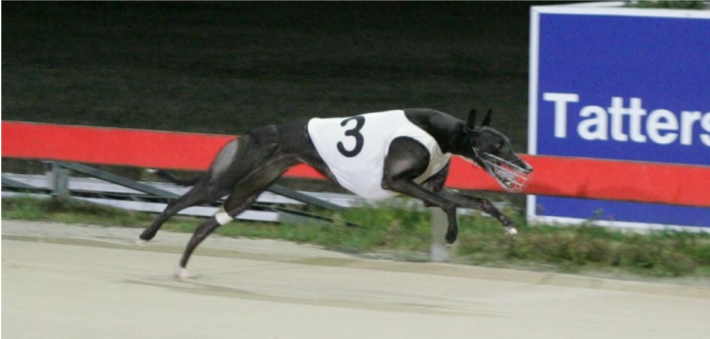 A rare visit to her home track Hobart, resulted in a 7 length destruction of future dual Group One winner Cheetah Zorro in the 2013 Chinatown Lad. As a certain amount of bad luck would have it, this was actually her last victory. In nine more starts, she still raced with great credit, and always at the elite level. A Heat 3rd in the AWM Distance Championship at The Meadows was followed by a Final 8th when flattened at the jump. A shock defeat in the 2013 State Final of the National Distance Championship at Launceston behind Lashing Jill, was backed up with a crack at back to back Sydney Cups for "Ellie". A brave Heat 2nd to Set Sail South, saw her make that Final, but again early trouble intervened, and she wound up 5th to Lucy Wires.
Another Wentworth Park 2nd led to her final crack at another Group One … the 2013 Bold Trease at Sandown. Sadly, it was a tale of what "should or could have been". Bell Haven looked to be storming to victory on the home turn in her Heat of the great race, only to be hampered out of contention and into 4th spot by the serial offender Defib Daryl.
Her finale came at her best track, Wentworth Park. Chasing back to back Group 3 Summer Cups, Bell Haven ran 2nd in her Heat to Lucy Wires, followed by a December 7 2013 Final 4th from last early, to Dyna Willow. Though only 3 years and 8 months, Ted Medhurst pulled up stumps on her great career.
From 67 starts Bell Haven posted 27 wins, 18 seconds and 3 thirds, and amassed $272,810 in stakes, bettered only by Buckle Up Wes, for a Tasmanian chaser. A dual-track record holder at Launceston and Hobart, Bell Haven's Group racing record was amazing. She won 3 Group Threes, was second at Group Two and had a win and three seconds in the rarefied air of Group One. She produced the outstanding but ill-fated Raven Haven at stud, with John Bell and Miss Fesco also handy.
Bell Haven's deeds rank up there with the cream of our sport, and she now joins trainer Ted Medhurst, and kennel mate Buckle Up Wes in the Tasmanian Greyhound Hall of Fame.