Inductee Hall of Fame December 2014
Black dog (Collide — Edan Rose), Whelped March 2006, Owners Brian and Justin Crawford, Trainer Butch Deverell
When Butch Deverell's two great bitches, Copper Delight and Edan Rose finished racing, he decided to breed with the former and sell the latter. Initially, no one wanted Edan Rose until Brian and Justin Crawford decided to take the plunge. They sent her to Collide, reared the litter and came to an agreement with Butch to train them at his Penguin kennels. The ensuing litter, whelped in March 2006, was simply magnificent. Gawler Rose was average, but won 8 races. Beejay's Delight was a star that won 21 from 52 including a Tasmanian Derby and 2nd in an Illingworth Classic. Akka Boy was nigh on a champ in his own right, winning 39 from 106 with 33 placings. He won a Launceston Cup and Ivory Classic, as well as equalling the 599 metre record at Hobart.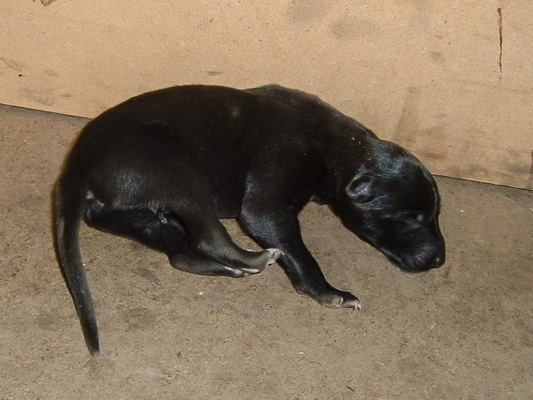 The final brother was Big Moose, widely regarded as one on the greatest greyhounds of the modern era, and now Tasmanian Hall of Famer. Brian Crawford's nickname was Moose, hence the naming, and whilst he was simply "the Moose" in greyhound circles, the champ was known around home as "Boss". Like so many of the great greyhounds, he had a beautiful nature, was never any trouble to handle or train, and had a real prancing walk. Big Moose proved to be exceptional from the first handslip at Devonport, after breaking in at Carrick.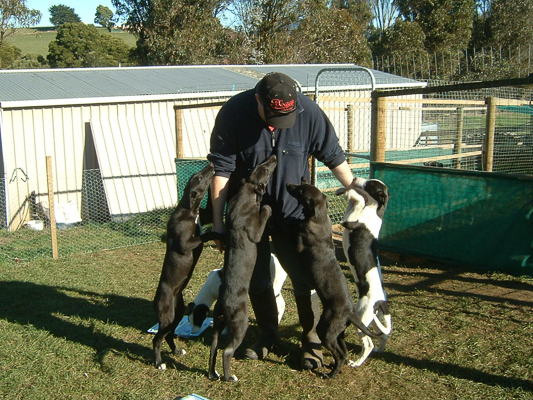 He debuted at 18 months of age on September4 2007 at Devonport in a heat of the Puppy Championship. Never out of strife from box 5, his 7th was no indication of the riches ahead. But the reputation building did not have to wait long. Gaining a run as a reserve, and from box one, he slaughtered a smart juvenile field which included Dilston Express and Fallen Zorro, at Devonport a week later. Posting a blistering 25.67 in his 5 ½ length victory, it was the first of eight wins on the trot. Next up, he ran a best of night 29.88 at Launceston, an exceptional time for Juvenile company, in which the "great to be" Damascus Road ran third. Knowing exactly what he had, Butch then took Big Moose to Hobart at only start four, for a crack at the 2007 St. Leger. In the September 27 Heat, he burst clear after fifty metres to beat Regent Eagle by 2 ¼ lengths in 26.48 from the pink box. On an extremely windy Final night, he led most of the way wearing red, again winning by 2 ¼ lengths over Regent Tornado, and fellow Deverell star, Light Ice Lad. "The Moose" had arrived!
Barely eligible, and virtually racing out of his grade at start six, Big Moose took on the 2007 Minister's Gift. In a three track series, he sensationally won his Launceston heat by ten lengths in an amazing 29.69, before a best of day 25.73 Heat win at a windy Devonport. On a wet October 27 2007, "Boss" despatched Bally's Badboy by 2 ¼ lengths in winning the Minister's Gift Final at Hobart, posting 26.52. Now deep in the red at most starts, Tassie had its new star chaser. Two days on, he blitzed his qualifying Heat of the 2007 Devonport Breeders Classic, before his 7 ½ lengths Semi victory in a best of day 25.80. In the November 13 Final, Big Moose was challenging for the lead, when badly checked, and wound up 1 ¼ lengths 3rd behind Camdale Wolfe.
Undeterred, it was on to Launceston's Mowbray track for the 2007 renewal of the prestigious Gold Collar. Defeating "champion stayer to be" Chinatown Lad in his heat, he repeated the dose over the same great dog in the November 26 Final, scoring by 2 ¾ lengths in an electric 29.73, with super sections of 5.00 and 17.55. A fast 26.10 Hobart win, his 11th in only 13 starts, then saw the mere 21 month old take on the 2007 Group One Hobart Thousand. Whilst the task proved beyond him, he was 4th to First Innings in his heat, before a brave 2nd to the Victorian Pure Conquest in the Consolation Final, the Bob Brown. At $1.60 favourite, "the Moose" uncustomarily bombed the start, but surged from 7th early to wind up second in the best time of the night.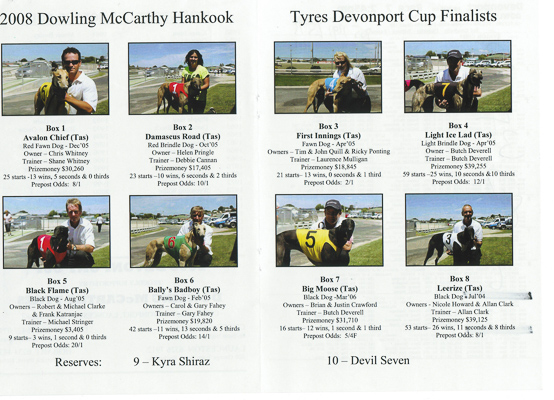 In January 2008, and still only 22 months old, it was back to Devonport for a crack at his home town Group 3 Devonport Cup. At $1.30 favourite he demolished Me And Phil by ten lengths in his January 8 Heat, before drawing box 7 in one of the greatest Finals in many years.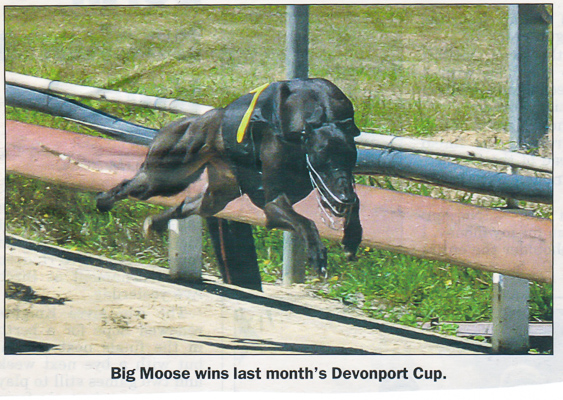 As a $2.50 favourite he produced the greatest run of his burgeoning career. Fourth and wide early, he reached second spot turning for home, before powering to a one length victory in 25.73, over fellow star chasers in Damascus Road, Light Ice Lad and First Innings ( 108 wins between them).
His grade 4 victory at Hobart, nine days later was a 5 ¼ length walk in the park, in a best of night 26.09, before Butch Deverell headed to Launceston, to give the 23 month old champ (yes, a certified champ before two years of age) a crack at the 2008 Group Two Launceston Cup. Making light of box seven and an uncustomary slow start, "Boss" sped from sixth to first by the first turn, to easily win his heat in 30.03.The smart Victorian Merciless Lu was $1.90 favourite from the cherry in the Final, with Big Moose a $4.20 second pick from the pink. Big Moose worked very hard after a first turn check, winding up a brave third, not to the favourite, but to his litter brother Akka Boy, which led throughout after a brilliant beginning. What a litter!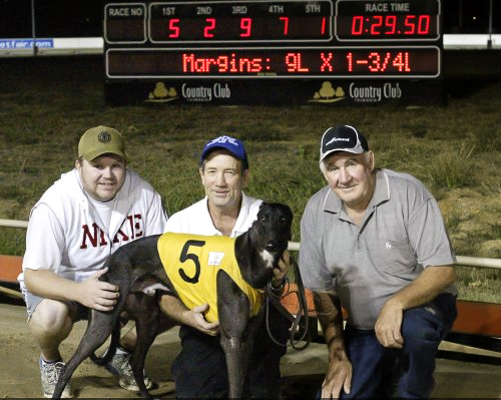 Still just a two year old, he remained at Launceston for their version of the 2008 Breeders Classic. He not only trashed all comers, he raised the bar to a whole new level. An eight length qualifying win in a best 29.88, was followed with a near track record Semi Final demolition, in a fabulous 29.60, again by eight lengths. Exiting the five trap in the Final, he left Rulla Ant and Icy Popsicle a mere nine lengths in his wake. In so doing, he ran the unbelievable splits of 5.04 and 17.47, and smashed the track record, posting an amazing 29.50.
An Invitation second at Hobart behind Damascus Road, was followed by another scintillating 29.58 at Launceston, defeating Kialdu Jake by nine and a half lengths in his heat of the 2008 Illingworth Classic. A rare "bombing of the start" saw him wind up 5th as a $1.60 favourite in the Final. In April 2008, he ventured back to Devonport, defeating the high class bitch Kyra Shiraz in his heat of the 2008 Ivory Classic. As a $1.70 favourite, he again missed the kick in a Final, but ran a courageous 3rd behind his high calibre kennelmate Light Ice Lad.
Having trialed at The Meadows before the Ivory Classic, Butch now headed "Boss" to Melbourne on May 10 2008, for a tilt at the Group One Maturity. His growing reputation preceded him, as he was $1.90 favourite in his Heat from box four. Despite an early check, he came from 6th early to beat Top End by a length and a quarter in 30.30. Again favourite in his Semi from box eight, he was cleaned up in an early scrimmage and failed to beat a runner home.
Undeterred, it was back home for the 2008 Tasmanian Derby. It was same old same old with a brilliant, best of night heat win in 29.71. As a raging $1.30 favourite, and carrying the red rug in the Final, he just dwelt at box rise and despite working home hard, had to be content with second spot. It was a result for the record books, with his litter brother Beejay's Delight leading all the way to score, with fellow littler mate Akka Boy snaring third. It was a remarkable training performance by Deverell, and a huge accolade for the three litter brothers. Three days later, "the Moose" blitzed an Invitation field at Hobart in a typically quick 26.05, before the lure of Group glory beckoned him to Queensland.
In a brief stint with Tony Brett, Big Moose was flattened at the start of his Group One Winter Cup Heat at Albion Park and ran last. One week later, on July 23 2008, he ventured to the Gold Coast for the Group Two, Gold Coast Cup. From box five in the 457 metres feature, he chased down Supreme Level to decisively win his heat in 25.73. The Final was a real who's who, and despite box four, and starting at a career longest price of $13.50, Big Moose overcame a slow start and bravely worked home from sixth early to a wonderful second, two and a half lengths behind the great El Galo, which went on to win the National Greyhound of The Year.
In August 2008, Big Moose ventured home for a tilt at the National Sprint series, and to frustration. Slowly away, he ran a lack lustre second to Yep in his heat, before bombing the start again in the Mowbray Final, finished second once again, and to kennel mate Light Ice Lad. His next eight starts yielded five wins and three placings, including a half length win over Capetown Bomber to record back to back St Leger wins at Hobart, and a victory in the only middle distance run of his career, over 600 metres at Launceston.
Back to Melbourne in November 2008, Big Moose set his sights on The Melbourne Cup at Sandown, but slow starts saw him third to Cyclone Ned in a prelude, before being flattened and running last in his heat. Returning to Tassie, "the Moose" scored wins at Launceston and Hobart, before a tilt at the 2008 Hobart Thousand. But the biggest race was to elude him. A moderate heat fourth saw him front up in classic renewal of the Bob Brown (Consolation Final) in which he chased home First Innings, and wound up second.
Now 34 months old, Big Moose put his foot on the accelerator in his next six starts, as only champions do when any doubters rear their heads. After a runaway Invitation victory at Devonport, he set about defending his Devonport Cup title. His box six heat win over Bora Bale was superb, in a best of day 25.46. However, an unkind box seven in the Final saw him meet extensive interference, and he wound up fifth to the top Victorian Taipan Bale, which led from the red. So it was on to Launceston for an attempt to improve on his Cup third of 2008.
He buttered up with an eleven lengths Invitation win there in 29.71, then exited the same box three in his February 9 Cup Heat. From third early, he powered away from Blue Osti, to score by 2 ½ lengths in 29.81, gaining a box eight berth in a crackerjack Final. Narrowly favourite at $3.20, ahead of Fidel Bale and Topline Doovee, Big Moose probably pulled the greatest run of his illustrious career. Second away, he crossed to lead after a bumping duel on turn one, and zipped away to take the coveted Group Two by five lengths, and in a sensational 29.57 Race Record.
Only Five days later, "the Moose" fronted up in Heat 4 of the Group One 2009 Australian Cup. Slowly away, and from fourth early, the champ motored home to beat Pedro's Reality by a length in 30.10. A week later, he missed the kick in the Australian Cup Final, winding up a courageous 5th to the mighty Velocette.
After a Launceston third to Accounts, Big Moose headed to Sydney where he was run out of the Golden Easter Egg series with a Heat 6th. Big Moose continued to be the main man in town in Tasmania, and during the period between late April and October 2009, raced 22 times for a further 14 victories and 6 placings. This included a Nelson Cup Heat and Final at Launceston and a Noel Vince Memorial at Hobart. It also included six wins on the trot, before a crack at the 2009 Shepparton Cup, running fourth in his heat.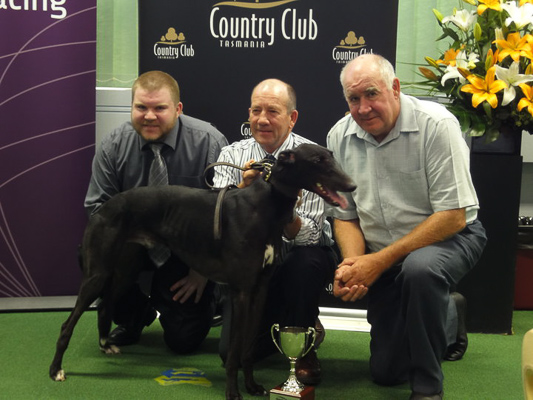 On November 5 2009, a mighty career came to a tragic halt, when Big Moose was joint leader in the Wally Lake Memorial at Hobart, but was dragged down from behind, resulting in a broken hock. On a bright note however, he continues to enjoy life at Brian Crawford's and is known to get terribly excited every time Butch Deverell pays a visit.
The magnificent Big Moose, the "Boss" of a great litter, finished his incredible career having raced 86 times. He joined an elite club of greats in Tasmania to win 50 races, including 12 seconds and 9 thirds. He was a champ from start to finish, winning 9 of his first 10, and 6 of his last 8. His list of credits included a Launceston track record, a Launceston Cup, a Devonport Cup, two St. Legers, a Ministers Gift, Gold Collar and Breeders Classic. It's little wonder he was the 2009-2010 Tasmanian Greyhound of the Year. He now joins his fellow greats in the Tasmanian Greyhound Hall of Fame.