Inductee Hall of Fame 11/12/2010
Red Brindle dog , Friendly Flyer – Coral Blue   Whelped February 1994 Owner/Trainer – Laurence Mulligan
Top trainer Laurence Mulligan has tasted great success over the years and always with a relatively small team. Wife Leanne, and kids Donna and Thomas, have made training dogs a real family affair in the Mulligan household. Originally at Lytton Street in Invermay, and for the past twelve years at Mount Direction, some great names have passed through Laurence's kennels.
Zoom Fox not only broke the White City track record in her 1995 Launceston Cup win, but was the 1994/1995 Greyhound Of The Year. Ricky Tim won the 2006 Devonport Cup, and First Innings the 2007 Tasmanian Gold Cup amid his many victories. Pago Power won 26 races including the 1992 Gold Collar and 1994 State Final of the National Distance.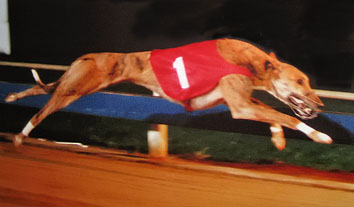 But the cream of the crop came in 1994 when Laurence purchased two pups of only three advertised, from Jim and Julie Bannon's Friendly Flyer – Coral Blue litter. One was to race as Friendly George, a classy but somewhat field shy dog that still won 16 of his 66 starts. A pointer to his talent was that he finished fourth in each of the Hobart Thousand, Launceston Cup and Devonport Cup in 1997.
Laurence used the sire's name and his love of the Essendon Football Club, to name the other pup, a red brindle dog – Bomber's A Flyer. When he debuted at odds on, with a certainty beaten 3rd in a Devonport Juvenile on 31 October 1995, even Laurence could not have foreseen the spectacular career that was about to unfold.
The Bomber next tackled the Devonport Breeders Classic where he was a heat winner, and best of day semi winner, before a badly hampered Final second to the great bitch Caitlyn Fox. After this he won a heat of the Christmas Gift at White City, before running third in the Final, as well as a sizzling 26.20 Showgrounds win.
Real fame emerged on March 12 1996 when at only 25 months of age, he won a mere Grade Five at Devonport by twelve lengths. Not only did he smash the track record in running 25.58 for the 452 metres, but it was the first of twelve wins on end and seventeen wins from his next nineteen starts! Fourteen of these would be in the best time of the night, and would contain three classic races.
In April 1996 he won his Heat, Semi and Final of the Illingworth Classic at White City by a combined total of 15 ¼ lengths. At 8/11 favourite he despatched Rustic Tom by 3 ¼ lengths in the Final in a brilliant 30.79 for the 522 metres. He bettered this time a month later winning his Derby Heat in 30.69, before a two length win over Fast Tears in the Final.
Going for thirteen on the trot he ran second to Fast Tears in a heat of the National Sprint Championship, and was flattened when 4th to Hi Town Shanty in the Final. But five more wins in a row were to follow. These included his Gold Cup Heat win at the Showgrounds in September 1996. Here he flogged Sammy Gleeson by ten lengths as a 2/7 favourite in 26.23. A week later, he uncustomarily walked out in the Gold Cup Final, but was still victorious by 1 ¾ lengths in 26.20.
Twenty eight days after his Gold Cup victory, he was back at Devonport, equalling his own track record of 25.58. Here he beat Tree Swinger by seven lengths. The "Bomber" was now the undisputed king of Tassie greyhounds, and the measuring stick by which others could judge their charges.
Still on an amazing roll of success, "Bomber's" next nineteen starts yielded 13 wins and 6 seconds. With it came even more feature race success. December 1996 and the Hobart Thousand arrived. The H.G.R.C had organised a special $10000 bonus for any dog that won the Gold Cup – Hobart Thousand double."Bomber" had won the first leg, but the now Group Two Thousand was a different level again.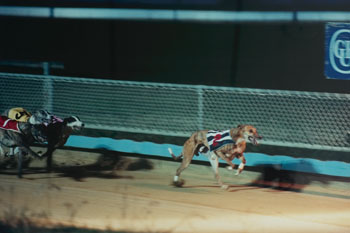 In his Heat, and at 1/5 favourite he drew the red box (from which he was never beaten in 7 starts) and towelled great youngsterShantung Tiger by five lengths in a blistering 25.89. He met strife in his Semi Final carrying the yellow rug, and only his great will to win saw him gain 2nd behind New Sunset, and a spot in the Final.
From the two alley, this great dog let no-one down in Tasmania's biggest race. He was pressured early by New Sunset but held the lead, and was 2 ¼ lengths clear of Shantung Tiger (which won it the following year) in a slick 25.94. And the big bonus was his as well.
Seven wins and a second followed from his next eight starts and these included the Heat and Final of the 1997 Easter Cup at Hobart, where he dispatched the classy Clint's Pirate by two lengths in 26.31 on a heavy track.
On July 31 1997 "Bomber" was injured running a modest third in a Hobart Invitation, and was subsequently off the scene until September of the same year. While he won first up at Devonport, constant wrist injuries and a serious bowel infection were now taking their toll and in his final ten starts he only won once, despite eight placings.
Typical of a champion however, he was brave to the end and always in the best company. His third last start in February 1998 as a four year old, was a 31.06 best of night Semi – Final win in the Launceston Cup. But once more the home town Cup eluded him, and he was flattened in his Final sixth behind Olympic Vision.
When Bomber's A Flyer ended his career with an Invitation second, again to Olympic Vision, on March 9, 1998, Tasmanian racing lost the best sprinter of the mid – nineties. He raced 65 times, winning 36 (or 55%) with 11 seconds and 9 thirds. He was equally brilliant on all three tracks and set a new standard at Devonport which he later equalled for a second time. His list of credits included the Hobart Thousand, Gold Cup and Easter Cup at the Showgrounds. At White City he won the Derby and Illingworth Classic, was runner-up in one Launceston Cup and made the final of another. He was Tasmanian Greyhound of the Year for 1996/97.
Bomber's A Flyer, typical of Tasmanian bred dogs, received only limited opportunities at stud but still left an indelible mark. His star daughter Tawni Leis won an Illingworth Classic and Winter Stakes amid her 19 wins and in turn was the dam of champion performer and G.O.Y. Damascus Road. "Bomber" also threw the 2000 Maiden Thousand winner Keep Flying, which won his first six starts and nine overall. Other winners included He's The One (11), Save Me (8), Sharbomb (8), Bomber Benny (8) and Bin Snowin' (8).
The great Bomber's A Flyer takes his place in the Tasmanian Greyhound Hall Of Fame.