Inductee Hall of Fame December 2014
Stephen Douglas Deverell was born at Latrobe on August 8 1950, has lived his life at Penguin on Tasmania's North West Coast, and has forever been called Butch, before he even left the hospital. The eldest child of William "Bill" Hedley Deverell and Mary June (nee Oliver), Butch has four sisters, D'ayrne, Sharon, Kaylin and Carolyn. The family, which had no early interest in greyhounds, lived at a couple of different addresses in Coroneagh Street, from where Butch schooled at Penguin State and Ulverstone High.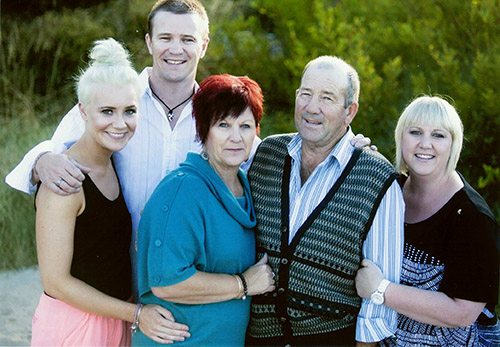 Upon leaving school, Butch joined his father as a bricklayer, a trade he plied for some forty years, initially full time, and later part time as greyhounds entered the scene. With a keen interest in football, Butch played for Penguin, and followed their high profile coach Barry Gossage to other clubs such as Roseberry – Toorak, and Yoeman. Later, Butch coached his son at Penguin High, before coaching Penguin Under 19's and Burnie Under 19's in the Statewide League. He also played cricket, principally as a wicket keeper.
It was through football that a young Butch Deverell met one Beris Jill French, and the great attraction survived Jill's two years in the Army, before they were married on August 21 1971, a week after Butch's 21st birthday. They have three children, Lucille Anne, Richard William and Priscilla Mary (we wondered where the names of those good greyhounds came from!). Further, they have six grandchildren, four girls and two boys. When first married they lived in King Edward Street Penguin, before building their own place on two acres at 26 Dial Road Penguin, where they have been for over thirty years.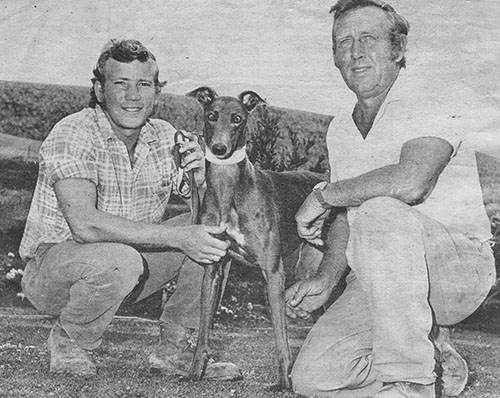 So how did greyhounds enter the Deverell world? Butch was a casual attendee of Devonport greyhound meetings, but dad Bill was good friends with famous footballer and prominent greyhound owner/ breeder Don Gale, and as a top class axeman, regularly chopped on King Island. They became friends of Butch Brown, a King Islander who reared greyhounds (virtually running wild) for Melbourne trainer Les Foran. Bill took two of these pups, and they became Butch Deverell's first foray into training. They raced as Lady Fan and Inky Dorell, the latter being Butch's first winner, and on his twenty first birthday.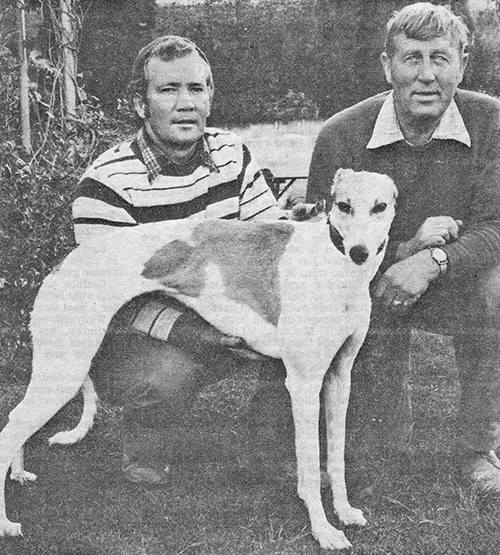 In the pursuing forty three years, Butch Deverell has become a trainer, and breeder of the highest possible repute in this State. His resume of star chasers and feature races victories is in rarified air in Tasmania. Adding great merit, is the fact that many of these stars have been home bred chasers, and most of the work and care has been within the family. What were the very best of the Deverall entourage of stars?
Within a couple of years of his initial winner, Blue Stream became Butch's first great chaser. Owned and bred by Don Gale, she was from an amazing litter by Millimsimbi – Denise's Charm that contained other stars in Brendan James, Lusty Lucy, Dial View and Harmony Rose (which became a foundation brood bitch for the Ivory's)……….the litter winning in excess of a hundred races. Rated by Butch as probably his third best dog ever, Blue Stream won 27 from 62 starts with 21 placings. Known for her amazing strength and versatility, she did the job on all tracks and distances. A star sprinter early on, she won her heat and semi of the 1974 Devonport Cup before a second to The Big Black in the Final. Also winning her heat and semi of the 1974 Launceston Cup, she was desperately unlucky running second to Jamin John in that Final. She won the 1974 Nelson Cup, and was twice the 573 metre track record holder at Devonport, the scene of her 1975 Middle Distance Championship win. Winning two of her three 680 metre runs at the T.C.A., she also won her only 722 metre start at White City, in a track record 44.00, which was the State Final of the 1975 National Distance Championship.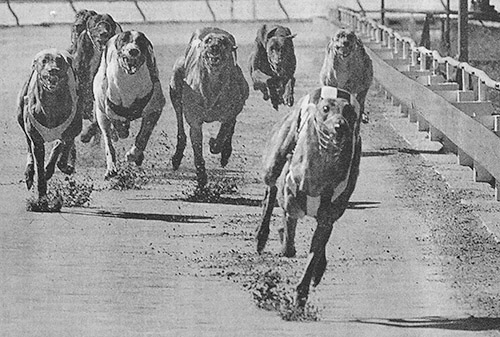 Devon George, an impeccably bred Newmore King – Fenton Doll pup, only had a short career, but at only starts eight, nine and ten, Butch won the heat, semi and Final of the 1975 Devonport Cup, defeating Jangalay and Sheza Gazelle. Also during the seventies, Butch won the 1976 Winter Stakes with tough stayer Formosa, and had the handy Lucille Anne run 2nd in the Middle Distance Championship at Devonport.
The real start of the Deverell home bred line came with a litter Butch and Bill bred by Unique Venture- from New Leila, a reasonably performed ex Victorian bitch from a top litter. The males in this litter could barely run 300 metres, and after several attempts to place a white and red fawn bitch, they decided to keep her. Good decision!…………she was Miss Coroneagh.
Rated by Butch as his second best dog, she became one of the greatest stayers ever produced in the Apple Isle. She won 46 races, mainly over the longer journeys and was a dominant force around Australia in the early 1980's. She won the State Final of the National Distance Championship in 1981 and 1982, defeating Wynlee Wonder and Golden Cheveaux respectively, before finishing 3rd in the National Final at White City in 1982. Going for three Nationals in a row, she won both her heats in 1983 before 4th to Lygon Leader in that Final, when four years and two months old. She won the 1981 Winter Stakes, State Final of the Genevieve Hosiery Cup, before a brave 2nd to Victorian great Shamrock Jewel at Olympic Park in Melbourne. She was a dual Sandown winner, and twice won marathons at the Gabba in Brisbane, including the prestigious Gabba Thousand.
The Eighties also saw Butch's classy half sister to Miss Coroneagh in Our Sharlene. She not only won heat, semi and Final of the 1983 Maiden Thousand, but also heat, semi and Final of the 1983 Devonport Breeders Classic. An Olympic Park winner in 30.38, she won 16 of her 41 starts. Glencoe Missy won the 1984 National Distance State Final for Butch, as well as being a Devonport Cup Finalist.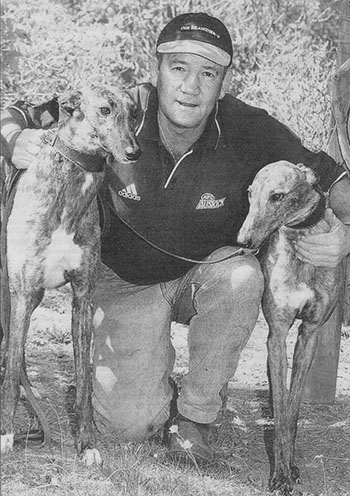 In the 1990's Butch won the 1996 Launceston Cup with his classy bitch Two Codes, which became the dam of mighty bitches and producers Copper Delight and Edan Rose. He won the 1995 Hobart Breeders Classic with Dicky's Pride, before securing the 1995 Tasmanian Derby with same chaser after the initial winner was disqualified. He was also third in a Young Star Classic. His star home bred bitch Our Lady Beris (out of Our Sharlene) was 2nd in Blazenka Flyer's 1990 Devonport Cup, 3rd in the State Final of the National Sprint to of 1990, and won the Consolation Final of the 1991 Devonport Cup. Lucyella Lady also ran 2nd in the 1992 Young Star Classic.
With the turn of the new millennium, the Butch Deverell star kept rising. The quality dogs kept coming, and the feature wins even more prolific. In 2002, 12 time winner She's Explosive beat Tawni Leis in the Tasmanian Laurels, whilst Jenallie (17wins) and Beecode (16 wins), both daughters of Two Codes, ran 2nd and 3rd respectively in the 2004 State Distance Final. Jenallie was aslo runner up in the 2004 Tasmanian Oaks. World Crusher won 9 races for Butch in 2002, including the National Distance State Final.
Then Butch Deverell turned up the blowtorch with litter sisters Copper Delight and Edan Rose. By Elle's Dominator, from his now prolific producer Two Codes, both bitches were stars, but both became champion producers as well. Both bitches made the 2003 Launceston Cup Final as 25 month olds, before Copper Delight, a career winner of 24 races, won the 2003 Reg Ivory Classic at Devonport. She repeated the dose in the 2004 Ivory Classic. In April the same year she won the last Illingworth Classic run at White City. Later, she was the dam of fellow Illingworth Classic winner, and Deverell star in Eagle Eye. Copper Delight was also a Finalist in the National Sprint State Final, 2004 Devonport Cup , Tasmanian Oaks and a second Launceston Cup in 2004.
Edan Rose was a tough and durable chaser that won 30 of her 111 starts with another 41 placings. She too made back to back Launceston Cup Finals, ran 2nd in the 2003 Oaks, 2nd in the 2003 State Sprint Final, and 3rd again in 2004, ran 5th to her sister in the 2004 Ivory. Her toughness was evident when a close 3rd in the Ray Foley Perpetual Trophy at her only 742 metre run.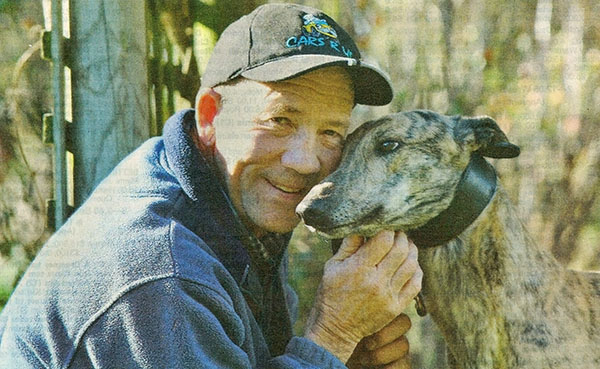 Still the best and greatest Deverell successes lay ahead! To a Lilli Pilli Lad mating, Copper Delight produced the magnificent sprinter – middle distance star Light Ice Lad. He scored 44 times from 128 starts with 21 seconds and 17 thirds. His long list of credits included a 2007 Gold Collar third, 2007 Launceston Cup Consolation 3rd, Breeders Classic 3rd at Launceston, and victory in the 2007 Easter Plate. An Illingworth Classic and Country Derby Finalist, he won the WHK Classic before 3rd in the Tasmanian Derby. He won the 2007 M.A.Morgan before his St Leger 3rd , and 2008 Devonport Cup 3rd. He showed his versatility with his 580 metre heat win in the Betfair Classic before 2nd to the champion Chinatown Lad in the Final. Light Ice Lad won the Ivory Classic of 2008 and the State Final of the National Sprint in August 2008. Few chasers have performed so well in so many Finals. Butch also won 12 races with his litter brother Devil Seven.
Eleven months after the birth of Light Ice Lad, Copper Delight's sister Edan Rose, whelped a litter to Collide. Butch had sold her to Brian and Justin Crawford to breed with; they whelped and reared the pups, and Butch took over at breaking in stage. This mating produced Gawler Rose (8 wins), and three absolutely magnificent brothers in Big Moose (86 starts 50 wins, 12 seconds, 9 thirds), Akka Boy (106 – 39- 24- 9) and Beejay's Delight (52 – 21 – 6 – 4)
Big Moose is clearly regarded by Butch as his finest greyhound over his 44 years. As a Hall Of Famer, his deeds have already been covered. However, few champions have had two siblings of such quality as Akka Boy and Beejay's Delight.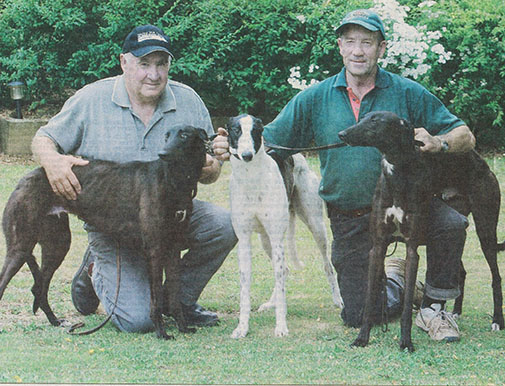 Akka Boy was a champion in his own right. A narrow Devonport debut win on September 25 2007 was only a vague sign of what lay ahead. As a 23 month old Akka Boy won his heat and Final of the 2008 Group Two Launceston Cup in which Big Moose ran 3rd.
After making the Ivory Classic Final, he ran third to his brothers Beejay's Delight and Big Moose in an amazing 2008 Tasmanian Derby outcome for the Crawfords, Butch Deverell and the litter. A finalist in the 2008 State Sprint Final behind kennelmate Light Ice Lad, he then won the Platinum Paws, going to New Zealand for the Final. Akka was 3rd in the 2008 Bob Brown, before 3rd toTaipan Bale in the 2009 Devonport Cup, and 2nd in the 2009 Launceston Cup Consolation. A 2nd in the 2009 Ivory Classic was followed by his 580 metre Betfair Classic win at Devonport. As a four year old he won the Ivory Classic at Devonport, followed by a 2nd in the 2010 Easter Cup at Hobart. At the same age, he broke the 599 track record at Elwick, posting 34.46. At 51 months of age, he won his 39th race, running a fabulous 25.54 at Devonport. A truly great chaser.
Beejay's Delight too was a mighty dog. Before a career ending injury at start number 52, he won 21 times at the best level. Early on he was a Gold Collar, Breeders, and Rising Star Finalist, before a Semi win and Final 4th to brother Big Moose in the 2008 Launceston Breeders Classic. After an Illingworth Classic Heat win, he ran 2nd to star chaser Damascus Road in the 2008 Final. At big odds he then led all the way to upset his mighty brothers in that 2008 Tasmanian Derby. His wonderful versatility was evident through his 5 wins and a 2nd from only six middle distance runs. This fabulous litter won 118 races and won or placed in nearly every feature race over two seasons.

Not to be outdone, Copper Delight was to produce one more trump card. To a March 2007 mating to Bond, she produced Eagle Eye. This hardy and brilliant chaser was to have 143 stars for an incredible 42 wins and 59 placings. Butch Deverell has always been able to keep his good dogs up for long periods without form loss……………Eagle Eye epitomised this. Early on, he ran 2nd to High Choice in the 2008 Gold Collar, then like his dam, made the Launceston Cup final at 23 months of age, running 4th. After making the Breeders Classic Final, he nailed a big one with his 2008 Illingworth Classic victory. In the mood now, he ran 2nd to Stylish Monty in the Country Derby, prior to beating Monster Prince in the Tasmanian Derby at Mowbray. He won the M.A.Morgan at Hobart, before a 2nd to kennelmate Big Moose in the Nelson Cup, and 3rd in the 2009 State Sprint Final. He was in everything! He gave Butch three St Legers in a row, winning the 2009 renewal, ran 3rd in Disintergrate's 2009 Gold Cup, 2nd in the Angus Evans on Devonport Cup day 2010 and 3rd in another Reg Ivory to kennelmate Akka Boy. This star also made another State Sprint Final and Gold Cup.
Copper Delight threw one more class act, Ella Lucy, to a July 2008 Collide mating. Winning 22 of 74, she won a Show Cup and Minister's Gift, as well as runner up to Damek in a State Sprint Final, and Breeders Classic 2nd.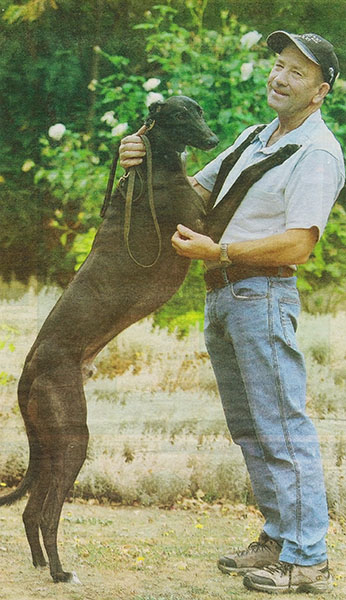 Butch had great success in 2011 – 2012 with three of Bell Haven's siblings, namely Jethro, Beaudine and Miss Hetti, before all three were transferred Interstate for various reasons by the owner. Jethro was a champion. Always a stayer in the making, he still won the 2011 Gold Collar in 29.80 and ran 2nd in Emerald Lee's Breeders Classic and Illingworth Classic. His switch to staying was with instant success, upstaging Bell Haven in the Winter Stakes. At his next start he smashed the Hobart 709 metre track record winning the heat of the 2012 National Distance, before a fast finishing 2nd to Bell Haven in the State Final. Sadly, the National Final of 2012 was Jethro's last run for Butch. And what a run! Giving the mighty Miata a massive start, he flew home for 3rd beaten a mere 1.6 lengths. Jethro later won the Group One Hume Cup in Melbourne before injuries curtailed what may have been.
Beaudine was a fast dog with little early pace, but still won 9 races for Deverell, including the Tasmanian Derby of 2012 and the inaugural Chinatown Lad at Hobart. Miss Hetti was a flawed talent, but Butch still managed to secure 11 wins with her, and at one stage she held to 709 metre record at Hobart as well. At time of writing, Butch Deverell is still at the pinnacle of his success. Nooee's Lad has notched 20 wins Statewide, and his powerful sprinter Kalaway Ernie won the 2014 Tasmanian Derby and Illingworth Classic.
It is not by accident, nor good luck that a trainer/ breeder could have so many wonderful greyhounds pass through his hands over a forty four year period. No one luckily wins five Tasmanian Derbies, three Launceston Cups, four National Distance State Finals, three St Legers , three Illingworth Classics, and just about every other feature on our calender. This is made even more remarkable considering the bulk of the Deverell success has been with home bred chasers. To conquer the big four aspects of greyhound racing; namely breeding, rearing, breaking in and training, takes perseverance, dedication and above all, an exceptional talent with the dogs we love. Butch Deverell is that person, and now joins the Tasmanian Greyhound Hall of Fame.