Inductee Hall of Fame December 2014
Dark Brindle Dog, ( Lilli Pilli Lad — Chinatown Babe), Whelped December 2005, Owner Katrina Gregory, Trainer Katrina Gregory initially, then Shane Whitney
Chinatown Lad's path to the racetrack was rather unusual to say the least. Katrina Gregory came from a pacing family, her father Peter Gebel having the brilliant pacer Ricky Dean, amongst others. He was great friends with Gavin Whitney, a lifelong greyhound man, so the two families were always close. As a mere thirteen year old, Katrina expressed an interest in having a greyhound, to which Gavin replied ' if you ever get a licence I'll give you a dog '. Many years later, Katrina's interest in greyhounds increased further, due partly to her friendship with Michelle Collis and the Townsend family. As a 38 year old, her handler's licence soon led to a trainer's licence, upon which Gavin Whitney, staying true to his word, gave her, not sold her, a recently broken in fourteen month old pup from his Lilli Pilli Lad – Chinatown Babe litter. Max as he was known, was the great Chinatown Lad.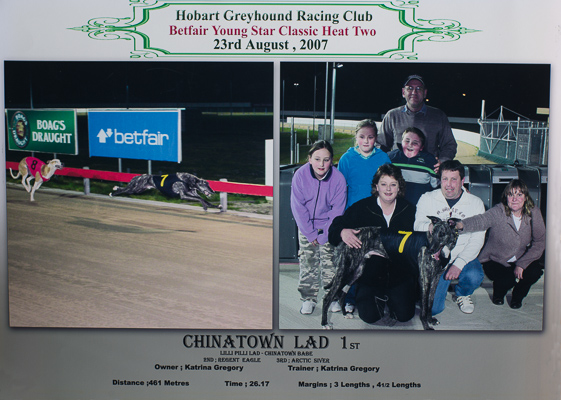 Nigh on a family pet in his early days at the Gregory household at Bagdad, Katrina and husband Paul's twin girls, Emily and Claira, would walk him around the paddocks, and son Braydon also developed a love affair with the dark brindle champion to be. Braydon's involvement throughout Max's career was to become one of Greyhound Racing favourite media stories Australia wide.
He was a quiet, gentle dog and easy to handle. Katrina's self confessed naivity with greyhounds, saw Gavin remain her mentor in training matters. It's little wonder that Katrina became somewhat overawed when Max started trialling at Hobart. From the word go, his trial times were exceptional, and Katrina was shocked that big offers were rolling in, before he even had his initial start.
The debut came on August 9 2007, in a 340 metre Juvenile at Hobart, as a twenty month old. At even money favourite, he came from third to score by two lengths in 19.90. A week later, he despatched his Grade 5 at the same track, but over a more suitable 461 metres. It was twelve lengths to the runner up and a best of night 26.40. The Young Star Classic beckoned, and he was stunning again in his Heat, cruising to victory by three lengths in a best of night 26.17. Severe interference and an injury saw him wind up 4th to Regent Eagle in the Final, and Max was off the scene for two and a half months.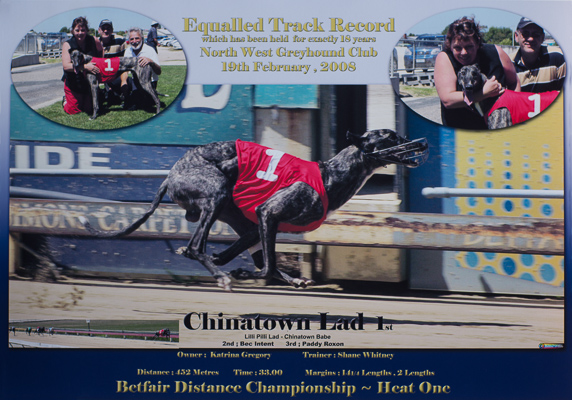 That resumption came at Launceston in November 2007 with a Juvenile 3rd, before returning for a crack at the 2007 Gold Collar. Finishing powerfully to grab second in his Heat and the Final, It took the great sprinter Big Moose to deny him in both. Subsequently, he returned to Launceston and ran a scintillating 29.85 in his 15 length Juvenile win, before leading throughout in his initial Devonport start, score by 7 ¾ lengths in 25.98. His next six starts yielded a win and four placings, racing in esteemed company at the Devonport Cup and Invitation class at Hobart.
At this stage, Katrina made a momentous decision. This highly talented pup did lack early pace at a sprinting level, and concerned about her own inexperience as a trainer, she decided to hand over mentoring duties to Gavin's son, Shane Whitney. He was training most of Max's littermates, and what a wonderful litter they were to become. Whilst Arctic Silver, Kris's Idol and Lucky Gavin were handy, two others were stars in their own right. One was Avalon Chief, a 15 time winner that still holds the Race Record in his Johnson Puppy Championship victory at Devonport, as well as running 2nd to Train A Journey in the 2007 Group One Hobart Thousand. The other was his mighty sister, the multiple Group winning Fallen Zorro. She was to win 21 races and $22,9375, as well as clashing with Chinatown Lad in so many features around the country.
Shane's first start with Max was a Heat 3rd in the 2008 Launceston Cup, but it was his next start that shaped his career, and meant that all bar seven more of his race starts would be Interstate. This makes Chinatown Lad the first Tasmanian Hall of Fame inductee, to earn all of his major stripes, chasing the Australian Group circuit. That career shaping start was on February 19 2008, when his second start for Shane Whitney was a Heat of the 580 metre Betfair Classic at Devonport. Forever appearing to be a stayer, Chinatown Lad not only led from the cherry to score his Heat win by 14 ¼ lengths, but equalled the 33.00 Track Record set by Smart Aim some eighteen years prior, and on the exact day. Winning the Final a week later, he ran another slick 33.15, despatching Light Ice Lad by 4 lengths. His 599 metre blitz of a Mixed Grade at Hobart, on March 6 2008, was the stepping stone to a trip to Perth, and a path to greatness that was simply breathtaking.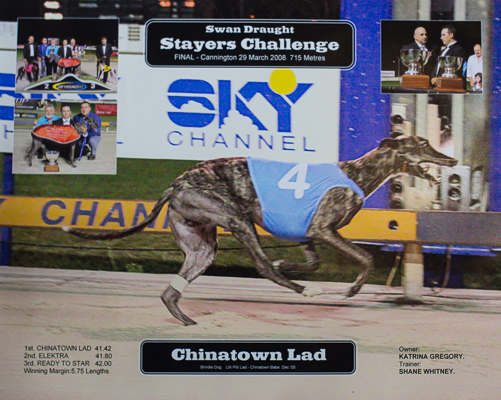 His initial West Australian run was a short priced 3rd over 642 metres at Cannington, a week prior to his 715 metre debut, and despite finding strife, bolted in by four lengths. His time was a modest 42.13, but one week on, the entire greyhound community was awakened by the Apple Islander. In the Group 3 Swan Draught Stayer's Challenge, Max blitzed local star Electra by 5 ¾ lengths, and re-wrote Rapala Boy's Cannington Track Record, posting a staggering 41.42. It's little wonder he started a $1.30 favourite next up, in his Heat of the Group One Galaxy. Leading most of the way, he won by 4 lengths from Ready To Star, in another brilliant 41.46. Again odds on in the Group One Galaxy Final, he led but was overrun late, finishing a length third to Electra; the time another brilliant 41.48.
Now a certified headline act in Australian staying ranks, it was off to Melbourne for a crack at biggest one of all …… the Group One Sandown Cup. On May 8 2008, Chinatown Lad led every step in winning his Heat of the great race in 42.17, only 1/100th of a second slower than his sister and kennelmate, Fallen Zorro ran in another heat.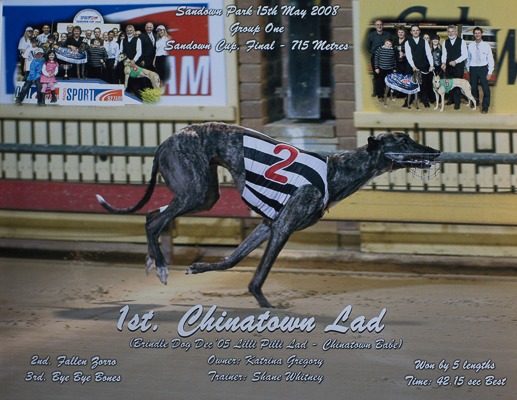 It set up a mouth watering sibling rivalry in the May 15 Final. In a Group One first for Tasmania, the 2008 Sandown Cup was an Apple Isle whitewash, Chinatown Lad leading throughout, scoring by 4 ¾ lengths over his brave sister Fallen Zorro in a brilliant 42.14. And what a tremendous training performance by Shane Whitney! He was now heading around the country, with the top two rated stayers in the land.
Queensland beckoned with the Group One Gold Cup for the stayers at Albion Park. Following a cracking solo trial in 41.84, Chinatown Lad went to the post as a fives on favourite in his heat, where he despatched Misty Bear by a mere 16 ¾ lengths. Little sister Fallen Zorro also won her heat, running 0.38 hundredths slower, but setting up a possible back to back Group One quinella. So dominant was Max by this stage, and with an ever blossoming reputation, he was sent to the post a $1.30 favourite from the red box in the Final. Scripts rarely play out, and the champ that was expected to lead all the way, got back past midfield and was standing up the leaders, which included Fallen Zorro, a tremendous start. But as only champions do, he switched into another gear late in the contest, and actually won running away by 2 ¾ lengths, with his mighty sister jagging second spot. Consecutive Group one quinellas to a pair of Tasmanian siblings was ground breaking stuff indeed!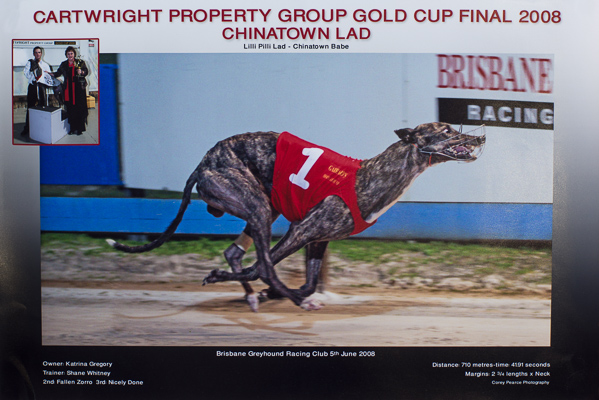 Heading south to Sandown, Chinatown Lad was again $1.20 in his heat of the prestigious Tom McKenna, but met severe interference in his heat and missed the Final. Meanwhile his sister won her heat, and the Group 2 Final. The Meadows followed with the AWM Distance Championship the aim. Chinatown Lad, as a $1.40 favourite ran down Sky Hazard to win his heat, whilst Fallen Zorro overpowered Mantra Lad to win hers. Despite coming frustratingly close, another Group win evaded the pair, with Chinatown Lad finishing third, his sister second, both unable to run down the leader Sky Hazard.
With the National Distance Championships looming, the pair returned to Tassie for the State heats at Launceston. Chinatown Lad destroyed his opponents by 19 ½ lengths in his Heat, but was a shock second a week later at $1.30, when Fallen Zorro jumped in front, broke the track record and confined her champion brother to second spot, thus missing the National Final. Nevertheless, he followed her to Sydney's premier track, Wentworth Park; his next run possibly the greatest of his career. On August 30 2008, Fallen Zorro ran 3rd to Mantra Lad in the National Distance Final, in a time of 42.30 for the 720 metres. On the same night, Tassie's wonder stayer Chinatown Lad, led all the way to score by ten lengths in the Welcome Stake, from smart Sydney stayer Spring Belle. In so doing, he ran 0.37 seconds (or six lengths) quicker than Mantra Lad. His time of 41.93 not only smashed Miagi's track record, but made him the first dog the break 42 seconds for the 720 metres at Wenty.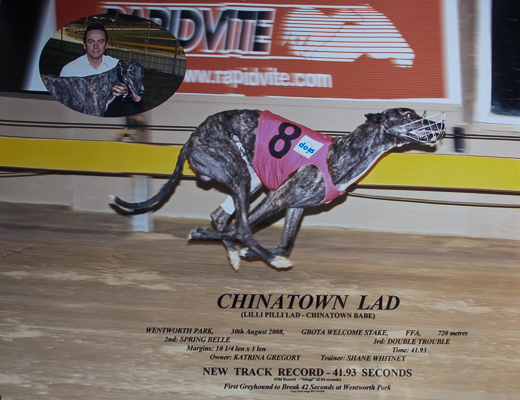 It's little wonder he was a raging hot favourite in his Heat of the Group Three Chairman's Cup one week later. At threes on, he came from fifth midrace to easily beat Spring Belle again, before missing the kick in the Final, yet still powering past Varvatos to bag the prize, Fallen Zorro finishing third. Still in Sydney, Chinatown Lad was a raging hot 4/13 favourite in his Group Two Sydney Cup Heat, but found strife in finishing a brave half length second to Gunnadoo Magic. Again odds on in the Sydney Cup Final, he ran into a traffic jam before winding up 4th behind Others Quoted, with little sister Fallen Zorro again third.
Slow starts were to cost the Champ at his next three starts, in which he was beaten a nose in the John Dillon Memorial Heat at Sandown; was injured running 4th in his Bold Trease Carnival Cup Heat, and 2nd to Gunnadoo Magic in the Super Stayers at Albion Park. So highly vaunted was the Apple Isle champ, he was an odds on favourite in each. But trouble was looming.
Max returned home, and back in distance, for a shot at the 2008 Group One Hobart Thousand. Whilst his barnstorming finish to gain second to Personification was more than creditable, it came at a great cost. X-rays showed cracked hock, a savage injury that was to keep him off the racetrack for nearly six months. His return was not till May 2009, and a first up tilt at the Group One Sandown Cup. So highly was he regarded, Max was sent out a $2.40 favourite despite the massive break from racing. His Heat sixth was followed by four more runs that produced one second placing behind the mighty Queen Lauryn at Group level in Brisbane. His Final start was at Launceston on August 10 2009, where he incurred a 21 day injury running fourth. A severe stopper bone problem was an undeserving finish to a wondrous journey.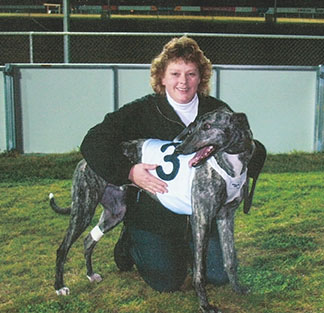 Chinatown Lad's career spanned 47 starts, mostly at Group level, for 21 wins, 11 seconds and 6 thirds. He earned $222230 in stakes, and won Group Races in four different States, two of which were Group Ones. He broke three track records in three different States, namely Tasmania, Western Australia and N.S.W. Along with his mighty staying sister Fallen Zorro, they were the darlings of the 2008 Group staying circuit around Australia. In the voting for the 2008 National Greyhound of the Year, both made the final three, with Chinatown Lad the running up behind sprint sensation El Galo. Their dam, the unraced Chinatown Babe, was the A.G.R.A National Broodbitch of the year for 2008 as well.
His track recording breaking win at Wentworth Park on August 30 2008 was so highly regarded, it won him the A.G.R.A. "Run of the Year" award. Max died of a cancer related illness in March 2014, after a post race life of spoiling at Katrina and Paul Gregory's Bagdad property. From limited Stud opportunities, he still left his mark. Ming Dynasty won the 2011 Tasmanian Distance Championship amid her eight victories, Diavlo tragically died in the catching pen after winning the 2012 Gold Collar Final, whilst An That (13 wins) and Domenic's Dove have succeeded at a high level.
Given the dearth of staying opportunities in Tasmania, it is simply astounding how many magnificent stayers have been produced here over many decades. Few, if any, have exceeded the level set by Chinatown Lad, and fittingly he now takes his place in the Tasmanian Greyhound Hall of Fame.