Inductee Hall of Fame 2019
Black bitch, (Witches Coven – Sunny Vista), Whelped May 1974, Owner Hilda Williamson, Trainer Larry Tanner, later Hilda Williamson
The great black staying bitch of the 1970s, Coven Vista, certainly took the path least travelled to make it into the Tasmanian Hall of Fame. Bred and owned by Hall of Famer Hilda Williamson, Coven Vista was a May 1974 product of Witches Coven and Sunny Vista. The otherwise modestly performed litter did include useful types in Caroline Doll and Cliff Floyd's Coven's Twin, with Coven Vista making her debut for Hilda Williamson in a White City juvenile on October 3 1975. She was beaten 15 lengths into 2nd spot but could be forgiven, having run into Elaine Weber's champion to be Call Me Roy. Between that debut and January 28 1976, Hilda gave this girl eight more starts, yielding two modest thirds only. Having trained so many champions over the previous twenty years, predominantly with an Ophir prefix, the Williamsons decided Coven Vista should be trained elsewhere.
The Williamsons offered those duties to East Devonport trainer Larry Tanner, and this is where the Coven Vista story began to take shape. Larry was born on May 14 1945, and after time as a Meat Worker, spent 25 years at APPM. From 102 Caroline Street East Devonport, Larry Tanner only ever trained a small team but had strong associations with Reg Ivory, Alan Clark, Viv Berresford and Leo Burnett. In the mid-1960's he had taken an ex- Graeme Rowbottom bitch, Another Madam, which was not only five years old but had whelped a litter. Larry won with her at 33/1, and was smitten by the long tails. He would train other smart types in Lightning Moon, Sunshrub, Venezia, and an ex Leo Burnett sprinter in Border Frolic; but Coven Vista, or "Precious" as he called her, would stand head and shoulders above the rest.
Larry's first move was to give Coven Vista a month break. A timid little miss, he decided to swim her to change things up, and help her fitness regime. So, with close mate and top mentor Max Twibell (of Genadier Curl, Thunder Mohican and the great King's Grenadier fame), they would regularly row across the Mersey River with "Precious" swimming behind. What a sight it would have been, with another mate, the famous thoroughbred man Ray Trinder (of Piping Lane and Joking stardom, amongst many), swimming his racehorses at the same time!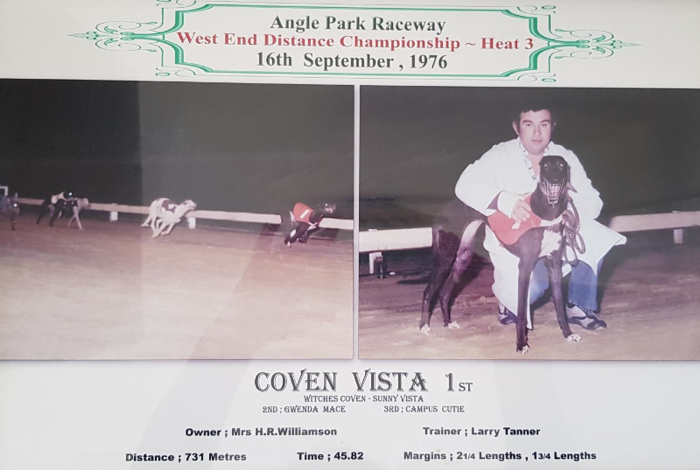 Well, the new routine gradually took shape. Coven Vista grew in confidence, and after a first-up 4th, then 3rd, she finally won a race, at start number twelve, a 452 metre Juvenile at Devonport on March 31 1976. Even a supreme optimist could not have foreseen what followed that seemingly innocuous victory. Now 22 months old, Coven Vista simply became a different dog. Larry knocked off her White City and T.C.A. sprint juveniles in April 1976. He was also aware how powerful she was at the end of her races, so decided to step her up in trip, the same month she turned two. After an unlucky 680-metre debut 2nd at fours on, she won by 6 lengths a week later in a smart 41.20. She followed with a Gold Collar Heat 4th behind champion to be Toota's Flash, before Larry decided to target the Medley Championship at Hobart.
Her fast-finishing Heat 3rd over the 500 metres, was followed up with a powerful 680-metre Heat victory over the more suitable 680 metres. In a high-class Medley Final on July 6 1976, Coven Vista proved too strong for the excellent Kadaicha Coven, scoring by a length in a useful 41 seconds neat. A fortnight later, she powered home to score in a 500 metre Trial Stakes at the T.C.A.
This was "a line in the sand" moment in her career. After no wins from 12 starts, Coven Vista had won 7 from 10. Not only did it mark the last time she would ever race over the sprint journey, but it was about to engender an 18 month period of utter staying domination, at a time when Tasmanian staying ranks had never been stronger.
Her next appearance was her initial 722 metre run at White City. She overcame trouble to score a nose win over Fast Vista, as a fours on favourite. Her introductory run in 722-metre Invitation class just one week later, saw a now "rare" defeat when third to the classy Newmore's Charm. Despite her inexperience at the top level, Larry was unperturbed, and ambitiously headed to the 1976 Tasmanian Distance Championship, at her now beloved T.C.A. This 680-metre series saw her tag elevate from highly promising to champion. She justified her 4/5 favouritism with a brilliant 8 length heat win over Kathleen Amour in a rattling 40.6. On August 20 1976, Coven Vista drew five in the prestige Final, but she simply destroyed Tassie's finest in another slick 40.70, and 3 lengths ahead of top stayer Becky Diro.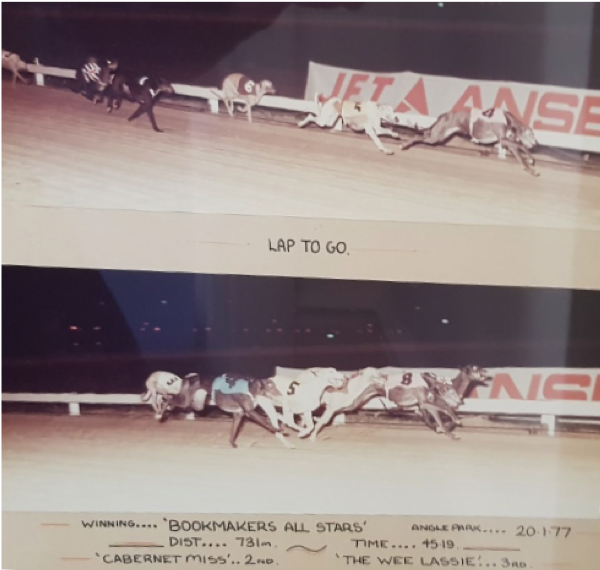 Within a fortnight, Coven Vista twice destroyed top-class Invitation fields at White City, at odds on and in quick times. Thinking ever upwards, Larry Tanner bravely headed to Adelaide for the 1976 South Australian Distance Championship. On September 16, the hitherto unknown Tasmanian announced her arrival by blitzing Gwenda Mae by 2 ¼ lengths over the testing 731metres, as a 22/10 second favourite from box one. A week later, she bravely beat all bar Minnie Jubilee in the South Australian feature. At 5/1, she was a three-length 2nd from box 2 in a smart 45.50. In six months she'd transformed from a struggling juvenile to one of Australia's emerging elite stayers. And she was just getting started.
Only nine days later, Coven Vista won the first of six straight top grade staying races in Tasmania. Four were over the 680 metres at the T.C.A., including the A.N.Z.G.A. Trophy beating the brilliant Formosa, and two White City Free For Alls, ahead of high-class chasers Newmore's Charm and Peoples Para. Now chasing seven in a row, Larry headed back to Adelaide for the prestigious All-Star Invitation over 731 metres, against Australia's finest. In a "champion defining moment", Coven Vista rocketed home from last with a lap to go, and overpowered the champion Victorian Cabernet Miss by a mere nose, with fellow star The Wee One a half-head away third. At 9/2 third pick, she ran a brilliant 45.19. She was now Tassie's finest stayer since the freak bitch Oak Queen.
Back home it was her eighth win on end over 680 metres at the T.C.A. before a rare though unlucky defeat when neck 2nd to Kadaicha Coven, in her heat of the National Distance at Hobart. "Precious" made amends in the 1977 National Distance State Final a week later. From trap six she overcame early adversity before storming past Starmont Lass by a neck in a near-record 40.70 over the T.C.A. 680 metres.
A fortnight later, Coven Vista represented Tasmania in the 1977 National Distance Final, run at Australia's prime venue, Harold Park/ in Sydney. Despite her growing reputation, she went to the boxes a 25/1 outsider from box four; with one of the all-time greats, Woolley Wong a resounding odds on favourite. History shows that indeed Woolley Wong did win, by ¾ 's from the mighty Tasmanian, with Victorian champion Mia Wella ¾'s away in third, with another great in Cabanossi 6th. Coven Vista took the $3000 as the runner up, but history doesn't explain how close our special miss went to upstaging the N.S.W. Champion. To quote the March 25 1977 Greyhound Guide, "Coven Vista may have been unlucky and could easily have been on the winner's dais……at the straight entrance….scraped paint 50 metres out, only to collide…..appeared to turn sideways, and by the time she balanced, the post was too close … everyone who saw Coven Vista admired her courage."
One week later Coven Vista resumed hostilities at White City, with a six-length FFA victory over Marboo Dancer. But it also marked her first run back in the kennels of her owner Hilda Williamson, following a somewhat acrimonious changeover from Larry Tanner. Politics aside, the amazing efforts by Larry, in the rise and rise of Coven Vista should forever be recognised.
Despite a shock White City 4th on April 1 1977, the Williamsons decided to chase further Mainland riches; this time the Gabba Gold Cup at Brisbane's home of cricket, Woolloongabba. Despite a luckless and distant Heat 3rd behind the star chaser Cabanossi, it was decided to stay on for another week in Brisbane. It was a good choice. On a night when the great Mandarin Lass won the 704-metre Gabba Gold Cup, Coven Vista destroyed Lucky Shamrock and a quality line-up, in a 704-metre Invitation by six lengths from box 7.
Back home for one week saw an easy 722 metre FFA win at White City, before yet another Mainland raid, this time at Sandown in Melbourne. It was a frustrating trio of seconds at the premier venue, before a luckless 6th in her heat of the Sandown Park Distance Championship. Disaster struck when she headed back home for a FFA 2nd to the high class He's Some Lad at White City. In so doing she incurred a serious injury that kept her off the track for some 77 days.
Now 3 years and 4 months, it was straight in at the deep end. She resumed first up over 730 metres in a Heat of the 1977 Tasmanian Distance Championship at the T.C.A. Showing no ill effects of her time off, Coven Vista was an unlucky 3rd to No Concern but made the esteemed Final a week later. From box 3, and at a luxurious 9/4, this fabulous stayer simply overwhelmed Small Time Rock to win running away by 1 ½ length in 44.30. Hall of Famer Mystery Bridge was 4th. This made it back to back triumphs in Tasmania's prime staying feature, despite the limited preparation.
From September 23 to the end of 1977, it was back to business as normal for this wonderful bitch. From nine starts she won 7 top-grade staying races, all at the 722 metres around White City. This included the feature Anniversary Distance Stakes defeating Becky Diro.
Coven Vista commenced 1978 as a 44-month-old, and due to niggling injuries, her racing days were near an end. In only 7 more spaced starts, she had one more win, a White City 722 metre Invitation over her great sparring partner Marboo Dancer on February 18. Her finale came with a brave 4th, in a State heat of the 1978 National Distance Championship at the T.C.A. on April 22. The champ had nothing more to prove, and was subsequently retired.
At Stud, Coven Vista did have three litters to sires Temlee, Mister Jamin and Mister Centaur. These matings produced only 10 pups with limited success, but nothing decries the monumental efforts of this amazing chaser. Thought initially to be quite ordinary, Coven Vista finished her 68 start career with 34 wins, 9 seconds and 10 thirds. She won 4 sprints, before totally dominating the Tasmanian staying scene during 1976-77. She had winning sequences of 3, 4, 5 (twice) and 8 in a row, and raced at the elite staying level against Australia's finest. Coven Vista won in three States and was placed in five States, and enters the Tasmanian Hall of Fame as one of our staying aristocracy.
View Coven Vista's race record here.