Inductee Hall of Fame December 2016
Red brindle dog, ( Big Daddy Cool – World's Finest) ,Whelped March 2008, Owner June and Peter Phillips, Trainer Eileen Thomas, then Peter Phillips.
Owned and bred by Peter and June Phillips, the fabulous sprinter Damek, enters the Hall of Fame with one of the finest records of past and present Tasmanian champions. From 61 starts, he won 45 (74% strike rate) with 5 seconds and 1 third, and accumulated $101045 in stakes. He is remembered as one of the fastest breakers with the early speed to match, and a massive tank to back it up.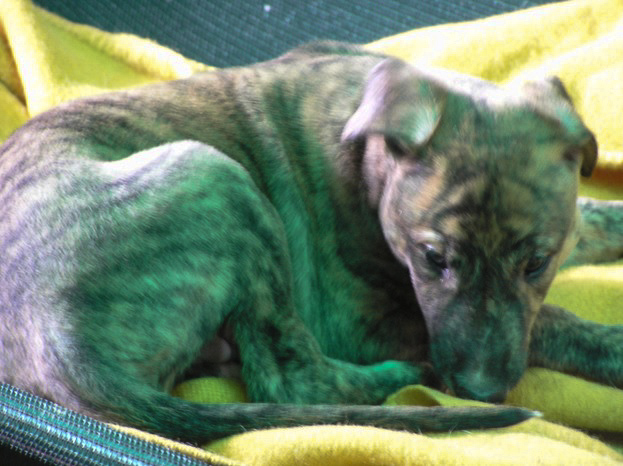 Damek, or "Archie" to his mates, was a product of the mighty Big Daddy Cool from World's Finest. The latter was Peter and June's highly talented but quirky racer, which won in excess of $25,000 from her 12 victories, including multiple wins at Sandown and The Meadows. A prolific matron, she produced 17 individual winners from 4 litters, which amassed over 200 wins. Archie's litter, whelped in March 2008, was in fact her 4th and final effort, for which she won Tasmanian Broodbitch of the Year in 2010.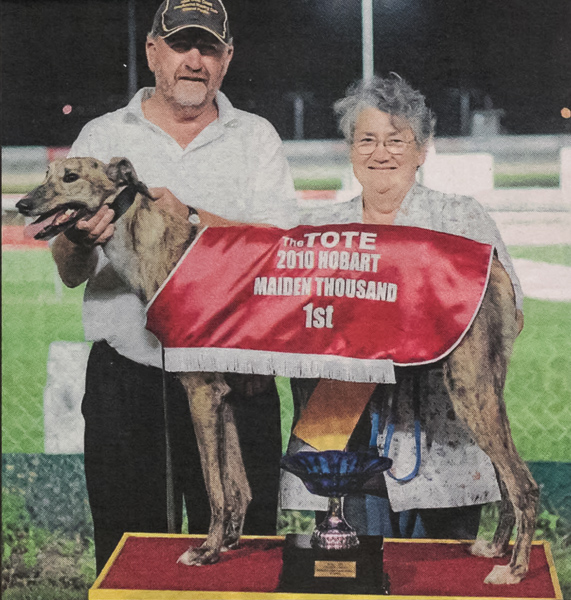 It was a great litter apart from Damek. Decembrist was a truly a star with 30 wins and 39 placings, including victories in the Group Two Richmond Derby, 720 metre Medley at Launceston and 580 metre Betfair Final at Devonport. He was also a finalist in a Hobart Thousand, and was placed in a Tasmanian Derby, Gold Cup and Illingworth Classic. Rounding out the litter were Daegan (10 wins), Demetria (4 wins) and Cool Kiwi (1 win).
Peter and June only ever trained a small team due to work commitments, so, after the litter were educated by Leigh Wood, Damek and Daegan went to Launceston trainer Eileen Thomas and husband Ian, whilst Peter trained Decembrist and Demetria.
Damek's incredible racetrack journey commenced in qualifying heat of the 2010 Maiden Thousand, and when he demonilished the other five unfortunates by 18 lengths and ran a blistering 26.10 to boot. It was obvious that a special dog had just announced his arrival. His Semi Final win five days later was another best of night, running 26.17 from box 8 by a mere 12 lengths. A week later on January 28 2010, he started a $1.30 favourite and from box 3, actually came from 4th early to win the Maiden Thousand by 6 ¾ lengths in another quick 26.21 seconds.
The blistering start to his career continued unabated, and after just 7 starts he had notched the Heat, Semi and Final of the 2010 Launceston Breeders Classic………….the Final in a staggering 29.57 by 8 ½ lengths; and the Heat and Final of the 2010 Illingworth Classic. His heat win saw Damek smash the track record for the 515 metres, lowering it to 29.45. If that was not enough, he broke his own new record a week later in the Final, posting a magnificent 29.40. It was hardly loose talk to now apply the "champion" tag despite the tender age and inexperience of this speed freak. Two "six figure" offers to purchase him was also rejected at this time.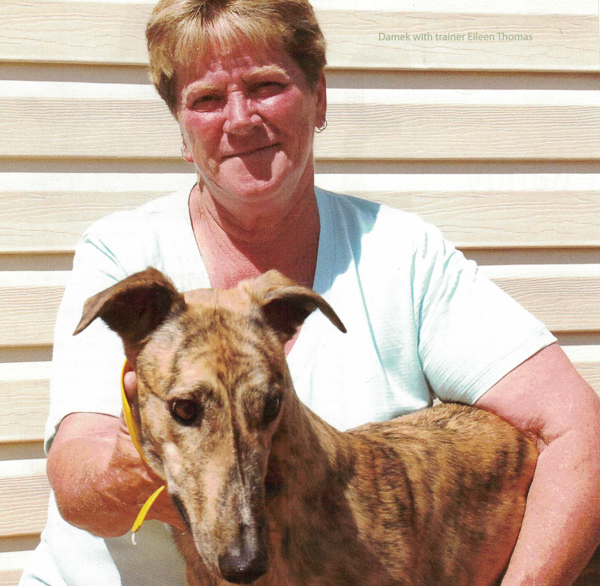 Damek's next two stars were in Melbourne for a 2nd and a last. He would later have two more brief visits which included another 2nd and two lasts. It's difficult to pinpoint "Archie's" aversion to travelling and being away from home, but when he left our shores he wasn't the "Superman" we were to know, and thankfully it wasn't pursued.
Back on home soil, Damek blitzed three low grades, two at Devonport and one at Hobart, by a combined 24 ¼ lengths, before taking on the Tasmanian division of the 2010 National Sprint Championship. His Heat win over Eagle Eye in a best of night 29.73 at Launceston, meant he was chasing 12 wins from 12 Tasmanian starts in the State Final. But it wasn't to be, when run down late into 2nd spot by Tombstone Jack by merely a neck, in the lesser time of 29.80.
This small glitch was to be followed by an amazing run of nine straight wins, all at the top level. A win on all three tracks was followed by a Heat and Final victory in the 2010 St Leger at Hobart, running 25.96 in the heat………….it was rare at that time for a chaser to break the 26 second mark. His 26.00 in the Final was a race record, since lowered. His very next start did see him reset the Hobart 461 metre Track Record, posting a wonderful 25.85 in a 5 ½ length Invitation win over Riverdance Kid and Sultan's Swing.

Amid the next string of wins, was the Wally Lake Memorial at Hobart, and a Heat and Final demolition of the 2010 Tasmanian Gold Cup. He broke his own Track Record in that heat, posting a staggering 25.79, and waltzed the Final in, by 5 ¾ lengths in 25.97. When Archie won his Heat of the 2010 Hobart Thousand on Novemeber 26, again by 5 ¾ lengths and defeating Thirteen Black, it was his 23rd win from his first 24 starts in the Apple Isle……….his only defeat being a close 2nd in the State Sprint Final. What an unbelievable start to a career!
The Final of the big one beckoned………..the Hobart Thousand……….but it wasn't the fairytale win he deserved. Damek and his brother Decembrist were the only Tassie chasers in that Final with a plethora of star Interstaters. Damek contested the early lead before checking back to the tail when 8th to Octane Show in a super quick 25.83, which took 0.02 seconds off Damek's track record.
Damek's final two starts in Victoria were in January/February 2011. Upon his return, the training duties for Archie reverted back to his owner Peter Phillips, who had just retired from work. It may have been a new trainer, but it was the same result, as Damek continued his utter dominance of the Tassie sprint scene. He won his next 10 starts in a row between February 24 and April 26 2011.
This included 4 Invitations, the Premier Stakes at Launceston in 29.53; the Heat and Final of the Ivory Classic at Devonport, defeating Ima Fencer in a slick 25.36; the Heat and Final of the Easter Cup at Hobart over Sultan's Swing; and an 8 ½ length victory over Stylish Monty in the City of Devonport feature.

A 4th and a 2nd at Hobart followed, but anyone thinking the Damek magic was waning, didn't need to wait long for an answer. Another winning spree of 8 from his next 9 followed, by a combined 52 ½ lengths, all in super slick times, and all "deep in the red". Seven of these wins were Invitations, the only defeat being his 3rd to Ella Lucy in the 2011 State division of the National Sprint. He did win that State Final a week later over the same chaser by 4 ¾ lengths, but an injury when trialling at Albion Park in Brisbane, prevented him from taking his spot in the National Final.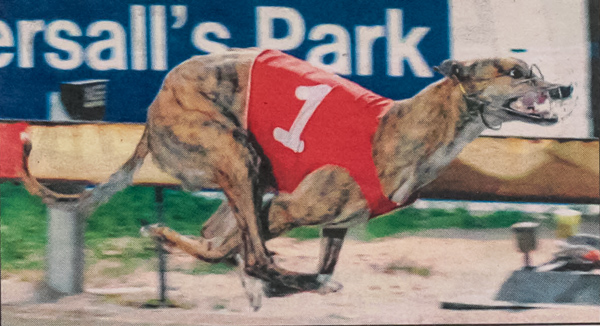 November 3 2011 saw Damek run 7th and pull up sore in his attempt on back to back Wally Lake Memorials. The champ was to have a further 10 starts which did net 5 victories, including a Gold Cup Heat win before 5th in a rough house Final; a Hobart Thousand Prelude win, before a 2011 Thousand Heat 7th; and his last victory on January 10 2012…………a Heat of the 2012 Devonport Cup. He ran 7th to Rewind in that Final, followed by his last racetrack appearance, when he pulled up lame running last at Hobart on Australia Day 2012. It was something as simple as a grass seed infection, but it ended his career and nearly cost him his life.
This stellar sprinter called Damek, completely dominated the 2010/11 Season and as such walked in the Tasmanian Greyhound of The Year. The same year he was in the first draft of Invitees for the 2010 Topgun in Melbourne. He maintained his elite form right till the very end. Fate saw the majors elude him, but he broke and re-broke both the Launceston and Hobart track records. His amazing 74% win rate saw him accumulate a Breeders Classic, Illingworth Classic, Tasmanian Derby, Tasmanian Gold Cup, Easter Cup, Ivory Classic and so much more. One of the greatest ever Tasmanian sprinters, there probably was never a more foolproof beginner with so much early burn.
Whilst his brothers Decembrist and Daegan are enjoying a spoilt retirement at June and Peter's Copping property, Archie was cruelly taken from them due to a snake bite on 4 March 2014, when only a six year old. Fortunately his deeds live on, and he joins the elite in Tasmania's Greyhound Hall of Fame.