David and Margaret Crosswell
Inductee Hall of Fame 2019
The prolific achieving husband and wife team of David and the late Margaret Crosswell, now tick the final level of attainment in greyhound racing, with their joint induction into the Hall of Fame. From a most humble beginning in the mid-1960's, their wide ranging success both here and at the highest Mainland level, and in excess of five decades, has been truly remarkable.
David John Crosswell, born 15 December 1943, grew up near to the hop fields of Bushy Park at Macquarie Plains in the Derwent Valley. Co-incidentally, one Margaret Ellen Gittus, born 19 March 1943, came from the exact same area, and an unbreakable partnership began, culminating in their marriage on 10 August 1963. They moved to Risdon Vale shortly after, at which time David drove buses for the MTT, before employment with the Public Works Department. During these early years, David and Margaret had three children in Debbie, Michelle and Stephen.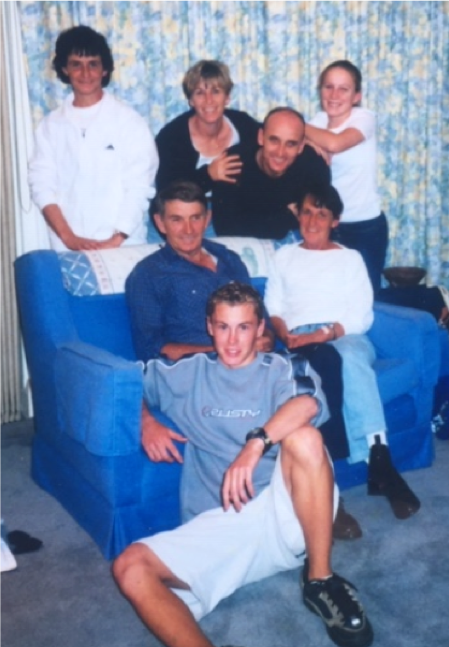 The first hint of greyhounds surfaced around 1966, when David began helping his mate, and greyhound trainer Terry Williams. The bug bit, and suddenly the Crosswells had a giveaway from Jack and Nancy Jones. They progressed with modest success during the late sixties, before ramping things up as they entered the seventies.
Their first starry chaser was Arkle's Girl; an unfashionably February 1972 whelp by Arkle out of Splendent. This also coincided with their move from Risdon Vale to a more spacious three acres between Rifle Range Road and South Arm Road near Sandford. After gradually picking off the grades in 1973, Arkle's Girl had a brilliant 1974. She won her Heat and Semi (with the great Jenny Caboleah 2nd) of the 1974 Hobart Thousand, before a super 3rd in the Thousand Final, behind champions Jamin John and Mona's Beauty. She backed up with a Heat 2nd, and Semi 3rd in the 1974 Launceston Cup, and a 1974 Devonport Cup Heat win and Semi 4th (behind eventual Cup winner Brendan James).
Arkle's Girl became David and Margaret's stepping stone into their home breeding, and their next star chaser, Summerdown Chief (a prolific winner and 1976 Young Star Classic victor) became their foundation sire. In fact, it was this cross that generated their Hall of Fame superstar Highland Summer. The "Chief" also sired the latter's smart brother Summerdown's Son (3rd 1980 Gold Cup), Sapasha Miss (2nd 1981 Gold Collar) and the Crosswell's star bitch Ralfettia Rose (3rd 1982 Gold Cup, before succumbing to the parvo virus). The 1970s saw several other top-notch Crosswell chasers including the brilliant beginner Mountain Dancer. Amongst his 20 wins were the Heat and Final of the 1978 Easter Cup. His brother Tanist Dancer won the 1978 Maiden Thousand. But, another breed altogether, the mighty Even Ray was a class apart. An abundant victor on all tracks, this white and fawn son of The Gazelle – Mona Moss, not only won the Heat and Final of the 1978 Easter Cup, but simultaneously held the 432-metre track record of 24.85 (defeating the champion Unique Venture by 6 lengths), and the 573-metre record of 33.50 at Devonport.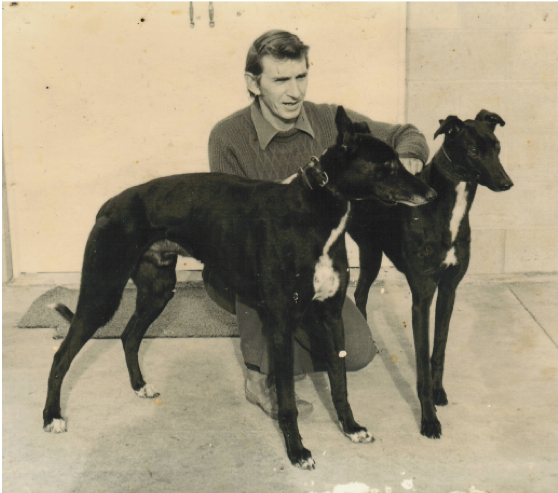 From this point on, and though they still trained for outside owners, David and Margaret had most of their ever-increasing success from their own home breeding, rearing, breaking and training. The 1980s was the pinnacle of the Crosswell dynasty. Three homegrown Hall of Famers … namely Highland Summer, Busy Vintage, and the incomparable True Vintage came in this period. The fab three won't be covered in great detail here, as their mighty deeds are on the Hall of Fame Website for all to see. Highland Summer was a product of their first homegrown litter. He sired Busy Vintage, who in turn sired True Vintage. Busy Vintage is still the only Tassie chaser to win the National Sprint title, which he achieved at Harold Park in 1984. He became a successful sire, with Highland Summer even more so. Highland Port (2nd 1984 Hobart Thousand) and Port Summer (1988 Derby 2nd) also achieved exceptional success at this time.
Clan Croswell also left Sandford in July 1988, for pastures more Northern. From then until the present day, they have resided on 30 acres at 410 Bishopsbourne Road near Longford.
Before looking at the 1990s and beyond, the following chart is a sample of the feature race successes of David and Margaret Crosswell.
Hobart
| Race | Runner |
| --- | --- |
| Hobart Thousand | Won 1988 True Vintage, 2nd 1984 Highland Port, 2nd 1985 Busy Vintage, 2nd 1989 True Vintage |
| Gold Cup | Won 1987 True Vintage, Won 1990 Silly Sharm, Won 1992 Vintage National, Won 1999 Son In Law |
| Maiden Thousand | Won 1978 Tanist Dancer, Won 1998 Jamella Prince, Won 2002 My Tiger Lily |
| Young Star Classic | Won 1976 Summerdown Chief, Won 1994 Exeter Lad |
| Bob Brown (Hobart Thousand Consolation) | Won 2001 Written Law |
| Tasbred Winter Cup | Won 2018 Fernando Magic |
Launceston
| Race | Runner |
| --- | --- |
| Launceston Cup | Won 1980 Highland Summer, Won 1988 True Vintage, Won 1994 Flash Billy, 3rd 1981 Highland Summer, 3rd 2003 My Tiger Lily |
| Launceston Cup Consolation | Won 2018 She's A Honey |
| Gold Collar | Won 2005 Midnight Castle, Won 2015 He's All Class |
| Illingworth Classic | Won 2011 Ima Fencer |
| National Sprint State Final | Won 1980 Highland Summer, Won 1984 Busy Vintage , Won 1987 True Vintage, Won 2013 She's All Class, 3rd 1992 + 1993 Vintage Shade |
| National Distance State Final | Won 1995 Glades Black |
| Tasmanian Oaks | Won 1987 True Vintage, Won 1990 Silly Sharm, Won 2013 She's All Class, 2nd 1998 Gemfire Fox |
| Tasmanian Derby | Won 1980 Highland Summer, 2nd 1988 Port Summer, 3rd 2019 Vintage Dancer |
| Easter Cup | Won 1978 Mountain Dancer, Won 1988 True Vintage |
| Nelson Cup | Won 2013 She's All Class |
Devonport
| Race | Runner |
| --- | --- |
| Devonport Cup | Won 1996 Gingers Charm, 2nd 1980 Highland Summer, 2nd 1997 Gingers Charm, 3rd 1988 True Vintage |
| Show Cup | Won 1978 Even Ray, Won 1992 Vintage National |
| Country Derby | Won 2013 Chicka Scott, Won 2019 Highland Vintage |
| Tasbred Winter Cup | Won 2019 Highland Vintage |
Interstate
| Race | Runner |
| --- | --- |
| Silver Chief (Sandown Park) | Won 1999 Jamella Prince |
| National Sprint Final (Harold Park) | Won 1984 Busy Vintage |
| Both these races now Group One | |
Tasmanian Greyhound of the Year
| Year | Dog |
| --- | --- |
| 1980 | Highland Summer |
| 1984 | Busy Vintage |
| 1987 | True Vintage |
| 2013 | She's All Class |
Tasmanian Hall of Fame Inductees
| Year | Dog |
| --- | --- |
| 2007 | Highland Summer |
| 2011 | Busy Vintage |
| 2011 | True Vintage |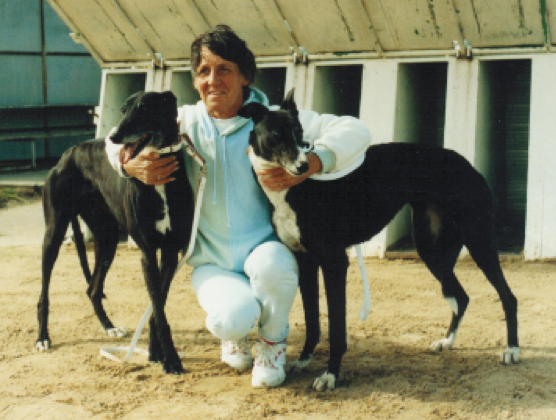 The Crosswell bandwagon has succeeded from the 1970's right through to current day. Following 1990, there has still been a multitude of big-race winners and star chasers. Silly Sharm won 17 from 48, including the 1990 Gold Cup, Ansett Cup and Tasmanian Oaks. Vintage National won the 1992 Gold Cup, and Devonport's Show Cup, whilst the 16-time winner Flash Billy, with his slick getaways, prevailed in the Heat, Semi and Final of the 1994 Launceston Cup. 27-time winner Vintage Shade ran 3rd in successive State Sprint Finals in 1992-93, whilst 24-time winner Exeter Lad won a Young Star Classic and made back to back Launceston Cup Finals, including a 3rd in 1995. The versatile Glades Black was a Devonport Cup finalist, before winning the National State Distance Final, and all distance bitch Tenthill Tessa made many big finals amidst her 21 victories. Ginger's Charm scored 24 times and notably won the Devonport Cup in 1996, before running 2nd in 1997. Among Son In Law's 28 successes was the 1999 Media Cup at Devonport, and 1999 Gold Cup at Hobart.
Their greatest chaser of the 1990s however, was the champion Jamella Prince. He not only won 24 from 35 with 7 placings but amassed over $75,000 in stakes. In Tasmania, he won the 1998 Maiden Thousand at Hobart, before scoring in the 1998 Breeders Classic at White City. He really shot to stardom Interstate; initially by scoring in the 1998 South Australian Derby at Angle Park, before his magic win in the, now Group One, Silver Chief at Sandown.
In the 2000s the story has been no different. Written Law won the 2001 Bob Brown; My Tiger Lily won the 2002 Maiden Thousand before a 3rd in the 2003 Launceston Cup; whilst the super speedy Coolangatta dead-heated in a Ladies Bracelet bore making the 2006 Launceston Cup Final. Midnite Castle won the 2005 Gold Collar, and 16-time winner Galtee Again was a Hobart Thousand Finalist in 2011.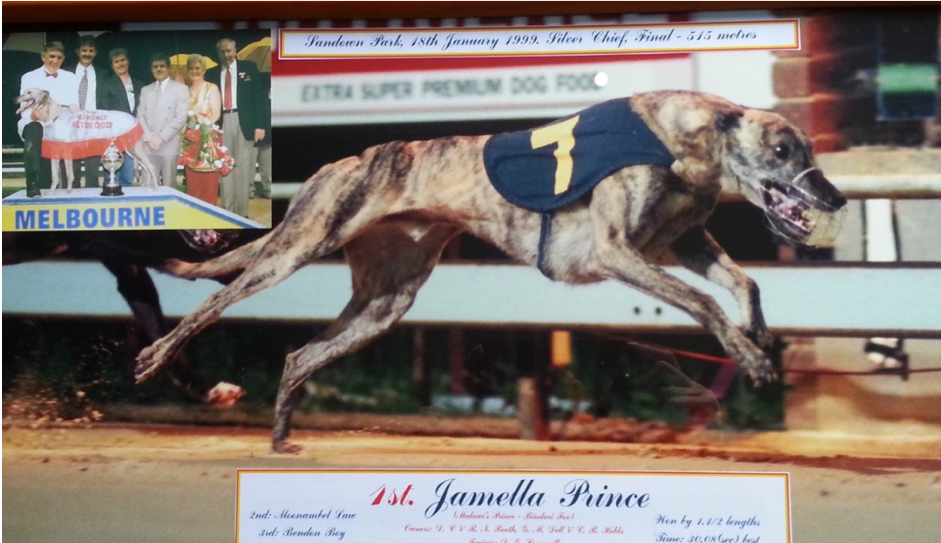 The best Crosswell pair since 2010, have been Ima Fencer and She's All Class. The "Fencer" was a brilliant sprinter that won 26 races including the 2011 Illingworth Classic. He also ran 2nd in an Ivory Classic and 3rd in the 2011 Devonport Cup. She's All Class was a big occasion sprinter that won 21 from 39. She achieved 2013 Greyhound of the Year by winning 11 on end at one stage. These included the State Sprint Championship, the Tasmanian Oaks and Nelson Cup. She also became a prolific producer at stud. Her ill-fated son He's All Class won 9 of 18, including the 2015 Gold Collar, whilst other sons from different litters, namely Fernando Magic and Highland Vintage won successive Tasbred Cups in 2018-2019. She's A Honey, Chicka Scott and Vintage Dancer have been other successful chasers in recent times.
Apart from the breeding, owning and training, both Margaret and David Crosswell have had a profound influence in the Tassie greyhound community. So sadly, we lost Margaret to illness on 26 June 2014. She was the pillar of Team Crosswell and a pillar of the greyhound community. She was a most unassuming, hard-working and dedicated woman … admired by all who knew her. She was immersed in all greyhound duties, and along with David, was so proud of the unconditional assistance of daughters Debbie and Michelle. A long-time L.G.R.C. committeeman, Margaret was awarded Life Membership. Her long hours with the L.G.R.C. Ladies Committee were legendary….. Margaret, Dottie, Noelene, Mary and "the girls", always produced magnificent suppers, to say nothing of their extensive fundraising efforts.

The much more enigmatic David, has had a less smooth pathway through his fifty-plus years, including a couple of misdemeanours with our Stewards. But this pales, compared to what he has given to our sport. David spent many years as an H.G.R.C. Committeeman, and once a Northerner, also worked for many years in that role with the L.G.R.C. David played a strong role in the Wednesday trials at Mowbray, and it's little wonder he too is a Life Member of the Launceston Club. With his great knowledge of the greyhound athlete, David has been highly sort, and over several decades, to check dogs for other trainers … assisting with advice, treatment and care with their dogs.
Margaret and David Crosswell have left an indelible mark on virtually every aspect of our sport for in excess of fifty-three years. Now, so fittingly, and more over, jointly, become Tasmanian Greyhound Hall of Famers.