Hall of Fame inductee 2008
Black Bitch, Cola Minda – Neutral Zone Whelped September 1956
Owner and trainer: Laylon Smith
This famous black bitch of the late 1950's is known to all in Tasmanian greyhound racing if only because the straight track at firstly White City and now Mowbray is named after her. She takes her rightful place in the Tasmanian Greyhound Hall of Fame.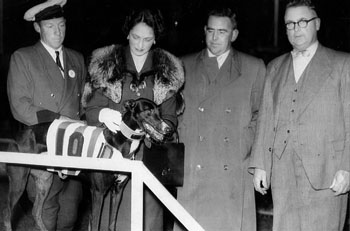 Laylon Smith, a fiery, rough and ready character, but as his daughter Helen Carter recalls " a hidden gentleman", used to drive the bone truck for the butcher shops on the North West Coast when living at Paradise near Devonport in the 1950's. He later moved to Penquite Road in Launceston, and became a saw miller with his own mill at Glengarry.
All the while he dabbled in greyhounds. Laylon bred a litter with one of his bitches Neutral Zone in December 1955 which produced the extra smart Wayward Zone to an Erin's Ace mating. Neutral Zone's next litter was whelped in September 1956. This time she went to Cola Minda, the 1953 Bi Annual Classic winner in Sydney, and from this mating came the good dog Nimble Cola and our champion little girl EBONY MINDA.
Right from the start Laylon realised he had something extra special, but could hardly have been ready for what she was to achieve.
She debuted at seventeen months of age in a Juvenile Heat in Hobart on February 22 1958. Whilst she was trained by Laylon Smith for her entire career, she appeared in the racebook on debut as owned and trained by George Breen, a good mate of Laylons. Why? To ensure a better price of course! It worked, she won by a lazy twelve lengths and many pounds were collected. This was the launching pad of a wonderful career and one of the wins that saw Laylon pay off Penquite Road much earlier than expected.
Four days later Laylon audaciously ran her in a heat of the Launceston Cup at only her second start. She won by a mere four lengths. Three days later and back at Hobart she won that Juvenile Final, again by twelve lengths. Two days later and still only eighteen months of age, it was back to White City for the semi final of the Launceston Cup. Again she won – two and a half lengths from box seven!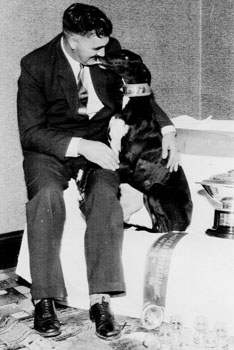 One week later and at only her fifth start in a race she lined up in the Launceston Cup Final against the cream of Tasmania's sprinters. Drawn the red, she kicked up inside the early leader Amination at the 300 yard mark. She valiantly held out the Rosevear Brothers classy pair of Night Fabric and Night Fun, to score by half a head. In so doing she earned 600 pounds and set a Race Record of 29 14/16's which was only broken a decade later by Persian Opera in 1968. What a start to a career. Inside fifteen days she went from unraced to winning five from five including a Launceston Cup!
Remaining at White City, she made it seven on end winning the Easter Plate heat and semi before tasting defeat for the first time when second in the Final. She then strung eight more wins from her next ten. These included a trial Heat and Final at Devonport, a trial grade at Hobart before another biggie. After winning her Puppy Gold Collar heat from box 9 off a six yard handicap by four lengths, she overcame the same handicap from box ten in the Final on May 31 1958 to nail the tearaway leader Qantas Rocket by a mere half head. AND, this after striking trouble in the run. This earned her another 125 pounds and a race record not broken until 1962.
From here on it was all against the topnotchers. On June 16 1958 she won a heat of the Sprint Championship of Tasmania at the TCA. A week later she blitzed Amination by four lengths in winning the Final for box three. Seven days later and at her only ever distance run, she was runner up to Eric Gilroy's Havoc Time in the 685 yard Distance Championship of Tasmania, also at the TCA. So after 19 starts she had won 15 and placed second twice.
Next she took the Launceston Puppy Championship (now just turned two!), won back to back at Devonport, then captured the Hobart Puppy Championship beating Ophir Pet by three lengths. Still winning, it was the Ken Thompson Cup Heat and Final next (again off six yards) then a Devonport win, followed by a victory in both the Jack Nelson Cup heat and semi. Then a strange thing happened! Ebony Minda, on November 15 1958, ran fourth in the Nelson Cup Final, one of the rare times she was to miss a place in a fifty five run career. She did come off a five yard handicap, the same mark she had won her semi.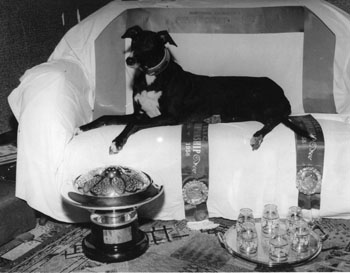 Out of a place but not out of form, Laylon Smith took the champ to NSW where she ran second at Bulli. Straight to Wentworth Park, and into elite company, she ran second in a heat, and similarly, second in the semi of the 1958 NSW St. Leger. Three days after the semi she ventured to Gosford and won, before stamping her magnificent career by taking out the Final of the St.Leger in a Race Record 31.9. She received 1000 pounds for those 31.9 seconds and an extra 500 pounds to the breeder- Laylon! Two days later she travelled to Victoria and won at North Melbourne. Three days a Sandown victory, and four days later back to North Melbourne and another win. What a wonderful bitch!
Back in Tasmania, Ebony Minda had another sixteen starts for six wins and ten placings. Amongst these was a track record equalling win over 465 yards at Devonport running 25 2/16 on January 9 1959.
In a limited stud career she was mated with Pharminda, but amazingly she threw nothing of note.
It's truly hard to find accolades sufficient to describe Ebony Minda. By career end she had raced approximately 55 times for 35 wins, 12 seconds, 3 thirds and only five unplaced. She amassed 3747 pounds in a career that started when 17 months of age and finished with a third at Devonport on September 26 1959 when only three years old.
Laylon's daughter Helen, was born one year to the day, after Ebony Minda won the NSW St Leger, it's her birthday today as she responds on behalf of her father Laylon, and it is exactly fifty years ago tonight the 13th of December, that Ebony Minda won that St Leger! Her Hall Of Fame inclusion was truly meant to be.
Ebony Minda, you were one of the greatest.