Inductee Hall of Fame December 2016
White and black bitch (Black Shiraz – Helena's Fine), Whelped February 1997, owned/trained by Pat McClenaghan
The white and black champion all distance performer Fine Horizon makes history by joining her litter brother Top Shiraz (2008) in the Tasmanian Greyhound Hall of Fame. Like her famous sibling, Fine Horizon was bred, owned and trained by the highly successful Westbury based Pat McClenaghan.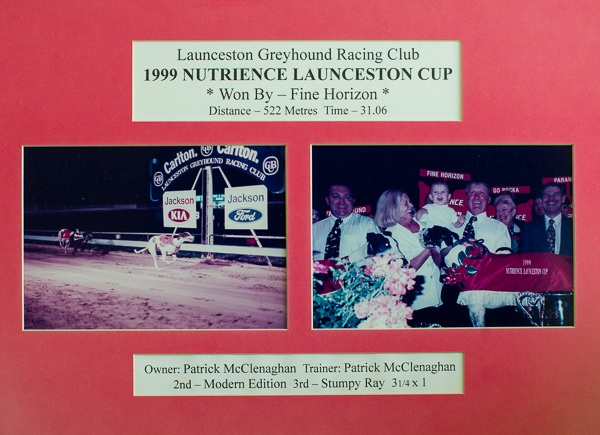 This amazing 28.1 kilogram bitch made every post a winner from her initial start, and by career end had posted 35 wins, 12 seconds and 6 thirds from only 66 starts, accumulating $66841 in prizemoney. Even winning her July 30 1998 Devonport debut by 8 lengths, and at a mere 17 months of age, was hardly a true sign of the incredible heights she would rise to.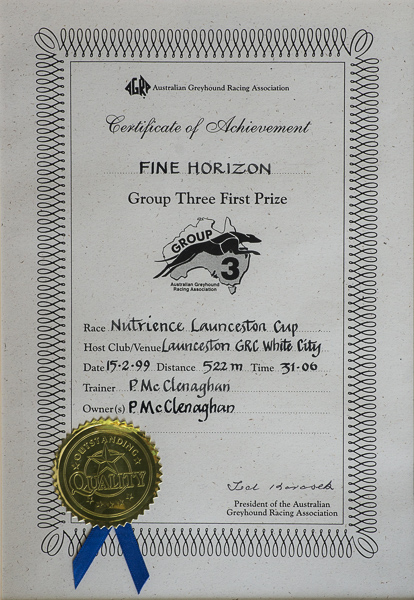 Her first 12 starts netted her 8 victories and 3 seconds and she was proving equally lethal on all three Tassie tracks. It included a Heat 2nd in the Johnson Puppy Championship, and Heat and Semi wins in the 1998 Devonport Breeders Classic, before being flattened in that Final. She ran right away with her Heat of the Launceston Gold Collar, before Lavender Pearl beat her by a nose in the 1998 Final. Fine Horizon was also proving she could either lead, or storm home from behind.
Starts 13 and 14 saw blistering low grade wins at Hobart and White City, before Pat ambitiously set her for the 1999 Launceston Cup. This was the true start of her rise from a promising type to a budding champion. Drawing the red box in her February 8 1999 Heat, she made short work of her opposition, beating Kialdu Kobe by 2 ¾ lengths in a smart 31.23, 0.12 slower than the quickest heat. A week later she moved to box 8 for the Group Three Final, with Stumpy Ray a raging hot favourite from box 1 at two's on. Starting the 3/1 second pick, and still only 24 months old, she led virtually every step of the way, winning by 3 ¼ lengths from Modern Edition, with Stumpy Ray a length further back in third. Her best of night 31.05 was the icing on the Group 3 Cake, for the young gun that was clearly racing out of her grade. A new star had announced her arrival. Along with her brother Top Shiraz, they would dominate the Tasmanian scene for the next two seasons.
Her next 10 starts brought 7 wins and 2 thirds, and included runaway low grade wins at Hobart and Devonport prior to a 6 lengths Illingworth Classic Heat win at 5/1 on by six lengths. A week later she ran 3rd in the Final to her litter brother Top Shiraz, with Double Delight splitting the siblings. Four more straight victories followed, including a 7 lengths Heat win of the 1999 Tasmanian Oaks at White City, and an even greater demolition job in the Final, where she started a prohibitive 2/7 favourite, and beat Tears Noir by a mere 8 lengths in a blistering 30.87.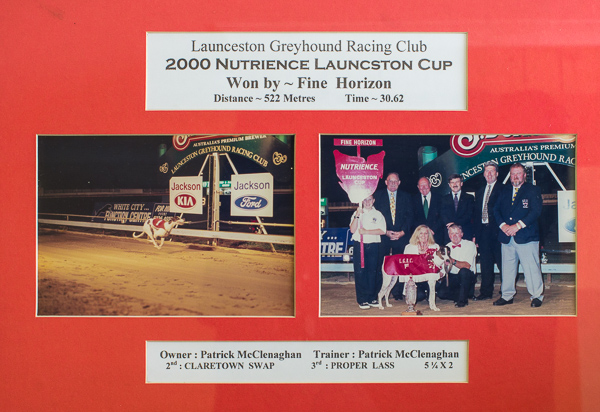 Now firmly entrenched in top grade, she ran 6th and 3rd, before leading all the way in her Heat win of the 1999 National Sprint Championship, posting a best of night 30.68 for the White City 522 metres. Despite starting a 5/4 favourite in the State Final, she was again upstaged by her mighty brother Top Shiraz, and took 3rd spot, with Dashing Rainbow splitting the pair. Her next seven appearances contained two victories, including the 1999 Show Cup at Devonport, a Devonport Cup Heat 3rd, before her Consolation Final 4th to Classic Ricky; and seconds in the Damsel's Dash Heat and Final at The Hobart Showgrounds behind the great sprinting bitch Proper Lass.
Next stop was the 1999 Hobart Thousand. She obliterated her Heat opposition from box 8 by 6 ½ lengths, despite missing the kick and coming from 6th early. She posted a slick 25.98 for the 457 metres. From box 8 again in her Semi, she was sent out an even money favourite, but worked hard and ended up a gallant 2nd behind the star Victorian Latest Lad. From box five in the 1999 Thousand Final, she was pinballed for most of the trip before winding up a close four length 7th to Latest Lad once more.
After a Kings verses Queens heat win, and Final 7th to her illustrious brother, it was back to Launceston to defend her Launceston Cup title from 1999. The campaign started positively with a blistering 7 length Heat win over Tallest Jess from the pink box. But the path to a Final berth was to be hard earnt. Another smart performer in Claretown Swap was odds on in her Semi Final, and for most of the 522 metres Fine Horizon was chasing him and Waugh Zone in vain. But as champions do, she rallied hard in the latter stages and split the pair, going down to Claretown Swap by a half head. Importantly, it gave her a spot in the Final.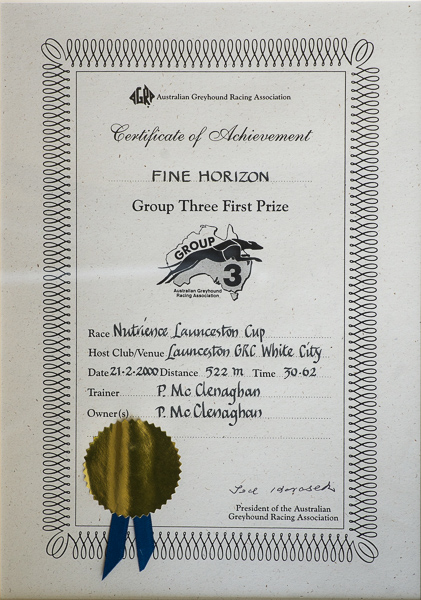 In the Cup Final of 2000, Pat McClenaghan's champion bitch became only the second chaser after Mystery Bridge (1975-76) to win two Launceston Cups. She chased another star bitch in Proper Lass till the back straight, then applied the after burners to win by 5 ½ lengths in a slippery 30.62. Claretown Swap ran down Proper Lass for second. Her greatness was sealed but as the television ad suggests "but wait there's more".
After five more starts, which yielded two victories and another Damsel's Dash 2nd to the speed machine Proper Lass, Pat decided to switch the champion bitch to the longer trips. She was always powerful at the end of her races, which suggested the extra ground would suit. And suit it did!
On May 15 2000, Fine Horizon debuted over 600 metres at her home track of Launceston. She not only led throughout from box 6 to score by an ever widening 11 lengths, she smashed the track record, posting an outstanding 36.50. In successive middle distance runs she started at very short odds and backed up the Launceston deeds. At Devonport she won over 580 metres by 5 lengths, running 33.14, only 0.14 outside the track record. Venturing to Hobart, she put 3 ½ lengths between herself and Morocco Fire in another slick 34.07 for the 590 metres.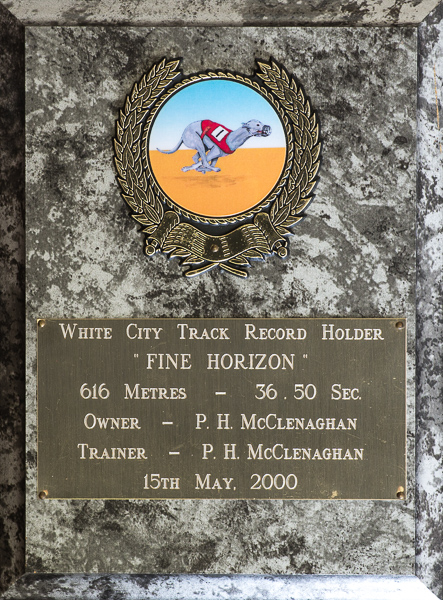 Now on a real upward spiral, Pat decided to try his champion bitch over the testing White City 742 metres. Her initial run at this extra journey was on June 26 2000, and it must rate as one of the best single performances in Tasmanian greyhound history. In Free To All company, and against a useful stayer in Pinkerton Lady, Fine Horizon bounced straight to the front from box 2 and won by 4 ½ lengths from her main adversary, with a further 4 ¾ to Aitken Lass in third. In so doing, Fine Horizon ran a first split record of 6.00, a second split record of 17.92 (amazingly, breaking the Launceston 278 metre track record), and posted a new track record of 44.76.
This incredible victory was the first of 6 straight wins over the 742 metres at White City, which included a Heat and Final win in the 2000 Winter Stakes, and more importantly, a Heat and Final victory in the 2000 Tasmanian division of the National Distance Championship. Her six staying wins were by a combined 33 ¾ lengths and her starting prices ranged between 4/9 and 1/8, such was her dominance. The National Final for 2000 was actually run at White City in Launceston, so she carried the hopes and wishes of the huge hometown crowd on 7 September 2000. However, the fairytale was not to be. Despite starting an 11/8 second favourite behind the great Victorian Osti's Joker, she was badly checked midrace and wound up a deflating 6th behind the favourite.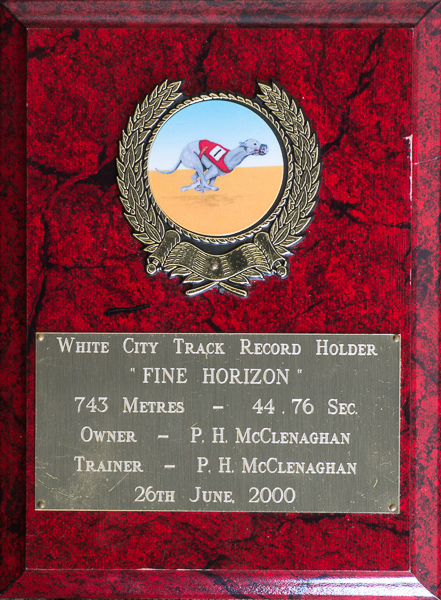 Now 42 months old, that was to be her penultimate distance run, and in fact, she would race only 9 more times. Showing her staggering versatility, Pat gave her a 3 month break before switching back to sprint racing. But it was not any sprint……….it was the Hobart Thousand. Her reputation saw her go around in the 7 December 2000 Heat as a 4/6 favourite despite coming back to the 457 metres. Settling second early from her beloved pink box, Fine Horizon powered away late to score by 5 lengths in a dazzling return. But despite some wonderful performances in her last 8 starts, this was to be her final victory. She did run 4th in her Semi, before a creditable 3rd to the outstanding No Intent in the Bob Brown Thousand Consolation.
Back to Launceston for an attempted "three peat" of her 2001 hometown Cup, she ran incredibly well in her Heat 4th and Semi Final 3rd. In a year when her brother Top Shiraz made it three successive Cups for Pat McClenaghan and the litter, Fine Horizon was so gallant running 2nd in the Launceston Cup Consolation behind the odds on favourite Benny's Hope. She had 3 more runs,………a 4th in March 2001, a 742 metre 2nd in July 2001, and her end of career 6th at Devonport on 7 August 2001.
Fine Horizon had it all. She had the top trainer/breeder in Pat McClenaghan; she had the blue blood in her veins; she had the super star brother Top Shiraz. She posted 35 wins, at a strike rate of 53% and was placed in 80% of her 66 starts. Her list of credits were many. As an up and comer, she gathered a Gold Collar and a Tasmanian Oaks. She won back to back Launceston Cups, and ran 2nd in the Consolation Final of a third. She broke the White City track record for 600 metres at her initial attempt, only to repeat the dose at her initial 742 metre start. Her incredible CV saw her crowned Tasmanian Greyhound of the Year in both the 1998/99 and 1999/2000 seasons, joining Mystery Bridge and Rewind as the only multiple winners of the top honour in our sport.
This wonderful bitch, this all track, all distance champion, now joins her brother Top Shiraz in the Tasmanian Greyhound Hall of Fame.