Inductee Hall of Fame December 2014
A lad born at Ulverstone on April 3 1945, living at nearby Nook, with absolutely no family involvement in racing whatsoever, and who only became interested in Greyhound racing through a friend, joins the elite in our sport, as a member of the Hall Of Fame.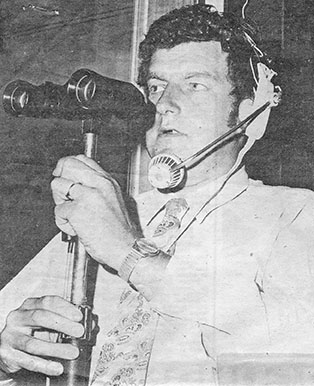 Gary Lindsay Sutton, son of John and Dulcie (nee Woodberry), moved from Nook to Moltema, and schooled at nearby Deloraine when ten years old, then back to Quoiba when twelve, where he completed his schooling at Devonport High School.
Upon leaving school, Gary's life took two major directions. Workwise, his initial full time employment was for carpet retailer A.W.Moore, where he remained for thirteen years. From there he moved to carpet laying with Royce Astell at Ulverstone for upwards of a decade, before completing his forty seven year working career as a self employed carpet layer.
The other major direction that Gary's life took, had a twofold influence, and led to more than four decades of involvement in Greyhound racing, that was to encompass nearly every aspect of our wonderful sport.
Firstly, Gary had become friends with John Doherty, who happened to be the racecaller at the Devonport Greyhounds. Gary would stand beside him during the race calls and be calling them to himself. In the 1963/64 season, Doherty gave it away, and an untrained Gary Sutton was offered the position and readily took it; starting a career in calling, that extended through to 1994, with only a two year hiatus.
But a second and far more moving influence also dragged Gary deep into Greyhounds. That influence was born on July 24 1948, namely one Cheryl Denise Ivory. Daughter of Tasmanian Greyhound Royalty, Reg and Aileen, Cheryl lived near Gary as they grew up at Quoiba. The rest is history, and they were married at East Devonport on February 21 1970. Initially, they had a flat in James Street Devonport, before renting at Quoiba. For the past forty years Gary have Cheryl have lived at 10 Henry Street Devonport, ironically in the house previously lived in by Cheryl's parents. During the Henry Street years, both have left an enduring mark in greyhound racing in this State. They raised four children in Leanne, Sharon, Craig and Scott, with Sharon in particular having a deep involvement in greyhounds as well. Indeed, she part owns the mighty Buckle Up Wes.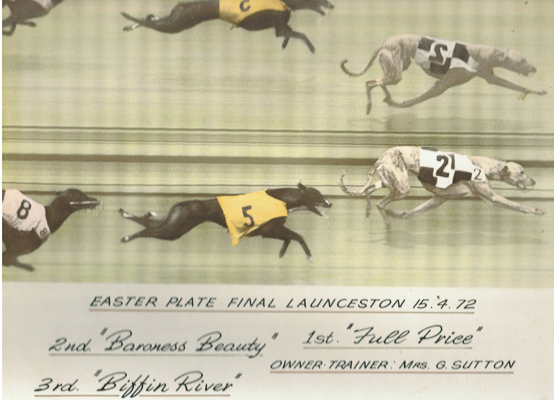 In his early days of race calling, and due to self confessed inexperience, Gary had a blackboard beside him for each race, with the dog's names chalked beside painted box numbers. Any momentary lapse of memory during a race, and a glance at the board would be like the refresh button on a computer these days.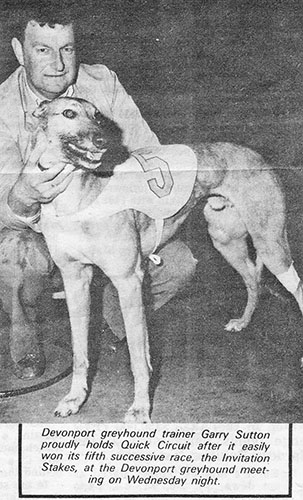 Initially calling from a broadcast box in the middle of the Devonport Showgrounds track, he would be turning more than 180 degrees and have a mere twenty five seconds to call the names, the position, the finish order etc. Gary prided himself on accuracy with close finishes, especially in the early days when there was no photo finish equipment. Gary believed that the secret to his success was the ability to see, recognise and say………..and have confidence in your own ability. With a chuckle Gary admits we all make mistakes, but just keep on talking and give everyone the impression you know exactly what you are talking about.
Gary called his first Devonport Cup in 1965, won by Bill Bonola's Domenic's Black, and until a two year break in 1981, when clerking for bookmaker Tony Bartlett, only missed two meetings in eighteen years. Regarded by all as a most competent, witty and colourful caller, Gary estimated he called about 7400 races and 59,200 odd names. Not bad considering he started calling for nothing, and by 1966 was being paid a princely $2.
Apart from being the resident caller at the Devonport dogs, Gary called for 7HO, 7EX and 7AD at all other coastal venues such as Burnie, Ulverstone, Spreyton and Deloraine. He also called the coastal pacing at times, and called gallops at Mowbray for the ABC. Gary called many races at White City dogs, and who could forget his call of Brother Fox's 1985 Hobart Thousand at the Royal Showgrounds……………"tallyho, the Fox is away………."
Gary saw all the great dogs of his era. He had particular regard for Fenton Girl and Blackberry Anne in the sixties, and their ability to overcome severe marks when handicap racing was in vogue. He rates Mystery Bridge and Tugrah Beaver as two of the greatest champions he has had the pleasure to call, along with the brilliant Blazenka's Flyer. Witnessing many a funny incident, he recites a night at Devonport when four boxes opened prematurely, then the lure, then the other four coming out and chasing the lure. The lead four maintained their break and the bunny ran fifth!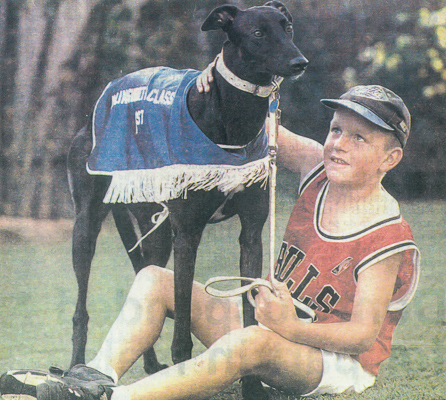 In 1985 Gary became the only caller till that time to call the Thousand, the Launceston Cup, and the Devonport Cup in the same season. Gary finally decided to give race calling away in 1994 when Shane Yates stepped into the breach. In Gary's words " I wasn't a great caller '………..few would agree, and with his retirement from the microphone, a significant degree of wit, colour and passion for our sport was lost forever.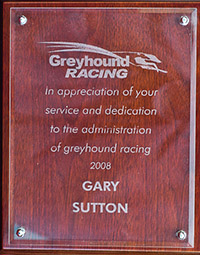 Gary's deep involvement in Greyhounds was hardly confined to race calling. Along with Cheryl, they raced many fine greyhounds during their years at Henry Street. It started with two No Discount – Dainty Venus siblings called Full Price and Dainty Discount. Winning twenty odd races between them, Full Price was successful in the 1972 Easter Plate at White City, with high class chasers Baroness Beauty and Biffin River filling the placings. A steady stream of winners followed over the forty year period, which ended in 2012, mainly due to Gary's ill health. And only ever with a small team in work!
They had great success with the Julie Bartlett owned Razarkar Doll. Whelped in 1974, this flying black daughter of Bullawie – Razarkar, was a fine sprinter, then stayer on all tracks. Early on, she ran third in Miss King Pin's 1976 Gold Collar, was an Oaks heat winner, and 2nd to Summerdown Chief in the Puppy Championship, after which she won a Gold Cup Heat at the T.C.A before running 6th in Beaut Dina's Final. She shone even more brightly when the distances lengthened. A Heat and Final win in the Medley Championship at Hobart, was followed by a Heat win there in the National Distance Championship, before running 3rd to the great Coven Vista in the State Final.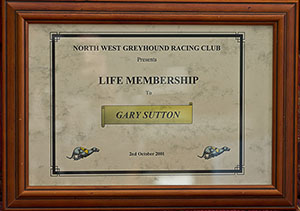 The Sutton brand was also on a fine sprinter in the early eighties called Quick Circuit. He won three in Victoria before racing here, but ended his career with 20 wins and 12 placings from just 40 starts.In December 1981, Quick Circuit won the Heat and Final of the Peter Jackson Classic before winning a Launceston Cup Heat. But this brilliant beginner was even better on his home track of Devonport, where 13 of his 20 wins came. He won his Heat and Final of the 1983 Show Cup, before winning his Heat and Semi of the 1983 Devonport Cup. Starting a 5/4 favourite in the Final, he was a brave 3rd behind Blendon Blue and Mr. Dawkins.
Cheryl and Gary won eight races over all distances, with a bitch called Lightning Opal in 1995, and when she finished racing, they bred a litter to Farena Star. This mating produced their greatest chaser, Pippen, as well as the enigmatic Illuminator, and another successful brother Tugrah Pirate, the latter trained by Red Ivory. Pippen was a champion in the true sense of the word. With a keen family interest in basketball, the Suttons named him after Chicago Bulls star Scottie Pippen, and by career end he had amassed 40 wins and 29 placings from 87 starts. His list of credits were many. Early on, he ran 2nd in the 1995 Maiden Thousand, won the 1995 Breeders Classic at White City, and beat Stanton Force in the 1995 Illingworth Classic.
After winning his heat and semi of the 1995 Hobart Thousand, Pippen ran 5th to Clint's Pirate in the Final. He was a finalist in the 1996 Devonport Cup, before winning his heat and semi of the 1996 Launceston Cup, running 3rd to Two Codes in the Final. On February 26 1996 he broke the 600 metre track record at Launceston running 36.79,and his last three career starts were victories over 580, 522 and 742 metres Little wonder Pippen received a Topgun Invitation from Victoria, and was crowned 1995-96 Tasmanian Greyhound of the Year.
Gary Sutton also played a long and pivotal role in greyhound administration. A committeeman of the Devonport Greyhound Racing Club, (now N.W.G.R.C) for some thirty years, he also served as Chairman for five years. He spent nearly eight years during that time as a Member of the Tasmanian Greyhound Racing Board, later known as Tasmanian Greyhound Racing Council. Further, he freely gave his time and knowledge to provide the Advocate and Examiner Newspapers with tips, markets and comments on Northern greyhound meetings for upwards of thirty years. Gary has been a Life Member at Devonport since October 2 2001, and has received formal recognition from both Tasmanian Racing, and the Greyhound Racing Council for his fine service to our great sport.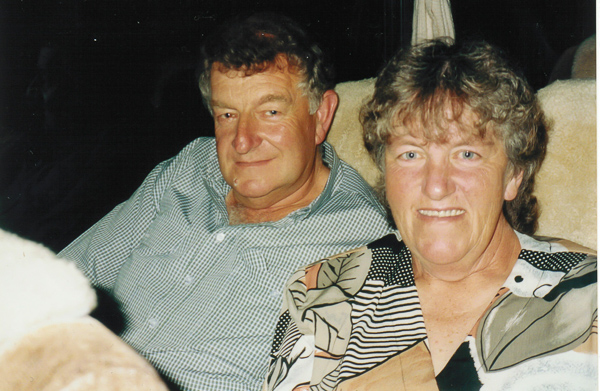 Gary Sutton's contribution to Tasmanian greyhound racing has been long and varied, indeed there a few areas of our sport in which he has not played a significant role. Ably assisted by his wife and comrade in arms, Cheryl, Gary is a household name amongst Tasmanian greyhound followers. Very fittingly, he now takes his place in the Tasmanian Greyhound Hall of Fame.