Inductee Hall of Fame 2015
Born at Launceston on July 10 1906, and raised at Longford, George Forsythe was small of stature, but a larger than life figure in the formative years of track racing in this state. A most revered trainer from the 1930's to 1970's, including open coursing, (indeed, famous trainers Sam Bracken and Colin Rosevear both claimed he was the greatest), Forsythe was also one of the more remarkable and colourful "characters" our sport has known.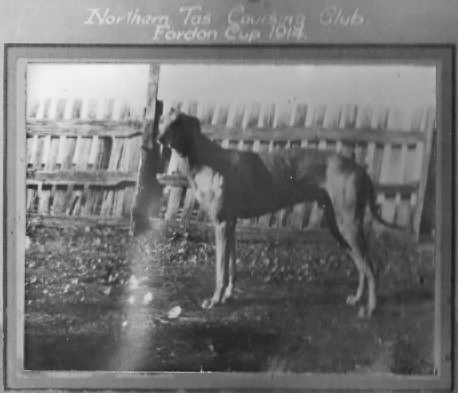 George's father was John Forsythe and his mother was Mary (nee Jordan). John had greyhounds in the coursing only era, and won the 1914 Fordon Cup with Young Pentil, run by the Northern Tasmanian Coursing Club. George took the family interest in greyhounds to a much higher level, but a little first about the man himself.
"Tullah" Redman recalls George as a suave, snappy dresser, who played his cards very close to his chest. Indeed, this was the era of secrecy in our sport, of "setting one up" for the plunge, with the strong bookmaker presence in those formative years of track racing. Although George resided and trained at Glenorchy for some years in the early 1950's, he lived most of his life in Launceston. In the early days, he shared a house with Jack Patmore a "leg man" for top bookie Tom O'Meara, on the corner of Forster Street and Invermay Road. George was a meticulous carpenter and didn't marry until in his thirties, when he tied the knot with Stella Sullivan, whose first husband Arthur had drowned. Stella had a daughter, Patricia to that marriage, but she and George had no children.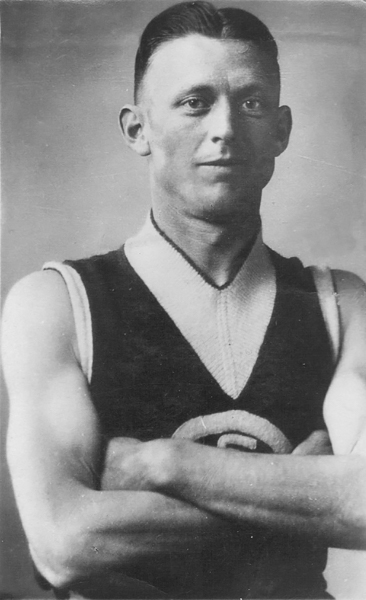 He built a brick home at 22 Henty Street in Invermay, very near White City, which remained the family home for most of his life. Despite his trade, friend and fellow great trainer Barry Chaplin (Jenny Caboleah, Negro Caboleah, Carmen Caboleah, What A Fortune and Launceston Cup champion Going National) said George always downed the tools when the dogs were going well. This was more often than not!
A true character, George Forsythe was extremely cunning. He was great mates with fellow trainer Merv Davis (of Murmungee fame), Neville Crosswell, Mick Krushka and Sam Bracken (Macdillon, Dottie Too etc), all learning so much from George………but he trusted very few people. He'd hide his own business, but was extremely keen to know everybody else's. He was known for a raft of sayings…"Stetson hats for men who think" and one of his catch cries ……." Instead of talking, they should be listening".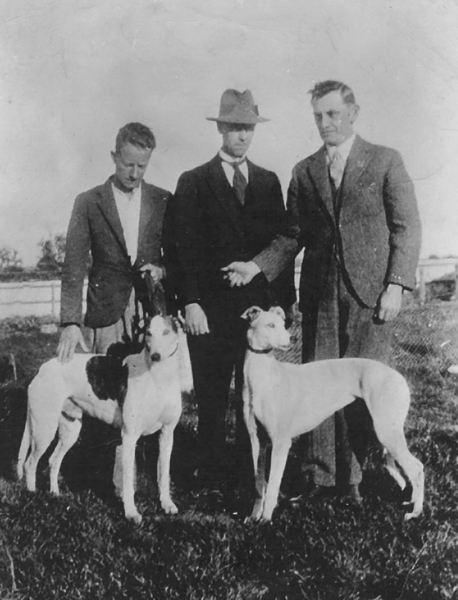 Apart from the greyhounds, George loved fishing and shooting, he was a dancing man, heavy drinker and smoker. That latter adversely affected his severe asthma, which eventually brought about his demise, dying in the Launceston General Hospital on April 17 1983. The "flashy" George best loved wearing a suit, hat, tie, waistcoat……….he loved to bet, but even more so with other people's money. Bookmaker Bill Green raced dogs with George, and did much of the punting on the Forsythe long tails. He did a great deal of business in Sydney also, where the colourful bookie "Chummy" Parkes was his man. Maybe George's fascinating sayings emanated from Parkes, who often spruked to the punters " I'll give you 10/1 and a packet of State Express if you win". George did his dogs as early as 4am, a good thing…….because it was not uncommon for him to start drinking at his favourite pub, the Commercial Hotel, by 6am, "while they were still mopping the floors". George would work when he had to, but was expedient at using other people instead. He'd often travel by train to Hobart to race, on the Tasman Limited, playing cards and drinking beer, and would stay at a hotel near the T.C.A. that had kennels for his dogs. When successful, it was not uncommon to "kick on" for a couple of days!
The extremely articulate George Forsythe was also quite an agitator. At one point he caused an Owners and Trainers strike. The iron fisted Arthur Morgan was less than impressed and gave George a twelve month "holiday"…….to which he declared……." and you'll serve every day of it!"
Despite his colourful nature and habits, it should never be underestimated, that George Forsythe was one of the great trainers of our sport. Before visiting some of his greatest dogs, let's look at the Forsythe training ways.
The Carter Brothers were a formidable force in Sydney, especially in the 1920's and 1930's, and George spent a great deal of time over a seven year period, cutting his teeth on greyhounds, especially under the tutelage of Albert Carter. He was with them when star bitches Jenny Jones and Lady Gladys won the N.S.W. Oaks in 1929 and 1933 respectively. Top N.S.W. trainer to be, Les Harper did the same, and he and George became great friends and were to do much business in the following decades. George's training and feeding regime closely mirrored that of the Carter's.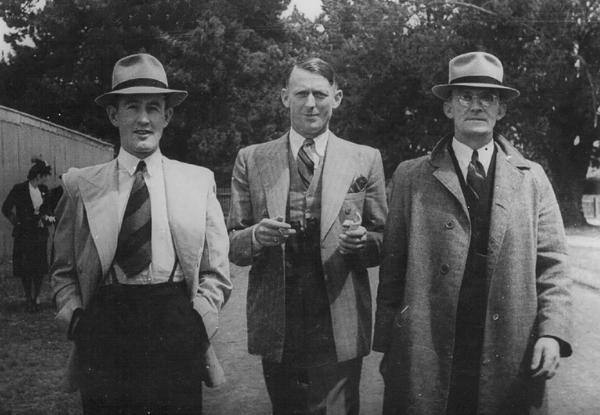 George Forsythe understood breeding better than most, and was said to have no peer with pups. He had a block in Vermont Road where the pups were reared and broken in. Alan West was his main helper and they would weed out the best and sell the rest, but all Forsythe dogs were for sale. Over the years many were sold interstate, mainly N.S.W. through Les Harper and Ray Pringle, and to the U.S.A. One of his greats, Chief Dennis was sold there, as were top bitches Fine Lu and Vulture's Harvest, both winning in top Sydney company first.
George was a disciplinarian and a hard man. His dogs were not allowed to bark in the kennels. He'd work his dogs as early as 4am, and believed in running his dogs rather than walking. A non believer in treating most injuries, his greyhounds were supremely fit through the constant running on the swamp lands near to White City. George regularly trialed his raceday dogs up White City's straight track on the morning of the race. The better they ran, the more he'd back them that night. Unheard of these days! George's mantra was work them early, work them hard, and let them rest all day. Prior to a Marathon race in Hobart, George pegged out a thousand yard straight run on "the swamp" for Chief Dennis the week of the race. He won it "by a hundred yards"!
George believed in only a small team, rarely more than six, and he did not over race his charges. He always had another litter coming on behind his current team. His best dog was always in kennel number one, then two, and so on. Coinciding with working them hard, George was a big feeder…….."a big sloppy feeder", of principally brown bread, soup and meat. The night before racing, it was rabbit stew with epsom salts …….to clean out the system. Tullah Redman recalls one great tip from George regarding split webbing…… a bottle of Vaseline, empty half, fill with boracic, mix with your fingers, apply – then cover foot with a boot………..we can all learn so much, if as George said " listen, don't talk".
What were some of the greatest George Forsythe greyhounds? Silver Crofton was rated number one by the man himself. This July 1957 brindle star was a rocket beginner that won 9 of his first 10 starts at Hobart's famous T.C.A., the one defeat when a hot favourite in Peter's Treasure's 1959 Hobart Thousand Final. In Silver Crofton's eighth successive win he equalled the Victorian champion Sharid's track record of 29.7. On April 4 1959 he also equalled the Devonport track record of 25 1/16 for the 465 yards, co-held by great chasers Meadow Vale (Australian Cup winner) and Spotlight's Image. The Mercury of May 5 1959 stated " Silver Crofton's weight varied only one pound either side of his declared weight from December 1958……..great credit to Forsythe's preparation" A prolific winner on all three Tassie tracks, including from two yards behind scratch at White City on December 10 1959, Silver Crofton ran 5th in a Melbourne Cup Heat in October 1960. Others from this litter to make their mark included Princess Crofton, Golden Crofton and Crofton Valley.
George bred a great proportion of his own great dogs, despite being a city dweller with a reasonably small team. He was one of the first to adopt at least a "semi-professional" attitude to Greyhounds, selling many young chasers, some after just a run or two, mainly through his N.S.W. connections, and often onwards to the U.S.A.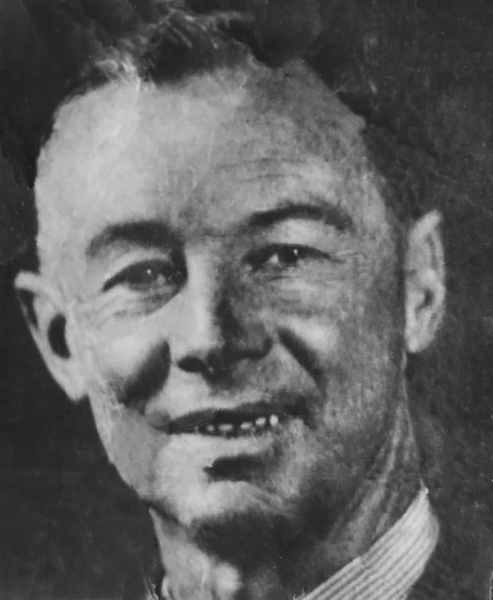 A brindle and white bitch, Phiz Gig, whelped in July 1933 was really his foundation brood bitch, producing seven litters, all bar the sixth (Rosevear Brothers) were for George. Many great chasers emanated from Phiz Gig, and some of her bitches, like All Phiz, also became significant producers. All Fight was the greatest of her stock. He was the champion puppy of the 1940-41 season, won the 1940 Easter Cup, and ventured to Victoria successively winning the Albury Championship in 1939 and 1940. He also won the Consolation Final of the Hobart Thousand. His brother Brimming Over was also a star, running second in the 1941 Easter Cup, and both dogs raced with success in Sydney under Les Harper's tutelage, All Fight running a track record at Wentworth Park. Other quality Phiz Gig chasers for George, included John Wayne (2nd 1943 Hobart Thousand), Ruination, Commercial Lady ( Hobart Cup Heat winner), Reliable Lad and Universal Lad.
The mighty Chief Dennis was up there with Forsythe's greatest dogs. This son of Chief Havoc – Gilda Girl, was an all distance star in Tasmania, won in Sydney, then sold to stand at Stud in the United States. As a pup he won his Heat and Semi of the 1954 Maiden Thousand, finishing 3rd to Kialga in the Final. He then took on the cream in the 1954 Hobart Thousand series, winning his heat, running second in his Semi, before an unplaced effort in Pasha Chief's Final. A prolific winner over all distances and tracks, Chief Dennis won 10 races at the T.C.A. in the 1954 season alone, some from 2/10's behind. He showed his amazing versatility in the 1954 Championship of Tasmania. Beaten a half head in the 540 yard Final to Roslyn Lad, he then ran 3rd in the 685 yard Final to Good Out, before thrashing 1953 Thousand winner The Mudlark in the 1027 yard Final. The following season he won the 1250 pound Spring Stakes Final over 685 yards at the T.C.A and the Heat and Final of both the Easter Plate and Winter Stakes at White City.
Triple Link, out of Phiz Gig's daughter All Phiz was another mighty George Forsythe chaser. Dogged by bad luck in big finals, he won 29 races over all distances and tracks. He won a heat of both the Hobart Thousand and Devonport Cup in 1953 before making the 1954 Hobart Thousand Final. He won Heat, Semi and Final of the 1953 Easter Purse at White City and won a trial Stakes Final at Devonport. When switched to distance racing, he won first up over 685 yards in Hobart, running a new track record of 39 3/10. One week later, he reduced his own record by a further 1/10 second in a runaway victory. His brother Single Link, beat him firstly by a half length, then by a nose in the Sprint and Distance Championship Finals of Tasmania respectively in 1953.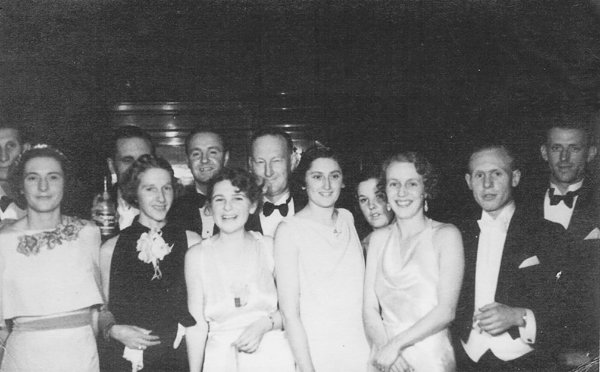 Forsythe had so many other great dogs spanning a forty year period between the 1930's and 1970's. His great Blue Birch – All Phiz litter from 1948 produced 1950 Maiden Thousand winner White Birch, 1951 Hobart Thousand runner-up Final Birch, and prolific winner Famous Birch. He took the trio to Geelong for the Victorian Derby. George ran 2nd with his great chaser Shirarch in the 1941 Launceston Cup, before dead-heating for first in the 1942 Launceston Cup……….with his other runner All Dixie. What an amazing achievement!
Other wonderful George Forsythe dogs included Baxter's Tonic, General Box, All Harry, Prince Worth, Golden Crofton and Crofton Valley. Two of his quality bitches, Fine Lu and Vulture's Harvest, raced with great success in Sydney after leaving Tasmania, both sold on as brood bitches to America. Despite his small team strategy, George Forsythe's name bobbed up continually among the leading trainers especially between the 1930's and 1950's. He was third leading trainer in Hobart in 1942-43, and leading Hobart trainer as late as 1958-59, when he trained 27 T.C.A. winners for Stakes of 1520 pounds.
George Forsythe was many things to Tasmanian greyhound racing, over several decades. A larger than life character, his knowledge of greyhounds was second to none, and was hugely respected by some of the greatest trainers that followed him. An astute breeder, many of his stars were home bred. His innate greyhound talents, and simple philosophy of hard work, top care, nutritional diet, and most of all ……….common sense, saw him become the first "professional" type trainer in this State, especially in attitude and planning. He now joins an elite group of trainers in the Tasmanian Hall of Fame.