Inductee Hall of Fame 10/12/2011
Black dog (Summerdown Chief – Arkle's Girl), Whelped February 1978, Owner – Mrs.Nora Drysdale-Bates, Trainer – David Crosswell
Highland Summer was not only one of Tasmania's finest ever sprinters, but also became the leading sire of his generation. Not bad for a dog that had four different owners before he was fully broken in. Bred by his trainer David Crosswell, from two of his own top performers, this dog was offered to the H.G.R.C as a raffle prize, purchase price 50 cents a ticket. Within a couple of months he was sold on for $100, before being on-sold once more, to Mrs. Nora Drysdale-Bates for $500 before he was broken in. Not surprisingly, the impressive black was nicknamed "Raffles".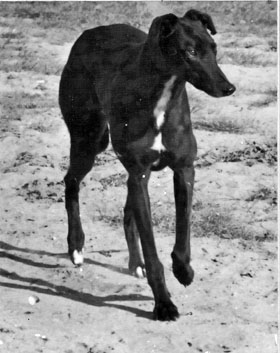 At career end, Highland Summer had amassed an amazing list of credits that included two track records, seven Final victories, interstate success, a sequence of 19 wins from his first twenty starts at White City, a famous Match Race victory, 1980 Greyhound of the Year Title, and $17.615 in stake money, thought to be a record to that time.
This great dog's career only spanned eighteen months from late 1979 to mid 1981. In that time he raced on 53 occasions, winning 37 (32 in best of the night), placing a further 9 and unplaced in only 7. The mark of his champion quality was in how much racing he missed with injury. Three times he broke the metacarpal bone, once having it pin fired. Later, he was continually being patched up with both chronic toe ligament, and back muscle injuries.
Whilst Highland Summer was regarded as somewhat of a freak at White City, he made his mark wherever he raced. Trainer David Crosswell was based at Sandford, south of Hobart during "Raffles" career, and he raced only nine times at Devonport, winning three. His best effort was a strong second behind Leo Burnett's classy Rodway Lad, in the 1980 Devonport Cup Final. His 25.01 best time over the Devonport 432 metres was marginally off track record pace at that time.
As a youngster, Highland Summer took on the cream of Australia's young chasers in the Maturity Classic at Olympic Park. There he won both his Elimination Qualifying and his Heat, before breaking down in the Semi-Final. He won his only other start at the inner Melbourne circuit by seven lengths in 30.29 on August 11 1980. In September 1980, he represented Tasmania at Harold Park in the Arnott – Spillers National Sprint Championship. He was considered, even by Interstaters, as Tasmania's best ever chance of a National title. But, after trialling brilliantly he carried an injured toe into that race, preventing him displaying his true ability.
At Hobart the black marvel raced 17 times for 13 winning, running a best 29.29 over the T.C.A. 500 metres (Beaut Dina's record was 29.20), and later a slick 28.71 over the Showgrounds 497 metres. His great box manners and blistering early pace were well suited to the tight T.C.A. He won three features in Hobart. As a pup he captured Heat and Final of the Christmas Stakes, and in 1980 won the Edments Diamond Pendant. After just failing to make the Hobart Thousand Final of 1981, he captured the Consolation Final. He also finished 3rd in the 1979 Gold Cup. "Raffles" won so many of his races by huge margins. On August 20 1980, he ran 29.30 at the T.C.A. beating Hobart Thousand winner Scene Control by 12 lengths, with the great Tugrah Beaver third. Two weeks later he won the Hobart Heat of the National Sprint Championship by 11 lengths over Great Bee, with Scene Control again in his wake.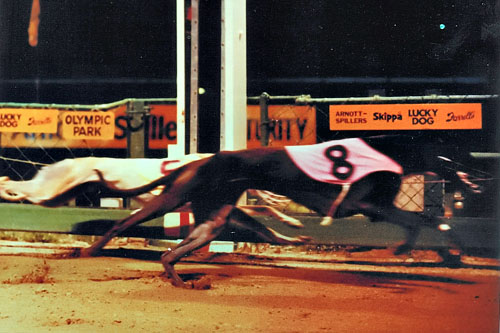 Highland Summer was a great dog everywhere, but at White City in Launceston he was truly a freak, nigh on untouchable. From 23 starts there, he won 19, and even his defeats were marvellous.
He won his first 13 in a row at White City. The seventh of these was the 1980 Launceston Cup when still a two year old. After blitzing his Heat and Semi, he was way too smart for Anymore Anne and Debbie's Spirit in the 1980 Final, taking the $3000 first prize.
His tenth in a row was a heat win of the Tasmanian Derby. In an earlier heat that night, Sam Spur broke Red Tollana's track record, recording 29.80. Highland Summer smashed it again, running an electric 29.75. A week later he beat Sam Spur and Play For Kicks to take the Derby Final by two and a half lengths.
A $5000 winner take all Match Race followed one week later with his great rival, the Richard Stamford trained, Sam Spur. After a stirring duel, "Raffles" was just too strong, scoring by one and a half lengths in 30.24 on a heavy track. When going for 14 on end at White City, and to equal the feat of the great Mystery Bridge, Highland Summer found strife, before failing by a mere neck to gun down top sprinter Negro Caboleah. He went on to win his next six at White City……he so nearly achieved twenty in a row!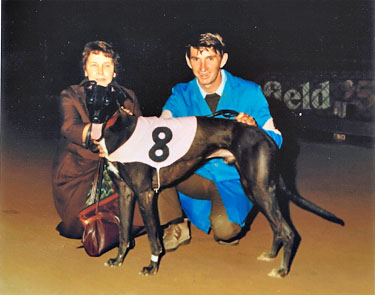 Next up, he took the Heat and Final of the LGOTBA Stakes. In the heat win he demolished great sprinters Hercules Harry and Baron Band, and also demolished his own track record, lowering it to 29.72.
On September 13 1980, he won the State Final of the National Sprint Championship, beating Solar Seven by 10 lengths, with Play For Kicks in third. He ventured to Harold Park for the National Final have won his past nine on all tracks, at a combined winning margin of 67 lengths…….that's some dog!
It's little wonder he won the 1980 Tasmanian Greyhound of The Year, with 26 wins and so many credits in just that season. Unfortunately, a serious injury in the National Final saw him sidelined for four months.
Upon his return, the main mission was to attempt a repeat win in the Launceston Cup of 1981. After winning his heat in the second fastest of 30, he blitzed his semi -final field and was sent out a warm favourite to win the Final. But after being unable to lead, and shunted out wide on the first turn, he worked hard all the way to gain a brave third behind the lead duo of Anymore Anne and Time Bonus.
Constant injury woes, saw Highland Summer's sensational career come to an end not long after, but he was to further enhance his greatness when David Crosswell embarked on a stud career with this mighty chaser. An instant success as a sire, Highland Summer was to be the dominant Tasmanian sire of the coming years, throwing a huge number of winners, that was to include so many star chasers.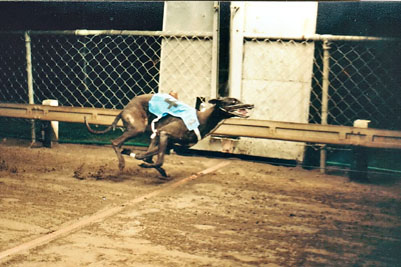 Best remembered of his progeny was Busy Vintage, the son to Tiny Port that is still Tasmania's only National Sprint Champion, and Greyhound of the Year, as well as running second in Brother Fox's Hobart Thousand.
That litter also included Hobart Thousand runner-up Highland Port, and prolific winning bitches, Summer Simone, Nicole Port and Amanda Port.
To Causeway Irish came 1983 Launceston Cup and Derby winner Glendale Irish, as well as his classy brother Glendale Garry. To New Leila came 1983 Maiden Thousand winner Our Sharlene, and a host of winning litter mates including Alpine Sunrise. Highland Joe, a son of Sparky Bingo was third in the same Maiden Thousand.
Highland Summer produced the 1984 Maiden Thousand winner as well, in his daughter to Pictish Too……Summer Too. That litter also produced excellent chasers Pictish Panther (3rd Young Star Classic), High Praise and Perfect Pixi. To Lady Blazenka, "Raffles" through a starry litter that included Hobart record holder Blazenka's Red, a prolific winner, the brilliant Ikaris, and smart chasers Bombed Out, Kicked Out and Gerard Flyer.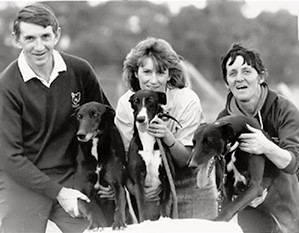 Then came the fabulous litter to Out Of Onyx. This included champion bitch Togari Dream, sprint track record holder at Hobart, prolific winners Togari King and Togari Gem, and excellent types in Togari Earl, Togari Di and Herbie O'Neill.
The classy Some Gain came from a mating to Gainaway. She won a Young Star before running second in the Hobart Thousand, Launceston Cup and State Sprint Final. Summer Spirit, a daughter of a mating to Jane Nicole, won the 1988 Winter Stakes over 722 metres.
Highland Summer threw so many other great chasers. These included Meldar's Ace (19 wins), Meldar's Gift (13), Meldar's Pride (15), Soldier Blue (15), Kaper Kid (14), as well as Port Summer (Derby 2nd), High Spring, Gretchen's Black, Final Port and Summer Cascade (25 wins)
With a spectacular career as both a champion track dog, and subsequently as a champion sire, Highland Summer rightfully takes his place in Tasmania's Greyhound Hall of Fame.