Inductee Hall of Fame 11/12/2010
Hilda Williamson, born at Holwell on September 18 1917, is remembered as one of Tasmania's greatest trainers, certainly in the very top echelon of breeders, and set a standard in our sport that few have come near to.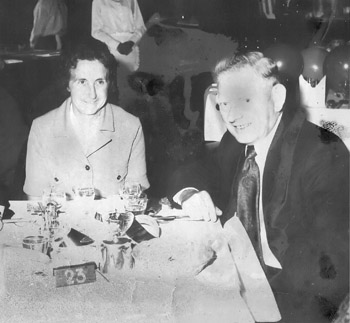 Born Hilda Rosie Hinds, she first met Derby man Jack Kenway Williamson at Rowella and they were married on September 21 1939. A strong character, Jack was a woodcutter, waterside worker and from 1954 a bookmaker and initially both Jack and Hilda only had a passing interest in racing. They had one son, Max, who was born on July 21 1941.
In 1947 the Williamson's moved from Holwell to Wells Street Beaconsfield, where Jack built on a quarter acre block they had purchased for 25 pounds. Amazingly, our Hall Of Fame Hilda, made her entry into greyhound racing without even knowing it, because in 1949 Jack bought Hilda a brindle greyhound bitch called Flying Coonega as a birthday present.
This came out of the blue, but it was to lead to a life in greyhounds. Hilda did seasonal work but was basically a homemaker, so had the time and the nature so suited to handling greyhounds. Soon she leased Main Birch and Conamon Birch from Alan Skeyhill of Underwood. Hilda was hooked!
They only ever had three dogs at Wells Street, and they ran their dogs behind a skin or hand held lure in the orchard behind their place. But in 1951, Jack and Hilda bought 10 acres in Crowther Street Beaconsfield for 600 pounds, and with the necessary extra space, the involvement in dogs increased rapidly. Soon they were breeding and handling many more dogs, up to fifty at a time.
Hilda was a nervous woman and didn't drive. Jack would drive her to race and trial, and after 1954 when Jack was hamstrung with bookmaking duties, his wharfie mates Alf Bennett and Jack Chandler would drive her. Later again it would be son Max.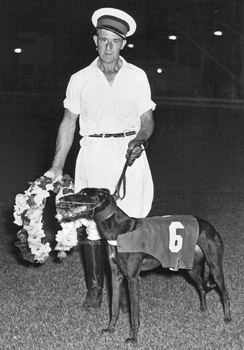 Hilda liked her own company and spent so much time with the dogs and did all her own checking. She walked her charges three miles of a morning, after which they had a break before feeding. In the afternoon the dogs free galloped and again they had a break before feeding. The dogs free galloped in paddocks which had kennels, sheds and trees. The constant ducking and weaving taught them track sense and an ability to handle the hustle and bustle. Feeding was all common sense stuff: mainly beef, kibble, an iron tonic and multi vitamin, and plenty of vegetables, mainly carrots and silver beet.
Top trainer and family friend Tulla Redman calls Hilda the T.J.Smith of Tasmanian dogs. " She worked and trialled her dogs more than most and had a clear fitness edge over most of their rivals".
Breeding was the strong suit of the Williamson fame. Hilda and Jack put much thought into their breeding. Keen line breeders, they bred only with specific bitches. They bred to keep some and sell some and Hilda believed there was nothing into picking a pup. They often kept those that didn't sell, though often Hilda would keep the bitches and sell the dogs. She preferred bitches because they were easier to train, and Hilda considered male dogs to be lazier. Her success with champion female dogs was unprecedented.
As the years rolled on Jack's bookmaking and Local Government interests saw his active involvement with the dogs wane though never wither. Hilda, despite shunning the limelight and forever underrating her own achievements, drove the Williamson greyhound machine. She set the bar extremely high, and rarely bought dogs outside of her own breed. Hilda was the leading trainer at Launceston track in the seasons encompassing 1958–1960, and certainly trained the most winners at Hobart in more seasons than one.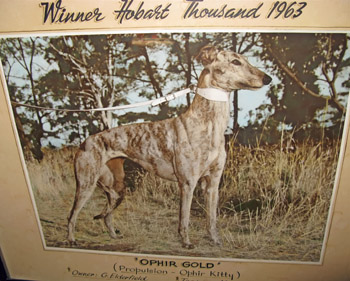 Well, what were these great dogs? Hilda Williamson had so many winners, that only the elite will be covered here. She made the "Ophir" monica famous, named after the nearby Ophir Goldmines.
Inaugural Hall of Fame bitch Ophir Doll obviously must head the list. Back to back winner of the 1961–62 Hobart Thousands (still the only dog to win it twice), she also won a Sprint and Distance Championship of Tasmania. Most of her 35 wins were at the TCA but she did break the 685 yard track record at Bulli. Going for her 3rd Hobart Thousand in 1963, she made the Final and ran 4th … and to who? None other than her litter sister Ophir Gold, who Hilda had sold to George Elderfield, but still trained.
So Hilda Williamson won three Thousands in a row with two bitches from the one litter. Further, Sunny Treasure and the great Lucky Apex were dogs bred by Hilda that also made that Final. For good measure Ophir Gold backed up with a victory in the 1963 Launceston Cup.
Ophir Kitty, 36 wins, was the dam of these Hobart Thousand winners was a great race dog as well. Besides winning the 1956 Sprint Championship of Tasmania, she was placed in a Puppy Championship, Devonport Cup and Gold Collar. Ophir Pet won 34 races, while Ophir Glitter won the 1967 Launceston Cup for Hilda when trained by Tullah Redman, Royal Avenue won the State Final of the 1969 National Distance, while prolific winner Ophir Treasure won a heat and semi of the 1959 Hobart Thousand before finishing 3rd in the Final.
Ophir Bint (1962 Christmas Stakes), Ophir Sparkle (9 wins from 11 before sold to NSW for $4500), Sandy Zone (1953 Nelson Cup) and Ophir Jet were other stars. And what about the wonderful stayer Coven Vista? Initially Hilda had no success with her, so sent her to Larry Tanner. He turned Coven Vista into one of Tasmania's greatest ever stayers, before she returned to Hilda for the back end of an illustrious career. Of her 31 Tasmanian wins, Coven Vista won the 1976 and 1977 State Distance Finals, was 2nd to legendary NSW chaser Woolley Wong in the 1977 National Final. She also won the Allstars Invitation at Angle Park and a Lucky Dog Medley at the TCA.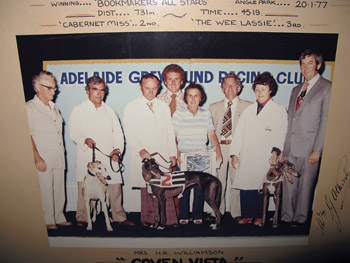 Hilda Williamson not only bred all of the afore mentioned, but also many other top class chasers that were purchased and raced by others. Ophir Kitty's dam Happy Barrier was the initial prolific producer, but so many of these great bitches were also wonderful broodbitches. In particular, Ophir Kitty, Ophir Treasure and Ophir Glitter.
Stan Rogers' legendary broodbitch Monavista was a full sister to Ophir Doll, but from the next litter, and bred by Hilda. So was Bill Read's star sprinters Sandy's Atom and Out Of The Blue, John Cross's Sample Bag, Tullah Redman's Not Responsible and Lucky Apex, Howard Delaney's Pretty Woman, and so many others such as Young Beaver, Glitter Girl, Sunny Treasure, Royal Tasman, Cliff Floyd's Coven's Twin and Real Temptation.
Hilda Williamson died on June 28 1980. She had entered greyhound racing by accident. Self taught in all matters greyhound, and always understating her own ability and achievements, she was truly on the top rung of both trainers and breeders in this State.
Tasmanian greyhound racing has been a far better place for Hilda Williamson having been a part of it, and we elevate her into the Tasmanian Greyhound Hall of Fame.