Hall of Fame Inductee 2018
Fawn Brindle Dog, (Trapper Rock — Pleasant Oak), Whelped April 1970, Owner Aub Jacobson, Trainer Harold Lionel "Mick" Muir
The Mountain Rock story is equally about the man, trainer Mick Muir, as it is about the injury prone champion chaser. Mick and "the Rock" had two major common threads; huge talent and massive popularity within the greyhound fraternity; and at a time that was the pinnacle of our sport, when there were never more top trainers and top greyhounds.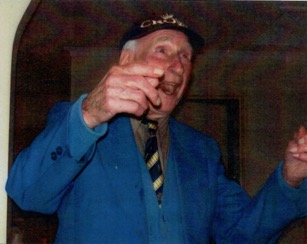 Mick Muir was an amazing man. Born at the inner Melbourne suburb of Brunswick on 19 October 1911, he died in Hobart on December 23 2013, in his 103rd year! He had a zest for life like few others and was active well past his 100th birthday. A bit of a villain, a tiny bit eccentric, but a kind and gentle man, Mick loved singing and dancing, and was well known at that caper, and maybe a drink, at North Hobart's Empire Hotel.
The third born of three boys and three girls, he grew up around greyhounds through his father. Mick worked for a Printing Company prior to World War Two. He was married for a mere six months; his wife leaving him when enlisted for War in March 1941, as a Private in the Australian Supply Depot Platoon AASC in New Guinea. Mick was quite sick during the War and was involved in experimental trials on illnesses such as Malaria. His life changed course in a major way when he left Army duties behind on 26 October 1945. He'd become great friends with Jack Smith during service, a Tasmanian living in North Hobart. Mick ventured South to visit his mate, loved it here and never returned to Melbourne for more than a visit. He bought a house at 18 Newdegate Street in North Hobart, and along with his tail waggers, resided in that same place before entering a Nursing home in his twilight years.
In greyhounds, Mick Muir formed an early association post WW2 with Barney Zenner. They had great success in Open Coursing, and on the Speed Tracks of the T.C.A and White City. Mala Ribb was their finest chaser. In 1955 Mick Muir formed a lasting friendship with popular local butcher Aubrey "Aub" Jacobson, who indeed became a Life Member of the Hobart Greyhound Racing Club. The two formed a lasting bond, not only as close mates, but a highly successful Owner- Trainer duo. The win of Air Diner in the 1957 Puppy Championship of Tasmania was their first major victory together. The magnificent Trapper Rock was their greatest chaser prior to Mountain Rock. A serious hock injury led to his early racetrack demise, but not before he had 21 starts at the T.C.A. for 12 wins and 9 placings. Further, he had a successful Stud career, standing at Mick's place, and was indeed the sire of Mountain Rock, through a mating with their top bitch Pleasant Oak, a daughter of the legendary Oak Queen.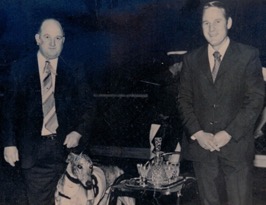 It must be noted that Mick Muir was regarded amid his peers and one of the great trainers. His dogs were Royalty in his eyes. His lateral thinking and dedication to the animal, led to remedies way beyond the comprehension of most. He swore by the recuperative powers of cabbage leaves (which drew out soreness and impurities), beetroot juice, dandelion wine, honey and Epsom salts.
The Trapper Rock – Pleasant Oak mating of April 1970, not only threw Mountain Rock, but an entire litter of successful chasers. Along with "the Rock" we had Master Rock, So Pleasant, Tele's Gamble, Trapper Too, Trapani, Sapphire Rock and Trapper Oak. Master Rock in particular was a classy chaser, winning the 1973 Launceston Cup Consolation. The litter amassed in excess of 70 races, and saw Aub Jacobson take out the Hobart Leading Owner Award for the 1971-72, and 1972-73 Seasons.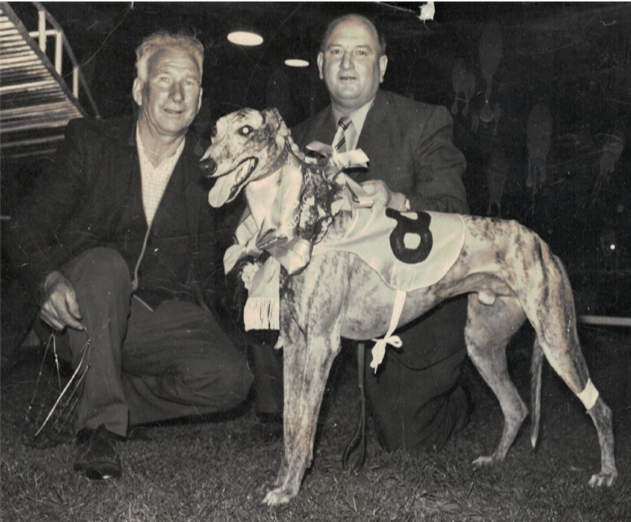 Mountain Rock's rise to stardom was a gradual one. The 71 pound fawn brindle chaser, kept improving as he matured, and this despite several breaks when combatting various muscle injuries. Notwithstanding a brilliant debut victory on 27 December 1971, by 9 lengths in a slick 29.7 in a Maiden Thousand Heat, Mountain Rock's next seven starts brought only two more seconds and thirds. In fact, his second career victory, and by a mere head, was at his White City debut on 27 March 1972………in the 785 yard Mowbray Stakes. There was a far greater emphasis on versatility in this era. With longer races constantly available to all grades, trainers were not afraid to mix and match distances. Mountain Rock was so tough, and tremendously adept at such.
After a 9 length Juvenile win at Hobart and a 2nd in similar grade at Launceston, Mountain Rock was injured when 6th in a 737 yard Lindisfarne Stakes. Despite missing 60 days of racing, Mick then set his young hopeful for the 1972 Lucky Dog Medley Championship in Hobart. From box two, he beat Vic Barrow's outstanding Roman Too by two lengths his 540 yard heat, and a week later qualified for the Final when finishing a head 2nd to Autumn Reject in the 737 yard Heat. He drew the pink box in the classy Final on 8 July 1972, and at a luxurious 8/1 he overpowered his heat nemesis Autumn Reject to score by ½ a length in a smart 41.3 seconds. Top performers Spring Theme and Moss Viking were unplaced behind him. This was Mountain Rock's first feature win and netted Aub and Mick $500.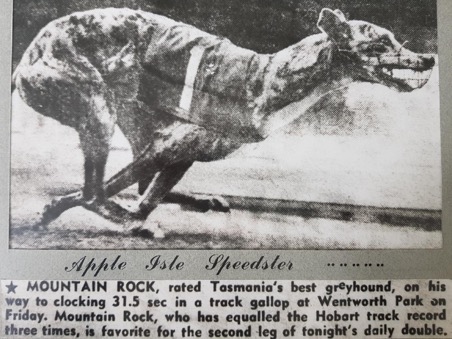 Still at Hobart, but back to 540 yards, "the Rock" ran a useful 29.7 in polishing off smart bitch Shannon View by 3 lengths in a Grade 4. Never one to shy away from a challenge, Mick Muir then set his budding star for the National Sprint State Championship of 1972, and despite racing way out of his grade. On 5 August 1972, he started at 7/1 in his first round Heat at the T.C.A. His mighty effort from box four, in beating the 6/4 favourite Go Tanist and the ill-fated champion Barrington Boy, by one length and three lengths respectively, made all and sundry realize he was a top notch performer in waiting. Onwards to White City, he ran most creditably form poor draws in both the second round Heat 4th to star chaser Galtee Chief, and his State Final 5th to Barrington Boy.
Mountain Rock's next 11 starts netted 3 wins at Hobart, 1 at White City and a ten length victory over the Devonport 573 metres on February 3 1973. From that night, "the Rock's" career elevated to a whole new level. The rising star was about to become a champion.
With mounting confidence Mick Muir set his charge for the 1973 Launceston Cup. His solid box 6 Heat 2nd to Snappy Student was a smooth start, but he raised the bar one week later. From box two, and as a 7/4 favourite, he zoomed away late from Syn's Reward in a slick 30.2 Semi Final victory, securing a Final berth from box 8 on February 24. In a career defining performance, Mountain Rock flew the lids, and left a fabulous field in his wake, scoring by six lengths from the Noel Butters trained star sprinter Iva White Face, and Della's Son another two lengths back in third. At 8/1, Mountain Rock took the $1500 winner's cheque and equalled Biffin River's track record of 29.9.
On March 10 1973, he failed in a National Distance Heat at White City. Only seven days on, he exited box 5 at his beloved T.C.A. and raced away from class bitch Lyke Lady in a Presidents Stake. Astoundingly, he equalled the 29.3 track record, jointly held by elite chasers Sue's A Credit and Galtee Chief. But it gets even better. The following month of April 1974, Mountain Rock won successive President Stakes at Hobart, and equalled the again track record on both occasions. That amounted to 4 equal track records runs in just 49 days!
Following another 7 length victory over Highland Billy, in a near track record 29.4, Mick and Aub decided "the Rock" deserved a chance in "the big smoke" and headed for Sydney. He lined up at Wentworth Park on 19 June 1973. After trialling well and carrying with him the reputation as Tassie's finest, he started 8/11 favourite from the cherry. Leading most of the way over the 530 metres, he beat Pretty Walk by 2 ½ lengths, and his time of 31.65, was only bettered on the night by the N.S.W. champion Woolley Wilson. Four days later he attempted a repeat at Harold Park, but disaster struck and not only was he unplaced, but an injury from that run saw him return home. He did not resume racing for 119 days.
The champ renewed hostilities in a heat of one the greatest Tasmanian Gold Cup series ever run at Hobart. Of the 31 Heats over three nights, Mountain Rock was the only dog handicapped off 1/10 of a second behind scratch, in a magnificent era of top class performers. His October 20 1973, Gold Cup Heat resumption was a credit to his great trainer. Despite the handicap, he stormed to victory over star bitch Our Cresta, running a sterling 29.6 in his 1 ¾ length dominance. Again from box 8 in his Semi, and as a two's on favourite, he pounced on Willispeed late in scoring by ¾ length in 29.7.A week later, in the greatest Gold Cup ever run, he was sent out at 7/2 despite giving the 1/10th start, which equates to 1 ½ lengths. It was only bad luck half way that cost him victory. The T.C.A. freak Mona's Beauty led as always, but "the Rock" had moved in to 2nd spot midrace. He had her covered but checked off her heels at a vital stage and had to settle for the most gallant of 2nds. Only beaten by ¾'s of a length, the Hobart Thousand winner Sue's A Credit was the same margin away in 3rd.
Barely five days later, Mick took his champ to Sandown for a heat of the 1973 Melbourne Cup over 513 meters. Australia's greatest dog, Half Your Luck was an 8/1 on favourite in that race and duly saluted by 6 ½ lengths but Mountain Rock beat the rest, and made it into the Melbourne Cup Consolation Final the next week. The pride of Tassie started favourite at 9/4, and proved too good for Michelle Louise by ¾ of a length. His time of 31.18 was significantly quicker than New Mariner's 31.46 in the Melbourne Cup Final that same evening! He finished his Melbourne campaign with an Invitation 5th at Sandown, and Courage Cup Heat 4th at Olympic Park.
Back on home soil, Mountain Rock finished 1973 off in style. At three's on, he made light work of Gold Arcadus in his Heat of the 7HO Christmas Stakes in yet another near T.C.A. track record 29.4. At even money, and from a precarious box 6, he stormed home from the rear to nail Our Cresta by a head in taking the Final. His magical 12 months was capped off with his naming as 1973 Tasmanian Greyhound of the Year.
Mountain Rock started 1974 with lofty goals, and still at the height of his powers. On New Year's night, he narrowly missed in the Aub Bratt Memorial as a 5/4 favourite behind his great nemesis Sue's A Credit. Eleven day later, he launched his attack on the 1974 Hobart Thousand. As a 1/3 hot pop, he went under by a ½ length to Jack Green's Cellar Master. He struck a similar fate in his Semi Final when a twos on 2nd to Havadale, just missing a spot in the glamour Final. February 2 1974 saw Jamin John win the Hobart Thousand. On the same night Mountain Rock won the Invitation by 5 lengths from top bitch Our Bubby. His 29.5 was the same time posted by Jamin John in the Final. But this victory came at a massive cost.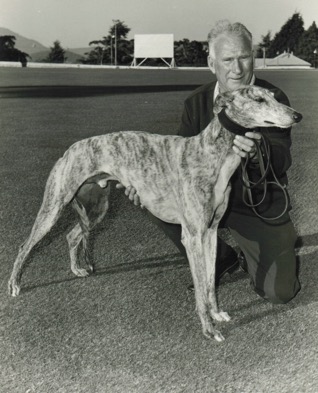 Despite his devastating success, "the Rock" broke down and was unable to defend his Launceston Cup title of 1973. But worse was to follow. When he resumed at Hobart on 20 April 1974, he was again injured in a rough house Invitation, and Mick Muir pulled the pin on his awesome 57 start career. It had netted 25 victories (20 were best of the night), 12 seconds and 5 thirds. He won in three States, equalled four track records on two tracks, and consistently beat or matched the best chasers of a golden era.
Mountain Rock stood at Stud from August 1974 till the end of that decade, initially alongside his sire Trapper Rock, and still at Mick Muir's humble 18 Newdegate Street abode. He sired many litters and left his stamp on the Tasmanian breeding landscape. To Petite Cheveau he threw the great staying bitch Golden Cheveau (26 wins) and her classy brothers Sashay Cheveau and Noble Cheveau. Star bitch Out Of Onyx and her sister Onyx Doll came from a 1976 mating with Onyx Gem. Mountain Dancer, Spring Bay King, Spring Bay Jet, Argentina and host of other winners dotted the landscape.
There have been few combinations more popular or better known than Mick Muir and Mountain Rock. Now the great dog so fittingly enters the Tasmanian Greyhound Hall of Fame.
Mountain Rock Racing Record
FawnBrindle Dog, by Trapper Rock from Pleasant Oak, Whelped April 1970
Trainer: Harold Lionel "Mick" Muir
Owner: Aub Jacobson
Career: 57 STARTS 25 WINS, 12 SECONDS, 5 THIRDS
| | | | | | | | | | | |
| --- | --- | --- | --- | --- | --- | --- | --- | --- | --- | --- |
| DATE | PLACING | BOX | TRACK | DISTANCE | TIME | MARGINS | GRADE | WINNER/or 2ND | PRICE | COMMENTS |
| December 27, 1971 | Won | 1 | T.C.A. | 540y | 29.7 | 9l – 2l | Maiden Thousand Heat | Adam's Flash | 4/7f | |
| January 3, 1972 | 4th | 4 | T.C.A. | 540y | 30 | | Maiden Thousand Semi | Miss Pattina | 4/5f | |
| January 22, 1972 | 2nd | 6 | T.C.A. | 540y | 30 | 1l – 2 1/2l | Hobart Thousand Heat | Crrysler Lad | 1/1f | |
| January 29, 1972 | 6th | 8 | T.C.A. | 540y | 29.2 | | Hobart Thousand Semi | Gwen's Champ | 16/1 | |
| February 12, 1972 | 3rd | 5 | T.C.A. | 540y | 29.7 | 1 3/4l- 1/2hd | Juvenile | Rebecca Francis | 3/1f | |
| March 11, 1972 | 3rd | 8 | T.C.A. | 737y | 41.5 | 1 3/4l- 1/2hd | Novice Distance Heat | Red Bear | 4/1 | |
| March 18, 1972 | Fell | | T.C.A. | 737y | 42 | | Novice Distance Final | Glenavon Daynt | 4/5f | |
| March 25, 1972 | 2nd | 8 | Devonport | 465y | 25.5 | 4l – 2l | Juvenile | Roman Too | 7/2 | |
| March 27, 1972 | Won | 5 | White City | 785y | 44 12/16 | head – 2l | Mowbray Stakes | Deventer Flash | 3/1 | |
| April 8, 1972 | Won | 6 | T.C.A. | 540y | 30 | 9l – 2l | Juvenile | Mickey Pedro | 7/4f | |
| April 22, 1972 | 2nd | 6 | White City | 548y | 30 12/16 | 1l – 6l | Juvenile | Night Todd | 4/5f | |
| April 25, 1972 | 6th | 5 | T.C.A. | 737y | 41.3 | | Lindisfarne stakes | Moss Viking | 2/1ef | |
| June 24, 1972 | Won | 2 | T.C.A. | 540y | 30.7 | 2l – 1/4l | Lucky Dog Medley Heat | Roman Too | 9/2 | Extraordinary icy conditions |
| July 1, 1972 | 2nd | 8 | T.C.A. | 737y | 41.2 | Head – 6l | Lucky Dog Medley Heat | Autumn Reject | 6/4f | |
| July 8, 1972 | Won | 8 | T.C.A. | 737y | 41.3 | 1/2l – 3l | Lucky Dog Medley Final | Autumn Reject | 8/1 | $500 |
| July 27, 1972 | Won | 1 | T.C.A. | 540y | 29.7 | 3l – 1 1/2l | Trial Stakes | Shannon View | 1/1f | |
| August 5, 1972 | Won | 4 | T.C.A. | 540y | 29.6 | 1l – 2l | National Sprint Heat | Go Tanist | 7/1 | Runnerup 6/4f |
| August 12, 1972 | 4th | 5 | White City | 548Y | 30 1/16 | | National Sprint Heat | Galtee Chief | 6/4f | |
| August 19, 1972 | 5th | 4 | White City | 548y | 30 | | National Sprint State Final | Barrington Boy | 6/1 | |
| August 26, 1972 | Won | 1 | T.C.A. | 540y | 29.7 | 1 1/4l – 2l | Trial Stakes | Jan Zaeer | 4/7f | |
| September 16, 1972 | 2nd | 1 | White City | 548y | 30 4/16 | 5l – 3l | Trial Stakes | Kui Kohe | 5/4f | |
| September 23, 1972 | Won | 6 | White City | 548y | 30 12/16 | 4 1/2l – 1l | Trial Stakes | Benlinn Kepp | 1/1f | 2nd dog became a star |
| September 27, 1972 | 2nd | 5 | Devonport | 432m | 25.6 | 1/2l – 4 1/2l | Trial Stakes | Attim Attim | 4/5f | |
| October 14, 1972 | 7th | 2 | T.C.A. | 540y | 30 | | Gold Cup Heat | Onyx Charm | 4/5f | |
| November 4, 1972 | Won | 3 | T.C.A. | 540y | 29.7 | 2 1/2 l – 1 1/4l | Bellerive Stakes | Rebecca Francis | 6/4f | |
| November 11, 1972 | 3rd | 3 | T.C.A. | 540y | 29.6 | 1/2l – 2 1/2l | Presidents Stakes | Miracle Note | 7/2 | |
| January 10, 1973 | 3rd | 2 | Devonport | 432m | 24.9 | 4l – 3l | Invitation | Biffin River | 10/1 | |
| January 20, 1973 | 5th | 1 | T.C.A. | 540y | 29.6 | | Hobart Thousand Heat | Sue's A Credit | 5/2 | |
| February 3, 1973 | Won | 1 | Devonport | 573m | 33.9 | 10l – 1/2l | Roland Stakes | Shire's Imp | 2/5f | |
| February 10, 1973 | Won | 4 | T.C.A. | 500m | 29.5 | 3l – 3l | Presidents Stakes | Dalmore Prince | 10/1 | |
| February 14, 1973 | 2nd | 6 | White City | 502.5m | 30.3 | 2 1/2l – 1 1/2l | Launceston Cup Heat | Snappy Student | 2/1 | |
| February 20, 1973 | Won | 2 | White City | 502.5m | 30.2 | 1l – 1l | Launceston Cup Semi | Syn's Reward | 7/4f | |
| February 24, 1973 | Won | 8 | White City | 502.5m | 29.9 | 6l – 2l | Launceston Cup Final | Iva White Face | 8/1 | Equalled Biffin River Track Record |
| February 26, 1973 | 3rd | 4 | T.C.A. | 500m | 29.4 | 5l – 5l | Presidents Stakes | Venetian Note | 7/2 | |
| March 10, 1973 | 5th | 5 | White City | 722m | 44.5 | | National Distance Heat | Bullawie | 5/2 | |
| March 17, 1973 | Won | 5 | T.C.A. | 500m | 29.3 | 2 1/4l – 4l | Presidents Stakes | Lyke Lady | 3/1 | Equalled Track Record with Sue's A Credit/Galtee Chief |
| March 31, 1973 | 5th | 8 | T.C.A. | 500m | 29.5 | | HGRC Stakes | Della's Son | 7/2 | |
| April 7, 1973 | Won | 2 | T.C.A. | 500m | 29.3 | 3 1/2l – 1 3/4l | Presidents Stakes | Venetian Note | 2/1f | Equalled Track Record again |
| April 14, 1973 | Won | 1 | T.C.A. | 500m | 29.3 | 2l – 9l | Presidents Stakes | Cliff Roamer | 5/4f | Equalled Track Record for third time |
| April 23, 1973 | scr | | White City | | | | Easter Cup Heat | | | |
| May 26, 1973 | 4th | 6 | T.C.A. | 500m | 29.5 | | Invitation | Highland Billy | 2/1ef | |
| June 2, 1973 | Won | 2 | T.C.A. | 500m | 29.4 | 7l – head | HGRC Stakes | Highland Billy | 1/1f | |
| June 19, 1973 | Won | 1 | Wentworth Park | 530m | 31.65 | 2 1/2l – 1 1/4l | Fifield Stakes | Pretty Walk | 8/11f | Time second only to champion Woolley Wilson |
| June 23, 1973 | unpl. | 5 | Harold Park | 457m | 25.51 | | Lismore Stake | Sir Ochre | | Injured, returned home |
| | | The only dog handicapped off 1/10 second behind scratch in 31 Heats of Tasmanian Gold Cup | | | | | | | | |
| October 20, 1973 | Won | 8 | T.C.A. | 500m | 29.6 | 1 3/4l – 2 1/2l | Tas. Gold Cup Heat | Our Cresta | 3/1 | 1/10 behind scratch |
| October 27, 1973 | Won | 8 | T.C.A. | 500m | 29.7 | 3/4l – 6l | Tas.Gold Cup Semi | Willispeed | 1/2f | 1/10 behind scratch |
| November 3, 1973 | 2nd | 8 | T.C.A. | 500m | 29.7 | 3/4l – 3/4l | Tasmanian Gold Cup Final | Mona's Beauty | 7/2 | 1/10 behind scratch |
| November 8, 1973 | 2nd | 6 | Sandown | 513m | 30.66 | 6 1/2l – 5 1/2l | Melbourne Cup Heat | Half Your Luck | 20/1 | Winner Australia's top dog at 1/8f |
| November 15, 1973 | Won | 4 | Sandown | 513m | 31.18 | 3/4l – neck | Melb.Cup Consolation Final | Michelle Louise | 9/4f | New Mariner won Melb.Cup same night in 31.46 |
| November 29, 1973 | 5th | 8 | Sandown | 513m | 31.38 | | Invitation | Black Coburn | 6/1 | |
| December 3, 1973 | 4th | 4 | Olympic Park | 511m | 30.38 | | Courage Cup Heat | Blue Allen | 8/1 | |
| December 15, 1973 | Won | 1 | T.C.A. | 500m | 29.4 | 3l – 3 1/2l | 7HO Christmas Stakes Heat | Gold Arcadus | 1/3f | |
| December 22, 1973 | Won | 6 | T.C.A. | 500m | 29.8 | Head – 1 1/4l | 7Ho Christmas Stakes Final | Our Cresta | 1/1f | Flashed home from well back to score |
| | | NAMED 1973 TASMANIAN GREYHOUND OF THE YEAR | | | | | | | | |
| January 1, 1974 | 2nd | 8 | T.C.A. | 500M | 29.7 | 3/4L – 1/2hd | Aub.Bratt Memorial | Sue's A Credit | 5/4f | |
| January 12, 1974 | 2nd | 3 | T.C.A. | 500m | 29.5 | 1/2l – 1 3/4l | Hobart Thousand Heat | Cellar Master | 1/3f | |
| January 26, 1974 | 2nd | 3 | T.C.A. | 500m | 29.6 | 2 1/4l – head | Hobart Thousand Semi | Havadale | 1/2f | |
| February 2, 1974 | Won | 3 | T.C.A. | 500m | 29.5 | 5l – 1 1/2l | Invitation | Our Bubby | 4/6f | Same time as Jamin John won Hobart Thousand |
| | | Injury prevented him defending his Launceston Cup crown | | | | | | | | |
| April 20, 1974 | 6th | 5 | T.C.A. | 500m | 29.9 | | Invitation | Night Worry | 5/4f | Injured and his Final Start! |