Hall of Fame inductee 2009
Red Fawn Bitch,   Oakleigh Chief – Lady Pleasure  Whelped January 1957
Owner: Mrs.A. Gray   Trainer: Reg "Titch" Wilson
Bred by Stan Maher on Ash Island near Newcastle, owned by Mrs Aileen Gray, a butcher's wife from Longford, and trained on the Invermay swamps by master mentor Reg" Titch" Wilson, Oak Queen rates as one of the most versatile bitches and best stayers ever seen in Tasmania.

Titch was a short, muscular and hard working trainer/breeder who supplied many other dog men with their meat. No stranger to top dogs, he had the wonderful Nanda Barlu, Phoenix Rising, top hurdler Freight Train and later the freaky Western Idol.
Oak Queen debuted at White City on December 15 1959 as a twenty three month old. Her fast finishing second from box ten, was only a minor indication of the greatness that lay ahead. She travelled south to win a heat and semi final of the 1959 Maiden Thousand, before working home strongly for fourth to star Victorian Jeteddy in the Final. She won Juveniles at two of her next four in smart times and greyhound fans were warming to her talent.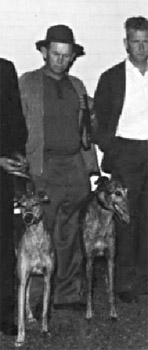 On February 7 as a twenty five month old, she started an amazing sequence of nineteen wins from twenty three starts in three States, which included sprint and distance features, and multiple track records. With an exciting trademark style of keeping off in the straits and railing the bends, she began demolishing all comers with her powerful finishes.
A fast 30 7/16 Trial Stakes win over the White City 548 yards was followed by 465 yard wins of a Trial Stakes Heat and Final at Devonport.
In March 1959, she stepped up to the big time. In the space of a mere twenty four days, she raced nine times, and left the greyhound world gasping at her talent and toughness. On March 7 she thrashed Ophir Pet over 465 yards in a Devonport Cup Heat. Two nights later she debuted over 785 yards at White City, winning a Heat of the Invermay Stakes by 17 lengths in a Track Record 43 8/16. Five nights later, she beat the same dog Chief Varuna by ten lengths in this distance Final. Four nights later and back to 465 yards, she was a two length second to the brilliant Spotlight's Image in her Devonport Cup Semi final, only 1/16 outside the track record. Three nights later she ran fifth to the same dog in the Cup Final at Devonport, before two nights later winning in a best of night over 548 yards at Launceston. Five nights later Oak Queen blitzed her heat of the Easter Cup at Launceston in a best of night 30 3/16, and lazily rounded off the month by bolting in the 1959 Easter Cup by five lengths in a Race Record 29 13/16.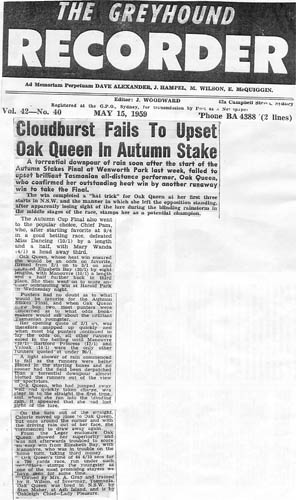 A champion had arrived. On April 11 1959 she match raced Leo Burnett's wonderful stayer Supreme Ace over 785 yards at White City and beat him by two lengths in 44 4/16. The ever feisty and upbeat Titch Wilson then boldly decided to take on Aussie's best and took the little champ to Wentworth Park in Sydney.
On April 29 1959 she brained Sydney's finest in a heat of the prestigious Autumn Stakes over 790 yards. Running 44.2, some 5/10 and 1 second quicker than the other two heats, Oak Queen, drawn eight, won by 8 lengths from Manoevre at 7/4. Before the Final she easily won at Gosford over 532yards.
It's no wonder she started 1/3 favourite in the Autumn Stakes Final on May 9. This time she exited from the two box, and again she won by 8 lengths, again in a best of night time of 44.4 seconds flogging Elizabeth Bay. Oak Queen rounded off the Sydney trip five nights late in the feature E.L.Stakes, this time at Harold Park over 800 yards. Different track- same result! Running 0.76 and 1.09 quicker than the other two distance races, she demolished Lilac Mate in 43.9 seconds by two and half lengths at 6/4 on. Tassie already knew it had a champion, now all of Sydney knew as well.
Back home the champ rose to an even higher level. At the TCA she beat Hall of Famer Ebony Minda by 6 lengths in a heat of the Glenorchy Stakes, equalling the track record of 38 seconds. In the Final a week later, and by a mere 10 lengths, she ran a track record 37 8/10 which stood for a decade until they altered the distance.
Back to 540 yards, she won the Sprint Championship of Tasmania. Next she blitzed Sputnik Second over 685 yards in the Distance Championship of Tasmania. After reverting back to 548 yards in a top class win at White City, she ran in the Marathon Championship of Tasmania over 1027 yards at the TCA. No dog had ever won all three. Oak Queen did, and in some style. She beat Sweet Pameua by 25 lengths in 58 4/10, another track record and one that was never broken. The twos on was a luxury!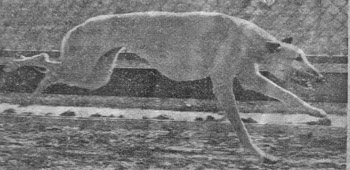 After an Interstate Invitation 3rd to top Victorian Town Ghost over 675 yards at North Melbourne, the champ was injured running last at White City in a sprint that saw her off the scene for six months.
When she resumed, it was at the TCA in a heat of the 1960 Hobart Thousand, which she won running away by 2 lengths. After a Semi –Final 5th, she was back to her beloved longer distances with a 785 yard win at White City giving a one yard start. Eleven days later, Titch Wilson made a hit and run visit to Wentworth Park for the prestigious NCA Australian Championship over 790 yards at Wentworth Park. From box five and at 6/4 favourite, she waltzed in by a cool 8 lengths from Boodler, with 3 more lengths to third. The time was a sizzling 44.1, and she snared the 175 pounds first prizemoney .So it was back to Victoria.
On March 7 1960 She ran 3rd in the Moomba Cup at North Melbourne to the Victorian Audio Boy, with fellow Tasmanian Bow Rock 2nd. Five days later she was back to Hobart for a sprint 4th. Then again to Melbourne and a crack at the 675 yard Australian Cup. Her massive reputation saw her giving the frontmarkers 3 yards start, and she stormed into 2nd behind Gleaming Jet. Despite the handicap she was 5/4 equal favourite. In the semi she was off the same impossible back mark of three yards. Her courageous third to Fairs Orders just saw her miss out on a final berth, a final won by fellow Tasmanian Meadow Vale off the front mark.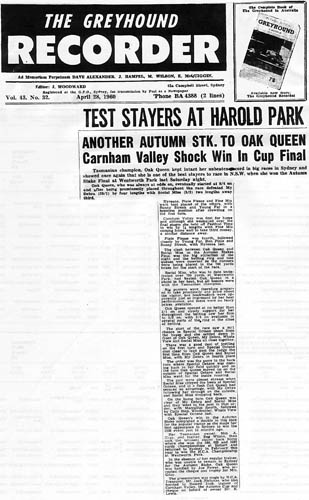 A mere five days, April 2 1960, she returned to her beloved White City and posted another brilliant win. She ran 44 4/16 beating Princess Rhythm by six lengths over the White City 785 yards, despite conceding the front markers 2 yards. But more riches lay ahead. Titch decided it was back to Sydney for another crack at the Autumn Stakes at Wentworth Park. Despite a fast closing neck 2nd in the 1960 Autumn Stakes heat, Oak Queen was a 4/9 favourite and runaway four length winner in the Autumn Stakes Final for the second year in a row.
Then for another crack at the Championships of Tasmania. The sprint came first, and her gallant 2nd to Hobart Thousand winner Peter's Treasure over the 540 yards stamped her great versatility. She overpowered the same dog in the 685 Distance Championship of Tasmania at a luxury 3/1.
Now three and a half years old, she was at 5/2 on to repeat her 1959 success in the Marathon. Running only 1/10 outside her own track record, she destroyed the opposition by 15 lengths, with Velvet Smoke second.
After runaway wins over 785 yards at White City conceding 3 yards and then 4 yards start, she was again off the scene for four months. The end of a great career was near. When she appeared as a four year old in January 1961, it was in a heat of the Hobart Thousand which she duly won at even money. Remember this is a four year old stayer!
Her semi fourth was followed with two 785 yard wins at White City, the second of these conceding 5 yards start. In between these wins she gave 2 yards start in a Launceston Cup Heat, and won by 2 lengths at 4/1 on. In the 1961 Launceston Cup Semi, again giving two yards, she was beaten into third place by a half head and a nose, just missing a spot in the final, which was won by her younger kennelmate Western Idol. On Final night February 25 1961, and at her third last start, Oak Queen won her last race, win number 37, a sprint Invitation over 548 yards in a slick 30 4/16.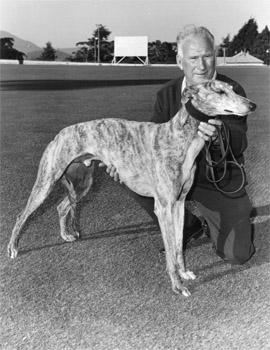 What a fabulous career! Oak Queen won 38 from 69 starts with 13 placings. She equalled one track record and set three, of which two were never broken. In 1959 she was the only dog to win the three Championships of Tasmania. In 1960 she nearly repeated the dose with a second and two wins. She won the prestigious Autumn Stakes at Wentworth Park in 1959 and 1960. She won the NCA Championship also at Wentworth Park. Only severe handicaps cost her an Australian Cup despite heat and semi placings. She won sprint, distance and marathon features and was the 1959 GOY. At one stage she won ten on end across two States and at career end won 14 of her 15 distance runs in Tassie, many off severe marks.
At stud Oak Queen produced a February 1962 litter to Magic Lightning, and a July 1963 litter to Propulsion. From that litter came the smart Pleasant Oak (Winner 1966 Sturges Memorial), which became the dam of the great star and Launceston Cup winner Mountain Rock.
The Examiner quote of June 18 1960 says it all " Oak Queen has helped put (Tasmanian) greyhound racing on the map". In 1967 when Clayton Princess broke Oak Queen's long standing 785 yard record at White City the owner apologised to Mrs Gray at the presentation. Such was esteem with which the great champion was held.
She joins the elite in the Tasmanian Greyhound Hall of Fame