Inductee Hall of Fame 2013
No other chaser has influenced the breeding landscape of Tasmania's greyhound history like the brilliant race bitch and freakish producer, Our Barbara. Whelped in August 1957, she was by the sire of his generation, and five time track record holder, Rocket Jet, out of 24 race winner Brenda's Dimple (King Nebo – Cool Birch).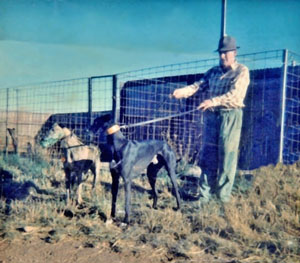 Moorleah dairy farmer Terence Harrison "Terry" Watts was born at Wynyard in 1908, and spent all his life on a dairy farm at Moorleah. He married Bet in 1929 and they had seven children. He had an affinity with dogs from seven years of age, when given a fox terrier named Rags. Despite a keen interest in greyhounds, Terry only bought his first pup when in 1954 The twelve pound purchase, was a son of imported sire White Church Boy, and named Imbro by Terry's young family, after their school house at Boat Harbour. Imbro (24 wins), became the first of a string of top flight chasers which saw Terry become one of Tasmania's greatest breeder/trainers, despite less than twenty years actively in the game.
His dairy farming and greyhound activities were cut short at age fifty seven due to a serious heart attack, which forced his retirement. Many times the leading trainer at Devonport, the softly spoken Terry had a rare understanding of canines, based on patience and kindness. This, allied with good shelter, quality diet, regular grooming and exercise were his key ingredients. Breeding he claimed was all in the rearing………..if not properly fed until they race, then it's too late. Another Watts philosophy, was to belligerently, and always go with his own judgement. Terry died of a heart attack in 1980, and his grandson Russell, now a top trainer in his own right, took over the kennels.
After reading about the diet of famous Australian athlete John Landy, Terry Watts decided this was to be the diet for his greyhounds. "You can, and should, train a dog with the same care as a human being if you want to be successful" he claimed. So, John Bull Oats and raisins was the staple breakfast, whilst grilled steak was the key ingredient at tea time.
Shortly after Imbro finished racing, Terry bred a litter with Bill Barass of Lapoinya, from the bitch Cool Birch, to top sire King Nebo. Terry kept three pups, all prolific winners………Rapid Prowl, Mella Maid and Brenda's Dimple, the latter being in Terry's words "as honest as the sun". At her career end, Terry sent Brenda's Dimple to superstar Victorian Rocket Jet, and the ensuing litter of seven included Ripple Rock, a prolific winner here and even more successful in Sydney; Smart Guide , top grader and finalist in both the 1960 Hobart Thousand and Launceston Cup; and the most special one of all……Our Barbara.
As a racing machine Our Barbara was high class but in Terry's words "if she had run closer to the rails she could have been equal to the best in Australia". At twenty one months of age, her career commenced in a Juvenile at the T.C.A. on May 9 1959, which she won easily in 30 4/10, the best of three heats. A week later she beat the same dog, Kep's Ace in the Final in 30 2/10. Possibly due to her extreme wide running trait, Our Barbara had an aversion to her home track Devonport, winning only one of fourteen starts there. At the other end of the spectrum, she won her first eleven starts at the T.C.A. and White City. Her initial two wins at Hobart were followed by 548 yard Juvenile Heat and Final wins at White City, when odds on in both.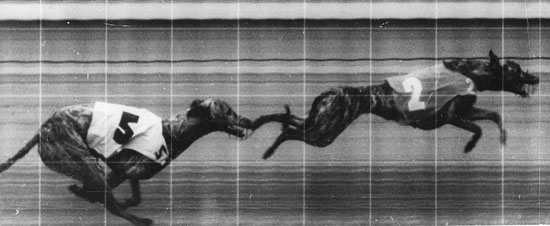 Back to Hobart, and still only twenty two months old, she won a 685 yard Trial Heat by eleven lengths in a best 38 2/10, before beating the classy Baroness Dhu in the Final. Despite racing over all distances, her great strength meant staying was her best weapon. After successive wins at White City over 548 yards, then 785 yards, she travelled south again. This time in open company, she won a 685 Heat and Final of the Montrose Stakes, easily beating the smart Nimble Jet in 38 5/10, again odds on. So, before turning two, she won eleven on the trot at Hobart and Launceston, five of them over the staying journeys.
Other credits of her Tasmanian career included a Trial Stakes Final victory at Devonport in February 1960, and a Hobart Thousand heat second to the mighty Peter's Treasure, beaten a mere head. Her Semi sixth was to Bow Rock which went on to win that year's Thousand. She won a Consolation heat of the Launceston Cup in 1960, but was unplaced in the Final to Nation Queen.

Evidence of the great resolve of Our Barbara, was seen in November 1960. At just two years and ten months of age, she interrupted her racing to produce her first litter (many claim Tasmania's greatest ever). She resumed racing five months later in a heat of the Nelson Cup at White City, a major race of that era. Opposed to Tassie's finest, she ran second in her heat to Rocky Cape; two days later ran second in the Semi Final to Roslyn Lad, before running third in the 1960 Nelson Cup Final behind champion Nippy Cola, a mere five days further on. That toughness was her trademark.
Details are somewhat sketchy of Our Barbara's racing details in N.S.W. It is known that Terry Watts sent her there for a short racing stint, as he tended to do with all his best charges. Distance racing was obviously her prime aim, and she did come home with a track record equalling victory, over 800 yards at Newcastle. Her Tasmanian record stood at 43 starts for 14 wins, 8 seconds and 5 thirds; some reports had her winning upwards of thirty races, but it's likely to have been closer to twenty.
As a broodbitch Our Barbara virtually elevates to immortal status. What follows here is just a snapshot of her staggering achievements and lasting influence. She was written about, just a few years after her first two litters, with virtual reverence; An article by Allan Leeson in The Advocate in the 1960's quoted " Our Barbara matings are still talked about with awe ' ; yet now, some fifty years on, we can trace some of today's greatest names straight back to her.
Our Barbara whelped six litters, from the first in June 1960 to the last in November 1966. The first two litters, and staggeringly successful, were by phenomenal producing sire Lucky Bingo. Then she threw two litters to Sunview, the first of those brilliant, whilst the final two by Takiri and Best Sun respectively, were less stellar.
Her first litter, and finest, whelped mid career in June 1960, was to the wonderful sire Lucky Bingo. It contained eleven brindle pups, four dogs and seven bitches. As racing machines they were breathtaking. They won 98 races before turning two, and upwards of 140 overall. Six of the seven bitches became amazing produces like their mum, whilst the best of the dogs, Ripple Bay was both a champion racer and sire.
Whilst it is predominantly the Our Barbara bitches that created the legendary breeding dynasty, she produced two champion males in Ripple Bay and Ulverstone Lad, one each from the two Lucky Bingo matings. Both became highly influential sires in Tasmania as well.
Ripple Bay, was Hall of Famer Vivian Berresford's greatest dog. He scored 27 timesfrom 58 starts, and 21 placings. He won the 1964 Devonport Cup, ran third in the 1964 Launceston Cup, and apart from winning at Harold Park, was a half head second at Cessnock in track record time. The sire of his time, The Greyhound Guide of 21 December 1968 had his individual winners at 50 and of 196 races, and that was only mid career. Some of his greatest products were Jan Remie, Brazil Star, Tubby Salter, Iman Ace, Bay Manor, Cheetah Doll, Forbes, Ripple Harbour, Ipswich Jay, Fenton Spark, Iona Ripple, Gazelles Best, Carnival Rock, amid so many other stars.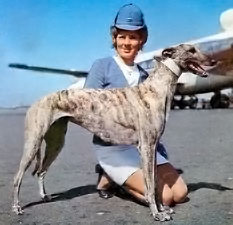 Ulverstone Lad, from Our Barbara's second litter to Lucky Bingo, coincidentally also containing eleven brindle pups, was a mighty chaser that won 25 of his 54 starts with 17 placings. Like so many of the Our Barbara stock, he was a top notch sprinter and stayer. At the T.C.A. he won the 1964 Sprint Championship of Tasmania over 540 yards, and the 1965 Distance Championship of Tasmania over 685 yards, and was 4th in Fairburn Lady's Hobart Thousand. At White City, he was second in Macdillon's 1965 Launceston Cup, and third in Dandy Linen's Easter Cup. Amongst others, he sired the champion stayer Lake Lass, the 1969 Greyhound of the Year, and smart bitches Tabalina, and Ulverstone Miss.
Our Barbara had great success with other of her male progeny, including Sunbara (1966 Launceston Cup finalist), Wild Child and Wild Panic (both very successful in N.S.W) and Mr. Moorleah. But the dynasty was built primarily on the bitches she threw, and predominantly that first litter. All seven bitches were winners, six were top class. All seven threw winners, five were as freaky as their dam, with the quality they churned out. So who were they? And what did they produce? (Only the abbreviated version lies ahead)
Natonne won thirty races and Terry claimed she was the best dog her ever trained; "so much sense you'd think she had a jockey". Her most amazing line at stud was producing Dark Special to a Black Top mating. This led to Dark Takiri, and in turn, the fantastic race bitch and producer Diamond Dimples. The latter produced champion Stamford stayers Modern Diamond and Majestic Wonder, from which came freak sprinter and 1984 Hobart Thousand winner Double Time. The Diamond Dimples line also saw Diamond Flame, Diamond Wonder, and Maiden Thousand winner September Reign.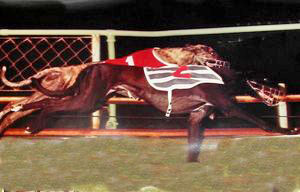 Next daughter was Nook Girl. E.J.Wickham won in excess of 20 races with her before she produced four amazing race and brood bitches as well. The classy Nook's Doll's line, led to Glendale Irish (G.O.Y); Susan's Doll's line saw Gina Hall's great bitch Northop Lady; Aunt Anne threw an incredible crew including The Big Black (1974 Launceston and Devonport Cup, Devonport track record, G.O.Y), Berry Cream (Hobart Thousand finalist), Blackberry Anne, Bitta Fashion and Berry Anne; whilst Nooks Gift, threw champion racer/sire Old Hobbs (1971 Devonport Cup winner, 2nd 1971 National Distance Final to Saki Dasher), and "Queen of the Coast" Nook's Charm(32 wins and Thousand Finalist behind Sue's A Credit). Nook's Charm's second generation son was Jim Leitch's champion sprinter Samboy Gold.
Daughter three was River Star, her quality as a racer was overwhelmed by her amazing production line as a brood bitch. She had seven successful litters, none more so than her third to Old Berry Hermes, which had Social Dancer (Hall of Famer, and arguably our best ever sprinter), Persian Opera (1968 Launceston Cup, 1969 State Final of National Sprint), Johnny Rose (Len Walker's 17 win star and National Sprint Finalist), Blue Hermes (Noel Butters's 1970 Gold Cup winner) and Jankers Star (1971 Launceston Cup). Further, River Star produced top sprinters Hermatite, Sandy Turf (1968 Thousand Finalist) and Lilac's Pride (dam of Holding Premier).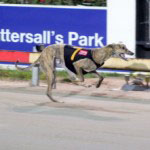 Daughter four was Our Bingo, the lesser racer and producer, but still managed to provide the high class bitch Talk Softly.
Daughter five was The Wee One. A lightly raced but excellent sprinter, she produced the top sprinter/stayer in Sonar King to Baratta, and the smart Trouble Girl.
Daughter six was another top performer in Miss Moorleah. A twenty time winner, her dam line was like that of River Star. Her litter to Chariot Charm saw Wild Raid (5th to Zoom Top 1969 Wentworth Park Gold Cup), Ken Hilder's mighty Ricky Rand and two bitches that became the foundation stone of two different dynasties. Truth Finder's second generation gave us Fine Level, the start of Pat McClenaghan's amazing line, including the likes of big race winners Level Charm, Storm Level, Opal Crusher, Real Strength, Real Gentle………………and Helena Level, which led to World's Finest………star chaser and dam of recent freak Damek, and his great brother Decembrist…………also, Helena's Fine……….who gave us Hall Of Famer Top Shiraz, and his two time G.O.Y. sister Fine Horizon.
Miss Moorleah's other dynasty maker was Denises Charm, dam of champions Blue Stream and Unique Venture (42 wins). The latter became the sire of super stayer Miss Coroneagh and Molly Malone. Most of Butch Deverell's amazing list of stars have come down this line………..Launceston Cup winner Two Codes, which threw great bitches Edan Rose (dam of superstar Big Moose, 50 wins, Akka Boy, Launceston Cup winner and Beejay's Delight, Derby winner)……..and Copper Delight , dam of Light Ice Lad (44 wins) and Eagle Eye (42 wins).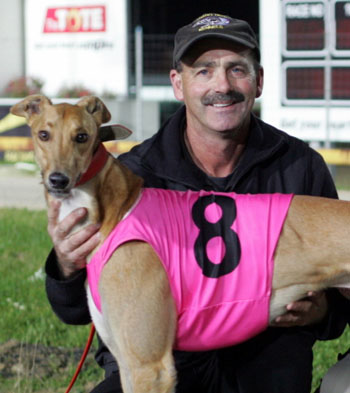 In National terms, daughter seven was probably the most famous of all. Wonaire was sold before she raced, but became a high class performer in N.S.W. and Queensland. A star stayer, she equalled the 790 yard record in Sydney, set by Farrago, and also set at least one record in Queensland. But as a brood bitch, Wonaire reached extragavgant heights. She threw a bitch called Alison Mae, which became the dam of super star chaser Shapely Escort. Apart from being a finalist in the Melbourne Cup and National Sprint Final, Shapely Escort won the 1970 Harold Park Classic, 1970 Vic Peters Memorial, 1971 Ladies Bracelet, and was N.C.A. Greyhound of the Year for 1970.
Mated with Takiri, Wonaire also threw Tidal Mist, the 1970 National Futurity winner at Wentworth Park. She, in turn threw the champion Early Copy, the 1974 Vic Peters winner, National Derby finalist, and later prolific sire of such champions as Gliders Son (NSW G.O.Y 1981), Peter Glider (Richmond Derby, and runner up G.O.Y), and Early Venture (2nd 1977 Vic Peters). And next down the Wonaire – Tidal Mist line came Tidiss, the dam Graeme Bate's fabulous bitch Ibrox, the champion stayer of her era, and 732 metres track record holder at Olympic Park.
Our Barbara threw countless other winners in her other five litters, two bitches in particular became wonderful producers. The mighty chaser Merlynne's Dream, from the second Lucky Bingo mating, threw classy types in Ruby Ring, Fiery Jane and Miss Natone, the later producing Autumn Sandy, leading to Kathleen Amour, then the champion Sheila's Teresa.
To the Sunview mating, Our Barbara had Tickled Pink, not only a quality chaser, but prolific dam of five litters, including Seal Fast, the dam of a wonderful litter including Highland Billy, Dolly Villa and Grandpa Jo.
Our Barbara's influence as a broodbitch, has been felt right across Australia, but in Tasmania she is a breeding icon. Her line was famous within a few years of her first mating, but now the "Our Barbara line" is legendary in our sport in Tasmania. So very fittingly, she now takes her place in the Tasmanian Hall of Fame.