Inductee Hall of Fame December 2015
Black dog ( Dasher's Bow – Miss Mayelle), Whelped April 1957,Owner/ Trainer H.O. "Tas" Kingstonl
Similar to earlier Hall of Fame inductee Red Avis, one can only marvel at what the mighty Peter's Treasure may have achieved had it not been for the debilitating handicaps of his time. He was the ultimate racer, and amazing railer, that would thrill the big T.C.A. crowds of the day, with his exciting style and antics. And what an amazing story his early life was!
Tasman Herbert Kingston was born at Bream Creek on 7 August 1912 and married Ina Woolley on 21 June 1940. They had two sons, John (born 1941) and Peter (born 1945). Tas Kingston's father did have Pacers but he himself was merely a part time punter and occasional visitor to the greyhounds. In the 1950's Tas had a grocery store on Main Road Glenorchy. It was by mere chance that he was to get involved in greyhound racing.
One of his many customers was Archie Keeling, a greyhound breeder/trainer who lived in Constance Avenue, Glenorchy, before later relocating at Mangalore. Tas had assisted Archie on occasions with the dogs, and when he offered Tas a pup from his Dasher's Bow – Miss Mayelle litter, in lieu of a Grocery bill he had run up…….Tas decided to give it a go. At this point "fate" was to play a significant role. Tas selected a brindle dog from the litter of eight, but was overruled by a much higher authority………his wife Ina. She preferred a black dog which they took instead, named it after their youngest son…….hence Peter's Treasure, known as "Dubbo". He became a champion of the late 1950's and early 1960's, whilst the initial pick of the litter by Tas, never won a race.
"Dubbo" was a real pet, his training was very much a family affair, and far from conventional. From their home at 72 Bowden Street Glenorchy, the young Peter's Treasure would run around the apricot orchard next door, and later do most of his fitness work by hand slipping up the back straight of nearby Elwick Racecourse, as many trainers of that era would do. Both sons played a significant role in his training, particularly the late afternoon shift. Archie Keeling remained somewhat of a mentor to Tas when required, but the unconventional methods of a first time trainer obviously suited this "pet" chaser, which would find his own way to and from his kennel, and was often spoilt with icecream.
Dubbo commenced his career as a mere 15 month old pup with a 3rd at Hobart's famous T.C.A. track on July 26 1958. By career's end he had raced 79 times, of which 58 were at Hobart, 17 at White City in Launceston, 2 at Devonport, and 3 starts for two wins in Melbourne. His initial nine starts bore just one victory, and showed little of the greatness to come. That all changed from 1 November 1958. Under the harsher grading of that era, he won four races at the T.C.A. in four weeks, placing him straight into Top Grade, where he remained for the rest of his career; far worse were the handicaps that followed. His fifth win in a row was his first at White City ……a Progressive or Grade 3, having forfeited his lower grade wins by reaching top grade so quickly in Hobart.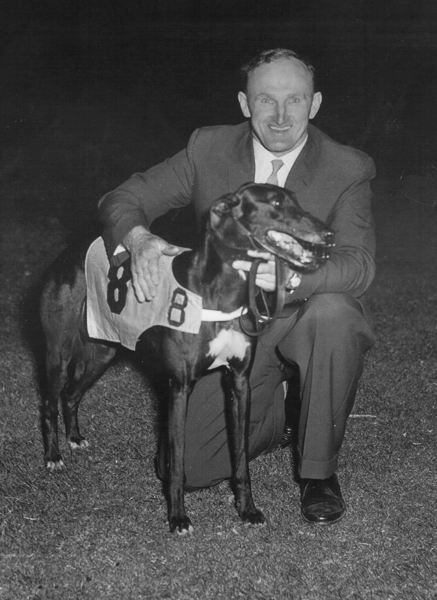 In December 1958 he scored in top grade at the T.C.A. before a narrow victory (often his preferred manner!) in a Christmas Stakes heat. Following a 3rd to Woodford Pride in that Final, he contested 1959 Launceston Cup. He beat the Frank Jordan owned star, Tagula, in his heat before missing the Final when 4th in his Semi.
Arthur Morgan, the "iron fist" of Greyhound racing, and the Grader in Hobart, caused a sensation when he then handicapped Peter's Treasure off 1/10 of a second behind scratch for the 1959 Hobart Thousand series. Dubbo was only 22 months of age, and had won only 9 of his initial 22 starts. As fate had it, Morgan was proved correct in his assessment of Peter's Treasure, but the great dog was forced to wear chronic handicaps for the remainder of his career.
His Heat run from 1/10, saw him beaten a nose by Ophir Pet in a slow 30 8/10. His rise to stardom commenced in his Semi Final, where his amazing railing ability saw him come from 7th early and run down Roslyn Lad by a half length in a slick 29 9/10.
In the Final of the 1959 Hobart Thousand, and for the first time, an all Tasmanian affair, Peter's Treasure justified Tas Kingston's refusal of a six hundred pound offer (massive for that time) for his star prior to the series. Again from 1/10 behind in the ten dog field, he beat Eric Gilroy's Woodford Chief by a mere half head, with Ophir Treasure three lengths away third in a smart 29 9/10.
It's little wonder "Dubbo" was the leading stakes winner at Hobart in the 1958-59 Season with 2016 pounds, but it was his post Hobart Thousand career that was to be the measure of his greatness………..his capacity to match the best from crippling handicaps.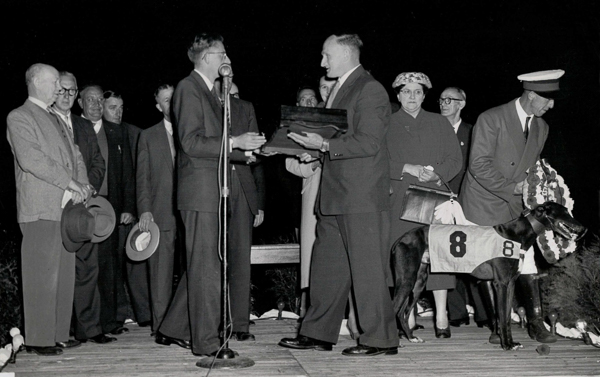 His next three Hobart starts were off 2/10's for a head second and two victories. After finishing 2nd then 4th to star Northerner Spotlight's Image at White City in April 1959, Peter's Treasure injured a toe, and was off the scene for three months. Upon resumption on July 4 that year, he gave fellow Hall of Famer Ebony Minda 2/10's start and beat her by a nose back at the T.C.A. This was followed by three placings only in five starts, but included his first foray into distance racing with a Heat 2nd and a Final 3rd in the feature Glenorchy Stakes; both times behind Deep Shadow. Six fabulous wins in a row were to come.
On August 29 1959, be beat Sputnik Second a neck at Hobart from 3/10's. Five days later it was a six length White City win in top grade. Two days later, it was another win off 3/10's at Hobart. Then twice in a row he won by a mere nose at the T.C.A. sporting his opposition 4/10's start. This prompted Arthur Morgan's quote in the Mercury of 28 September 1959, " Peter's Treasure….would more than hold his own with the best greyhounds in Australia". Next he destroyed a Thompson Cup heat at White City by ten lengths. Attempting to win off an amazing 5/10's behind at Hobart in October 1959, "Dubbo" ran 2nd from box ten to Better Bow, again Ebony Minda finished behind him despite giving her half a second start. Yet another toe injury sidelined the champ for three months and his resumption was in the Hobart Thousand series on 6 February 1960.
This time Morgan handicapped Peter's Treasure off 2/10's, against the cream of Australian chasers. Despite this, "Dubbo" overpowered the great Our Barbara to win his Heat, before overcoming interference to run 2nd in his Semi Final to 1959 Thousand runner up, Woodford Chief. Champion chaser Bow Rock won the Hobart Thousand Final a week later in a brilliant 29 7/10 with Peter's Treasure storming into 3rd spot from box 10, behind his great adversary Woodford Chief.
A crack at the 1960 Launceston Cup followed, where he narrowly won his Heat, sporting his opponents a yard start, but missed a Final berth when 3rd to the mighty Cheryl's Dream in his Semi Final. A week later he won the Farewell Handicap off a yard behind at White City, prior to crossing Bass Strait for a crack at the 1960 Australian Cup.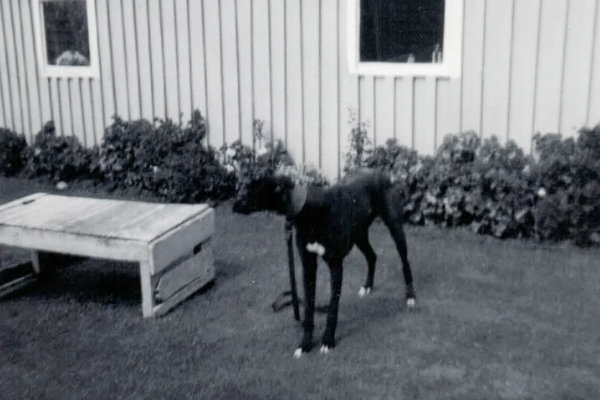 His Melbourne runs really proved his greatness. At North Melbourne on 21 March 1960, Peter's Treasure started even money favourite in the 675 yard Australian Cup Heat and won running away by three lengths from Sun Havoc in 36 13/16's. Only three days later Tas Kingston took his champ to Sandown where he posted a near track record victory over 555 yards, winning by a massive ten lengths. But that win came at a huge cost. "Dubbo" once again injured a toe which sidelined him for another three months.
Resuming in the prestigious Sprint Championship of Tasmania, at the T.C.A. on 11 June 1960, Peter's Treasure, as a 2/1 favourite, beat one of Tasmania's all time finest in Oak Queen by a nose in 29 9/10. It prompted the Mercury headline of 13 June 1960 " Champion dog in great return". Oak Queen was nigh on unbeatable in distance events, yet a week later Peter's Treasure bravely ran her to three quarters of a length when 2nd in the 1960 Distance Championship of Tasmania. A fortnight later he won over the testing 785 yards at White City. Despite giving a one yard handicap, he was odds on and beat Smart Banner by one and a half lengths. His only other 785 yard run was a 2nd to the champion Western Idol, giving her two yards start.
Now 39 months old, "Dubbo" continued to race, mainly at Hobart from crippling handicaps that saw the ageing stars' strike rate plummet during the latter half of 1960 and early 1961. His growing list of injuries also took their toll. Despite this, he still managed some magnificent performances. As a 42 month old in October 1960 he beat the highly vaunted Kuerin despite a 3/10 handicap. His next run was back in Melbourne for a crack at the 1960 Melbourne Cup. Evidence of how strong Tasmanian greyhounds were in that era, was the fact that no less than thirteen Tassie dogs contested that Melbourne Cup. Now in the twilight of his career, "Dubbo" still ran a head – 1.5 length third in his Melbourne Cup Heat.
At 45 months of age Peter's Treasure contested his third Hobart Thousand, a series attracting twenty five Mainland entries. Once again off a 2/10 handicap, he won his 540 yard heat by three quarters of a length, prompting the 23 January 1961 Mercury quote…….. "Peter's Treasure received a tremendous ovation when he raced down the straight with Baron Tudor to win the 20th heat". This victory was his 29th and was to be his last. He was run out of the series when 7th to Western Idol in his Semi Final. He raced sparingly until a dropped back muscle ended an amazing career, when 5th to the only dog to win two Hobart Thousand's, namely Ophir Doll, on 21 October 1961.
One can only wonder what Peter's Treasure may have achieved on modern standards where all dogs come from the same mark. He raced 79 times for 29 wins, 15 seconds and 11 thirds. In 45 of those 79 starts, he raced off handicaps from 1/10 to 5/10's at Hobart and one or two yards behind at Launceston. Indeed he even won his Australian Cup heat from a yard behind. Apart from his two Melbourne wins, he won 20 races at Hobart and seven at Launceston.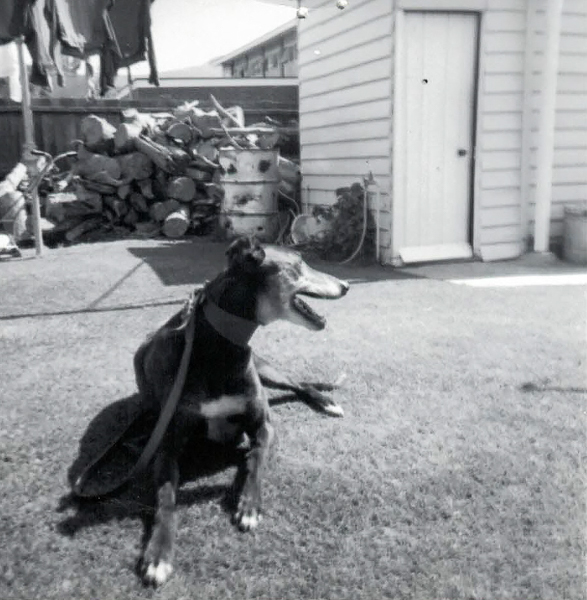 Peter's Treasure only served a handful of bitches at Stud, but did produce a quality chaser Allcor, one of the few dogs Tas Kingston was to train post Peter's Treasure. According to John and Peter Kingston, "Dubbo" was more interested in the leisurely life as a pet, and was barely interested in being a Stud dog. He did so until a seven year old, when illness brought about his demise.
Peter's Treasure was Tas Kingston's hit and run visit into greyhound racing. He was meant to be another dog, before Tas's wife Ina overruled him and chose " Dubbo"; that grew up running around an apricot orchard and eating ice cream; that overcame chronic injuries and handicaps; that often toyed with his opponents rather than destroy them. This pet, come chaser, come champion………Peter's Treasure, now joins the elite in Tasmanian Greyhound Racing's Hall of Fame.