Inductee Hall of Fame 15 December 2012
Red Fawn Bitch (Sporting Chance -Lady Avis), whelped November 1939, Owner Geoff Foley, Trainer Claude .T. Best
Red Avis was the queen of greyhound racing in Hobart in the early 1940's, became a great broodbitch in the late 1940's, and one can only marvel at what her record would have been, had it not been for the debilitating handicaps she was forced to race under for the majority of her illustrious career.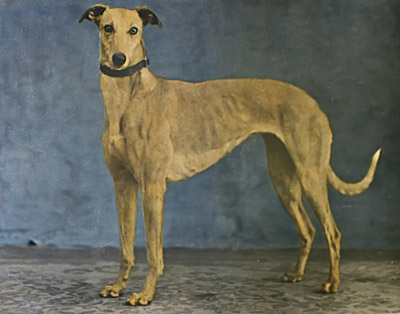 Red Avis was owned by Geoff Foley from Ulverstone, and trained by one of Tasmania's finest mentors, Claude Thomas Best from his property at 271 Bathurst Street in Hobart. She was from a litter of five that included the smart Sporting Avis, and the brilliant Atwell, the latter also trained by Best.
Claude Best, a close knit family man, was a butcher by trade, and worked in his son Athol's butcher shop in Newdegate Street, North Hobart. May Best, wife of Claude's son Claude Junior (co-incidentally inducted into the Tasmanian Thoroughbred Hall of Fame this year as well), lived with him while the sons were at war during the "Red Avis" years, and helped with dog training duties.
She recalls how Claude paid such strict attention to detail with all matters greyhound, how the dogs came first and the kennels were kept as spotless as the house itself. The dogs were worked hard, as most "old time" trainers did, indeed, if they trialled at the T.C.A., they were walked there, trialled, then walked home.
The Red Avis story is not one of a greyhound with a marvellous strike rate, nor a litany of big race wins, though she would undoubtedly have had both if racing in modern day conditions. No, her story is one of courage and relentless endurance, and the ability to beat the best in an era of fine chasers, despite setting new records for what a greyhound could be handicapped. She beat all the big names of the day, My Kenya, Secure Time, Wynbourne, Krafter, Askalon, Spot's Best and Always Good……….and usually giving away extraordinary starts in the process.
This red fawn champion commenced racing as a twenty month old, with a 310 yard Straight Track second at White City July 26 1941. Her final start was as a five year six month old at the T.C.A. on May 12 1945. In January 1943, her racing career was interrupted with her highly vaunted litter to star chaser Krafter. Three months after whelping she returned to the track, and had another 29 starts, her final victory coming as a five year three month old on February 17 1945, over the T.C.A. 525 yards, still off 1/9 handicap.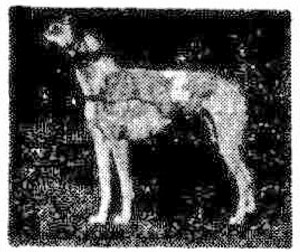 Her career spanned 96 starts, predominantly at Hobart, for 27 wins, 15 seconds and 10 thirds. Incredibly, she raced off handicaps of between 1/9 of a second and 7/9 of a second, in 64 of these 96 starts. All of this, was in the era of ten dog fields and an outside lure. Her true greatness, will be revealed further on, with a breakdown of her handicap statistics. In Hobart, Red Avis won 19 races over 525 yards and 4 over 670 yards. At White City, from a handful of starts she won 2 around the 430 yard circle, and 2 up the 325 yard straight track.
Unjustly, the record books will show Red Avis won just one feature race, and not at the track of her total dominance. In January 1942, when the Launceston Cup was run in three divisions, Red Avis won the Division One Heat and Final, these being just her second and third wins. Her best of night 24 13/16 heat win, was followed by her half length Final victory over Whackaway in 25 seconds. She ventured north just a few times after that.
Two weeks after her Northern success, and at only her eleventh start, Red Avis took an all comers in the Hobart Cup (it became the Hobart Thousand again once World War Two finished). She brilliantly won her heat by six lengths in a best of night 29 4/5, but was beaten a length in the prestigious Final three days later by My Kenya, with Wynbourne third. This was the first of four feature race placings at the T.C.A.
Her versatility and toughness was evident with two brilliant 670 yard wins in March 1942. A succession of victories, commencing on April 18 1942, set Red Avis on a path to fame, and on the dubious path of rewriting the record books for the handicapping of an individual dog. That win was off 1/9. A fortnight later she dead heated off 2/9. Seven days later, wins again…….3/9. Another seven days………….wins, 4/9……….seven days later……….wins, 5/9…………Her next start was off 6/9 and she was unplaced, but in successive weeks on June 6 and June 13 1942, Red Avis had back to back victories off an unprecedented 6/9 of a second. Thus, on June 27 that year, she became the first greyhound ever to be handicapped off 7/9 behind scratch.
Starting at a mere 4/1 despite the massive handicap, she unearthed all her champion qualities to run down Warlincourt Lad by a neck in 30 1/5. It's little wonder the H.G.R.C.'s Advertisment in the July 4 1942 Edition of The Mercury read "Come and see the champion Red Avis racing"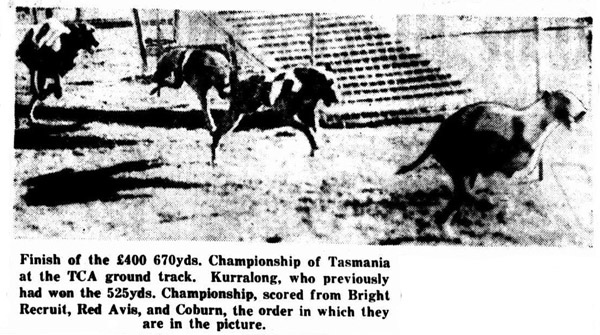 There was a clear downside for this great bitch. Because she had the ability to keep winning on a regular basis from these crippling marks, her next 33 runs over the 525 yards at Hobart were all off 7/9, 6/9 of 5/9. And every time, it was against the best opposition in a halcyon era. During this period, she produced some marvellous performances. Twice more she was to win off 7/9 behind scratch.
Red Avis won her heat of the 1943 Hobart Cup from 7/9, before placing in the Final for the second year in a row, running third (off 7/9) to the great Askalon in an equal track record time of 29 2/5. She ran second in the 1943 Distance Championship of Tasmania, over 670 yards, to Always Good. Twelve months later, and only months after whelping her first litter, she won her heat of the 1944 Distance Championship of Tasmania, before running third to the brilliant Kurralong in the Final. Her form tapered off in the twilight of her career, as age, handicaps and motherly duties all took their toll.
A breakdown of Red Avis's handicap statistics reveals what a champ she really was. Ten times she raced off 1/9, for 3 wins and 4 seconds, 11 times off 2/9 for 1 win and 3 placings, 3 times off 3/9, for 1 win, 3 times off 4/9 for 1 win, 5 times off 5/9 for 3 wins, and incredulously 16 times off 6/9 for 5 wins, 1 second and 3 thirds, and best off all, 16 times off 7/9, for 3 wins 3 seconds and 3 thirds. This handicapping torment is difficult to comprehend giving the nature of modern day racing, but it is proof positive of a great chaser, uncanny track sense, and a freakish will to win.
This mighty chaser also left an indelible mark as a broodbitch, whelping five litters, two to the star Krafter, two to the freaky Tumble Bug (a USA Hall of Famer), and the final one to the Irish sire Ramona Lad. The first litter was the best, producing classy chasers Little Avis and Our Avis, both Hobart Thousand Finalists, as well as Master Avis. To Tumble Bug she produced many winners including Brilliant Avis, and Gold Collar Finalist Some Avis. Her second litter to Tumble Bug was advertised in the Mercury of October 28 1947, at a record price of 30 pounds a dog, and 25 pounds a bitch.
A Mercury quote from 1942 sums up both Red Avis and Claude Best. "Best bitch ever to date….. a genius at the rails run…. has enormous sprint passing the kennels area…..great merit to the trainer for keeping her at concert pitch for so long….." Fittingly, Red Avis joins the Tasmanian Greyhound Hall of Fame.