Inductee Hall of Fame December 2015
White and black dog (Collide – Ricky's Angel), whelped February 2009, Owner/Trainer Morris Stricklandl
The Rewind – Morrie Strickland story is one of the most loved and unique chapters of Tasmania's rich greyhound history. This fabulous chaser totally dominated the Tasmanian scene between late 2010 and 2013, eventually becoming the most prolific winner ever to race here, amassing an unprecedented 61 victories.
Morris Strickland was born near Poatina on Tasmania's Central Plateau, on 23 November 1938, to farming parents Vic and Muriel. He became a panel beater/spray painter by trade, and when he married Judy Williamson on October 23 1968, they settled on four acres at 112 Louisa Street, Bracknell, (Judy's home town) and have lived there ever since. They have three children, Darryl, Ross and Amanda, and five grandchildren, one of which, Alex Miller, formed an amazing bond with Rewind as well.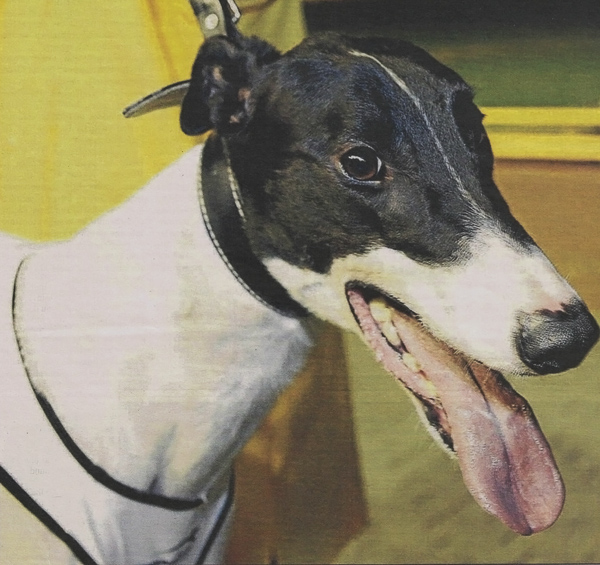 Morrie has had greyhounds since he was seventeen, and training in the bush environment at Bracknell saw him mentor many great dogs over that long period. Pre- Rewind, none was better than Bookie's Regret, a Murchison's Champ – Final Parade bitch that won 35 of her 117 starts over all tracks and distances. Big races eluded her mainly due to the presence of freak sprinter True Vintage, but she won the Winter Stakes as a four year old, and was second in a Hobart Thousand, Gold Cup, National Sprint, Launceston Cup Consolation as well as 3rd in a Devonport Cup. Her litter brother Final Parole also won 16 races. Society Friend was a fast breaking, high class sprinter that ran 3rd in Dynamic David's 1977 Launceston Cup, with Hi Affair a star sprinter for Morrie in that same era. His versatile chaser Saint Thomas won 22 and made both a Launceston Cup and Hobart Thousand Final. All distance bitch Julie Jones won a Ladies Bracelet Final at White City and amassed 19 wins, whilst tough sprinter Your Mate ran 3rd in the Tasmanian Derby and 4th in Blackberry Moss's Illingworth Class.
In 2007 – 2008 the powerful finisher Lucky Louey won 29 races for Morrie, which included a barnstorming win at Mowbray over Big Moose in a sizzling 29.59, and wins in the Easter Plate and inaugural Greg Fahey Middle Distance Championship at Hobart. Teddy Tom Boy more recently won 16 races and was runner up to the champion Buckle Up Wes in the 2013 Tasmanian Derby.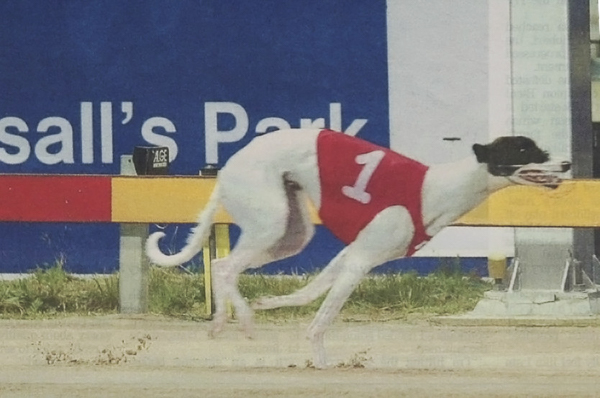 In February 2009, fellow trainer/breeder Terry Penny whelped a litter by Collide from Ricky's Angel. Terry often bought meat from Morrie, and a casual enquiry about the possible sale of one of those pups when they were ten months old, eventually saw an unbroken white and black dog sold to Morrie for $2500. This magnificently built pup, this perfect kennel dog, this "track" natural from day one……….was Rewind, or "Patch" as he is affectionately known. What an amazing litter it turned out being. His sisters were prolific winners; Miss Roman Nose (17 wins), Clyde's Angel (16) and Strapper's Angel (18);so too his brothers, Penny's Angel (15) and Strapper's Boy (12). Include Rewind and they won a staggering 139 races.
Rewind debuted at 20 months of age, in a 278 metre Juvenile at Launceston on 25 October 2010, with a scintillating 7½ length win in a near record 16.05 despite only being fourth away. After five starts he had five wins, and it was obvious he was special. After fifteen starts, spanning the three Tassie tracks he had won twelve (and a combined winning margin of 68 lengths) with two seconds, all in brilliant times, and it was obvious he was a champion. At only start nine, he was an Invitation winner at Devonport.
Rewind's first two Final appearances were defeats; 2nd to Break Even in a low grade Final at Hobart and 5th in Ima Fencer's 2011 Illingworth Classic. "Patch's" first big win was the Heat and Final of the Country Derby for 2011, when staged at Hobart not Devonport.
Rewind was to have a 101 start career and one statistic proves what an amazing constitution he had, and moreover, what an incredible training performance Morris Strickland produced with this freak chaser. From his October 2010 debut through to start number 100, which was in August 2013……..Rewind raced in every one of the 35 months in between, and always in the very best company, and at no stage losing his best form. Four was his longest losing streak and that was in Group One company in Sydney, when 4th, 4th, 2nd, 3rd. On three occasions he won four in a row, on two occasions five, and his best string of victories was ten on the trot.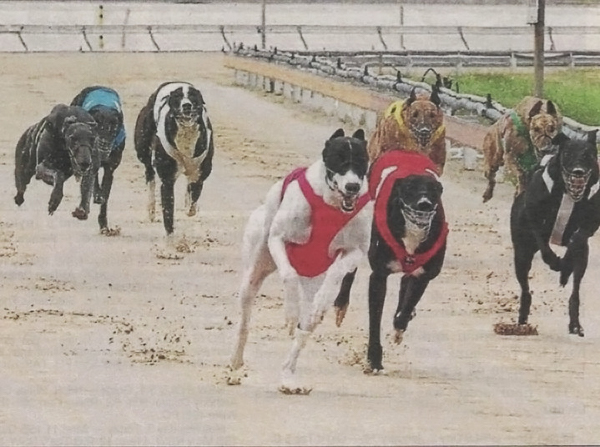 After being flattened and pulling up sore in the June 2011 Tasmanian Derby Final, Morrie decided to send the champ to Darren McDonald in Victoria for a stint at the biggest stage. Between July 16 2011 and November 17 of that same year, Rewind had 15 starts in the most elite company, which yielded 7 wins, 3 seconds, 4 thirds and a 4th. This commenced with successive three length wins in the Heat and Semi Final of the Group One Maturity at The Meadows in the blistering times of 29.98 and 29.84. He ran 3rd to Shereen Bale in the Group One Final. Following two placings at Sandown, one behind his sister Miss Roman Nose, he won the Rapidvite Heat and Final, also at Sandown, thrashing Push The Paint by 4¾ lengths. Off to Sydney, he next started odds on in winning his Heat of the Group One Paws of Thunder, before a slow start in the Semi saw him wind up 3rd to Noble Pedro.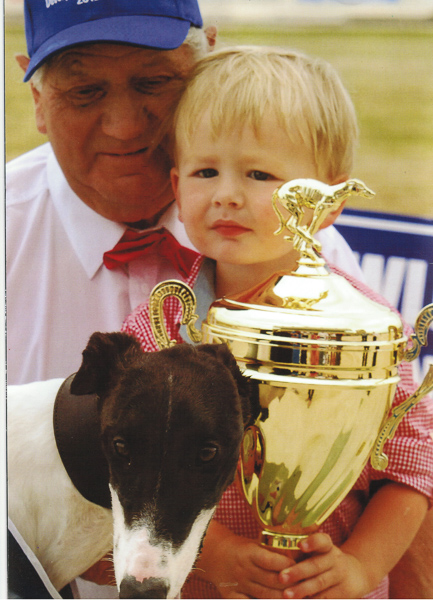 Back to Victoria, Rewind ran 3rd in the straight track Healesville Cup heat, before winning at the Meadows, and also scoring in a Melbourne Cup Prelude at Sandown. He was runner up to Shereen Bale in the Silver Bullet, before 2nd to Bala Bale in his heat of the 2011 Melbourne Cup. A further Sandown 4th then saw the great dog return to Morrie for a crack at Tasmania's jewel in the crown, the Group One Hobart Thousand.
His heat win proved to one and all that Rewind was one of Australia's finest. Exiting box one, he blitzed highly vaunted Melbourne visitor Allen Elroy by nearly ten lengths in a best of night, and near track 25.78 for the 461 metres. This set up a Group One showdown with Australia's greatest dog Dyna Tron, as well as star chasers Bergermeister, Clyde's Angel, and David Bale. Rewind began brilliantly from box seven, with Dyna Tron hot in pursuit for the entire trip. In a heart wrenching finish for Rewind, and his vociferous Tasmanian supporters, he was beaten a nose in 25.85. The only stride he was not in front was the final one. But it took the A.G.R.A. Australian Greyhound of the Year to beat him.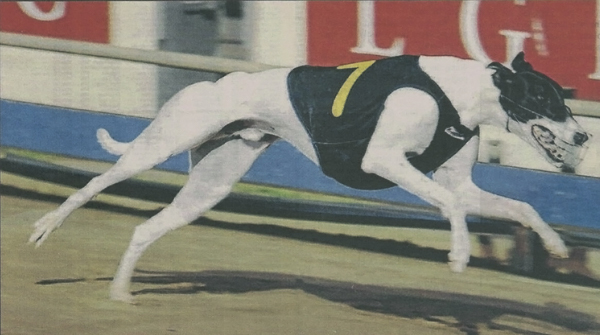 After a Hobart win 21 days later, Rewind headed to Devonport for a crack at the Group Three Devonport Cup. Here it was total domination by the great dog. Running blistering splits, his heat win was a procession over Rob Pines in a best of day 25.54. In a fabulous Final that saw the likes of Damek and Miss Roman Nose out the back, Rewind came from fourth early to overpower the brilliant Classy Maldini and score by 2 ½ lengths in a fabulous 25.31.
The circle Launceston track was probably Rewind's least favoured circuit, but he was still a force there, and the 2012 Launceston Cup beckoned. A moral beaten at short odds by a mere half length in his heat, saw him miss a final berth, but he thrashed a quality line up in the Consolation Final in a brilliant 29.69.
After a rare Hobart defeat, where second to his brother Penny's Angel and another blistering Launceston win in 29.60, Morrie sent the champ to Sydney. A crack at the Golden Easter Egg, saw him run 4th in his heat to Lektra Johnson and 4th in his Semi to Dyna Bert, before finishing 2nd to Ritza Ryder in the Group 3 Ambrosli.
Between 24 April and 29 November 2012, and prior to a crack at another Hobart Thousand, Rewind had a further 24 starts in Tasmania for 17 wins, four seconds and two thirds. It included a 2nd to Rob Pines in the 2012 Nelson Cup, an emphatic win at Hobart in a Heat of the National Sprint (scratched due to injury in the Final), a Show Cup win at Devonport, and dazzling victories in both the Heat and Final of the 2012 Tasmanian Gold Cup at Hobart.
In fact, heading into the 2012 Hobart Thousand Rewind had won nine in a row. Now three years and ten months of age, he made it ten straight wins when he easily beat Kevin Bale in his Heat. Could the champ avenge the nose defeat of 2011? The 2012 renewal was a star studded line up, including five star Interstaters, amongst them, the fastest heat winner Walk Hard, Blackall's Boss and Maverick Tiger. Despite a magnificent performance, the Final was déjà vu of 2011. Rewind began brilliantly from box four, and led clearly before characteristically getting a bit wide turning for home. The main pursuer, Blackall's Boss railed hard to overpower the great dog in the dying stages by a length; so it was back to back seconds in the Group One Thousand.
Between that Hobart Thousand and his last start Rewind had a further 24 starts, netting 13 wins. Many highlights still dotted the Rewind landscape as his unprecedented career drew to a close. He nearly made it back to back Devonport Cups. After his 14 length heat win in 2013, be unusually blew the start in Final, but still wound up 2nd the the highly vaunted visitor Allen Benji. He ran 2nd once more in his 2013 Launceston Cup Heat to the track record holder and all round freak….Xylia Allen, before strking trouble when 4th in the Consolation Final. At 49 months of age he won the prestigious Ivory Classic at Devonport, and two months later, the Silver Trophy Final at Hobart.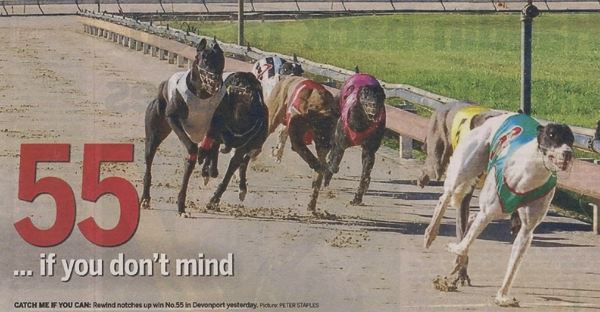 All along, he set new benchmarks and some records that may never be broken. On 28 February 2013, he posted win number 50………..joining an elite club. His Invitation win at Devonport on 23 April 2013 was win number 55, one more the Tasmania's most winning chaser…Valiant Spirit. At 53 months of age, Rewind post win 60, then 61 and his last on 30 July 2013. He broke down at his next start, and only returned one last time in December 2013 as a 58 month old, for one last crack at the Hobart Thousand, in which he ran 4th to the great Black Magic Opal in his heat.
What a priceless career! Few dogs ever win 50 races. The immortal Zoom Top won 68. Rewind posted 61, and from only 101 starts, a 60% strike rate, as well as 20 seconds and 6 thirds…….an 86% place rate….and always at the highest level. He matched it was Australia's finest at Group One level both in Tasmania and Interstate. He amassed stake earnings of $228,310 and it's little wonder this mighty chaser was named Tasmanian Greyhound of the Year, both in 2012 and 2013.
Never in living memory has there been a more popular duo than Morrie Strickland and Rewind in Tasmanian greyhound racing. The longevity of both trainer and greyhound is remarkable, and the sixty one wins achieved, is not only seven more than the next most recorded in Tasmania, but is unlikely to ever be matched. Fittingly, the magnificent specimen that is Rewind, joins the Tasmanian Greyhound Hall of Fame