Inductee Hall of Fame 10/12/2011
Red Brindle dog (Newmore King – Our Bubby), Whelped July 1975, Owner -Dave Brooks, Trainer Mrs. Audrey Brooks
The Royal Griffin story is quite unique, and despite racing only 30 times, he joins the elite in Tasmania's Greyhound Hall Of Fame. Trained by Audrey Brooks at Bagdad, and owned by her ex-jockey husband Dave, Royal Griffin was the greatest dog from a champion litter. Bred by Audrey's brother Dave Burns (nee Gath) he was by boom Irish sire Newmore King, out of Burns' 14 time winning bitch Our Bubby. This made "The Griff", as all greyhound fans knew him, litter brother to six other winners, including grand sprinter and Australian Cup finalist Big Generation, star flat and hurdle performer On Your Way, and smart chasers Talent Target, Courage Of Tas and Don't Waffle.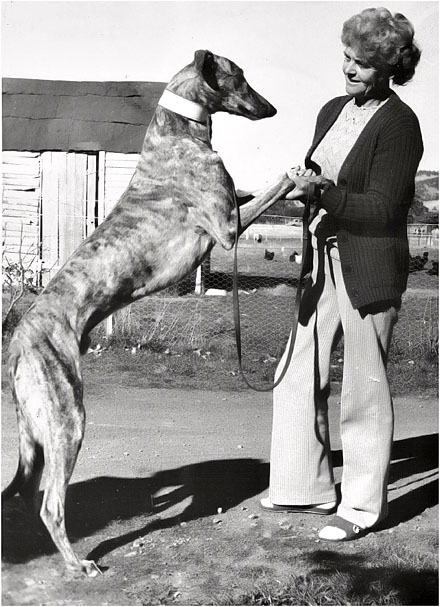 Audrey barely trained a dog prior to Royal Griffin, and trained none after him. He was massive dog, tipping the scales at 82 pounds in the old (37.3 kilograms). Audrey and Dave had a small farm at Bagdad, where "the Griff" had his own open kennel in a large paddock, enabling him to roam freely during the day. For two and a half hours most days, be worked out on the neighbouring 150 acre property of Basil Wilson. This country dog rarely trialled at the racetrack, and constant injuries throughout his career restricted him to so few starts.
This marvellous chaser developed a reputation before he even raced. So fast were his early trials, seasoned followers realized something special was about to emerge. He made his debut at Devonport over 432 metres on March 2 1977. At a heavily supported 5/2 on favourite, he rocketed out of box 1, beat the smart Biffin's Return by 10 lengths, and ran a super 25.12, 0.17 seconds quicker than the Invitation winner the same night. An amazing career was off and running. Ten days later he breezed around the T.C.A. 500 metres in a slick 29.6, despatching Tuesday's Spirit as a 3/1 on favourite. A fortnight later, the champion tag was emerging after he put 12 lengths between himself and Birthday Zero at his White City debut. As a 6/1 on favourite, he not only won by 12 lengths, but in posting 30.25, ran 0.33 quicker than Mystery Bridge won the Invitation.
At Devonport on April 4 1977, he began so quickly that he soon caught the lure and it was a no-race. This was despite connections having warned the lure driver pre-race, of his amazing early dash. After starts four and five, "the Griff" was the new wonder dog. He won his heat of the Easter Plate at White City by 10 lengths at 6/1 on, with Peggy Bolero in his wake, in a quick 30.10. The Easter Plate Final five days later saw the same result, at the same price, and this time he won by 12 lengths in a fabulous Race Record 29.98.The Easter Cup winner that night ran 30.36.
At this time, two interstate offers were rejected, one for $15,000, then a follow up offer of $20,000. His sixth start saw his sixth win, in the same trademark style of bursting clear at box rise, and gapping the opposition, this time by 8 lengths in 29.6 at the T.C.A. in Hobart. So, after six starts his combined winning margins were 55 lengths. On May 7 1977, came a reality check, to prove that nothing is certain in racing. Again at 6/1 on, he led from box one at Hobart, but could not burst clear as normal. A stunned crowd saw Graeme Moate's Eiffel Zero run the young champ down in 29.6 by a length. Was he as good as everyone thought? Royal Griffin quickly answered any doubters.
He returned to Launceston, and blitzed his rivals by 10 lengths from box 8 in a heat of the Gold Collar, at a mere 10/1 on, and in a best of night 30.14. From box five a week later, Royal Griffin won the 1977 Gold Collar Final as a 3/1 on favourite. Twelve lengths behind him was the smart chaser Alone Storm, and his 30.06 on a wet night was 0.19 quicker than the Free For All winner. He then returned to the Coast for his only other start at Devonport. He thrashed Dual Voltage by 5 lengths in his semi of the 1977 Show Cup in a slick 25.2, but missed the Final and the next eight weeks due to injury.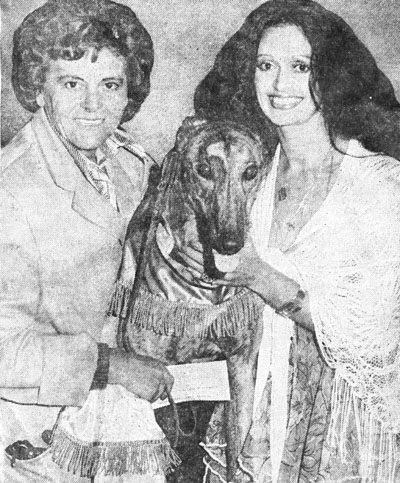 Not resuming until January 2 1978, the great dog ran last at the T.C.A after finding trouble in the early stages. Despite his limited racing, Audrey Brooks was by now, constantly monitoring leg injuries with the freaky brindle, and on a limited preparation, he ran in a semi of the 1978 Hobart Thousand on January 21 1978. He exploded from the yellow box at a luxurious 6/4 and disposed of Lord Adam by 3 lengths, with the even money favourite World Acclaim third, the time being another brilliant 29.5.
"The Griff" again drew box five in the 1978 Hobart Thousand Final, to this day, one of the greatest fields ever to line up in Tasmania's number one Classic. Star Tassie chasers Toota's Flash, Our Reprieve, Mersey Mist and Caramel Honey made it, as did 1977 Melbourne Cup winner and fastest heat winner Mile Post from Victoria. And the favourite was Victoria's champion bitch Pancho Girl, which started 6/4 from box two after her runaway 11 length heat win in 29.5.
A massive crowd that night witnessed possibly the greatest pure speed performance ever seen in Tasmania. Despite the highly vaunted opposition and a tricky alley, Royal Griffin exploded from the traps to be four lengths clear at the winning post the first time around. He turned the "Thousand" into a procession, him in one race, the others in another. He defeated fellow local Our Reprieve by 6 lengths with Mile Post third in another blistering 29.4. Thousand fame and the $5000 cheque was his, on a watershed night for greyhound racing in the State. Royal Griffin always had the crowd lined up as he returned from the catching pen, to watch his unique habit of rolling on the ground, rubbing his neck along the grass for many yards. Was he the champ that knew how good he was, a showoff, or just a big pup that never grew up? A combination of all three most likely, and it made him one of Tasmania's all time most popular chasers.
A week later and another blitzing 10 length win at Hobart over Westmore Charm in 29.5, before he ventured to White City for a crack at the 1978 Launceston Cup. It was not to be however. He ran third in his heat and second in his semi, behind star N.S.W. chaser, and eventual Cup winner Fire Tasson. Undeterred, the great dog narrowly won the Peter Wright Memorial from Dynamic David, before successive wins at Launceston and Hobart over great rivals Toota's Flash and Our Reprieve. He had to settle for close seconds to his major rival Dynamic David in April/May 1978, the May 13 run seeing him seriously injure himself once more.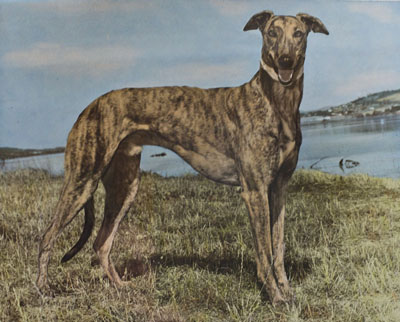 Big doubts lingered over his career. Chronic leg problems meant Audrey was constantly patching him up, only to go sore again and again. He missed eight months and four days of racing, when at the pinnacle of his powers, and he was to resume first up from this massive break, in a heat of the 1979 Hobart Thousand, to attempt what only Ophir Doll has done to this day —- repeat Hobart Thousand glory.
He was still a mighty dog, but some of the magic, some of the blistering early speed was gone. But this huge hearted dog still nearly achieved the dream. His resumption saw him win his Thousand Heat by 8 lengths from box four, from Saucy Moore in 29.84 for the 500 metres. His box five Semi Final victory was by 5 lengths, this time defeating Uni Pak in 29.85. On March 3 1979, he exited box four, as a 6/4 favourite, in his attempt to make it back to back Hobart Thousands. In an interference marred Final, Royal Griffin was severely checked on the first turn, and despite the most valiant of efforts, had to settle for second, 4 lengths behind Ray Elphinstone's smart chaser Astradome Lad. But what an incredible effort after such a long break, and with no lead up racing before the series started!
At fortnightly intervals, he won his next two starts in Invitation company at Hobart, by big margins and in quick times. But the end was near. After an Easter Cup Heat second to Tugrah Beaver, he narrowly won his heat of the Arthur Moore Classic at Hobart, before leading and running second, again to Tugrah Beaver, in the Final. On May 12 1979, Royal Griffin broke down at the T.C.A. when fifth to Astradome Lad in a heat of the Mothers Day Stakes. This was his final public appearance. Persistent injuries cruelled a marvellous career, which spanned a mere 30 starts, yielding 20 wins, 7 seconds and 1 third.
A limited stud career followed with only modest success. It matters little. Royal Griffin was fragile physically despite his massive frame. He was owned and trained in unique circumstances. He was a real people's champion not only due to his freaky ability, but his quirky ways and spectacularly lovable nature. Highly respected trainer Howard Delaney, no stranger to champions himself, was quoted in the Mercury of January 30 1978 as saying Royal Griffin was "the best speed dog he had seen race in Tasmania". Proposed Mainland visits never eventuated due to his many injuries, and one marvels at what he may have achieved. Nevertheless, his wonderful career still sees him join the elite in Tasmania's Greyhound Hall of Fame.