Inductee Hall of Fame 2013
Red brindle bitch, (Dashing Disco – Kathleen Amour), Whelped September 1981, Owner W "Bill" Breen, trained in Tasmania by Bill Breen, in Victoria by Allan Roberts
Sheila's Teresa commenced and ended her illustrious career in Tasmania, where she had 45 starts for 16 wins and 13 placings, which included a Launceston Cup victory and the 725 metre track record at the Hobart Showgrounds. In between, "Sweetie" as she was affectionately known, also had 45 starts in Victoria, posting an amazing 25 wins and 15 placings, all at the highest level, and remains the only Tasmanian chaser to win the prestigious title of Victorian Greyhound Of The Year, which she achieved in 1984.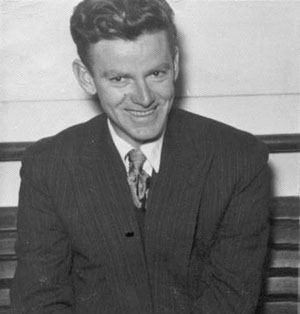 Bill Breen, one of eight children, was born in 1925, in the farming community of Tunnel in North Eastern Tasmania. The family moved to Launceston in 1938 and Bill worked as a postman. In the 1970's he boarded at a property next to the White City Greyhound Track, and developed an interest in greyhounds through former L.G.R.C. Chairman Peter Damon, who was also his brother in law, having married Bill's sister Coleen. His initial chaser was a "slowish" bitch called Autumn Sandy, but Bill bred a litter with her to Jetrock Lad, which produced a quality bitch called Kathleen Amour, a Lucky Dog Medley winner at the T.C.A., when trained for Bill by Graeme Moate. She, in turn, was mated with top sire Dashing Disco, which produced our mighty girl, named after Bill's much loved older sister Sheila Teresa Breen.
Sheila's Teresa made a late debut to racing in her twenty third month, with a strong fourth at Hobart, but followed with a Juvenile Heat victory at White City. Her Final fourth preceded a trio of wins at Hobart in running weeks over the testing 497 metres, and in progressively faster times. A fourth, then a third over 580 metres at Devonport, were followed by five straight victories in October – November 1983 and the progression to top grade. The first of these two wins were "space" jobs at White City, then a two length victory over the classy Lady Blazenka at Devonport. Off the Hobart, she scored at her first attempt in Free For All class, accounting narrowly for Wanton Wonder with a barnstorming late burst. Nine days later, Sweetie powered away from Trooper Bird in her heat win of the Tasmanian Gold Cup running a slick 28.76. A severe mid race check saw her wind up fourth to Dinkum Leader in the Final.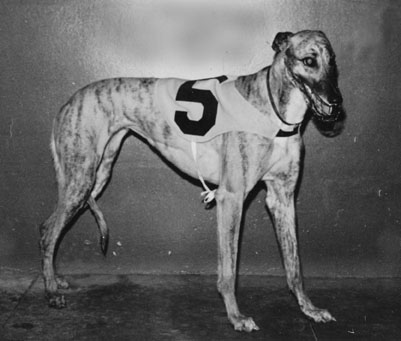 A Hobart sixth and a narrow Devonport win over 452 metres, then saw Bill Breen aim his emerging star at the 1984 Hobart Thousand. In a halcyon year of star sprinters, Sheila's Teresa ran a brave heat third to star bitch Our Sharlene and Victorian champ Chariot Supreme, before a fast finishing second to the mighty Double Time in her semi. In a "who's who" Final, Sheila's Teresa, at 14/1, came from a mid race sixth to to grab third, beaten only a length and a quarter behind Double Time and Highland Port, with Chariot Supreme fourth after he led clearly to the home turn.
Now a fully qualified star, Sheila's Teresa was set for her home town Cup at Launceston's famous White City. A close heat third to Summer Simone preceded her fast finishing half length second to Fresh Image in a rough and tumble semi, that saw her qualify for the Final by beating the third chaser by a nose. Coming up with the coverted rails draw for the Final, saw Sheila's Teresa start a pronounced 7/4 favourite. After contesting the early lead, she powered away to score by 2 ½ lengths from So Like Busy, with Pacific Force a further 3 lengths away third, in a slick 30.06 seconds. This emotional home town win, remained the crowning achievement of her "sprinting" career.
Her next nine starts was a mixed bag of three wins and three placings, before a debut run over 725 metres in Hobart, that entirely altered the course of her career. A National event for bitches, the Anderson Hosiery Cup, had its Tasmanian Heat at The Showgrounds. Exiting from box five, Sweetie came from sixth early, railed to the lead turning for home, then held off a late surge from top bitch Carletta's Fancy before scoring by a neck. In so doing, she lowered the track record to 43.77.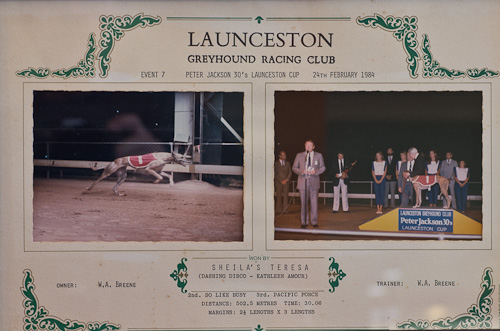 >
Until this point the career of Sheila's Teresa had been a fine appertizer. Bill Breen sent her to master Victorian mentor Allan Roberts, not only for the Anderson Cup Final, but to continue her career. The main course now began.45 of her next 46 starts were in Victoria, where she recorded 13 wins at Olympic Park, 8 at Sandown and 4 at Cranbourne. All of these starts were at Invitation, or Group Level on current standards and her list of credits were stunning.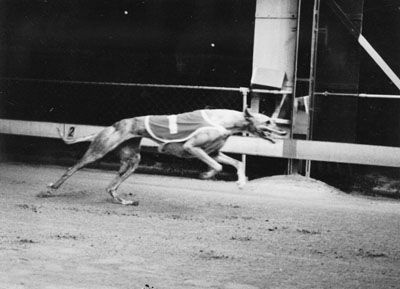 Her initial Victorian start was in the Anderson Final at Olympic Park, where she led from box 7 at 14/1, only to be collared on the post by the great stayer Dark Harlequin, a bitch she would have many more duels with. After winning a heat of the Cranbourne 2000 over 520 metres, she fell in the Final. Allan then switched her back to staying. With immediate effect, she became the number one stayer in Victoria, possibly the country. Between June 21 1984 and September 10 1984, she won 8 of 12 starts all in town, all over the staying journeys. Successive Invitations wins at Sandown, were followed by a heat second, but a Final victory in the prestigious John McKenna Memorial at Sandown eclipsing the mighty Club Stroller. In so doing "Sweetie" broke the race record. Off to Olympic Park, she won her heat of the N.C.A. Trophy, before a fourth in the Final. She scored from two metres behind over 732 metres at Olympic, and returned to Sandown for the feature John Dillon Memorial over the 718 metre trip. After spanking Boosty Calhoun by nine lengths in her heat, she ran a slick 43.61 to easily account for Miss Bohemian in the Final.
Now the number one staying ticket in town, Sheila's Teresa won six of her next eight in Melbourne, including the All Stars Invitation at Olympic in Class Record time, defeating arch rival Dark Harlequin. In a five run winning streak she won her heat of the Olympic Park Distance Championship by a mere 15 lengths, before leading throughout in a 3 ¾ length demolition of National Corn in the Final. Next it was victories in the Heat and Final of the Camera Action Cup, this time leaving fellow Tasmanian Glencoe Missy six lengths in arrears.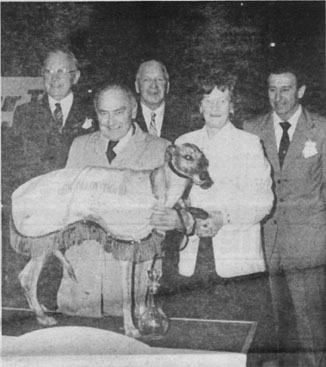 Still on a roll, her next 13 starts netted 6 wins and 6 placings including a heat win and neck second to Dark Harlequin in the Roy Maidment Memorial, and a Heat win and head second in the "now Group One" Sandown Cup. On April29 1985 Sheila's Teresa won yet another heat at Olympic Park, but fought and was suspended for a month. Obviously injury induced, she returned to Tassie and didn't reappear for three months when unplaced in a sprint at White City. Still not right, it was an further two months off before she resumed duties with Allan Roberts in Melbourne.
Now a four year old, Sheila's Teresa's won an Olympic Park 511 metres first up, before two wins and two placings over the short and long at Cranbourne, including a Victoria Cup Final second. Her next five starts over the Olympic Park 732 metres were to be her last in Melbourne. Though not the "same old girl" Sheila's Teresa won twice more, including her Victorian swansong on November 25 1985.
Her Victorian career was simply stunning. She won 25 from 45, making 17 Finals of which she won 5, ran second in 8 and third in 2. She held two sectional records at Olympic Park and ran 0.05 outside the 732 metre track record. Always racing at the elite level, it is little wonder Sheila's Teresa was named Victorian Greyhound Of The Year in 1984, a stunning honour for a Tasmanian born and bred chaser.
Six months after her Victorian finale, Sheila's Teresa did make one of two brief returns to racing in Tasmania. From 12 more starts, she accrued only one more victory, a 722 metre Free For All at White City on 23 May 1986, and was placed in four more. Injury and age had taken its toll, but the mighty bitch ended her career having raced 90 times for 41 wins and 28 placings.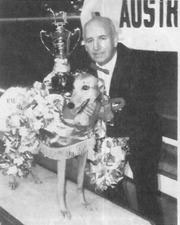 Bill Breen, mainly from the proceeds of Sheila's Teresa, bought a property at Elizabeth Town where he kept "Sweetie" and a number of other ageing longtails, until his death in 1990. Bill bred three litters from the champ, and she more than left her mark as a broodbitch. She produced 14 individual winners, mainly from her initial litters to Falcon Prey and National Star; her final litter to Shining Chariot less successful though Valhalla won seven. Her best chaser was Raheen Patrick, a 16 time winner that broke the White City track record in November 1989. Raheen Toby also briefly held the 742 metre record on that track, whilst Crackerjack and Carmel's Star were quality chasers with 10 and 12 wins respectively.
However, her most amazing progeny was Raheen Star, a black daughter to National Star. A racetrack moderate, with only 2 victories from 29 tries, she became an amazing success as a broodbitch. To Malawi, she produced the champion sprinter Mancunian Girl, winner of the 1994 Group One Golden Easter Egg and Australian Cup. The same mating produced her sister Cyanogen, which ran third in the 1993 Group One National Distance Final. Raheen Star was the dam of many other quality chasers, and feature race winners, such as Sagres Prince(15 wins), Sagres Bay (14), Burma Blue (15) and Bon Jaimie (15). Raheen Star was also the great grand dam of the mighty Superman, dual Group One winner of the Perth Cup and Hobart Thousand.
The imprint left by the wonderful bitch, Sheila's Teresa, was most obvious on the racetrack as a phenomenal sprinter/stayer. As a broodbitch, she both directly and indirectly, left an indelible imprint at the elite level. So deservingly, she now enters the Tasmanian Greyhound Hall Of Fame.