Hall of Fame inductee 2009
Red Brindle Dog,  Old Berry Hermes – River Star  Whelped March 1966
Owner: Lloyd Donoghue   Trainer: Ron Fraser
Many consider this 61 pound dynamo to be Tasmania's greatest sprinting son. Had he not died at twenty eight months of age, he probably would have proved it.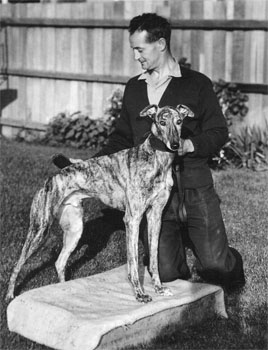 Top Launceston trainer Ron Fraser only vaguely knew Wynyard owner Lloyd Donoghue when the latter asked him to take two ten month old pups to train. By English sire Old Berry Hermes from the Our Barbara bitch River Star, the pup that was to become Social Dancer, was an escape artist and Lloyd was worried he would come to harm.
From his Waverley kennels at 2 Craig Street, Ron soon realized both pups were pretty special, and while breaking them in must have been devastated when the other pup was lost to a serious training mishap. But the master trainer who rarely had more than five dogs in work, was about to embark on a whirlwind twelve months of racing both here and Interstate that would be hard to believe.
So fast were his early trials, Ron took him straight to Melbourne and on June 17 1967, at a mere sixteen months of age, he won a heat of the Silver Chief, running 31 seconds neat, the third fastest of thirty two heats. He was injured in his semi behind star Victorian Lord Baden and returned home.
His Tasmanian debut was at the TCA in September 1967, when, at only eighteen months of age he won a Juvenile by nine lengths, at the same time equalling the seven year old track record of champion Cheryl's Dream – an incredible 29 3/10 seconds. He limped off the track with a wrist injury that was to be with him throughout his brief career. The diehards were astounded and "the Dancer" was a household name overnight.
His first two White City runs (where he was never beaten in seven appearances) saw runaway wins in 30 6/16 and 30 4/16, at a time when the track record was 30 3/16.
Win after win followed and always in devastating times. At the TCA he won heat and final of Trial Stakes, powering over Celestial Jet in 29 6/10. Then he came from last to win a Progressive heat in 29 9/10 before thrashing a top field in the Bellerive Stakes Final running 29 4/10, just a tick off his own record. This was by nine lengths and despite missing the kick by two. A rare defeat came in the 1967 Puppy Championship, when in trouble before storming into third behind Top Thunder and his great rival Black Tuesday.
At one stage a $6000 offer from Victoria was refused, massive in 1967! A risky beginner, Ron Fraser found that more work on race morning helped Social Dancer to begin, whereas he missed the kick worse on lighter work. This bloke had no time for pampering and pats. He was all business and chasing was ever on his mind.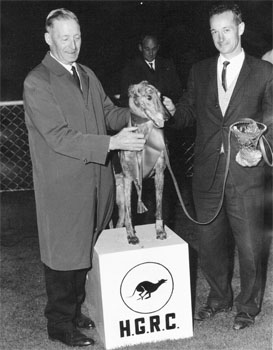 Back to White City, "Sosh" blitzed his Holiday Stakes heat by ten lengths in an amazing 29 2/16, then at 1/6 favourite won the semi in 29 12/16. From box eight, and on a heavy track he cruised to victory in the Holiday Stakes Final from Top Tess in 30 seconds neat. Another great rival in Pavalla finished unplaced. This won him $250 and a trip for two to Brampton Island. Even better was to come.
After privately smashing the White City track record, he headed to Melbourne for the rich Olympic Park Sprint Championship. Backed from 7/2 to 5/2 against the best in the country, he overcame a tardy start from box 8 to thrash Lufra Boy and Maraquita by five lengths in a fabulous 30 8/16. After escaping through to catching pen, he did an extra lap to a rousing ovation. After jumping second in the Final he was badly checked on the first turn before finishing a gallant fourth to Princess Kerry.
He carried the hopes of all Tasmanians in the 1967 Hobart Thousand despite an influx of Interstate stars. "Just how good?" were the comments after he made it seven on end at start number fifteen is his Thousand heat win. In pouring rain, he was 1/10 off his own track record running 29 4/10 and scoring by nine lengths. However, Thousand glory was dashed when slowly away and checked from box four in his fast finishing semi final third to Victorian Lord Pulfor and his litter brother Sandy Turf.
Next, Ron Fraser made the gutsy decision to take on the Australian Cup at Olympic Park. This clashed with his home town Launceston Cup, subsequently won by his litter sister Persian Opera. After a Sandown seventh when flattened, "Sosh" scored over 560 yards at Olympic in 30.14. Then he was narrowly beaten by Swanston Lass in his Australian Cup heat. She went on to win the Final, whilst Social Dancer was injured in the run and had to be scratched from his semi final.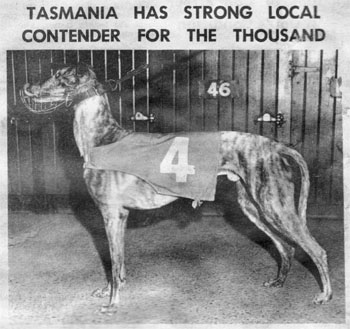 Back home and at 2/5 favourite he won the heat and final of the Six Hour Day Stakes at the TCA running 29 9/10 in both. The Mercury recalled " he showed rare dash after a tardy start"
He won his heat of the 1968 Easter Cup from 7 yards in a staggering 29 seconds dead and by twelve lengths. This time from the handicap boxes was never equalled again! At 1/10 favourite he produced the greatest run of his career to win the the Easter Cup Final. In an early scrimmage he was forced to hurdle a fallen dog, and gave Hobart Thousand winner Fiery Bob fifteen lengths start from the first turn. His unreal will to win saw him saw him power home to score by a length from Fiery Bob and Regal Release in 30 2/16. The crowd that night rose as one and gave him a standing ovation.
After winning a TCA Invitation in 29 6/10, and the Kings Cup Invitation by three lengths over the tearaway Fiery Bob in a near record 29 4/10 at the TCA, Social Dancer headed to Sydney where he raced three times.
He was fourth to Miami Moss in the Mothers Day Cup at Wentworth Park before heading to Bulli for his only ever distance run. Here, this freaky brindle ran the 675 yards in 36 1/16, equalling a ten year old track record. Then to Harold Park on May 25 1968 and without seeing the track, he flogged the top chaser Top Kabana in 26.6, equalling the time run by the great Rokoko that same night. Wow what a dog!
His last start was back in Hobart where he came from a tenth behind scratch to overpower Top Moorleah and Baratta Prince in 29.8.
After a short letup tragedy was to strike. In what was supposed to be a short fitness trial at White City, Social Dancer, the escape artist as a pup, drove under the catching pen to do an extra lap. The exertion saw the great dog's condition deteriorate and within days he died of adrenalin exhaustion, despite an around the clock vigil by Ron and Nancy Fraser and vet Steve King. Lovers of the leash were in collective shock and the Tasmanian Stud industry was robbed of a potential gold mine.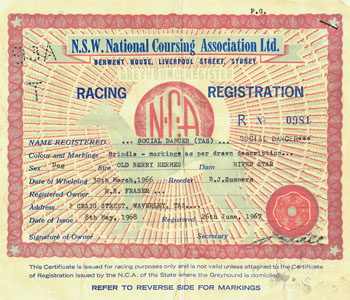 In a career that spanned barely more than twelve months, Social Dancer won 20 of his 25 Tasmanian starts with 3 placings. He won 12 of 15 at the TCA (only once failing to break the benchmark 30 seconds), 7 from 7 at White City and 1 at Devonport. He debuted with a track record, set a record never broken at White City and equalled a track record at Bulli, a track he hadn't seen and over a distance he hadn't competed. He took on the elite from day one, both here and Interstate.
Ron Fraser trained many great chasers including Launceston Cup winner Society Dancer, On Roster, Move Out, Cheryl's Endear as well as smart ex-Victorian sprinters Mind Your Back and Mind Your Step and top hurdler Gyra. But there was only one Social Dancer!
Upon his death some of the newspaper quotes included: "phenomenal performer and tremendous attraction wherever he raced"," greatest blow the sport has suffered in years", and " the Halwes of greyhound racing in Tasmania"
There is little doubt this pocket sized phenomenon prompted the rush of breeders to his English sire Old Berry Hermes, and one can only marvel at what he could have achieved if not sadly taken before his time.