Hall of Fame Inductee 2018
Black Dog, (Stylish Teddy — Kenny's Best Pal), whelped February 1999, owner Bertha Dawson, Trainer A.V."Tony" Dawson
The great chasing, big hearted iron dog Stylish Doctor, enters the Hall of Fame with an enviable list of credits. Not only did he reach the rarified air of 50 wins, 26 seconds and 12 thirds from his 114 starts, but he accumulated so many feature victories and honours in so doing. With his career commencing in August 2000 and ending in June 2004, "the Doctor's" racing span was a staggering 46 months.
Bred by A.V."Tony" Dawson and owned by his mother Bertha, he was "the Doctor" to racing fans, but was "Harry" at home, after top Veterinarian Harry Cooper. Tony Dawson has had unprecedented success with greyhounds since the 1980's, always breeding his own dogs and usually only racing a few at any one time. His preference was to keep two dogs and one bitch per litter, and sell the others. His success has been no accident. A superior rarer and feeder, Tony has continued to churn out a band of star chasers. Initially at Heather Street in the Launceston suburb of Glen Dhu, Tony and Bertha moved in 1985, to their current six acre property in Relbia Road, Relbia, just 16 kilometres south east of Launceston.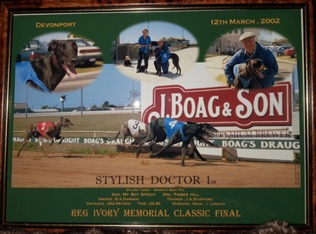 David's Image was his first smart chaser, and won 13 from 34 in 1981-2, despite his tardy beginnings. Stylish Lad won 15, including the 1991 State Distance Final. Quality bitch Silverdome also won 15, including the 1990 Devonport Breeders Classic. She produced a smart litter to Hua in 1992, which saw Stylish Hua win 15 and run 2nd in a Devonport Cup; Stylish Master an 11 time winner, and Silver Wish, winning 7. Among Stylish Force's 16 wins and 39 placings was the 2004 Derby at White City, whilst the wonderful Stylish Monty won 30 races including the 2008 Breeders at Devonport, 2009 Ivory Classic and 2009 Country Derby. Where's Ned won 24 for Tony including the 2010 Distance Medley at Mowbray, and Flash Innings 12. The mighty, but injury riddled Stylish Nic won 12, including the 2017 Illingworth Classic and 2017 Easter Cup.
Tony Dawson's greatest dog prior to "the Doctor" was undoubtedly Stylish Teddy. Another homebred by Walkabout Sid from Silverdome, "Teddy" won a stellar 49 races from his 101 starts, with victories in the 1996 Easter Plate, 1998 Easter Cup and a Gold Cup 2nd in 1997. He made so many other Finals without luck, including the 1996 Hobart Thousand. It was the mating of this star chaser with Kenny's Best Pal, that produced Stylish Doctor's litter in February 1999. This brood also yielded Stylish Dotty, purchased by Bob Grubb. A most hardy performer, she won 14 of her 95 starts with 39 placings, but became the Grubb's foundation broodbitch. Her January '07 litter to Where's Pedro won an incredible 150 races, including Fisherman (35), Stylish Monty (30), Where's Ned (24), Pedro Pronto (20),Stylish Moon (13), Stylish Bernie (10), Burrane (9), Stylish Tu Tu (8) and Zapala (1).
Stylish Doctor's career kicked off on August 31 2000, with a Hobart Juvenile 2nd to Elles All Black after leading. He made amends a fortnight later, before leading when 2nd to Lucky Pitstop at Devonport. Such early promised prompted Tony to send his new charge around in a Heat of the Johnson Puppy Championship at Devonport at only start four, where he despatched a smart field in 25.93 for the 452 metres. At only start five, "the Doctor" made his first Final, and in a cracking field he scored by 2 lengths from Black Caleb, a grand chaser that went on to win the 2001 Hobart Thousand. So at the tender age of 19 months, Stylish Doctor had announced his arrival as a serious new chaser on the Tassie greyhound scene. After two minor placings, "Harry" then won four on the trot, including Heat, Semi and Final of the 2000 Devonport Breeders Classic , relegating Black Caleb to 3rd; the pair split by subsequent top bitch Lucky Pitstop.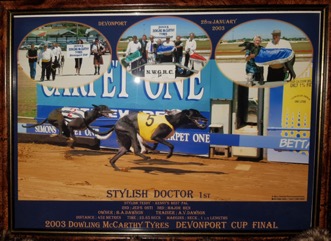 Tony Dawson obviously realised he had a key player by now, and audaciously took on the 2000 Hobart Thousand despite his 20 month old chaser's inexperience. By mixing it with the elite in this series, it really launched the marvellous career ahead. He ran into the freaky Top Shiraz in both his Heat and Semi Finals thirds before his 6th to the great No Intent in the Bob Brown Consolation Final. Next it was back to White City, where he made it three from three in the Heat and Final of the Park Tavern, uncustomarily coming from a rearward position to nail CapetownTiger right on the line.
Following a three month injury enforced spell, Stylish Doctor's next ten starts yielded six victories and two seconds. Amid this was a Derby 5th to Hotshow Jackson, but more importantly, Heat wins at Devonport and Hobart in the 2001 Minister's Gift, before a brilliant three length demolition of Bon Armagh and company in the rich Final at White City on July 2 2001.
Now a genuine A grader, Stylish Doctor's next 13 appearances were a frustrating mix of 3 wins and 8 minors, three of which were no ordinary minors indeed. After his Heat win in the 2001 State Final of the National Sprint, he placed 3rd to New Roulette in the Final. After a comprehensive Heat win of the 2001 Devonport Cup, he fell just short, by a tantalizing head to his great nemesis Black Caleb, in what would be his first of three successive Devonport Cup Final appearances. He subsequently finished a neck shy of Prince Paris in the Furniture City Final at White City.
After failing in his heat of the 2001 Hobart Thousand, Stylish Doctor went on an absolute shopping spree of victories between January 31 2002 and August of the same year. In a 25 start jaunt, he posted 17 wins, 3 2nds and 3 3rds, and all at the elite level. It included a Heat and Final win in the 2002 Ivory Classic at Devonport, despatching the leader My Boy Speedy in the shadows of the post. There was a Heat win of the Easter Cup at Hobart and a mere neck defeat to Nimble Miss in that Final. A proliferation of Invitation and Best 8 wins on all three tracks, culminated in making his 2nd successive National Sprint State Final. A rare slow getaway saw him wind up 4th to Mimi Shiraz in that White City feature of August 26 2002.
By the start of 2003, Stylish Doctor was 3 years and 11 months old, and he'd won 37 races. Not only did he score in all four of his runs of January 2003, but they were possibly the best of his hitherto auspicious career. On January 2 he overpowered odds on favourite Riverbank Billy in his Gold Cup Heat at Hobart in a slick 26.09. A week later the great chasing "Doctor" settled second before coming away from Smart Torque to grab the prestigious 2003 Gold Cup in 26.12. Twelve days on, Tony Dawson took his grand chaser to Devonport, in an attempt to grab a spot in his second consecutive Devonport Cup. On his best track, Stylish Doctor led most of the way in his Cup Heat win, thus grabbing another spot in the prime Coastal Feature. This was win number 40. From a difficult box five Final draw, Stylish Doctor began best but settled second after an early check. In the true style of a champion, he resolutely wore down Jed's Osti , and by a mere neck took the 2003 Devonport Cup.
Now a rising five year old, it was still onwards and upwards for the tenacious iron dog. His next 12 starts brought five more victories, advancing him to 46. Among these was a Heat and Final win at Hobart in the 2003 Easter Cup. He started 7/4 favourite in that Final at 50 months of age, and simply pulverised Little Hotty, and a top class field by 4 ½ lengths, in a brilliant 25.96 for the 457 metres.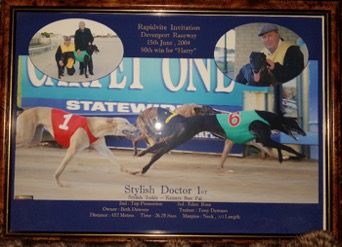 Despite age beginning to catch up with "the Doctor", he continued to race at the highest level. He made yet another Devonport Cup Final in 2004 with a box to post Heat win over President Reggio. In a crack Final, he only managed 7th, but seven days on, and three days shy of his 5th birthday, Stylish Doctor brought up his 49th victory at the Royal Showgrounds in Invitation company. Now waning noticeably, the mighty warrior still made Copper Delight's 2004 Ivory Classic Final after his Heat 2nd.
Seven starts later, on 15 June 2004, the massive hearted Stylish Doctor lined up at his treasured Devonport for start number 114. He was now 5 years and 4 months old and was 33/1 in a crack Invitation field. From box 6 "the Doctor" came from fourth midrace, to overpower Top Promotion and Edan Rose by a neck. What a star! This was the rarified air of 50 wins, and it was career over. Tony Dawson ended proceedings on the highest note, with his star chaser becoming one of Tassie's winningest chasers.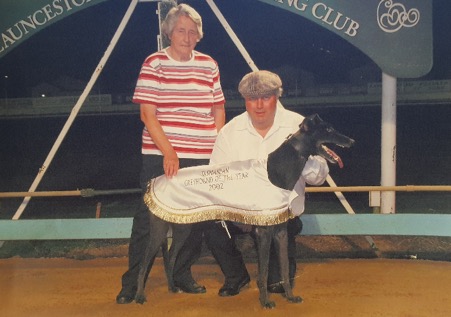 "Harry" raced 114 times for 50 wins, 20 at Devonport, 18 at Hobart's Royal Showgrounds and 12 at White City, and amassed $ 77642. This was achieved over an incredible 46 months, almost exclusively at the highest level of competition. He racked up an abundance of features, from his appearance in no less than 18 Finals, and was crowned Tasmanian Greyhound of the Year for 2002. Now this most popular star enters the Tasmanian Hall of Fame as one of our most prolific winners and durable chasers.