Inductee Hall of Fame 2017
Red brindle bitch, (Kuerson — Ruby Stoker), Whelped January 1959, Owner Murray Mead, Trainer Reg "Titch" Wilson
Western Idol enters the Hall of Fame, as one of Tasmania's greatest sprinter/stayers, with feature race wins in Tasmania, Victoria and N.S.W. Affectionately called "Judy", Western Idol was a red brindle daughter of star sprinter/sire Kuerson, from the 100% producing bitch Ruby Stoker. The January 1959 whelping also produced top class chasers in Warren's Idol, Shuffle Off and Oran Care. Eugenana owner/breeder Murray Mead reared this great litter, but handed the mentoring duties of Western Idol to good friend and "meat business" associate in Reg "Titch" Wilson. The latter was one of Tasmania's finest trainers, and had the freak performer Oak Queen in work at this same time.
Despite a reputation as a tardy beginning, wide tracker, Western Idol's career spanned 76 starts in three States, for 36 victories, 13 seconds and 12 thirds. It all started at 15 months of age when she was a debut 3 rd at White City, on April 2 1960. Seven days later, she ventured to Hobart and produced a withering finish to score her initial win at the T.C.A., landing a "10/1 to 7/4 favourite " betting plunge in so doing.
When you talk about toughness and versatility, and yes……….massive talent, you may well start with Western Idol! Before she turned two years of age, she had 42 starts and won 23. She'd won or placed in three States, was off handicap in feature races both here and in Victoria, and scored victories at her initial top class starts at both Hobart and Launceston, when only 20 months of age.
At start four she won an Easter Plate heat, before a Final 3rd to Nation Queen. "Judy" won three of her first four at Devonport, culminating in a Trial Stakes Final win over Dream Well. Her first real claim to stardom came in the 1960 Gold Collar at White City. After a Heat 2nd to Creamy Cheetah, she scored an emphatic 4 length Semi win over Night Prince in 30 5/16. A week later she beat the talented Whispering Buddy in the same time, exiting box 4 and scoring by 3 lengths as a 4/7 favourite.
In June 1960, and realizing her natural strength, Titch Wilson took on a 685 yarder at the T.C.A. and her bolted in at twos on. A month later he flew her to Sydney as an eighteenth month old for a crack at the prestigious Ladies Bracelet at Wentworth Park. At long odds, she was hardly disgraced running 3rd in her Heat behind Push Button. Returning to Tassie, she placed twice at Devonport, before back to back 540 yard wins at Hobart. On September 10 1960, Wilson debuted "Judy" over the testing 785 yards at White City in a Heat of The A.N.Z.G.A Cup.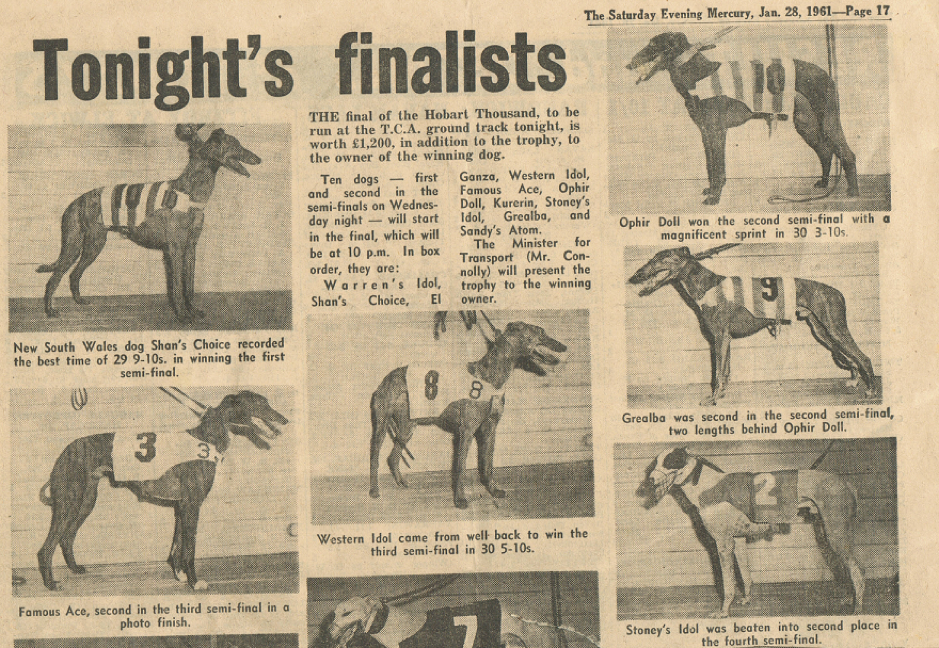 In an amazing display, she ran a sensational 44 seconds neat and defeated Hall of Famer, and Hobart Thousand winner Peter's Treasure by a mere 15 lengths. A week later, she made another one act affair of the Final, easily beating Velvet Smoke in a similarly slick 44 4/16.
Few greyhounds could ever do what Western Idol did at her next four runs, in October 1960, when still 21 months old. Come October 8, "Judy" ran 2 nd at 9/4 favourite in a Heat of the Tasmanian Puppy Championship at the T.C.A. behind Go Jet. Despite this defeat, Titch Wilson took her to Sandown just five days later, for a Heat of the 1960 Melbourne Cup. As an odds on 4/5 favourite she finished an unlucky 3rd to Real Rev in the 565 yards classic Heat. Undeterred, he stayed in Melbourne, where Western Idol contested the Hotham Stakes at North Melbourne over 675 yards, only to run another unlucky 2nd at 4/7 favourite. Next, and quite remarkably, she fronted up 7 days later on October 31 1960, in the feature Sporting Globe Marathon over the gruelling 950 yards. Remember she is still only 21 months old! As a 4/6 favourite, and coming off 14 yards on an 11 yard front, she powered away to score by 1 ½ lengths from Dainty Myth with a further 7 lengths to third. What a unique feat! If that's not enough, it was back to White City 7 days later, and back to 548 yards, where she scored by a mere 9 lengths at threes on. Champion tags are often ill founded, but Western Idol was a true champion!
This phenomenal roll was just starting, and her three biggest wins were still to come. After scoring four White City wins from her next seven starts, all at prohibitively short odds, Reg Wilson ventured south for a crack at the 1961 Hobart Thousand. Despite her racing style of risky away and wide not best suited to the tighter T.C.A., Western Idol still won her Heat as a 4/7 favourite from box seven, storming over El Ganza by 2 lengths. She overcame trouble in her Semi to beat the high class Famous Ace by a ½ length in a slower 30 5/10. In a star littered Hobart Thousand Final for 1961, Western Idol wound up 5th behind fellow Hall of Famer Ophir Doll, in that champion's first of back to back Thousand victories.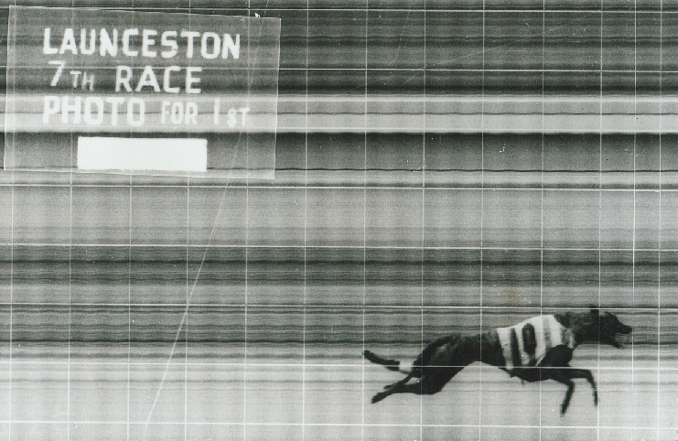 Western Idol's home town Launceston Cup now beckoned. On February 11 1961, and still only 25 months of age, she contested her Heat, having been handicapped 2 yards behind the scratch mark for this series. Don't forget, these were still the days of 10 dog fields. Her late burst from box 9, and at 4/6 favourite, just failed to pick up Dark Reel, but earned her a Semi Final berth. In said event, she came from box 10, and made light of the 2 yard start, powering away from Whiteaway Prince by 5 lengths, and at twos on! She fronted up for the 1961 Launceston Cup, in a star studded field, and despite giving two yards start from box 10, this darling of the greyhound public still went to the start as an even money favourite. In a Final for the ages, Western Idol gave a massive start, before her withering late burst saw her nail her great kennelmate Nanda Barlu by a ½ length, with Go Get a ½ head away third. Running a slick 30 4/16, Western Idol grabbed the 500 pound first prize, in the fashion of only champions.
Next up and also at White City, was the Autumn Stakes. Conceding a 3 yard start, but still at threes on, Western Idol just failed to pick up Dover Court in her heat and went under by a ½ head. Again conceding 3 yards in the Autumn Stakes Final, "Judy" nevertheless started a raging hot 4/6 favourite. She sprinted magnificently from box 10, to overpower Gail's Daughter and score by an ever widening 6 lengths in the same 30 4/16's she ran in the Launceston Cup. Also at White City, and still off severe marks, she followed up with a victory over the great Nippy Cola, and a close 2nd to top dog Creamy Cheetah, before Titch Wilson audaciously flew her to Sydney, for the 790 yard Wentworth Park Trophy, now a Group One under another name.
Starting at 2/1 in her heat of this Wentworth Park feature, she gave star Sydney stayer Bonnie Brinnie an almighty start, but powered home to nail her on the line by a head in 44 6/10. On May 20 1961, Western Idol put the seal on her greatness in the Wentworth Park Trophy Final. Starting a 4/5 favourite, she began better, only gave Bonnie Brinnie five lengths start, and again ate her up late to win by 1 ½ lengths, running a much quicker 44 2/10. Astonishingly, this was the third year in a row that Reg Wilson had won this Classic feature; Oak Queen winning it in 1959 and 1960.
Just 21 days later, this wonder bitch switched back from 790 yards to the 540 yards at Hobart, for a crack at the Sprint Championship of Tasmania. At 5/1, she produced her customary whirlwind finish to beat Prince Mandy in her heat. From box 3, the task was too much in the elite Final, and she wound up 4th to T.C.A.'s greatest ever chaser — Ophir Doll. One week later, she took on Ophir Doll once more, in the 685 yard Distance Championship of Tasmania. At the generous odds of 9/4, this mighty miss ran the "Doll" ragged, and scored a scintillating 7 length win over her great rival, in a fast 38 2/10. Remarkably, this once more, was the third year in succession that Reg Wilson won this famed feature; again Oak Queen winning in 1959 and 1960. Western Idol, would undoubtedly have won the 1027 yard Marathon Championship of Tasmania the following week, but so great was her staying prowess, her opposition refused to enter and that feature was not staged in 1961.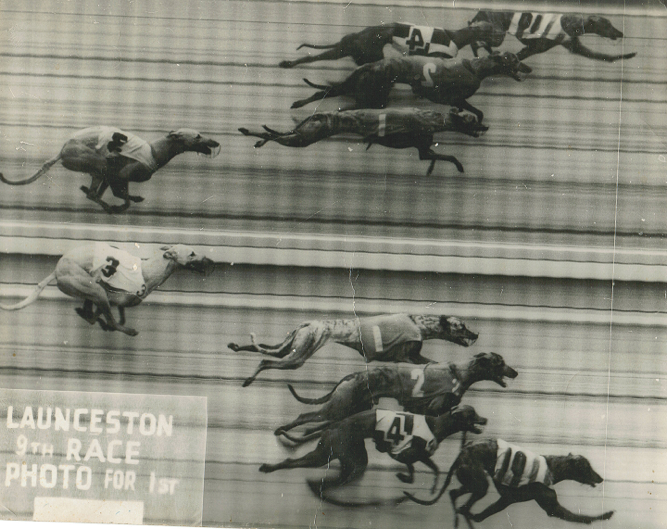 Following a sprint win at Hobart and a 2nd giving 2 yards at White City, the feisty Reg Wilson challenged new White City record holder, and Australia's greatest dog, Tamaroo, to a 500 pound Match Race over the 548 yard sprint trip. He'd previously beaten Ophir Doll in a two dog Match, and was too speedy for the great bitch, scoring by 4 ½ lengths in a phenomenal 29 15/16.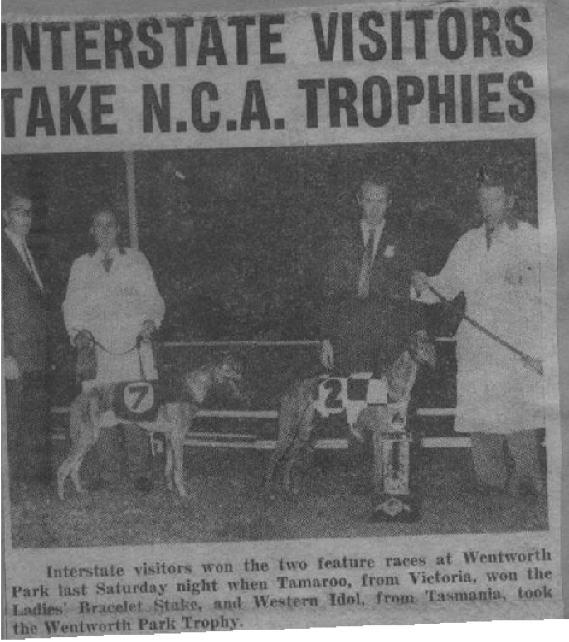 August 12 1961 was the watershed in Western Idol's amazing career. Back to Wentworth Park for the 790 yard President's Stake, Western Idol ran a close 4th (Ophir Doll ran 2nd) behind top Sydneysider Nimble Dimple. Still only 2 years and 7 months, Western Idol sustained a severe injury in this race, and was to miss the next 9 ½ months of racing. Prior to this event George Lea, the owner of N.S.W.'s greatest stayer Narana Miss had challenged Western Idol to a two State Match Race. The upbeat Titch Wilson would most likely have accommodated him, but sadly it was never to be. Tragically, she was never the same dominant force again, in a restricted 19 starts leading up to her career's end.
When the long awaited return did come, it was amazingly over the White City 785 yards, in which she ran 2nd to Lyric Queen on May 26 1962. This final phase of her magnificent career, saw her win 3 more races, all over 785 yards at White City, giving away 1 yard start, then 2 yards, then 3 yards……….it was never easy in her day!. She did have one more crack at the 685 yard Distance Championship of Tasmania, and ran a creditable 3 rd to her wonderful rival Ophir Doll.
Western Idol's breathtaking career ended inauspiciously, at Devonport when 6th in a 465 yard Sprint on December 29 1962. But what an amazing journey of spectacular success she ventured! An all track, all distance , three State star, Western Idol's 36 victories were form 465 yards to 950 yards, and she won multiple prestige Finals over both the sprint trips and the long, in Tasmania, Victoria and N.S.W. This great bitch is best summed up by a quote from The Examiner newspaper in the early 1960's. " Western Idol has established herself as one of the best greyhounds ever to grace the Speed Tracks of Tasmania". Where else could she end up but in the Tasmanian Greyhound Hall of Fame?