Inductee Hall of Fame 15 December 2012
Light Brindle bitch, Temlee — Society Style, Whelped May 1978
Owner Tom Englund, Trained in Tasmania by Tom Englund, in Victoria by Allan Roberts and G.E. "Ned" Bryant.
Wynlee Wonder will be remembered as one of the fastest, most durable, and certainly most versatile bitches ever produced in this State. Winning 14 races from 18 starts in Tasmania, and 21 in Victoria, shared equally with sprint and distance racing, she reversed all normal trends, by winning her greatest staying race, the Sandown Cup, as a 23 month old, and her greatest sprint, the Devonport Cup, as a 44 month old……and in track record time.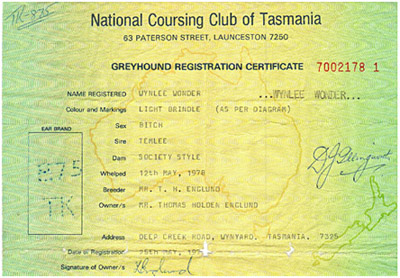 Owned and bred by Tom Englund of Wynyard in Tasmania's north west, " Mischief", so called for obvious reasons, was out of his 1976 Tasmanian Oaks winning bitch Society Style, and by Australia's famous sire Temlee. Apart from this "wonder bitch", the litter was outstanding. Wynlee Warrior won 15 including a maiden at Sandown, Wynlee Express was a Maiden Thousand finalist, and Wynlee Stlye won 15. All three of these brothers also made the 1981 Devonport Cup Final. Wynlee Legend and Lady Wynlee were also litter winners.
Wynlee Wonder commenced racing on September 15 1979, at a mere 16 months of age, winning a White City Juvenile by six lengths in 30.33 over the 502.5 metres. A Puppy Championship heat 4th was followed by a flying Juvenile win at the T.C.A. in a sizzling 29.47. Tom boldly sent his "baby" chaser to top Melbourne mentor Allan Roberts after this win, and it was twelve months before she made the first of three stints back to Tassie. Despite her tender age, "Mischief" was an instant success in Victoria, with a second and first at her initial Sandown Park outings. She was the fastest of the 64 elimination heats of the Maturity Classic at Olympic Park, but a tardy start saw her run fifth in the Semi Final.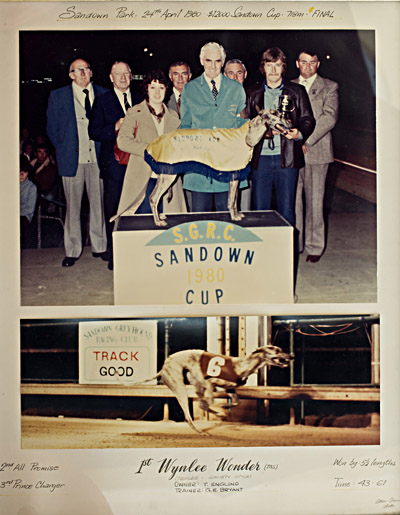 Despite mixing it with Melbourne's best, it was her risky beginnings that led Allan Roberts to set his sights on longer races, notwithstanding her tender years. At a mere 22 months, she had her first 718 metre start at Sandown. She won easily, but that same day, Allan Roberts had a heart attack, so Wynlee Wonder was transferred to fellow top trainer Ned Bryant. She had seven distance starts in the next seven weeks for Bryant, winning three at Sandown and two at Olympic Park, mainly by spacious margins and in blistering times.
Her final run for Bryant was on April 24 1980, in the now Group One Sandown Cup. Pitted against the National Distance champion All Promise, " Mischief" exploded out of box six and blitzed her vaunted rival by five and a half lengths, with Prince Charger third, in a slick 43.61. All this, and just twenty three months of age. Back to Allan Roberts the next day, the risky beginning sprinter was now the front running staying queen.
She continued to race in Victoria with success over the sprint and staying trips, before returning to Tasmania in September 1980. In the same week she won by nine lengths over 722 metres at White City and a half length at the T.C.A. over 730 metres. An injury forced Tom Englund to give her a short break, before a tilt at the 1981 Launceston Cup. After running a best of night 30.14 in a runaway six length heat win from box seven, she again set the standard in her nine length Semi Final demolition from box five. A luckless run from box six, saw her finish sixth in Anymore Anne's 1981 Final.
In successive weeks, she then won over both distances at White City, before a crack at the Arnott Spillers National Distance. After winning the Launceston Heat by nine lengths, she fronted up to her one and only run on the new Showgrounds track in Hobart.
Sight unseen she won her 725 metre heat by three and a half lengths, smashing the track record in running 43.93. However, this became a watershed night for the great bitch. Tom is adamant that her front running Hobart win on Australia's most testing circuit took a great toll on her, and never again was she quite the same bitch over the longer distances. In the State Final a week later at White City, Wynlee Wonder led but was easily run down, albeit by fellow great bitch Miss Coroneagh, finishing a five length second.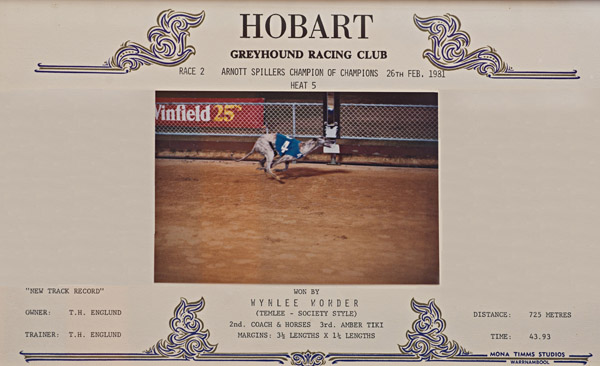 Wynlee Wonder travelled back to her Melbourne base, but Allan Roberts too, realised the former powerhouse stayer was no longer as strong over the longer journeys. This, associated with constant triangle muscle injuries, saw Roberts switch her back to sprinting. This bitch, wonder by name and wonder by deeds, then won a succession of city Invitation sprints, mainly at Sandown and always in brilliant times. Continued injuries however, led Allan Roberts to send her back home, citing she had done all that could be asked.
What an imposing Melbourne record she established! Wynlee Wonder scored twelve Sandown victories, seven distance, and five sprint. She recorded seven Olympic Park wins, five distance, and two sprint. Further, she twice won at Cranbourne. She won the Sandown Park Greyhound of the Month for May 1980 for her staying prowess, then won the same award for May 1981 when sprinting. Apart from her 1980 Sandown Cup victory, she won the 3UZ Trophy Final, and was runner up in the Sandown Sprint Championship behind Shamrock Flight. She made numerous other finals including the Anniversary Trophy and Autumn Stakes at Olympic Park, and Harpers Chow and Sandown Distance Championship at Sandown.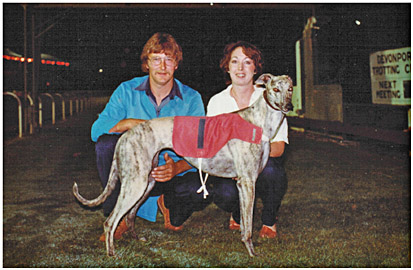 Back home at Wynyard, Tom had no intention of racing her again. But so badly did she play up when the other dogs left home, he decided after a while, to give her a few gallops. So well did she go, Tom, put her around Devonport and she ran close to the track record. Friend and clocker Mike Maney, convinced Tom to put in a last minute entry for the 1982 Devonport Cup, run the following week. From box one in that heat, Wynlee Wonder, the supposed retiree, beat star chaser Lady Biffin by seven lengths in a near track record 24.88. A week later, and despite missing the start from box two, she defeated Bone Gilla in the Semi Final by a length in 25.36.
She drew box two in the 1982 Devonport Cup Final, and as a forty four month old. On a wet and wild night, this great chaser not only defeated Lady Biffin by two lengths, but reduced Even Ray's track record from 24.85 to an amazing 24.79 seconds. After an injury marred career in two States, and predominantly over staying distances, the magnitude of this performance should never be lost.
"Mischief" was to have one more start. Tom, took her to White City for a crack at the 1982 Launceston Cup. She won her heat by six lengths from box six on January 23 1982, running 30.35, the quickest of thirty two heats, but after tearing her triangle muscle yet again, Tom Englund ended the racing days of this wonderful bitch on the highest note. She had won 35 races in Tasmania and Victoria, always at the highest level, with equal talent over the short and long, amassing in excess of $30,000.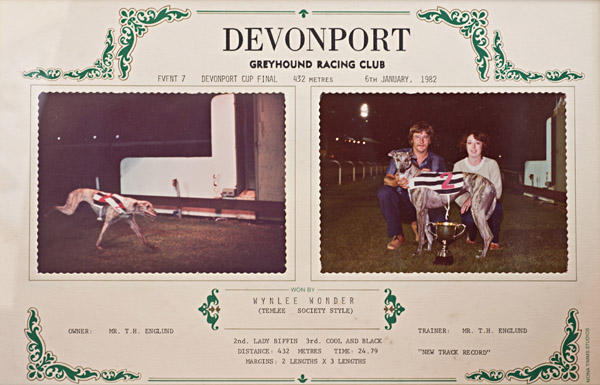 Naturally, Tom was keen to breed with Wynlee Wonder, but frustratingly, she whelped only eight pups in four litters. Wynlee Stroller, a star juvenile that broke his leg having run a super 29.86 at White City, was the only pup to her Darville's Flyer mating. To Wynlee Raider, two of only four in the litter were city sprinters in Melbourne, namely Wynlee Cougar and Radiant Raider. To Chariot Supreme, she produced the mighty Wynlee Supreme, which was sold to Western Australia, won major races and amassed over $60,000. Her final litter, to Onyx Blues produced only a bitch pup. So, despite small numbers, "Mischief" left an indelible mark as a broodbitch, further backing up her deeds as a fabulous racing machine.
Fittingly, Wynlee Wonder, now takes her place as a member of the Tasmanian Greyhound Hall of Fame.