Inductee Hall of Fame 10/12/2011
Black dog ( Highland Summer – Tiny Port,) Whelped October 1981), Owner – Steve Coleman, Trainer David Crosswell
Dual track record holder – son of Tasmanian Hall of Famer – sire of inaugural Hall of Famer True Vintage – and Tasmania's sole National Sprint Champion – Busy Vintage, joins his illustrious family in Tasmania's Hall of Fame.
Bred and trained by David Crosswell, and owned in Melbourne by Steve Coleman, "Collis" as he was known, only raced from March 1983 until March 1985 when a broken hock ended a great career. From one of Highland Summer's early litters, his dam was Dal and Norma Spaulding's 1980 Gold Cup winner and top line bitch Tiny Port. This litter also included star performers Highland Port (Hobart Thousand runner up), Summer Simone (17 wins), Amanda Port and Nicole Port. Steve Coleman had raced a couple of dogs with Crosswell, but struck the jackpot when offered this pup from a litter that had to overcome a savage bout of parvo virus early on.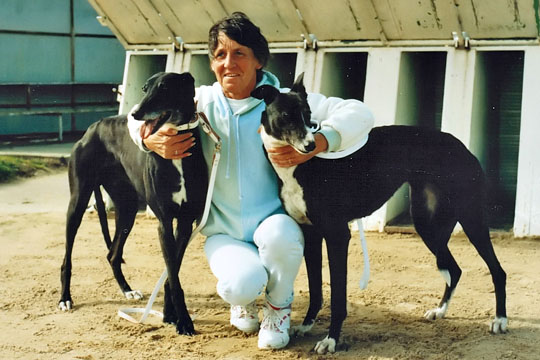 Busy Vintage's inauspicious last, when he injured a metacarpal bone on debut at Devonport on March 2 1983 was no sign of the wonderful career that was about to unfold. In fact, his first 21 starts was almost like an apprenticeship to the blazing second half of his racing life. These 21 starts yielded nine wins and two seconds, with ten unplaced. His final 25 starts yielded seventeen victories, and saw him unplaced only once, when he broke his hock.
But even in this "quieter" start to his career, the signs of something very special were evident. His winning margins were often huge and his times were always slick. His first three wins were at the testing Showgrounds circuit in Hobart over the original 497 metres, and included Heat and Final of the Lord Osti Juvenile in August 1983. Three Devonport victories followed, including a Heat and Final win in the prestigious Tom McKenna, in which he beat his litter sister Summer Simone. Back to Hobart, two wins followed including a Heat win in the 1983 Tasmanian Gold Cup over Noble Edition. He was fifth to Dinkum Leader in that Final.
Launceston's White City was never to be Busy Vintage's favourite venue, and his first four starts there saw him placed only once. He was spelled for three months following his Launceston Cup Heat fourth on February 10 1984, and it would be fair to call this injury enforced break, the watershed moment of "Collis's "career.
Upon his resumption on May 5 1984, a promising dog, quickly rose to champion status. The next and final 25 starts saw him win 17 and run second in 7, and he raised the performance bar to dizzy heights. His first seven runs back were all victories. Firstly a Grade 3 at Hobart, then his initial White City win. But on May 23 1984, when debuting over 580 metres at Devonport, he beat Carleta's Fancy by four lengths, and in so doing, reduced the track record by 14/100's to 33.71. Following another win over the same trip beating Dinkum Leader, Busy Vintage won a Free For All at Hobart, in a career defining win.
Only 14 days after his track record win at Devonport, he lowered the much more vaunted track record at Hobart over the testing 497 sprint journey. But this was no ordinary track record! In defeating Quality Onga by four and a half lengths on June 6 1984, be reduced the legendary Black Aztec's record from 28.40 to an amazing 28.32. This record had stood untouched since Black Aztec's domination of the 1981 Hobart Thousand series. It took the freak chaser Brother Fox to further reduce this record some eighteen months later.
Busy Vintage's seventh win on end was in the Edments G.O.T.B.A. Final, also at Hobart beating litter brother Highland Port. Three seconds (two behind the freaky Double Time) and three more Hobart victories ensued, before one of the most talked about races for many years………. A Match Race.
A challenge was issued for a dog to Match Race the Tassie champ around the Showgrounds 497 circuit. Super Max from Victoria, fresh from smashing the Olympic Park record took up the challenge, and a $60,000 winner take all Match Race took place on August 17 1984. A mighty crowd turned out to see Super Max lead all the way and conquer Busy Vintage by two and a half lengths, but the 28.53 seconds was well outside "Collis's" track record. Greyhound Racing was the biggest winner that night.
Busy Vintage followed this Match Race defeat wins four successive wins that were to make him famous not only in Tasmanian greyhound circles, but Nationally as well. On August 24 1984 Collis won the White City Heat of the Arnott – Harper National Sprint Championship, defeating Bobbie Brie in 30.14. A fortnight later, he blitzed Dream Zone by ten and a half lengths in the Hobart Heat running a sizzling 28.40. On September 9, Busy Vintage was a red hot favourite in the State Final, also at the Showgrounds in Hobart. The result was never in doubt, as he defeated classy bitch Small Reel by three lengths in 28.55.
Busy Vintage headed to the famous Harold Park U-turn grass track in Sydney, for the National Final, a final that no Tassie dog had ever been placed in. Opposed to a quality field of Australia's finest, including champion Victorian and Australian Cup winner Eaglehawk Star, Busy Vintage drew the two box, nearly perfect for this hard chasing, hard railing U-turn specialist. He started third favourite at 6/1, a huge sign of respect for his reputation and ability. When the lids opened, Busy Vintage chose the right race to begin as well as he had ever done. In no time at all he speared to the lead, and at no stage did he ever look like being run down. A brave Eaglehawk Star overcame strife to grab second, but was three lengths behind the Tassie champ. At the glittering ceremony, the connections were presented with the cheque for $27,500, whilst Busy Vintage went onto an honour board that still only carries one Tasmanian name.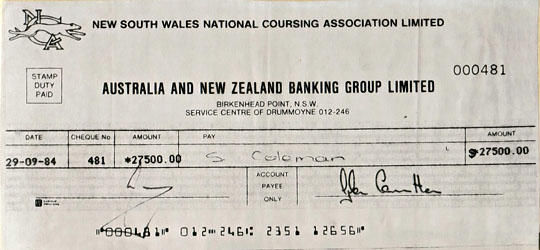 A month later, Busy Vintage was injured running second to John Michael at Devonport, and did not resume for three months, when he easily beat Happy Shiloh at Devonport. Next up he blitzed his heat of the 1985 Hobart Thousand by eight lengths in 28.64, before beating the mighty Samboy Gold by half a length in 28.65 in his Semi Final. In just about any other Hobart Thousand Busy Vintage would have run favourite and been expected to win, but the 1985 version contained one of the greatest dogs ever to race in this country, Brother Fox. Coming off a track record breaking run in his Semi Final, the freak N.S.W. chaser was in a class of his own, but Busy Vintage was brave as usual in grabbing second, albeit six lengths in arrears.
Sadly, the grand career of Busy Vintage was near an end. After a strong second at Hobart to King Ricky, he ventured to White City, where, on March 8 1985 he tragically broke his hock in running fifth to the same dog. Prior to this disastrous night, Collis's previous twenty four runs had yielded 17 wins and 7 seconds. His career record included 46 starts for 26 wins and 9 seconds, and stake earnings of $44676. This included two track records and the 1984-85 Tasmanian Greyhound of the Year title.
At stud, Busy Vintage stood both in Tasmania, and at Eddie and Mary Lieshout's in Victoria , but left his mark in no small way. He threw a host of winners on the Mainland without producing an absolute star. The best of those were Market Girl (20 wins), Wortha Knight (20), Roman Halo (17), the stayer Swift Monarch (13), short course specialist Spirit Of Luck (12), Friendly Lad (11), Charlie Snuffle (11) and Rare Drop (10).
But it was one bitch from a litter to Arthur Hirst's Little Jackie, that guaranteed his stud worthiness. This bitch was none other than True Vintage, an inaugural inductee into the Tasmanian Hall of Fame in 2007. She was a class apart, and a famous name in our sport. Several others from that litter were useful also. To Cody's Fancy, he threw top notch stayer Arkle's Fancy and the thirteen time winner Greg Matseur.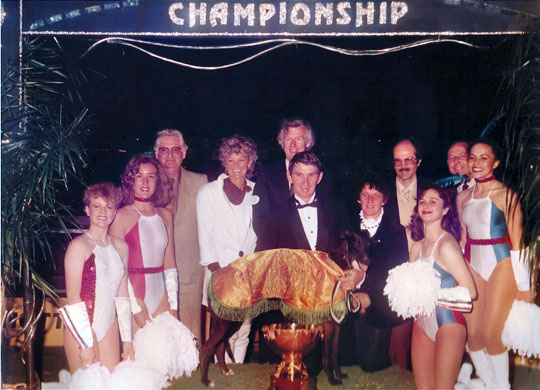 His best all round litter was to Justa Tiv. This included Launceston Cup winner Painted Hilux (27 wins), Painted Madonna (8), Derby finalist Painted Magic (9) and Tiv's Girl (5). To Chariot Daisy he threw the smart Fair Wish (10), and his progeny to Extra Colours included the classy Been Busy (17), Derby runner up Billy Jones (12) and Bubby Colours (7).
This great sprinter Busy Vintage now, and most uniquely, takes his place in the Tasmanian Greyhound Hall of Fame, alongside his champion sire Highland Summer, and his wonderful daughter True Vintage.