Inductees Hall of Fame 2013
Identical twin brothers Colin Victor and Cyril Henry Rosevear, were born at 44 Mann Street near White City in Launceston on March 13 1909. Living their entire lives on "the Swamp", and nearby so many other outstanding greyhound trainers, the pair became a formidable and famous name in this State as Breeders and Trainers in the pursuits of both Coursing and Track Racing. And it all started with a paint job.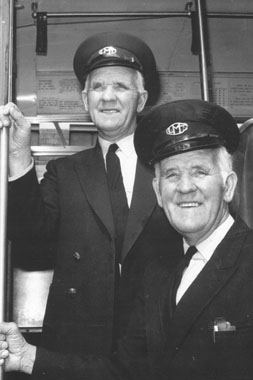 Having developed a keen interest in greyhounds, through their association with local trainers George Forsythe, "Titch" Wilson and "Shrewdy" Thomas, who also lived on the Swamp, they approached breeder Alf Wilson, with an offer to paint his house in exchange for a puppy, to which he agreed. Then, reckoning one pup would be too lonely, offered to supply the paint as well, for a second pup. Done deal! The fawn dog pup raced as Authentic, a talented hurdler, but with suspect chasing habits. He actually was disqualified from winning one night when he eased badly but still won. The outcry that followed led to the current "first past the post rule".
The light fawn bitch pup was Authoress, a classy type that won two Saplings Stakes at White City, over the 320 yard straight track in February 1933, before the track was officially registered. She also won a heat and semi of the MacRobertson's Cup in the initial days of racing in Hobart at the T.C.A. Weighing a mere 48 pounds, this bitch was equally at home on the Plumpton and Open Coursing, where she won Tintara and Golden Cristo Cups.
The twin brothers drove Trams, Trolley Buses, then Buses in Launceston, and to fit in with their greyhound training schedule, one took the morning shift, and one the afternoon. Cyril married Lily Holt and they had three sons, David, Robert and Geoffrey. Colin married Molly Boyer and they had one son, Allan.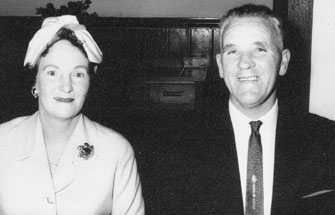 Colin and Molly were later divorced, with Colin remarrying Mary Morrison on July 7 1961. Her enthusiasm for greyhounds kept Colin involved longer than he may have otherwise in his latter years. When first married, Colin bought a house nearby the original family home in Mann Street. Cyril bought 56 Oswald Street, and together, the brothers built Twindown Kennels in 1932, from where they trained "the longtails" all of their lives.
Coursing, both enclosed and open, was their first love and dominated the twins first ten years in the sport. Despite winning the 1935 Easter Cup with Timaru (third again in 1936), they initially had less track success, due entirely to training their charges more towards coursing; the "rock hard" fitness required for coursing, taking away the early pace, more benefitial to track racing. Top N.S.W. mentor Harvey Wynach pointed this out, saying he'd never seen fitter dogs, but suggested they ease the workload to put in more zip. Accepting his wise counsel, the following twelve months in the early forties was their best ever. Their biggest Tasmanian success came in 1944, when Young Progress came from a yard behind scratch to win the five hundred pound Launceston Cup. The twins also stood some of Arthur Morgan's imported Irish Stud dogs at Twindowns during this period, in particular, the highly successful Buddha, Cheerful Valley, Keatingstown and Whitechurch Boy.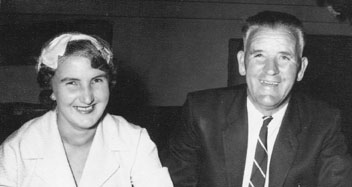 The Rosevear Brothers were true stars in the Coursing era. Five times they won the prestigious Waterloo Cup at Quamby Plains, with Andalette in 1941 and 1942, Yuri in 1946, Night Wire in 1952, whilst they had both the winner and runner-up, namely, Bertie Em and Yoeburn Chief in 1949. They won so many other coursing features, including the Tasmanian St. Leger with The Skrag, which was also runner up in the Derby. The demise of Coursing after 1953 came as a grave disappointment to the twins.
Their greatest greyhound, Lady Percyton, came to them under the most unusual circumstances. By Percyton Lad from Native Fairy, she was bred at Nairne in South Australia by George Chinnick in November 1945, and purchased for eight guineas. Due to interstate livestock restrictions during the war years, the boys were unable to get her to Tasmania. So Cyril and Colin, who never scored a misdemeanour in the Stewards room in all their years of training, paid three guineas to have her smuggled into Victoria by truck, between a load of potato sacks, then onto Tasmania. Smugglers in the Hall of Fame!
The eleven guineas was money well spent. Not only did she go on to win in excess of eight hundred pounds in stakes, she was the foundation bitch in their breeding empire spanning the next three decades. Although the big races tended to elude her, she won eight L.G.R.C. Stakes in a row, ran second to Double Jay in the 1947 Nelson Cup  and was a half head second to Beau Birch in the Launceston Cup Consolation of 1950. She produced successful race dogs from all of her seven litters. A pup from her initial litter to Whitechurch Boy, sold for a Tasmanian record price of two hundred pounds at two months of age.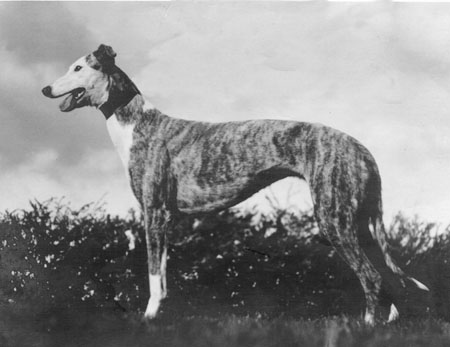 Most of the Rosevear runners after this time carried the "Night" monica, given by the twins, simply because it was a night sport. Lady Percyton's direct offspring won more than five thousand pounds, whilst her sons and daughters produced further topliners earning at least another sixteen thousand pounds. To Chief Agricola she had Night Affair, Tasmanian Puppy Championship winner and top grader over all distances. Kennelmate Night Shot ran second in that Puppy Championship, and went on to defeat Harold Park track record holder Sharid in the Christmas Stakes Final, in which the mighty Rocket Jet was unplaced. Another, Night Romance was a regular back marker in top grade at Devonport, as well as a heat and semi winner of the Ken Thompson Memorial at White City. Night Topic was yet another prolific winner on all tracks and ran second in the 1952 Easter Cup. To Chief Agricola, she had the star Night Pulse, good enough for the twins to send to Les Harper in Sydney, where he won back to back races at Wentworth Park.
Lady Percyton's seventh litter, this time to Glyn Occa, and at ten years of age, produced four outstanding chasers. Night Activity was an Easter Egg winner and Gold Collar finalist at White City, whilst Night Dasher was taken to Sydney for the Harold Park Classic, where he was unplaced in the Final after running the fastest of 46 heats. He did score easy wins at Maitland and Gosford before returning home to many top grade wins. Night Frolic was second in a Gold Collar, third in a Puppy Championship, and second in a Thompson Memorial, as well as a fifteen length T.C.A. victory in near record time over 685 yards. Night Capers rounded out this great litter. Other great Night dogs of this period included Night Wren, Night Fabric (second 1958 Launceston Cup, third 1958 Easter Cup), Night Eclipse (second Nelson Cup), Night Linen, and the great Night Sharid, star chaser of 1959 and Launceston Cup third in 1960.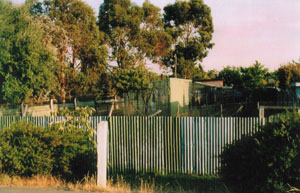 Twindown Kennels did have its setbacks, none greater than in 1963, when a 3.30am fire raged through the kennels wiping out many of their promising Last Son – Night Eclipse litter, including the highly promising Tamra, favourite three days later in the Easter Egg Final at the T.C.A. having won it's heat and semi final. In true greyhound tradition, friends arrived within hours, providing food for the survivors, and it was owners and trainers that brought timber and supplies that saw Twindown Kennels rebuilt.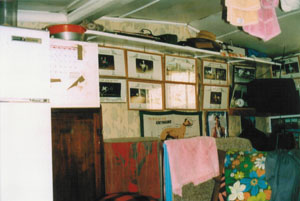 Colin and Cyril Rosevear always figured highly among the leading trainers, particularly at their home track, White City. They were consistently among the leading trainers in the forties, finished top in the 1951-52 season, and as late as 1971-2 were running up behind Vivian Berresford.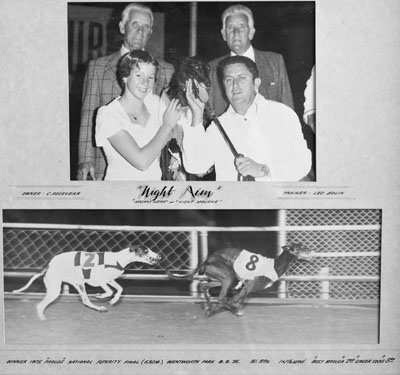 Predominantly, they bred and reared the dogs they raced, and their success remained high right through the sixties and seventies. They were great supporters of the Irish Stud imports, believing too much in breeding meant the dogs "of today" were not the "iron and class dogs of former years". They produced a brilliant litter from Hi Tanist – Night Tour in the early seventies. Night There, Night Todd and Night Heritage all won heats of the 1972 Puppy Gold Collar, the latter pair winning their Semi Finals the following week. In one of the greatest Gold Collar Finals ever, it took the mighty Vic Barrow trained Roman Too to upstage the Rosevear duo, which filled the placings.
Their greatest success came in the form a quality bitch they bred from a Hogan's Hero – Night Morn mating, namely Night Aim. After winning 18 races from 48 starts here, the twins sent her to Sydney trainer Leo Bolin for a crack at the big time. Their judgement and confidence were vindicated when Night Aim upset her more famous rivals to score a one length victory in the 1975 National Futurity at Wentworth Park. In her wake were Busy Brolga and the favourite Ginger Socks, and she ran the 530 metres in 31.39 taking the $6000 first prize. Interestingly, star Tassie chaser Arkaroola won the Journalists Cup on the same night. She won several races in N.S.W. after that including two more at Wenty. Around the same time, their top stayer Dusty Touch, also out of Night Morn, won at Harold Park in a slick 43.89, on the same night that N.S.W. champ Dottie Wilson won in 43.99. Night Alive's Tasmanian Oaks second in 1978 was their last feature race placing.
Cyril died on July 20 1981 thus ending a magnificent partnership in greyhounds over 49 years. Colin, enthusiastically supported by wife Mary, remained involved with greyhounds, albeit in a significantly scaled back manner, and still at Twindowns. He was awarded Life Membership of the L.G.R.C. during the 1982-3 season. Colin died on December 6 1994.
Cyril and Colin Rosevear embraced every aspect of greyhound racing in Tasmania with great professionalism and honesty. Their achievements in Coursing were second to none, and they were involved in Track Racing from the initial meetings at White City and the T.C.A in the early thirties. Four decades later they were still achieving great success and their name is held in the highest esteem. When, in the twilight of their career, they cited one regret; "that their sons did not inherit their interest in greyhounds and that Twindown will eventually fade out in greyhound racing". Well, Cyril and Colin Rosevear, you were wrong. The twins from Twindown Kennels are forever remembered in the Tasmanian Greyhound Hall of Fame.