Edward Albert 'Ted' Medhurst
Inductee Hall of Fame 16/12/2017
1In terms of individual winners trained, strike rate and the volume of feature race victories, Ted Medhurst  enters the Hall of Fame with no peer in the history of Tasmanian greyhound racing. Christened  Edward Albert (the 3rd), Ted was born in Hobart on 2 April 1959, the only son and second child of Edward Albert Medhurst (the 2nd) and Sheila (nee Clarke). Ted has three sisters, Heather (living in Tasmania), Diedre (living in the U.S.A) and Michelle (living in Melbourne).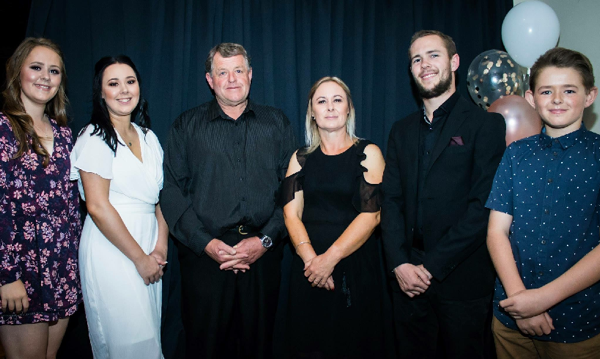 Ted grew up at Kempton, off the Midlands Highway, some 48 kilometres north of Hobart. Initially on a property there, his parents took over the Kempton Post Office and Telephone Exchange. Ted's father came from a famous harness racing family, and he was a leading hack rider and successful harness racing trainer before giving it away in the 1970's. Ted Senior and wife Sheila, through pacing, had a close association with Jack Stamford and son Richard (Hall of Fame 2012), and developed an interest in Greyhound racing, initially through regular Saturday night visits to the T.C.A. Before long the bug bit, and they were training and breeding longtails, initially at Kempton, then, in 1981, moving to a more spacious property at 67 Ballyhooly Road at Mangalore, 10 kilometres closer to Hobart. With modest numbers, Ted Senior had considerable success with smart chasers like Lyrical Lee, Dainty Como ( 2nd State Sprint Final in 1975) and Noir Road. His greatest effort was Sydamsue's second to champion chaser Beau Palomino in the 1972 Hobart Thousand.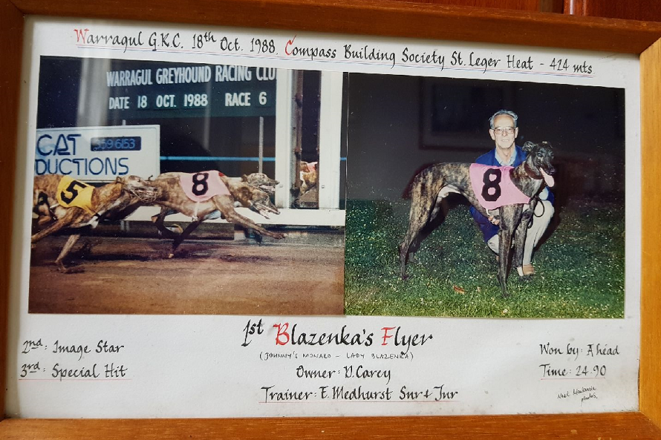 Developing a love of greyhounds through his parents, our Ted was given a special licence to train by National Coursing Club boss Des Illingworth, as an "underage" 17 year old. He trained in his own right, plus co-trained with his father throughout the 1980's. Upon the death of his father in October 1991, Ted took over both the property, where he resides to this day, and all duties greyhound. Clun's Maid was Ted's first winner as a trainer, and the unprecedented success that was to follow over the next four decades, was barely foreseeable and will never be matched in this State.
Ted Medhurst  initially owned and trained moderate numbers, but as success lead to greater success, the quantity rose to quite large levels. Breeding became a key component; both his own breed and training those of discerning Breeders who were wise enough to have their stock trained by Ted. He realized very early on, that top dogs predominantly came from breeding them, and the mainstay of his monumental success, has been his ability to keep the bar raised very high.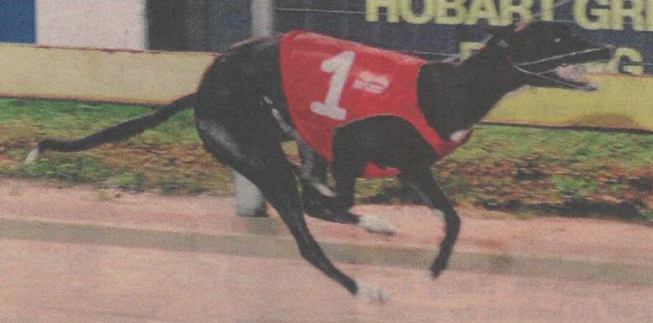 The 1980's was really a decade of building numbers, and setting the platform for the dominance that was to come from the 1990's to present day. The tough son of Clun's Maid, Clun's Legend was Ted's first really smart dog. From 74 starts between 1982 and 84, he won 18 with 38 placings, which included a Silver Trophy victory at Hobart, and heat wins in an Easter Cup, Winfield Classic and State Sprint. Other eighties stars included the flukey but freaky, and ever injury prone Blazenka's Robyn, Blazenka's Red, Togari Di, Togari King and Togari Dream (23 wins, track record holder at The Showgrounds, and multiple big race finalist). By the late eighties, the quality breeding was becoming most evident. Ted Medhurst  won 4 of his staggering 25 Breeders Classic Finals late in that decade, with High Wonder (1987), Splendid Try (1987), Blazenka's Honey (1988) and Chief Token (1989). He was to win another five in a row between 1998 and 2000, and yet another 4 in succession between 2003 and 2004. High Wonder was another eighties star. After wininng 5 Tassie races, he won the prized Warrugul St Leger and was a Silver Chief Finalist. After being sold to Interstate interests, High Wonder won an Adelaide Cup.
Medhurst's first champion, and probably favourite dog, was the red brindle son from the September 1986 whelping of Johnny's Monaro – Lady Blazenka in Blazenka's Flyer. Running track records before he even raced, Blazenka's Flyer only raced 38 times, winning  23, with 7 seconds and 1 third. A multiple Interstate winner, he won the 1989 Gold Cup, 1990 Devonport Cup, 1990 Launceston Cup and was 2nd to Valediction in the 1989 State Sprint Title. He sadly fell and never raced again, in the Final of the 1990 Hobart Thousand, but was the 1989 Tasmanian Greyhound of the Year. This period also included the mighty Chief Token, which won 5 from 5 before a big Mainland offer was accepted, and his injury prone brother Chief Wonder. The latter dropped a back muscle on debut after breaking a track record before racing. He still won 8 races.
Ted married Claire Pearce on 13 February 1993, and they have four children, Emily, Edward (Eddie), Eleanor and Ethan. Like many famous greyhound trainers, Ted's family have played no small role behind the scenes in the phenomenal success emanating from Ballyhooly Road.
When scouting through the exceptional Ted Medhurst trained chasers, the ultimate difficulty is determining which ones to leave out. Prior to a more detailed look at the elites of the Medhurst camp, it is prudent to detail which features events he has actually won. Moreover, in the lion's share of cases, how many times he has claimed them.
| | |
| --- | --- |
| | At HOBART |
| Hobart Thousand | 2004 Regent Thunder |
| Bob Brown Consolation | 2013 Buckle Up Wes |
| Chinatown Lad | 2013 Bell Haven |
| Easter Cup | 1996 Stanton Force, 2000 Emily's Wonder, 2005 and 2006 Regent Thunder, 2014 Mystic Falls |
| Maiden Thousand | 2012 Zavance Man, 2014 Groovy Lane |
| Tasmanian Gold Cup | 1989 Blazenka's Flyer, 1993 Miller's Force, 2000 Kialdu Blue, 2016 Chief Jetpilot |
| Laurels | 2003 Kialdu Le Sam, 2005 Prestige Girl, 2014 Lillycette, 2015 Keune, 2016 Halo Lee |
| St Leger | 2001 Tekainga Fred, 2006 Eddy's Goal, 2013 Buckle Up Wes, 2015 Local View |
| Young Star Classic | 1999 Kialdu Blue, 2000 Kialdu D'Or, 2004 Ethan Jack, 2007 Regent Eagle, 2014 Get It Right, 2016 Count Baroque |
| Vet's Medley | 2007 Tirolee |
| Kings v Queens | 2001 Ultra Up |
---
| | |
| --- | --- |
| | At LAUNCESTON |
| Launceston Cup | 1990 Blazenka's Flyer, 2004 Final Image, 2005 Obie Trice, 2007 Capriccio |
| Gold Collar | 1997 Kialdu Kidd, 1998 Lavender Pearl, 2000 Galaxy Star, 2004 Ethan Jack, 2006 Capriccio, 2014 Demi Cali |
| Illingworth Classic | 2002, Tawni Leis, 2006 Cool Stefani, 2015 Demi Cali |
| Nelson Cup | 2012 Rob Pines, 2015 Lorus Time |
| National Sprint State Final | 2000 Kialdu D'Or (2nd National Final), 2004 Supa Spectre, 2006 Collector, 2007 Capriccio, 2012 Rob Pines, 2014 Buckle Up Wes |
| National Distance State Final | 1993 Kialdu Miss, 2005 Supa Snoop, 2012 Bell Haven, 2015 Lillycette |
| Tasmanian Oaks | 1996 Emily's Idol, 2015 Demi Cali |
| Tasmanian Derby | 2006 Collector, 2011 Tadmore Dunoon, 2013 Buckle Up Wes |
| Winter Stakes | 2001 Supa Natural, 2003 Tawni Leis, 2004 Supa Alpine, 2005 Supa Snoop, 2015 Lillycette |
---
| | |
| --- | --- |
| | At DEVONPORT |
| Devonport Cup | 1990 Blazenka's Flyer, 2005 Supa Instinct, 2015 Dark Vito, 2016 Keune |
| Country Derby | 2012 Zavance Man |
| Country Oaks | 2010 Sultan's Swing, 2015 Get It Right |
| Ivory Classic | 2005 Supa Spectre, 2007 Capriccio, 2016 Keune, 2016 High Treason |
| Johnson Puppy | 1999 Rusticus, 2004 Regent Thunder, 2005 Kurrang Kain, 2015 Keune |
| Show Cup | 2015 Prescribe |
---
| | |
| --- | --- |
| | INTERSTATE |
| Group One Australian Cup and Group One Topgun | with Buckle Up Wes |
| Group One Association Cup, and Group Two Sydney Cup; and  Group Three Summer and Betfair Cups | with Bell Haven |
| Ipswich Auction Classic | with Rob Pines |
---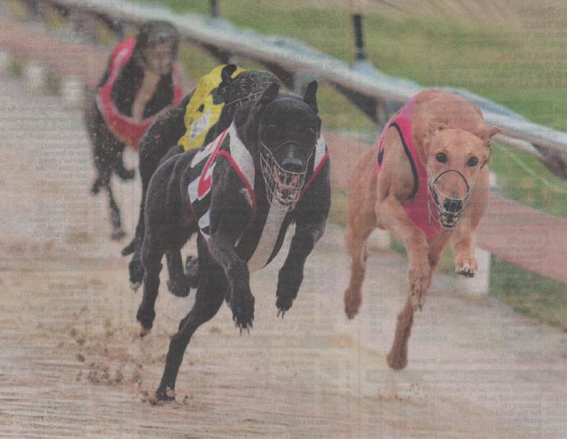 A couple of interesting sidelights compliment this breathtaking litany of hallmark victories. Ted has won no less than 25 Tasmanian Breeders Classics; 10 at Hobart, 8 at Launceston and 7 at Devonport. When Capriccio won the 2007 Launceston Cup, Ted had five of the eight Finalists, including 1st, 2nd and 3rd, whilst in 2014 he won seven heats of the Maiden Thousand.
Add to this, Ted Medhurst  has three other Tasmanian Greyhound of the Year awards apart from Blazenka's Flyer; namely Regent Thunder in 2004, Buckle Up Wes in 2014, and Chief Jetpilot in 2016.
The Best of the Best Ted Medhurst stars
Apart from the mighty Blazenka's Flyer, and 2017 Hall of Fame Inductee Buckle Up Wes, there have been so many fabulous greyhounds carrying the E.A.Medhurst stamp.
Bell Haven was a real standout. A member of the stellar Head Bound – It's A She litter which also contained Group One winner Jethro, Bell Haven was a durable and powerful sprinter turned stayer. She raced 68 times for 27 wins and 21 placings, and as mentioned above, won the Group One Association Cup, Group Two Sydney Cup, and the Group Three Summer and Betfair Cups. In addition, this magnificent bitch won the Superstayers at Albion Park, and was second in two other Group Ones, namely the Gold Cup at Albion Park and the Zoom Top at The Meadows. She also ran fourth to Miata at Hobart in the Group One National Distance Final of 2012, and fourth in the 2012 Group One Bold Trease. Bell Haven ended her career as the second highest stake earner from Tasmania, accumulating $272,810. Bell Haven held the 709 metre record at Hobart before Miata broke it, and she still holds the 600 metre record at Launceston, set on 6 June 2012.
Regent Thunder was a fabulous Barry Heawood owned and bred champion, that was probably Ted's best ever one bend sprinter. The dashing dark brindle won 30 of his 53 starts with 15 placings, and his amazing midrace pace and wide tracking made him nearly invincible at the spacious Royal Showgrounds track. His crowning achievement was beating the great Lukeamy in the 2004 Hobart Thousand when only 26 months old. He won the 2005 and 2006 Easters Cups, 2004 Hobart Breeders Classic, 2004 Johnson Puppy Championship Devonport , as well as a Wally Lake and a Noel Vince at Hobart. He was beaten into 2nd place in a Devonport Cup to another Ted Medhurst star in Supa Instinct, and 2nd to yet another Medhurst runner Ethan Jack, in a Young Star Classic.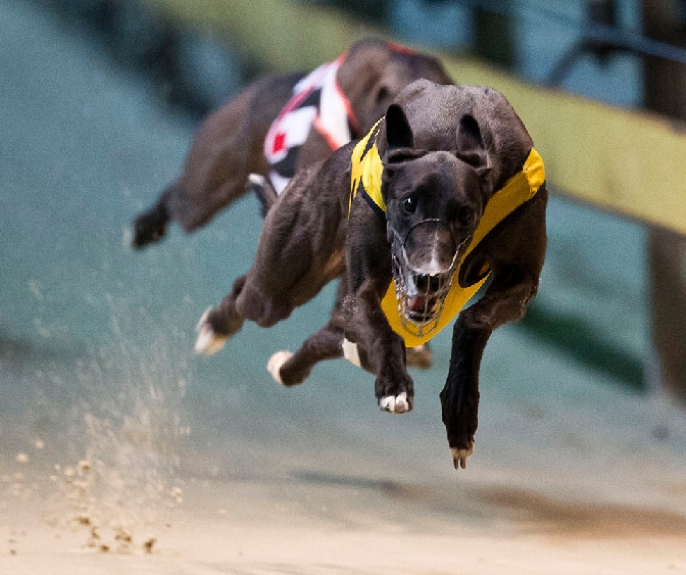 One particular litter of four, bred and trained by Ted Medhurst needs special mention.  The Paul Costello owned December 2001 whelping, of Trendy Leigh – Sonic Acclaim, produced Supa Instinct, Supa Snoop, Supa Spectre and Supa Alpine. And wow, were they super! Collectively this fabulous four had 377 starts for 110 wins, 68 seconds and 55 thirds, and each was a serious overachiever. Super Instinct was an iron dog, winning 42 of his 149 starts, which included the 2005 Devonport Cup, 2006 Premier Stakes over 590 metres, the 600 metre Track Record of 34.68 at Launceston (only broken seven years later by Bell Haven) and multiple feature Final appearances. Supa Alpine, the only female of the litter, scored 16 times over all distances and broke the Launceston 742 metre track record on 5 July 2004, before breaking it again (44.53) three weeks later. Supa Spectre made multiple feature race Finals apart from winning 26 races, and his credits included the 2005 Ivory Classic, the Launceston 515 metre Track Record (29.65) and 3rd in the 2005 State Sprint Final. Supa Snoop also won 26, which included a Devonport Breeders Classic, 580 Championship at Devonport, Ministers Gift at Hobart, and the State Final of the 2005 National Distance at Launceston over 720 metres. After the National Final, his next win was back over 452 metres in a Devonport Cup Heat.
Sultan's Swing was a unique speedster, winning 35 of her 66 starts with 20 placings. Apart from winning the Country Oaks, she was 2nd in a Tasmanian Oaks and 3rd in a Launceston Cup. She won 27 races over the 461 metres at the Elwick track between 2009 and 2011, a record for that venue.  Kialdu D'Or was an awesome sprinter, and despite being a U turn star (at one stage winning 11 in a row at The Showgrounds), which included an Easter Plate, Young Star Classic and Breeders Classic; won a State Sprint Final at his less preferred White City. Proving that was no fluke, he ran 2nd the NSW star, Placard in the National Final of 2000, also at White City. Lillycette, an ex Mainlander, was taken to a stellar level by Ted Medhurst. Her 25 wins included a Laurels as a sprinter, before switching to staying, which yielded a Winter Stakes, Distance Medley at Launceston, State Final of the National Distance, and a 3rd in that National Final of 2015 at Wentworth Park.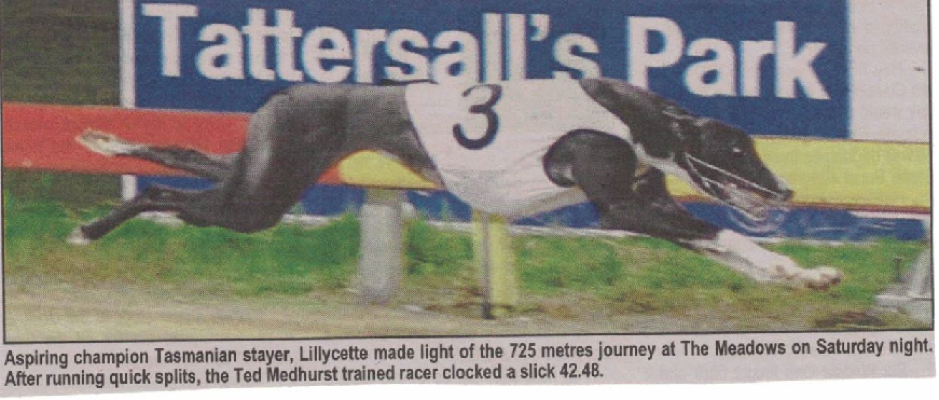 In most recent times, Keune and Chief Jetpilot have flown the flag with great success. Keune, despite forever battling injury, won 20 from 47 with 9 minors. Her credits included the 2016 Devonport Cup, 2016 Ivory Classic, as well as the 2015 Johnson Puppy, 2015 Lonnie Breeders, 2015 Minister's Gift and 2015 Laurels. The "Pilot" was an exceptional chaser and noted slow breaker that won 23? races with 30?? minors from 63 starts.?? He was second to his great litter brother Count Baroque in the 2016 Young Star, before winning the 2016 Gold Cup. After winning his heat of the Group One 2016 Hobart Thousand, he was stiff when 2nd in the Final behind Zipping Bruiser. In 2017 he was a Devonport and Launceston Cup Finalist and won the Silver Trophy at Hobart. These deeds culminated in his award as the 2016 Tasmanian Greyhound of the Year.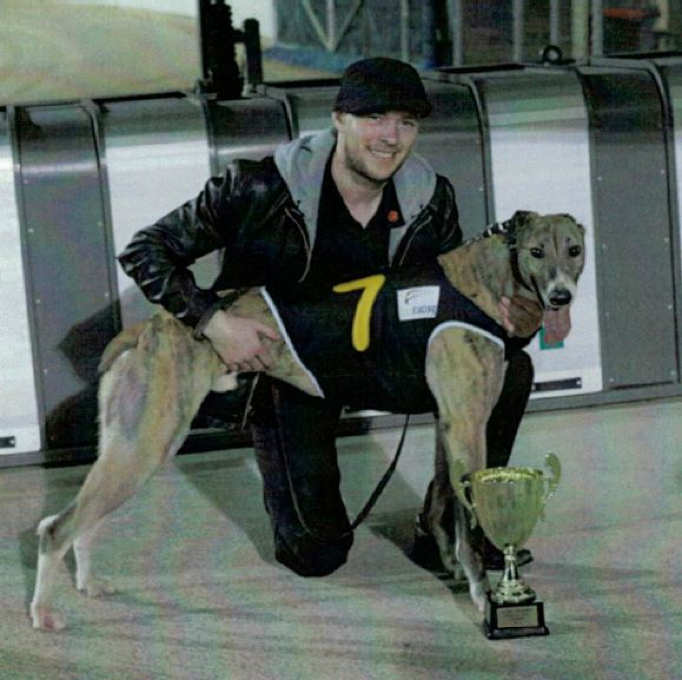 Many other Medhurst chasers reached giddy heights as well. Rob Pines(20 wins), was a prolific maker of Finals, winning a State National Sprint, Nelson Cup, and Ipswich Auction Classic in Queensland. Kialdu Blue (14 wins) won a Young Star, Breeders and Gold Cup. Prestige Girl (19 wins) won a Breeders and Laurels before becoming an outstanding matron. Capriccio (15 wins) was a rocket beginner that won a Launceston Cup, Gold Collar, Ivory Classic and State National Sprint. Tawni Leis (19 wins) was a tough sprinter/stayer that won an Illingwoth Classic and Winter Stakes, and was the dam of the great Damascus Road. Amongst Cool Stefani's 17 wins was and Illingworth Classic, whilst runner up in an Oaks and Gold Cup. Collector (17 wins) won a Derby and State National Sprint, and Emily's Wonder (20 wins) won a Breeders and Easter Cup, before becoming an outstanding matron. Very recently, Star Chamber (30 wins) was a powerful beast that won the Most Consistent Greyhound of the Year award for 2015, and the only chaser to get close to Sultan Swing's record number of Hobart victories. There were so many more!
Apart from the many homebreds in the list of Ted Medhurst trained stars, a multitude came from other owners and breeders, who in the most part, were close friends as well. In no order these included Darryl Carey, Colin Dunlop, Stuart Collins, Don McMillan, Tony Keep; and more recently, Barry Heawood, Debbie Cannan and John Tindall.
The litany of Ted Medhurst credits and achievements in Tasmanian Greyhound Racing are truly without peer. He has kept an elite standard of breeding, rearing and training over four decades.  In the 28 year period between August 1989 and August 2017, Ted has had 11163 runners in Tasmania, for 2744 winners, 1947 seconds and 1484 thirds. That's a staggering 25% win rate, and 55% place rate, when the average is barely half that. He has won many trainer's titles, had more great dogs, and won far more features both here and away, than anyone before him. Now he adds another………….entry into the Tasmanian Greyhound Hall of Fame.