Hall of Fame Inductees 2018
As with the famous Rosevear twins beforehand, Gary and Greg Fahey's entry into the Hall of Fame, cannot be considered in isolation, despite an eight year age differential. These extremely close brothers have embraced virtually every aspect of our sport together since the 1960's, and have achieved remarkable success right to the current day. Growing up in Moonah, and from non- racing parents, Victor and Thora; Gary Victor was born 31 August 1944 and Gregory Raymond 14 October 1952. They have one sister Judy, two years Gary's junior.
So, why greyhound racing? As a teenager, the family of Gary's best mate had an association with dog trainer Gunna Hanson, whose small team included top class performers Blue Hawaii and Hawaiian Rhythm. Gary was instantly smitten. His placid nature, love of animals, and meticulous attention to detail made training greyhounds an ideal path. His first greyhound in 1965 was Pine Ranee, and its dead heat in a Short Stakes at White City was his first victory. As he dodged around with just the odd dog, brother Greg started tagging along, as little brothers do, and he remembers the aura of an early morning trip to the T.C.A. trials, where he too realised that greyhounds were going to play a major role in his life.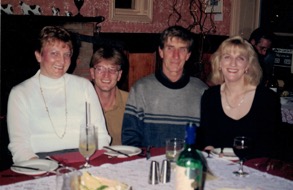 A star junior sportsman, Gary couldn't leave school quickly enough to become apprenticed to his father as a builder, a trade he meticulously plied all of his working life. He married Beverley Gillie in November 1966, and they have a son Robert, a daughter Carol and four grandchildren. Initially living in the Glenorchy district, they have been at Mangalore since the late seventies and, since 1994 on ten acres at Ballyhooly Road, virtually opposite Ted Medhurst.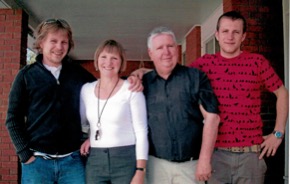 Greg followed a different path. A Batchelor of Arts degree at the University of Tasmania led to five years teaching at Nubeena, Geeveston and Risdon Vale. 1979 was a big year in his life. Firstly, he married Ross girl Janine Pulford in June, and gave up teaching to become a professional greyhound punter, which he still does to this day. Living initially in the Northern suburbs, they progressed south to New Town and now Sandy Bay, and have two sons, Benjamin and Thomas. Both Gary and Greg owe so much to the great support and tolerance of their wives, in their often single minded pursuits in greyhound racing.
During the 1970's, Gary only raced a small team, a theme he followed later on as well, when the major successes rolled in. His conscientious and careful approach to training did not allow large numbers at any one time. Son Of Von was an early favourite, and Gary had good success with the brilliant but erratic Quick March, Glamour Ripple, Clay Vista and the slick beginning Chosen Credit. Greg also trained for several years in the seventies, until teaching in the country curtailed those pursuits. He ran 4th in The Big Black's Devonport Cup with Here Tonight, whilst Otara Queen, a purchase from good friend Sam Bracken, won nine races. She lived inside for the first seven years of Greg and Janine's marriage.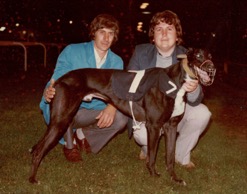 1979 was also a watershed year in dogs for the brothers Fahey. Greg purchased Amin Baba for $2000, a smart Victorian chaser with 9 wins and a ticket for fighting, but a victory over the great Tempix. He became the first in a long line of Gary trained, Greg owned dogs. The successful Fahey partnership really commenced with this chaser. In top grade for his entire Tassie career, he won 10 races at his beloved Devonport, and 2 at the T.C.A. He boasted wins over many star chasers, including Good Effort, Tugrah Beaver and Miss Top Notch. His N.W.G.O.T.B.A. Cup win was the Fahey's first feature victory. Amin Baba started a four year "Golden Age" for the Fahey boys, culminating in Gary winning the State's leading trainer award for 1982, and Greg the leading owner.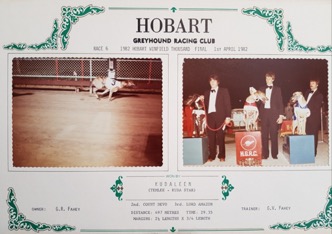 Hopeful Vista was next. Sacked by the trainer, and bought by Greg, on the same day she won a Juvenile at Devonport, she became a real kennel favourite. Under Gary's care, she became an all track, all distance gun, winning 17 races from 452 metres to 730 metres. Another Victorian purchase in Collision also won 7 races for the brothers in 1980-81. A powerful but awkward type, he did win the 1982 Winter Stakes over the White City 722 metres.
At this same time, a momentous event in the Fahey boys' greyhound world occurred. Call it fate, luck or inspiration, Greg saw an advertisement for a "yet to be whelped" litter by Darville's Flyer, out of Lygon Girl. He had seen the latter win at Wentworth Park on his honeymoon, and decided he wanted one. No one else answered the ad, and Greg bought his pup for $1000, some three weeks before he was born. Known as Elvis, he was named Lygon Leader; the greatest Fahey chaser of them all.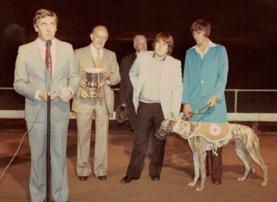 Lygon Leader was a champ from day one, and raced 70 times for 35 wins, 21 seconds and 4 thirds. He made a staggering 22 Finals, including all the biggies. He won the 1981 Gold Collar, 1982 Red Book Autos, 1983 Launceston Cup Consolation Final, and 1983 State Final of the National Distance, after which he ran 2nd in the National Final behind Ten Guitars. He started favourite and ran 3rd in successive State Sprint Finals, was a fast finishing 2nd in the 1983 Hobart Thousand, and was a Launceston Cup and Gold Cup Finalist. When he turned to staying, "Elvis" broke Sheila's Teresa's Hobart track record at his first attempt, reducing the 725 metre time to 43.78. Sight unseen, he won a crackerjack Invitation first up at Harold Park in Sydney, defeating top Victorian Paper Raider. He won 3 from 4 at Harold Park, beating his National Final nemesis Ten Guitars on three occasions. His last start before slipping a back muscle, was a 4tt there, in Australia's richest staying race, the Fury Ford Cup. Lygon Leader was also quite successful at Stud. From limited matings, he threw top performers Pitcairn Jack (17 wins), French Leader, Darinelli Star, Gentle Comet (sold to America and very successful), Some Shirt, and Maiden Thousand winner September Reign.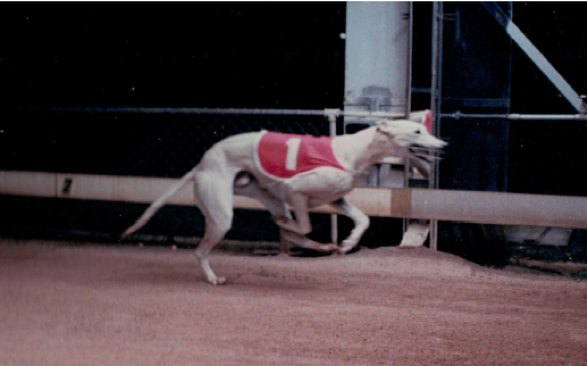 Apart from star bitch Wild Minstrel (13 wins), the Fahey boys raced two other amazing dogs in this period. Greg bought a Victorian 12 start maiden winner for $400, with the recent form of 887444. Gary fixed "Tiger's" chronic metacarpal soreness, and within 76 days of his initial Tasmanian start, Kudaleen had won Heat, Semi and Final of the 1982 Hobart Thousand at the Royal Showgrounds. What a training feat! This mighty son of Temlee went on to record 15 wins and 12 placings from only 41 Tasmanian starts. He also won a Launceston Cup Consolation Final, ran 2nd in a Gold Cup, and briefly held the Devonport 452 metre record.
Young O'Reilly was another Darville's Flyer blueblood out of Gary Holmes's star bitch Her Credit. Purchased at 3 months and reared by the Faheys, this herculean looking, but seriously timid light fawn dog, never made it into the catching pen once in 90 starts. Still, he won 24 races with 34 placings and was probably the second fastest Fahey chaser behind Lygon Leader. Affectionately known as Wally, he fleetingly held both the short and the long track record at Devonport, and won the 1983 State Sprint Final, storming home from the rear. Young O'Reilly made two Hobart Thousand Finals, including a third as a 49 month old in the 1985 version behind superstar Brother Fox and Tassie champ Busy Vintage. He also ran 2nd over 718 metres at Sandown, and won two Match Races, one at Devonport, and a classic at White City against the outstanding Sheila's Rocky.

Following this amazing period, the brothers Fahey continued to race dogs together, but Gary also trained with success for a just a few outside owners at times. Before the second watershed moment in their career, in 2012, there were many other fine chasers and big race winners ,including Yankee Band, Nelson's Double, I'm Perfect and the enigmatic but wayward Miss Borough, an Olympic Park winner for the brothers. Daniels Bay, owned by the Island Syndicate was another brilliant chaser. Amid his 11 wins before injury, were a Breeders Classic and Ministers Gift, both at Devonport.
But the best was Becky Baba. This magnificent chaser won 17 races from 62 starts, including the 2008 Tasmanian Oaks at Mowbray. A Breeders Classic and Ministers Gift finalist, she was also most adept at the middle distances. Gary shared breeding two litters from her with Barry Heawood. The first to Bombastic Shiraz produced the smart Martello Towers, which won 15 here before his sale to W.A., as well as Silver Strand and Bastille Border. Her other litter to Lochinvar Marlow saw the outstanding Supreme It Seems win a Launceston Cup Consolation as one of his 9 wins before a broken hock. He also made 3 Breeders Classic Finals, finishing 2nd in two.
Apart from his occupation as professional punter on Tasmanian greyhounds, from 1980 till present day, Greg has had a wide ranging involvement in most aspects of our sport. He has written greyhound articles for most newspapers and greyhound publications, from the early eighties till 2010, and participated in radio greyhound shows for many years. He co-wrote a book "Go Greyhound" on the first 50 years of the Hobart Greyhound Racing Club, with Damian Morgan, son of our founding father, Arthur Morgan. It was published in 1984.
Greg served on the H.G.R.C. Committee for more than two decades, including stints as Chairman and Deputy Chairman. He was awarded Life Membership in 2007, and has the Middle Distance Championship named in his honour. He also served as the Southern Representative on the Tasmanian Greyhound Racing Board for almost a decade during the 1980's, and received a Meritorious Service Award from same, in the early 2000's. Additionally, the L.G.R.C. also awarded Greg with Life Membership in 2017. That which he treasures most however, is helping the establishment, maintaining and researching of our Tasmanian Greyhound Hall of Fame, commencing in 2007. His in depth work on the famous people and dogs in our sport, enhanced by our very own Hall of Fame Website, is cherished by many greyhound participants around the country.
April 2012 saw the other "watershed" moment in the Fahey brothers' career. In 2008, Greg had clocked the great Victorian Mogambo , running the quickest trial he'd ever seen at Hobart. Hell bent breeding with him, he came up with a bitch Gary was already training for the Island Syndicate. Despite her exceptional speed, she was a six month bitch, and her racing was constantly thwarted. By age 39 months had only had six starts for a solitary victory. A deal was struck and the bitch was Dennes Point. This mighty miss has six more starts for 5 wins, came on season, and was immediately mated with Mogambo.
This litter of five were simply outstanding and if not for injuries would have exceeded their collective 63 wins. Breakers Tip was the standout. He won 28 races and his record in big races was outstanding. He made Above All's Hobart Thousand Final, ran 2nd then 1st in successive Tasmanian Gold Cups, made two Launceston Cups, running 2nd to Brad Hill Billy in 2015, ran 4th then 2nd to Keune in back to back Devonport Cups, won a State Sprint Final and a Rising Star. Named the 2015 Greyhound of the Year, "Chalky" still loves life, side by side with his dam at Ballyhooly Road.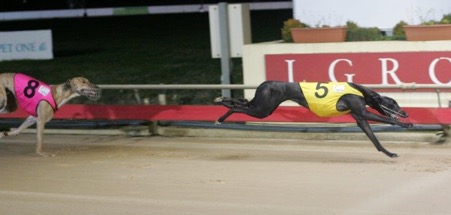 Just Browsing's 2018 Illingworth Classic success.
Bruny Venture was probably just as good. Owned by the Island Syndicate as part of the Dennes Point sale, Gary won 14 races with him before hypoxia ended a great career. A regular in big Finals, he dead heated with Breakers Tip for 2nd in Hellyeah Bolt's Gold Cup, ran 2nd in a St. Leger and 2nd in a Bob Brown. The third brother, Rip And Tear, scored 9 wins, including a Breeders Classic Final and Easter Plate Final, both at Hobart. He along with his two brothers all won their way into the same Devonport Cup Final of 2015. A broken toe ended Soul Sister's promising career after 6 wins, but not before she won the 2014 Johnson Puppy Championship at Devonport, beating her brothers Rip And Tear and Breaker's Tip into 2nd and 3rd respectively. Touch Of Venus with 5 wins, rounded out the litter.
Dennes Point's second litter to Spring Gun yielded just three pups, of which two raced. Bemboka Belle was sold after the brothers won 3 races, but she ended with 13 victories. They asked friend and trainer Pat Ryan to take the enigmatic Lil Miss Marny to train, and he did a masterful job to win 11 races with her. A Mowbray specialist, she beat a crack field in the 2016 Illingworth Classic Final.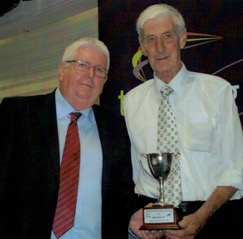 Litter number three was to 2010 National Greyhound of the Year, El Grand Senor. Five of the seven raced, and all have been outstanding. El Grand Amigo, also trained for the Faheys by Pat Ryan, has won 14 races despite crippling injuries and his blistering early speed sees him hold the first and second split records over 461 metres at Hobart. He was favourite and ran 5th in Zipping Bruiser's 2016 Hobart Thousand when only 20 months old. Fames The Aim was cut down in his prime after 8 wins, which included a Devonport Breeders Classic and 2nd in a Country Derby. Ozzi Oscar's great early pace has seen him win 12 races including an Easter Plate Final at Hobart. Social Sally also won 10 races with 10 placings; not bad for the slowest in the litter. Her sister, Jouster however, has been a real star. With 18 wins and 13 placings from 49 starts, she won both the 2017 Tasmanian Oaks at Launceston and the 2017 Country Oaks at Devonport. Jouster, came on season in November and has been mated with My Bro Fabio.
Dennes Point's fourth and final litter was to triple Group One winner My Bro Fabio. All four from this litter have won, making it 16 to race, 16 to win, and currently at 178 victories. Just Browsing is arguably the best of all her progeny. Currently at 13 wins from only 19 starts, it includes 9 from 10 at Launceston, including 5 Finals………. the Breeders Classic, Illingworth Classic, Tasmanian Oaks, Nelson Cup and Ladies Bracelet. Her only other Final was a close 2nd at Hobart in the inaugural Tasbred Winter Cup, after a 25.82 Heat win. Gary has won 7 so far with her sister Sacred Shadow, Pauline and Alan Green 6 with Gentle Flash, and Pat Ryan 3 with Supreme Style. As an aside, Gary's winning strike rate for the past seasons has not been below 27%, and is at an amazing 37% for the current year.
Between them, Gary and Greg Fahey have embraced every aspect of greyhound racing in this State since the 1960's to present day. They have trained, owned, bred and planned virtually every step together, and now jointly enter the Tasmanian Greyhound Hall of Fame.