George and Eileen Johnston
Inducted into Hall of Fame 2009
George Johnston, born 25 November 1906, and Eileen Nutting , born 17 December 1907, grew up in the Meander farming community, both moving to live in Deloraine during their teens. They married young on 10 December 1925, George reckoning he was sick of riding his bike to see her! Together, the Johnstons became famous in Tasmanian greyhound circles, remembered best for all the great dogs named "Fenton".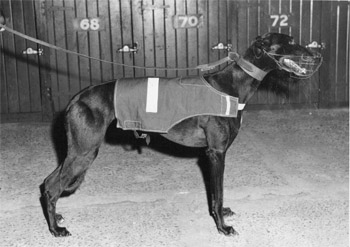 George dabbled in greyhounds from an early age, and had a very smart hurdler called Tipsy Ben. He and Eileen developed a strong association with Ray Bounds, owner of the marvellous bitch Good Miss, which won the Sprint Championship of Tasmania in 1952. Eileen and George bought out Ray's half share in two bitch pups by Rocket Jet from Good Miss, and this is where the real story of the Johnston's began.
These two pups, litter sisters to 1960 Australian Cup winner, and White City record holder Meadow Vale, raced as Hopeful Jet, a winner of 13 races on all tracks, and Nimble Jet. The latter won ten races from 465 yards at Devonport to 685 yards at Hobart, but became the foundation bitch for the Fenton breed that dominated during the nineteen sixties and seventies.
Still at Deloraine, they first mated Nimble Jet with Victorian dog Lucky Bingo. This April 1962 whelping resulted in just two pups, the only one to race being Lucky Concession. This black dog was their first really top chaser, winning twenty two races, including the 1964 Show Cup at Devonport in 25 5/16 and the 1965 H.G.Sturges Memorial at White City, easily beating Domenic's Black in 30 4/16.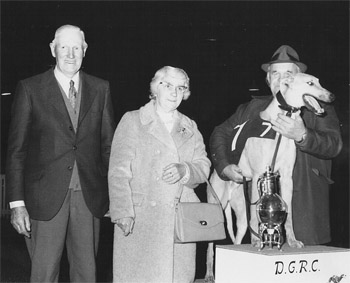 With Nimble Jet's second litter, also to Lucky Bingo, George and Eileen hit the jackpot. This also coincided with their move to 96 Fenton Street Devonport. They took this newly whelped February 1965 litter of five with them, and would only have dreamt of the success to follow. It also saw the start of so many dogs named "Fenton".
None would be more famous than Fenton Girl, the most marvellous of this great litter. Her credits included 43 wins, over all tracks and distances and stakes of 3356 pounds by career end. An equal track record holder at Devonport, she won many from severe handicaps, including 4 yards behind scratch at Devonport. Fenton Girl, in dual NSW visits, won two at Harold Park, one each at Wentworth Park and Dapto.
She was the 1967 Greyhound of the Year, won a Show Stakes Final, a Thompson Cup Final, and bolted in the 1966 Puppy Championship of Tasmania at the TCA from Talk Softly. She was runner up in a Championship of Tasmania, an Easter Cup behind her sister, a Nelson Cup and was placed in an Australian Cup heat. She was also third in Black Tuesday's 1967 Devonport Cup.
Rambling Jet was next best in the litter. Continually at the highest level, Rambling Jet won 27 of her 50 starts, including wins at Goulbourn and Cessnock. She ran a track record 24 13/16 in beating Top Moorleah in the 1967 Devonport Track Championship, won the 1967 Easter Cup (over Fenton Girl), and the 1966 Sturges Memorial. Further, Rambling Jet was beaten a nose by Ophir Glitter in the 1967 Launceston Cup, was second to Hylambo in the 1967 Devonport Cup. She was also a finalist in her brother's Hobart Thousand of 1967.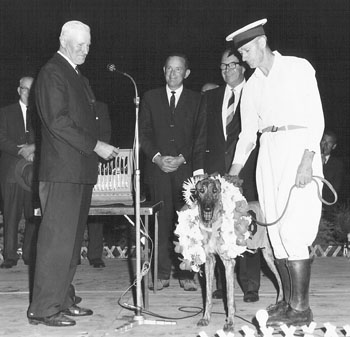 This brother was Fiery Bob – the third best of the litter, a winner of 27 from 81 and the 1967 Hobart Thousand winner as a two year old. A lightning beginner, he beat star Victorian Cheltenham Lass in a heat of the Australian Cup before his semi final fourth. He ran fourth in Hylambo's Devonport Cup, before winning and twice second at Harold Park. He led a mile in the 1968 Easter Cup before second to the freaky Social Dancer, and remember Fiery Bob often raced from severe handicaps.
Little Foo, the fourth of this litter, had 14 starts in Tassie for six wins and seven placings, and was in the money behind her sisters in a Puppy Championship, a Thompson Cup and a Sturges Memorial. Little Foo was sold to NSW where he won first up at Bulli in fast time over 675 yards.
Fenton Boy was the slowcoach of this fabulous litter. A struggler on the flat, he became a star over the jumps, winning six hurdles in 1967 and was the HGRC Hurdler of the Year in 1968 when trained by Max Hunt for the Johnstons. This made it upwards of 120 wins for the litter.
George and Eileen lent Nimble Jet to Vic Barrow for her next litter which was to include top sprinters Pavalla (1967 Gold Collar winner), Gaelene Girl, Celestial Jet and Jetling Girl. But the Johnston's continued to breed, rear, break in and race litter after litter from their excellent setup at Fenton Street. With assistance, especially in later years from their only son Bevan, who also trained, and had a particularly good chaser in Cheeky Fenton, and also grandchildren Michelle especially, Tina and Brett, the seventies was a golden period for " Fenton" dogs. Apart from the many stars they raced themselves, the Johnston's also bred to sell, and many others owe their success to pups purchased from them. The 1983/84 Greyhound of the Year, Norm Hunt's Edward My Lad (out of Fenton Marion) was one such dog.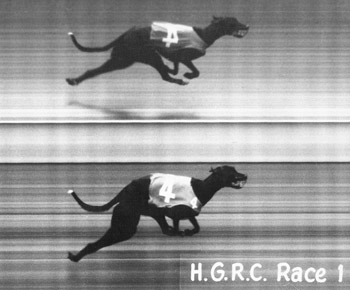 Whilst Rambling Jet whelped three litters with moderate success, Fenton Girl proved just as big a star at stud as she was on the track. Her first litter to Head Teacher produced the mighty Fenton Doll and Fenton Flash. Fenton Doll, like her champion dam won the Tasmanian Puppy Championship in 1970, and won 22 races, several from handicap. She won the Coastal Championship from Grenadier Curl and was second in a Sturges Memorial. She was 1971 Greyhound of the Year. Fenton Flash won a Nelson Cup heat and Final, and was seventh in a Hobart Thousand after winning her heat and semi final. She also ran third in the 1972 Devonport Cup.
To four further matings with the likes of Head Teacher, Newmore King and Sally's Jim, Fenton Girl produced 1975 Maiden Thousand winner Aberdeen Jet, and classy types in Flabbergast, Rockin Gold, Master Monaro and Fenton Wonder.
Fenton Doll continued the magnificent Nimble Jet – Fenton Girl dam line with one of the great litters of the 1970's. To a February 1973 whelping with top import sire Newmore King, she produced Devon George (Devonport Cup winner), Fenton Gold (Sturges Memorial and Devonport Puppy Championship), Lerobarian ( runner up Devonport and Gold Cups), Fenton Patchy, New Dollfen, Cheeky Monaro, Production and Alvin Blue. To three subsequent litters, Fenton Doll also threw Quiet Doll (1979 winner State Distance Final), Fenton Jill (11 wins and Oaks Finalist), and many other winners.
Fenton Patchy, her daughter, continued the great breed with her 1976 litter to Silent Wonder, throwing classy chasers Fenton Darling (13 wins and NWGOTBA Cup), Miss Top Notch (third 1978 Launceston Cup) Fenton Silver and Wyntopi Blue.
By the late 1970's, George and Eileen were into their seventies, and fading health saw them gradually wind down their highly successful career in dogs, and in the eighties they moved from the now famous Fenton Street to a smaller house in Warkworth Court, East Devonport. They trained their last winner in when in their eighties, and in the late 1980's – the Johnston empire was virtually over. Son Bevan, who in their latter years drove them to the various venues, gave up training as well.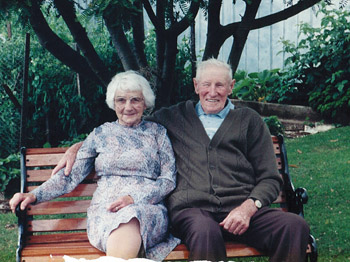 George and Eileen had many great friendships in greyhounds. They were close to Frank Hollet and Monty Hardy in the Deloraine days, and amongst their closest associates in the Devonport years included the Reg and Aileen Ivory, Max Twibell, Noel Vince, Max and Norm Hunt, the Alan " Clocker" McQueen and Brian and Pearl Griggs.
Few trainers in Tasmanian Greyhound Racing were more successful than the Johnstons, fewer breeders had such an influence, even fewer again were so well respected and so well liked. Everything they achieved with dogs was a true joint effort. They succeeded in the breeding, rearing, breaking and training. George's motto was" you only get out what you put in". George died on 5 May 1996, in his ninetieth year as a famous name in our sport. His contribution to the Devonport Club, especially assisting with track maintenance, had seen him awarded life membership of the DGRC. Both he and Eileen were also awarded the Meritorious Service Award by the Tasmanian Greyhound Racing Board on January 22 1993, our sport's highest honour.
Eileen died on 5 April 1997 also in her ninetieth year, which clearly ended an era in Tasmanian Greyhounds. You could not think of the name Johnston without linking it to the name Fenton, just as you could not say George without saying Eileen. They formed an amazing partnership in both life and in greyhounds and on 12 December 2009, they entered the Tasmanian Greyhound Hall of Fame.