Inductee Hall of Fame 2016
Graeme Moate has long been a household name in Tasmanian greyhound circles. From a greyhound family, Graeme was surrounded by greyhounds from the moment he could walk, and has had an uninterrupted involvement and love affair with our sport his entire life.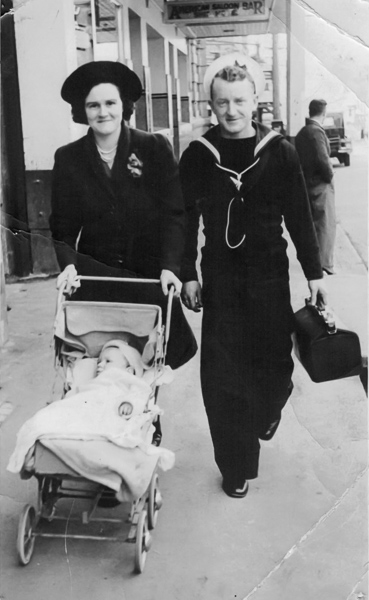 Allen and Betty Moate with baby Graeme.
Born in Glenorchy on 13 July 1942, to parents Allen and Elizabeth (Betty), he grew up in Longley till the age of eight, when the family moved to Rothesay Circle in Goodwood. His dad Allen was a hairdresser, then Health Inspector with the Hobart City Council, but always had a small number of racing dogs. Graeme and his two brothers Darryl (or Jimmy) and Geoffrey, both sadly deceased, also trained dogs as soon as able, so the numbers at home were usually around 8 – 10 greyhounds.
Allen Moate tasted great success with the top sprinter/great hurdler Golden Dee, which not only won 14 races in one season at the T.C.A., but also scored from 5/10's behind. Honey Ormond and Deventer Prince were other high class chasers trained by Graeme's dad.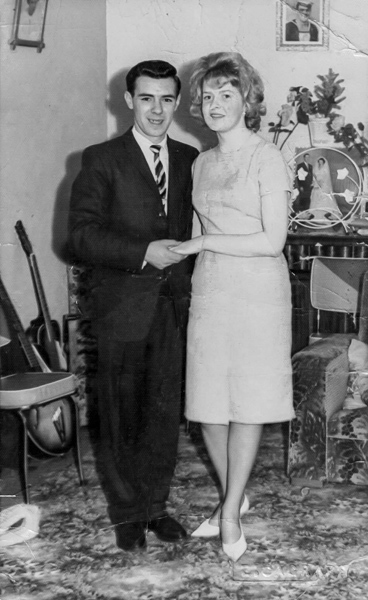 Fourteen days after his 21st birthday, Graeme married Helena Kelly, whom he had met at the basketball, and despite her non greyhound background, has managed to tolerate Graeme and the longtails for all of the past 53 years. Together they have four children, namely Karen, Michelle, Toni and Dale, as well as nine grandchildren, and four great grandchildren. It's safe to say, greyhounds are and have been, truly a family affair in the Moate household.
Once married, Graeme and Helena lived at Abbotsfield Road, then Chapel Street, before relocating to Laguna Place in Goodwood in 1964. They have been there ever since. Graeme worked for Tasmanian Railways for the first 14 years of his working life. Leaving that in 1973, he became track curator for the Hobart Greyhound Racing Club at the T.C.A. and when the Club relocated to the Royal Showgrounds in 1980, Graeme followed and was curator there for a further 14 years. Two more years as curator at the Brighton trial complex and it was retirement. All the while he was the most serious of greyhound trainers, and increasingly over the years, developed into one the major "checkers" of other trainer's dogs as well.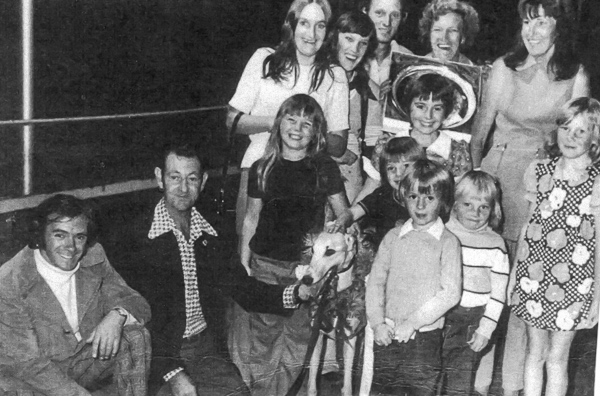 Graeme Moate has rarely had more than six to eight greyhounds in work at any one time, and has always adopted a slow and methodical approach to producing the best results with his charges. His dedication to the dog, and a long association with master trainer Bob Brown, saw Graeme develop into one of the most knowledgeable trainers when it comes to injuries and treatment. Increasingly over the years, he has provided great assistance to trainers from all parts of Tasmania, with finding and treating injuries and ailments; this has widened in recent years to Show dogs as well.
Whilst the main of the G.Moate story is around his training, and a variety of great dogs, it is important that his 23 years as a curator, and his availability to assist others through his checking prowess, has benefited so many others, and indeed the H.G.R.C. itself. Recognition of same came in the form of his Life Membership of the Hobart Greyhound Racing Club in 2012.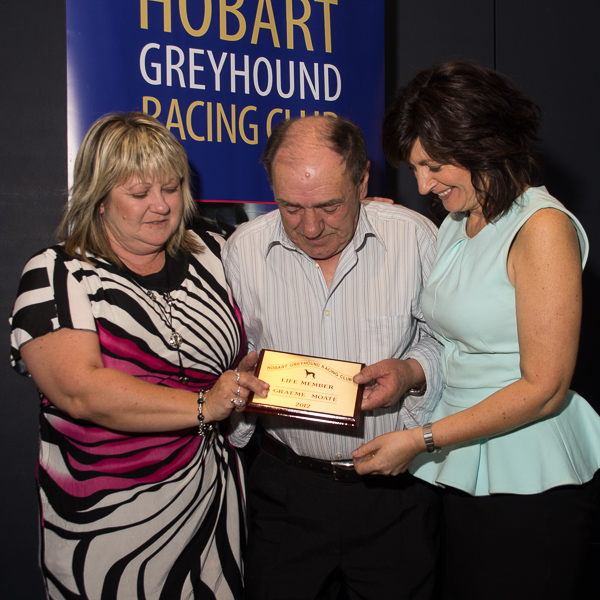 >
Looking at the list of stars from the Graeme Moate kennel over the past six decades, all pale under the brightest star of all………..Mystery Bridge. He was an inaugural inductee into the Tasmanian Hall Of Fame in 2007, so the details of this 51 race winner and dual Greyhound of the Year, dual Launceston Cup victor (1975-76), are well documented on this site. What is not known by most however, is that he came to Graeme having had three starts for three lasts and a litany of injury complaints. He not only turned "the Bridge" into a superstar, but the dog carries with him to this day, a magical aura that has made him a household name in Tasmanian greyhound circles. His Match Race victory over champion bitch and Hobart Thousand winner Beaut Dina is now part of our folklore.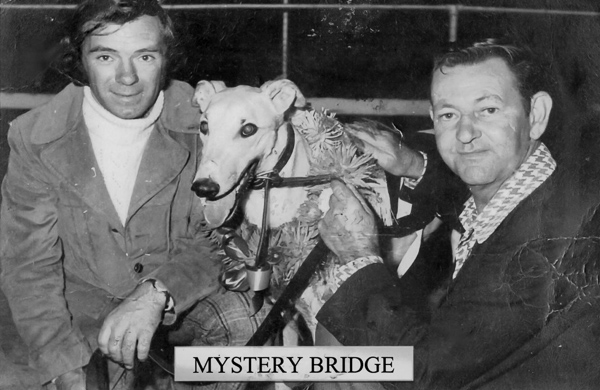 In fact, the crème de la crème of the Moate trained chasers did seem to come in the 1970's. Hence, it's small wonder he was the leading trainer at the T.C.A. for virtually the whole of that decade.
Toota's Flash was arguably Graeme Moate's next best. Initially with Keith Rainbow, Toota's Flash was purchased by prominent Melbourne owner Peter McGuiness and given to Graeme to train. This mighty red brindle and white son of Tivoli Chief won 24 races in Tassie, including 11 at the T.C.A, two of which were over the 680 metres. He also won at Sandown and Cranbourne in Victoria. The bulk of his victories were in the Moate kennel and he raced in a halcyon era of champions, which saw him make all the biggies, but Finals eluded him. Toota's Flash won Heat and Semi of the 1977 Hobart Thousand before his Final 2nd to Check Vista. The following year he won the Semi again, before running 4th to Hall of Famer Royal Griffin. It was a similar scenario in the Launceston Cup. After victories in the Heat and Semi of the 1977 Lonnie Cup, Dynamic David knocked him off in his Final 2nd. A year later, he again won his way into the Launceston Cup, before finishing 5th to Fire Tasson.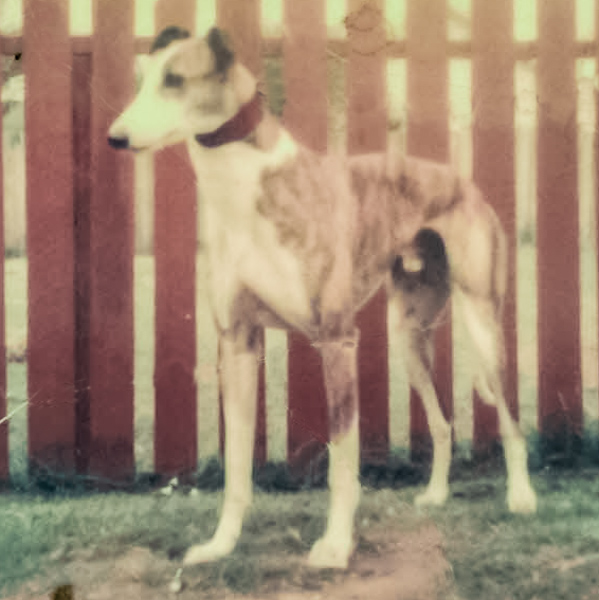 The iron dog Our Reprieve which won 31 races and made every feature during the same period as Toota's Flash, did most of his early racing for Graeme Moate, but was sold when he reached open company, due to the rules limiting the number of runners a trainer could have in a top grade race. Under new trainer Melba Steele, our Reprieve became her best dog.
Prince Chamay was another star Moate chaser. This brother to Victorian G.O.Y. Odero, won 16 races including the 1969 Sturges Memorial at White City. He finished 4th in a Launceston Cup when still a juvenile, and knocked off Benjamin John in a Heat of the 1970 Hobart Thousand, the year following that N.S.W. champ's 1969 Thousand win over Zoom Top. In fact, Graeme Moate brought Prince Chamay back to racing after two dropped back muscles and won with him.
There were so many Moate trained chasers in that late sixties to late seventies era. He rates the lightly raced Eiffel Zero among his best. On May 7 1977, Eiffel Zero was the first chaser to lower the colours of the freaky Royal Griffin, when he ran him down at the T.C.A. Sadly the owner sent him to Melbourne where he broke a hock. Speed dog Prince Machay was another classy Graeme Moate trained chaser, that was a Launceston Cup finalist, NSW Derby Heat winner at Wentworth Park and Bulli victor. He was actually the first greyhound owned by Angus Evans's, who became a top trainer in his own right, and had the champion Lilli Pilli Lad. Tab Sam, a litter brother of Prince Machay, was yet another top grade sprinter, and heat winner of the NSW Derby as well.
Other smart 20th Century chasers of note included Gambier Dream. She debuted with a short course track record at White City, and won her initial seven starts; Salland Snow was a moody but high class sprinter/stayer that ran 4th in Saki Dasher's 1971 National Distance Final at the T.C.A. Salland Snow was later the dam of Hobart Thousand winner Snowsim, and Devonport Cup winner Friendly Guy; with Kathleen Amour ( Sheila's Teresa's dam), Graeme won the 1975 Lucky Dog Medley; with Narod Fire he won the 1975 Young Star Classic, whilst Quite Crazy was a smart sprinter prior to running a track record 30.14 over the T.C.A. hurdles. Early seventies chaser Janlaw was another top stayer, despite her unpredictable habits. Add Debbie's Spirit (3rd in Highland Summer's 1980 Launceston Cup, Another Mystery, Cool Glance, Man Of Vision, Peco Again, Polish Wonder (4th Hobart Thousand) and it's an impressive list.

By the turn of the century, Graeme Moate was in his 59th year, but from 2000 till current day, the winners have kept coming, and this 21st Century brigade boasts some impressive chasers also. Between 2000 and 2010, GM had First Page win 15 races, including the 2002 Young Star Classic at the Showgrounds, and was a 2003 Launceston Cup Finalist. Knappstein (11) ran 3rd in the 2003 Bob Brown, and =2rd in the 2004 Easter Cup. Smart chasers Gamour Boy (8 wins), Glamour Gal (10), Stafford Ridge (8) and Macwilliams (12) joined the extra smart Zealous Zoe (10). Other notables were Lou Lou Fury (15) and Mystery Who (12), whilst Graeme trained the brilliant brothers Yep (28) and Personification (14) for much of their careers. Yep was a finalist in the 2009 Devonport Cup and State Sprint, and won the 2008 TGOTBA at Hobart and 2008 Show Cup at Devonport. Personification ran 5th in Little Spaniard's 2008 Hobart Thousand and was a finalist in the 2007 Maiden Thousand. Ronray Command (14) was a powerful sprinter, and a 2007 Launceston Cup finalist. On December 13 2004, Graeme won the last run ever run at the famous White City track with Bounty Bob.
Since 2010 Graeme Moate has continued to present some top notch chasers that have featured in our most famous races. Whodat Lass (18) was a top class all rounder, and the 2014 Betfair Classic winner at Devonport over 580 metres. Shanlyn Joaney won 12 races over sprint and middle distance. Apart from winning the 2011 Middle Distance Championship at Mowbray, she was a close 3rd in Miss Roman Nose's 2011 Tasmanian Oaks. Centennial Bark won 13, and whilst the enigmatic Shanlyn Hirdy won only 9, he ran 3rd in a Silver Trophy and was a finalist in both the Launceston Cup and Maiden Thousand. Shanlyn Poh was an iron dog that won 17, including the 2012 St Leger and 2012 TGOTBA at the Elwick track.
Shanlyn Flossy was an outstanding sprinter and middle distance chaser, that won the 2013 Damsels Dash at Hobart. She won 15 of 32 starts. Most recently, Long View Belle was Graeme's best chaser for many years. Sent to him from Victoria with a severe sciatica problem, he painstakingly progressed her to the track where she won at Hobart on debut in May 2015. She had a total of 24 runs here, for 9 victories 10 seconds and 2 thirds, before the owners disappointingly took her back to Victoria. She won a Heat of the Young Star, before 2nd to Wynburn Arrow a star studded Final, that saw Keune 3rd. She ran 2nd to Lemon Sunrise at Launceston in the 2014 Ladies Bracelet, and a nose 2nd to Breakers Tip in the 2015 Gold Cup. She forged a path into the 2015 Group One Hobart Thousand, before 8th in Unlawful Entry's Final. She won a Heat of the 2016 Launceston Cup, but injury cost her a Semi run. Long View Belle's final run in Tasmania was an easy win "all the way" win in the 2016 Easter Cup at Hobart.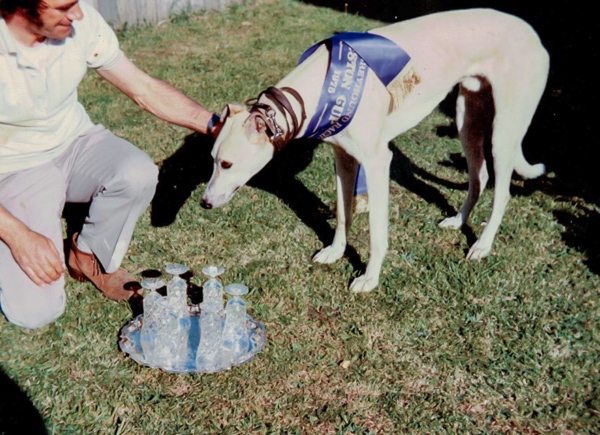 Graeme "Charlie" Moate has been one of the most recognisable names in Tasmanian greyhound circles for the past six decades. His expertise as a trainer and as a "finder come fixer of injuries" is hard to surpass, as has been his extraordinary longevity in the greyhound game. So most fittingly, he joins his greatest chaser, the one and only Mystery Bridge, in the Tasmanian Greyhound Hall of Fame.