Inaugural inductee to Hall Of Fame 2007
Light Fawn Dog, Karingal Road – Brenda's Beaver   Whelped April 1973
Owner: W.L.Ford   Trainer: Graeme Moate
"The Bridge" is a legend of Tasmanian greyhound racing and nearly requires a book of his own. He was a magic dog that could handle all tracks and distances, with a unique ability to overcome adversity that was rarely seen. One could never predict his race plan, slow out, fast to break, wide or rail – he did it all. He endeared himself to all around him with his enormous character – the closest a dog came to talking!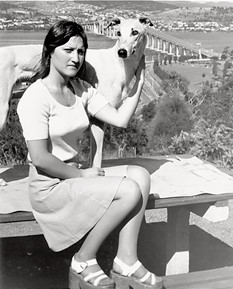 An iron dog, "The Bridge" had 103 Tasmanian starts for 51 wins, 13 seconds and 16 thirds and won in Victoria from limited appearances. Under Graeme Moate's astute care he dominated Tasmanian racing during 1975 and 1976. He won 22 races over 500 metres at the TCA and 2 over 680 metres. At White City he won 21 races over 502.5 metres and 2 over 730 metres, whilst he scored two each over the sprint and the middle distance at Devonport.
At one stage he strung 12 in a row at White City where his times were freaky despite often coming from the rear. He ran 29.5 seconds four times at the TCA and a near record 40.8 over 680 metres. A sizzling 29.8 was his White City best, whilst he ran 25.36 and 33.62 at Devonport.
"The Bridge" won the 1975 Launceston Cup at a mere 22 months of age, disposing of top chasers Rhompa Rev and Here's Proof. He repeated the dose from a classic field in 1976 which included Check Vista and Glenavon King in the placings. He annihilated star chasers Matthew's Gift and Karingal Patch by fifteen lengths with an unfamiliar all the way win in the 1976 Easter Cup in a track record 29.80.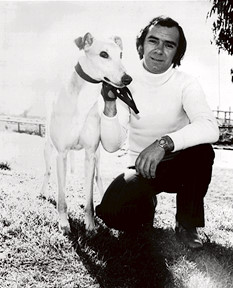 After an unlucky neck by neck third to Beaut Dina in the 1976 Hobart Thousand Final, he defeated that great bitch at the TCA in one of the most popular and memorable match races ever run. Most thought she would be too nippy, but he actually railed inside early in the peace to win convincingly.
His durability was proven with his devastating victory in the 1977 Peter Jackson Classic at the TCA, when at four and a half years of age he left Australian Cup finalist Big Generation seven lengths in arrears.
Mystery Bridge won Tasmanian Greyhound of The Year in both 1976-77 and 1977-78 and along with Fine Horizon are the only dogs to win that title twice.
Moate takes little credit (though much is due, remembering this dog lost a toe mid- career) for keeping "the Bridge "at peak form for so long. Apparently he simply fretted when spelling and lived for the race track. One particular race night when Graeme left him at home whilst taking the rest of his team to the races, he returned to find "The Bridge" asleep in the lounge room. According to Graeme's wife that was a better option than her spending the night in the kennels to keep him quiet.
Mystery Bridge is the only dog buried in Graeme's backyard at Laguna Place in Goodwood. He's trained many great chasers over five decades, but he also knows he will never put a collar round the neck of one like "the Bridge" ever again.