Inducted into Hall of Fame 2008
The Illingworth name is synonymous with greyhound racing in Tasmania and father and son Ollie and Des Illingworth are members of the Tasmanian Greyhound Hall Of Fame.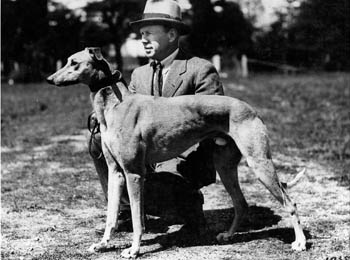 Oliver Illingworth
Oliver James Illingworth was born February 4 1895 in Launceston and married Beryl Wilhemenia Davidson of Campbell Town. He ran his own tailoring business in Charles St. all his working life, and lived the majority of his life at 19 Penquite Road, Newstead, the house and kennels he built himself.
Apart from a lifelong involvement in Greyhounds, he served in the 40th Battalion in World War One where he was wounded in France. He was an athlete of some ability especially over one hundred metres and played a significant role in administration of both the Newstead and Launceston Harriers. A significant coach of athletes Ollie had under his wing many state athletes, amongst them the famous Bill Emmerton who ran Death Valley in the USA. He coached his athletes like he trained his dogs – HARD!
His great love was greyhounds, first with open coursing and then combining that with track racing, which he helped to instigate in Launceston. With able assistance from wife Beryl and later from eldest son Des, there being three sons and four daughters, this quietly spoken Sportsman was to make a huge mark as an owner/trainer but even more so as an administrator of our great sport.
A keen coursing enthusiast with successful dogs such as Sunburn Wag and Arabian Sheen, amongst many others, Ollie would walk his charges for four miles in and around the Quamby Hills of a morning and a couple of miles in the evening. They would handslip there as well , and when track racing commenced, would only trial when necessary. He would open field course his charges at Quamby Estate near Hagley, at Symmons Plains, Clarendon and the Nile and enclosed coursing (Plumpton) at Mowbray and Elwick.
Ollie was a member of the original committee of seven that formed the White City Speed Coursing Track Pty. Ltd. that ran Tasmania's initial track meeting at White City on February 8 1933. Each of the seven contributed ten pounds to defray the cost of this meeting. So Track racing began in Tasmania.
Ollie Illingworth won the first race of the first meeting with Lord Bounty, the same dog winning the hurdle event later in the evening. Ollie made it a treble from only seven races by also winning with Cardinal. The latter ran in the first Waterloo Cup at Quamby Estate in 1935. Outcast was another successful Illingworth chaser at these early meetings.
In 1935 this new body gave way to the formation of the Launceston Greyhound Racing Club which conducted its first meeting on October 19 1935. Ollie became a long serving member of the L.G.R.C. Committee and was Vice-Chairman for some time. Ollie also won the first Launceston Cup in 1936 when his great chaser Win Sheen beat Glen Cul over the straight 325yards in 17 6/16 seconds. Win Sheen like most of the early chasers, often raced twice on the one programme.
As well as his committee duties, Ollie served as Chairman of the National Coursing Club of Tasmania for many years, working closely with Arthur Morgan. He was at the forefront with Morgan in introducing Irish sires such as Keating's Own and Buddha in the 1950's when dog numbers were low and the breeding was weak. Ollie represented Tasmania in N.C.C. Conferences such as in Sydney in 1947. He became a steward at White City in 1951 and was Chief Steward for many years until retiring that position in 1970.
He died on January 9 1974, leaving a lasting legacy to Tasmanian Greyhound racing, a legacy that was ably carried on for many more years by his son, and better known to all of us – Des Illingworth.
Des Illingworth
Desmond Joseph Illingworth was born in Launceston on February 9 1925 and was the eldest of seven children. Des recalls helping his father with training the greyhounds and received one shilling in 1933 for four hours work, sitting on a box and shooing the hares at the Symmons Plains coursing.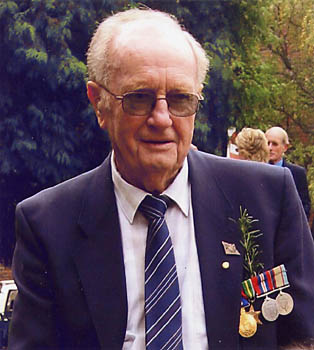 Upon leaving school at fourteen Des worked as a tailor at Paton and Baldwins. After World War Two he worked in his father's tailoring business and later on at Morgan Tailors and Neil Pitts.
He married Audrey Bessell on April 12 1947 and they built a house at 76 David Street, in which they still reside. Des recalls seeing two dog races at White City on his wedding day before borrowing his father's car to head to Hobart for his honeymoon. This was the start of lifelong partnership together that produced children Ann-Maree, Lynette and Roger.
At eighteen Des joined the RAAF and served in the Dutch Australian Squadron's B25's at Darwin and Borneo during World War Two. Following his war service Des worked again as a tailor and in 1946 re-involved himself with greyhound racing. At White City he worked in numerous roles under long term L.G.R.C. secretaries Mick Sturges and Ray Foley. He worked race nights with the on course totalisator, as timekeeper and as assistant handicapper in his part time capacity during week days. Incidentally Des's brothers Kenneth and Brian had their own roles at White City in the office, on the gate, and in the broadcast tower as did his son Roger who worked part time for many years in the L.G.R.C. office under Ray Foley's secretarialship.
These duties continued until 1971 when Des was appointed Chairman of Stewards, a role he fulfilled until 1975. In that year he successfully applied for the full time position of Secretary of the National Coursing Club of Tasmania, a position he was to hold until 1984, when the N.C.C. became the Tasmanian Greyhound Racing Board. He continued as secretary of the new body until his retirement in 1990.
From his St. John Street office in the Mercury Building, and primarily with one staff member, Merridy Murgatroyd, the quiet and very humble Des Illingworth was the head of greyhound administration in this State. Under his care all namings, transfers, nominations and for the first time, Central Grading for all three tracks took place. Hitherto, each track graded their own races.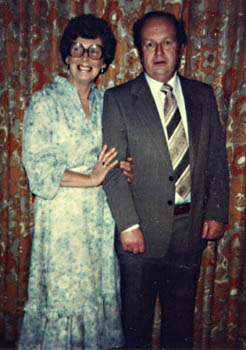 Des was Tasmania's representative at National Coursing Club of Australia conferences and played a major role in many big changes to our sport. He established a complete new rule book in 1976 and then again in the late 1980's taking the best components from National rule books. When Tasmania's track went from grass to sand, Des made sure the same sand that was successful in Melbourne was used here. This sand he found at Hadspen. He was also instrumental in bringing the Bramich Lure to White City and later to Hobart.
Under Des Illingworth's guidance Tasmania finally fell into line with the other States with reciprocity of rights between States, thus short circuiting much of the red tape involved when dogs moved interstate. This he did in his first three months on the job!
With Clem Hoggett's assistance Des secured Sky Channel coverage for Tasmanian Greyhound Racing in the 1980's and this before the other two codes here secured the same. He was also at the forefront of introducing a travelling subsidy (no longer in play) for trainers travelling to race out of their area.
The L.G.R.C. introduced a new race to the Tasmanian calendar in 1991 — the Illingworth Classic, which recognises the enormous input of the father and son Illingworths and as long as there is racing in Launceston there will be the Illingworth Classic.
In the 1992 Australia Day honours Des Illingworth received The Order of Australia for his marvellous service to Greyhound Racing, and he, along with his father Ollie, is elevated to the Tasmanian Greyhound Hall of Fame.