Inaugural inductee to Hall Of Fame 2007
Propulsion — Ophir Kitty , Whelped March 1959
Owner and trainer: Hilda Williamson
This legendary bitch of Tasmanian greyhound racing was owned and trained by Hilda Williamson of Beaconsfield, herself quite a legendary figure. Hilda named her greyhounds after the nearby Ophir Goldmines and many top chasers carried the"Ophir" moniker.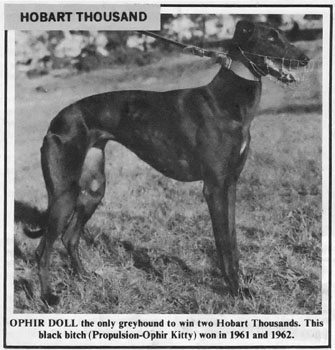 Ophir Doll was a black bitch whelped in March 1959 to a mating of Propulsion and Ophir Kitty (also a star chaser). She was one of three in the litter, which also produced the brilliant Ophir Gold.
A 1962 identical mating produced Monavista, arguably the most dominant broodbitch in Tasmanian greyhound history, though unfortunately Ophir Doll never had pups herself.
Ophir Doll's career was extraordinary in several ways, principally that most of her thirty five wins was scored at Hobart's T.C.A. track and that she rarely raced at her home track White City. Put simply she was a freak around the tight T.C.A. circle.
After a debut fifth, Ophir Doll won her next five at Hobart. She won from all boxes, remembering they were ten dog fields back then. Further versatility to her makeup was that she sometimes led but more often came from behind – not bad for a bitch that weighed a mere 52.5 pounds. Moreover, as her credentials lifted, she was often forced to give handicaps of one or two tenth seconds to the best opposition on offer.
Her fame was sealed with her ability to score in the big ones! In 1961 she won the Hobart Thousand, Australia's richest race at the time, and a race that the best chasers around Australia would target as a first p riority.
She came from last halfway to win by two lengths in 30 seconds neat over the 540 yards defeating Shan's Choice. Australia's greatest dog Tamaroo beat Ophir Doll in a famous Match Race after the 1961 Thousand at the TCA. But he could not take the Thousand from her.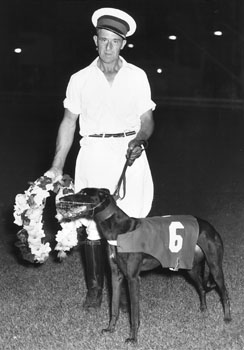 On May 19 1961 the Mercury quoted " Ophir Doll is widely regarded by many as the best dog in Australia, and would have represented Australia in the International Championship in Florida (USA), if satisfactory travel arrangements could have been made."
In 1962 she repeated the dose, this time coming from box nine to beat fellow local Evening Thunder, and again running 30 seconds dead.
Just for good measure Hilda Williamson won the 1963 Hobart Thousand as well, wait for it – with Ophir Doll's sister Ophir Gold. Amazingly too, Ophir Doll was in that 1963 Hobart Thousand Final as well, but finished 4th from box 4. She remains the only chaser to make the Thousand Final three times, for two wins and a fourth!
Ophir Doll's unique versatility was most evident in that she won the 1961 Sprint Championship of Tasmania from box one, before running second to the great stayer Western Idol in the Distance Championship of Tasmania over 685 yards.
In 1962 she reversed that. She ran second to Sam Bracken's mighty bitch Dottie Too in the Sprint Championship of Tasmania, beaten a mere half length, before beating the same bitch in the Distance Championship of Tasmania by three quarters of a length at 10/9 on favourite. Also, in an April 1962 Mainland stint, Ophir Doll broke the 685 yard track record at Bulli (NSW).
To this day she is the only greyhound to win two Hobart Thousands and forever her name will be revered in the Tasmanian greyhound community.