Hall of Fame Inductee 2009
Red Fawn Dog,  Sam's Top – Nada Lass   Whelped March 1971
Owner: Ken Barker Trainer: Brian Barker
Peace Gift enters the Hall of Fame as one of the most endurable, versatile and bravest chasers seen in Tasmania. Despite a constant weeping eye courtesy of a blocked tear duct, and persistent leg injuries throughout his ninety two starts, Peace Gift won thirty five times with fifteen seconds and ten thirds over all distances.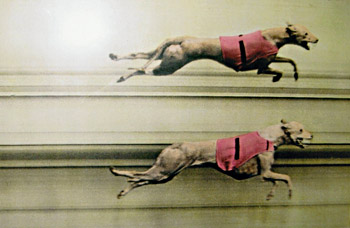 Bred by Joe Zefera in Victoria, the mighty red fawn dog was whelped in March 1971. By Sam's Top (Black Top – Glitter Girl) out of Nada Lass (Oakley's Pal – Les Sylph) Peace Gift came to Ken and Brian Barker at 304 St Leonards Road, as a twelve month old pup with litter sister Brunette Downs, the latter winning just a couple.
His amazing career falls loosely into three parts. Stage one was the "sprinting" Peace Gift. Stage two was the "lull" where he appeared to be in decline. Stage three was the resurgent " staying" Peace Gift, where he sealed his greatness.
At seventeen months of age , he debuted at White City on 26 August 1972 , winning a 548 yard heat of the Sturges Memorial. Despite running last in the Final, he won 17 of his next 25 starts, in what was basically his sprinting career. A dedicated railer, Peace Gift had a touch of Mystery Bridge, in that he could lead or storm from the rear. His times were usually quick, his winning margins often extreme and his starting prices very short.
His early credits included wins in the heat, semi and Final of the 1972 Nelson Cup, defeating Fiery John by four lengths in 30 12/16. Over 432 metres at Devonport be beat top chaser Dorthy's Son in a heat of the Show Cup, beat Count On More in the Semi, before his fourth to Hobart Thousand winner Sue's A Credit in the 1972 Final. Even at twenty months of age, he won a 737 yards Juvenile at the TCA on 2 December 1972. One week later his blitzed Opal Vista by ten lengths in his 548 yard heat of the Holiday Stakes at White City. He beat the same bitch by eight lengths in the semi, running a quick 30 6/16, before a strong finishing second to grand bitch Jenny Caboleah in the Final.
He took a heavy racing schedule in his stride. In January 1973 he won a Trial Grade heat and final over 432metres at Devonport, beating Taval in a slippery 25 dead. Three days later on 27 January 1973, he won over 680 metres at the TCA by a mere 13 lengths, and only a tick outside the track record. The very next start he won a Launceston Cup heat by 14 lengths, but met trouble running sixth to Galtee Chief in the Semi.
Off to Devonport, he ran third to Highland Billy in a Cup heat. In between this heat and his brilliant semi final win over Rapid Tempo, he beat Howdie by seven lengths in a quick 30 dead at White City over 502.5 metres. In one of the greatest Devonport Cup Finals of all time, he wound up fifth behind track specialist Wyoming Willie in 25.1.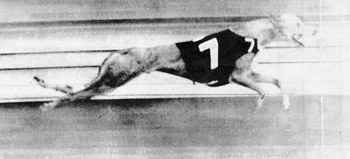 His mid career lull extended over an eight month period leading up to December 1973. He was ever competitive at the highest level, but his strike rate lapsed to four wins and fourteen placings over thirty starts. He ran many brave placings behind such stars as Mountain Rock, Galtee Chief, Arastas, Biffin River and Della's Son. However, most thought Peace Gift to be a light of other days.
But then the RESURGENCE! It really started with his first run in 1974. On January 9 that year, he blitzed star chasers Sue's A Credit and Koombana Bay by three lengths in a quick 25 3/10 over 432 metres. Two starts later he brained a quality field over 573 metres at Devonport. Three days later, Australia Day 1974, he headed south and broke the TCA track record over 680 metres. Held previously by Becky Sue, he took it down one tenth to 40.8, beating Springtime Joe by eleven lengths from box one.
Over the next eleven days, he mixed his distances running third , first and third all at Devonport, before returning to Hobart on February 16 1974. This time, from box five, he broke his own 680 metre record, lowering it by a massive 4/10s to 40 4/10. In so doing, he beat Opal Vista by seven lengths, with Onyx Gem a further five lengths away.
A week later, he left the marvellous Lusty Lucy twelve lengths in arrears at White City over the 722 metres. On March 4 1974, in successive runs at Hobart, he lowered the 680 metre record a third time, taking down another 2/10s to an incredible 40 2/10. In the Six Hour Day Invitation, he flogged poor old Opal Vista by a mere nine lengths from the pink trap. So within 37 days, he lowered the TCA track record three times, in between which he won twice and placed twice from four runs up north.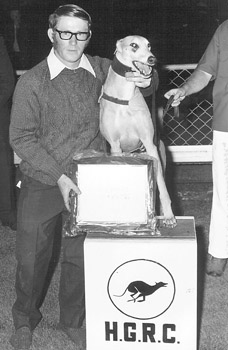 But what about this for versatility! Two days after his third track record at Hobart, be ran second over 432 metres at Devonport, behind the classy Dan Bowers in a Devonport Cup heat. Five days after that he broke the White City track record over 722 metres in winning the State Final of the National Distance Championship. Despite being seriously challenged mid race by the great Lusty Lucy, he won pulling away by three lengths in record 44 seconds neat. Then straight back to Devonport he just missed a spot in his second Devonport Cup Final when second to Mr Casino.
Peace Gift suffered yet another injury when in Adelaide for the National Distance Final, which forced him to spell between March and August 1974. During this time he served a small number of bitches, but upon his return to the track, he just wasn't the same dog and only won once more – over 740 metres at White City. He ended his career at Devonport on 15 January 1975, when again injured in a 573 metre Invitation.
This gentle, wonderful natured champ took Brian and Ken Barker on a journey they could not have imagined. They handled other smart types like Minor Matter, Laurel Hero, Ballarat Whiz and Clear Sage. But there was only one Peace Gift, a dog that represented Tasmania, was one point behind Biffin River as Devonport Greyhound of the Year in 1973/4, and incredibly broke four track records on two tracks within forty four days. He was super effective over the sprints on each Tassie track, in a league of his own over the longer trips, and all this while managing injuries and a heavy schedule. The Greyhound Guide Editorial on 2 March 1974 called him " the Zoom Top of Tasmania" and " an Iron Horse".
"Peace", as he was affectionately called by Brian and Ken, rightly takes his place in the Tasmanian Greyhound Hall Of Fame.