Inaugural inductee to Hall Of Fame 2007
Reg (Shorty) Ivory makes the inaugural Hall of Fame principally as a master trainer. In truth he makes it also as a master breeder, amazing character and half of one of the most formidable teams Tasmanian greyhound racing has known, with his marvellous wife Aileen.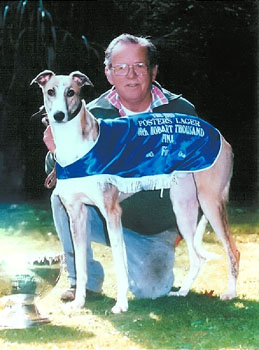 He made the transformation from hunting dogs in the forties to greyhounds in the fifties and beyond after assisting in the building of the Devonport track in 1952.
From their Tugrah Road property some five minutes out of Devonport, Reg the trainer and Aileen the able assistant bred and raced a multitude of stars right through to the 1990's. Few trainers produced so many top dogs and Reg had the ability to keep his dogs at peak form way into their careers. Moreover, Reg bred many of his own top dogs.
Tugrah Beaver is Tugrah Road's most famous product. By another star Ivory chaser in Sally's Jim, "the Beaver" is one of only four Tasmanian chasers to win more than fifty races. He won 52 of his 117 starts during 1978-1980. An all tracks champ, he won 14 at the TCA, 24 at White City and 14 more at Devonport. He won seven finals including an Easter Cup and ran second in the 1979 Launceston Cup. His clashes with Viv Beresford's Baron Band at White City were the stuff legends are made of. He won sequences of three (three times), five, six, and seven in a row.
Sally's Jim was probably Reg's first absolute star. The white and black son of Clean Laundry won 34 of his 69 starts and to this day remains one of the quickest beginners and dazzling early speed dogs seen here. He won 8, 7, 5 and 4 in a row on all tracks and made many finals including the 1975 Thousand. He won seven Invitations in a row at Devonport.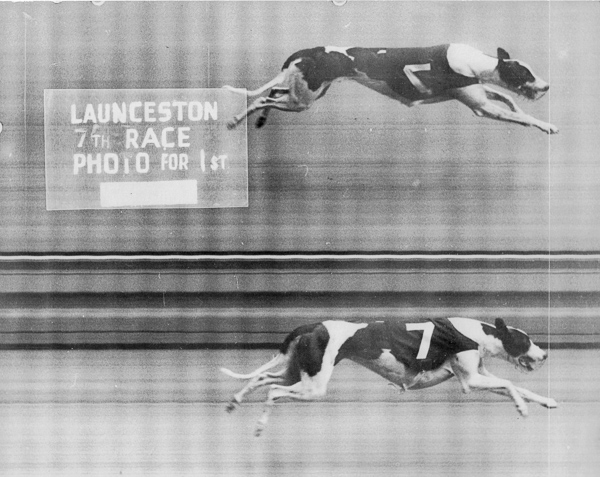 Scott James (43starts – 20 wins) gave the Ivory's their greatest win when this son of another Ivory star King Ricky defeated True Vintage in the 1989 Hobart Thousand. Two races prior his litter brother Hindu Flame (a Derby winner amongst his 38 wins) won the Consolation Final of the Thousand. At that presentation, Reg when accepting the trophy said " I'll see you again in half an hour" And he was right.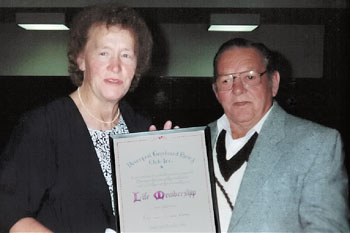 Unique Venture won 41 of his 84 starts in the seventies and only a broken leg prevented this champ from joining the 50 win club. He did win the 1979 Devonport Cup and the 1978 Easter Cup.
Reg was also a marvel with stayers. Big Cheyenne won the State Final of the National Distance in 1976 and Mersey Mist repeated the dose for Reg and Aileen in the 1978 State Final. The latter also ran third in a Maiden Thousand.
The list goes on and on. Lucky Trinity starred, winning both the LGTOBA and the NWGTOBA Finals. Star For Two won nearly forty races over all distances, Harmony Rose , the mother of Tugrah Beaver, won 7 of 9 before injury, whilst the great Arabian Prince won a multitude of races including the Peter Jackson Classic and a Gold Cup second. Gay Sheen was one of Reg's first stars and won 21 from 56 during the sixties.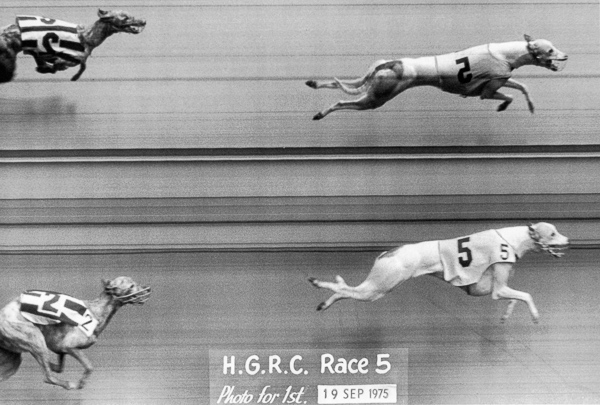 Reg's dogs were renowned for their box manners. He once said "I teach my dogs to come out when the box opens, not when the hare comes" And it worked. Reg was renowned for a drink (or three) at the bar on race night. All tracks had a designated "Shorty's area" and The LGRC at White City indeed named the downstairs bar "Shorty's Bar"
Team Ivory now have a race in their honour at Devonport and Reg the great trainer, great breeder and even better bloke rightfully takes his place in the Hall of Fame. And when you remember Reg you will remember Aileen, one of the most popular and gracious ladies of our sport. Thankfully, their legacy lives on with daughter Cheryl Sutton and son Wayne maintaining an active role, and granddaughter Joanne training as well.