Reginald William 'Titch' Wilson
Hall of Fame Inductee 2017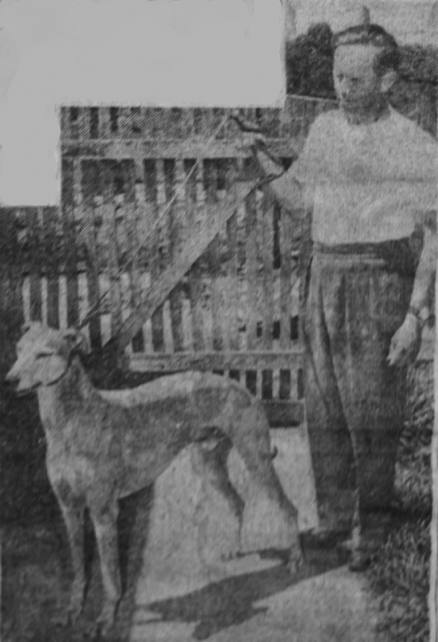 Reg Wilson, known to many as "Titch", was a colourful character and one of Tasmania's greatest trainers from post World War Two until 1966. In Oak Queen and Western Idol, he mentored two of Tasmania's iconic chasers, plus a host of other stars. In three parts, this story will tell of the man, of the trainer, and of the star chasers and feature race winners.
Reg Wilson was born in Launceston, at the Oswald Street home of his parents Alfred (Rube) and Mary (so close to where White City was yet to be built!), on October 16 1914, died in his 87th year, and is buried at Rochester in country Victoria.
Titch Wilson was born into greyhounds. His father Rube was a leading trainer in the formative years of our sport in Tasmania, in fact before Speed coursing, when it was open coursing and Plumpton at Mowbray racetrack. Titch recalled walking greyhounds for three to four miles each morning before school, from the time he was able to handle them. And he loved it! His classmates called him the "Assistant conductor of the Invermay Band"………the forty odd, noisy inhabitants of his father's Invermay kennels.
Titch branched out on his own from 1939, and by the 1950's was winning leading trainer titles. Greyhounds were put on hold whilst Reg Wilson served his country, joining the Australian Army from March 12 1941 until May 2 1943. He married Lena Thomson on January 28 1942 at St.Georges Church Invermay, and they lived in Mangin Street at Mowbray Heights. The marriage unfortunately failed, and Reg moved back into the original family home in Oswald Street, most likely after the death of his parents. For twenty of those years Reg lived with June D'arcy, a particularly smart lady who loved show ponies and bred the first Wimiranas (a breed of hunting dog) in Australia. Many of the Reg Wilson stars raced under the nom de plume "J.Devon" which in fact was June D'arcy.
Apart from a brief stint in Hobart in 1963, where he lived at 15 Russell Road Claremont, he remained at Oswald Street until the late 1960's, at which time he forsake the both the greyhounds and Tasmania. He moved to Victoria with Shirley Pearce, whom he later married. There, he worked initially at Caulfield race track, before taking over as Track Manager at Sandown. He did race greyhounds on a much reduced scale in Victoria until the 1980's, and mainly with Shirley as the trainer. Details of his later life are quite scant, but he retired in the Bendigo district; his gravesite some 67 kilometres east of there at Rochester.
Fellow top trainer Tullah Redman helped Titch work, train and feed his team in his own early days in greyhounds. He recalls Titch as a short, muscular and feisty individual with a Wall eye. A noted hard worker, he was one of many high profile trainers that lived on "the Swamp" near White City, now reclaimed parkland and Sports grounds. Apart from breeding, rearing and training greyhounds, Reg slaughtered cattle and horses, and had a meat run supplying many other trainers.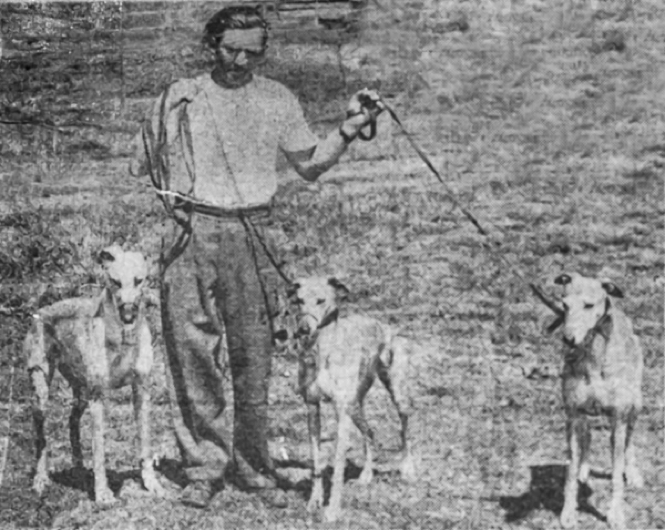 Redman recalls Titch as being "no Saint", but always upbeat, even after a bad night. He'd generally just walk his charges for fifteen minutes more next morning! Titch Wilson was the first Tasmanian trainer to start needling sore shoulders and monkey muscles on greyhounds; a technique he learnt from a Sydney associate. He also treated outside greyhounds with this technique and the results were highly successful.
At the height of his training prowess in the 1950's, he had up to 48 greyhounds in his care, More than half would be puppies that he bred, at various stages of training, and the racing crew. Titch Wilson had his own small trialling track complete with power driven tin hare. Such a setup certainly established him as one of the earliest "professional type" trainers. His common sense approach for racing dogs was an hour of walking exercise in the morning, and half an hour at evening. His feed was around two pounds of raw meat with biscuit at night and a biscuit in the morning. Weight was a big thing……..he had scales to weigh the meals and scales to weigh the dogs. When race fit, he didn't believe in too much galloping between race runs.
His puppy care was exemplary. He believed in four meals a day after weaning off the dam, which was cut back to twice a day at five months of age. He believed cow's milk in itself was not strong enough so he fortified this with baby food and eggs, always keeping his own fowls for a plentiful supply. The other main ingredient was ample galloping room, and he'd regularly turn his pups out into large paddocks, to this end.
Among the huge number of winners trained by Reg Wilson, were some of the greatest chasers Tasmania has known. Few trainers in this state have had so many high class greyhounds, nor won so many feature races. Two in particular, namely Oak Queen (2009 inductee) and Western Idol (2017 Inductee) are Hall of Famers. These two freaky bitches followed similar paths to fame in the late fifties and early sixties, and their amazing deeds can be followed on the Hall of Fame Website.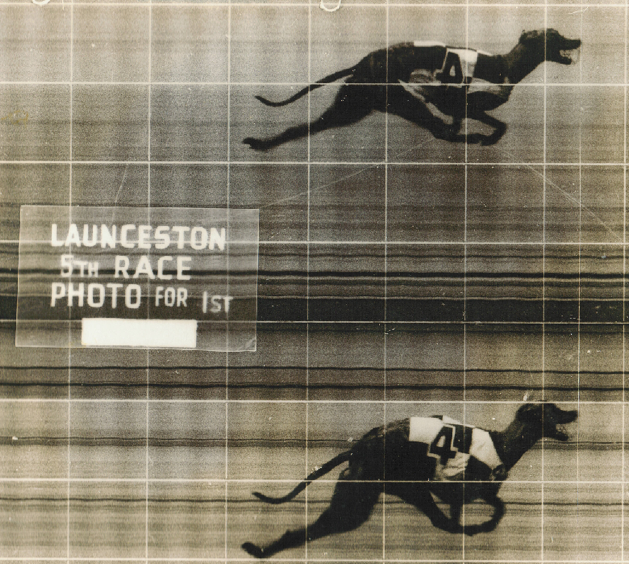 In 1955 Reg and June D'Arcy purchased the great Cola Minda from N.S.W. as a three and a half year old. Said to be past his best, Cola Minda had won 17 races there, including a Harold Park Classic (1420 pounds for first) and was co-track record holder for the sprint trip at Harold Park, running 26 8/10. His litter brother Bright Pleasure was the 800 yard World Record holder.
Despite Cola Minda's advancing years, Reg Wilson won a further 21 races with the champion red fawn son of Bright Agricola – Minda's Pleasure, the last within months of his 5th birthday, on June 30 1956. At career end he'd earned 4013 Pounds, an Australian record at that time. Amongst his Tassie victories were backmark wins on all three tracks. Reg claimed Cola Minda to be " the most courageous dog I have known" and stated " he fought out 11 photo finishes and won them all". Cola Minda won Heat and Final of the President's Stakes at the T.C.A. in May 1955, and won his Semi and Final of the Ken Thompson Memorial Cup at White City. A runner-up in the 1955 Easter Cup, Cola Minda made amends by winning the 1956 Easter Cup from a 2 yard backmark, running down Tahara by a head.
Not only was Cola Minda a two State champion in a halcyon era of racing, but left an indelible mark on the Breeding front. At Stud, he sired champion and Hall of Famer Ebony Minda (inducted 2008) and numerous other top class chasers such as Nippy Cola, Nanda Barlu, Baron Ridgeside, Lady Legana, Woodford Time, Ophir June, Kitta Tarra, Varminda and Nimble Cola.
Pompadour Lass was another brilliant sprinter Reg trained and co-owned with June. This brindle daughter of champion sire Oakleigh Chief and Lady Pompadour, was a prolific top grade winner on all three Tassie tracks. Especially deadly at Devonport, she was the first dog to win three successive Invitations there, and in two of those in January and February 1959, she toppled Hall Of Famer Ebony Minda. She defeated the top bitch Ophir Jet in the 1958 Devonport Show Cup, running a slick 25 3/16 from box ten. She scored 12 from 19 in one stretch between late 1958 and early 1959, mostly in top company and on all three tracks. Wilson sold her to the U.S.A. after her 1959 Heat win of the Devonport Cup.
Yet another Reg Wilson star was the tough and versatile Nanda Barlu. Racing into his fifth year, he won upwards of 30 races over all tracks and distances at the same time Reg raced his two Hall of Fame bitches. Nanda Barlu was the fastest heat winner of the 1960 Hobart Thousand, also won his Semi and started 2/1 favourite in the Final, finishing 5th to Bow Rock. He ran 2nd to his champion kennelmate Western Idol in the 1961 Launceston Cup, and again made that Final in 1962, along with two other Reg Wilson trained chasers Our Tawny and Nimble Madam. Nanda Barlu also won the 1959 Easter Egg at White City, and won the 1962 Easter Cup, after finishing 2nd in the 1960 version behind Knockies Jet. One of his greatest victories was at the T.C.A. in August 1959, overpowering Australian Cup winner Meadow Vale.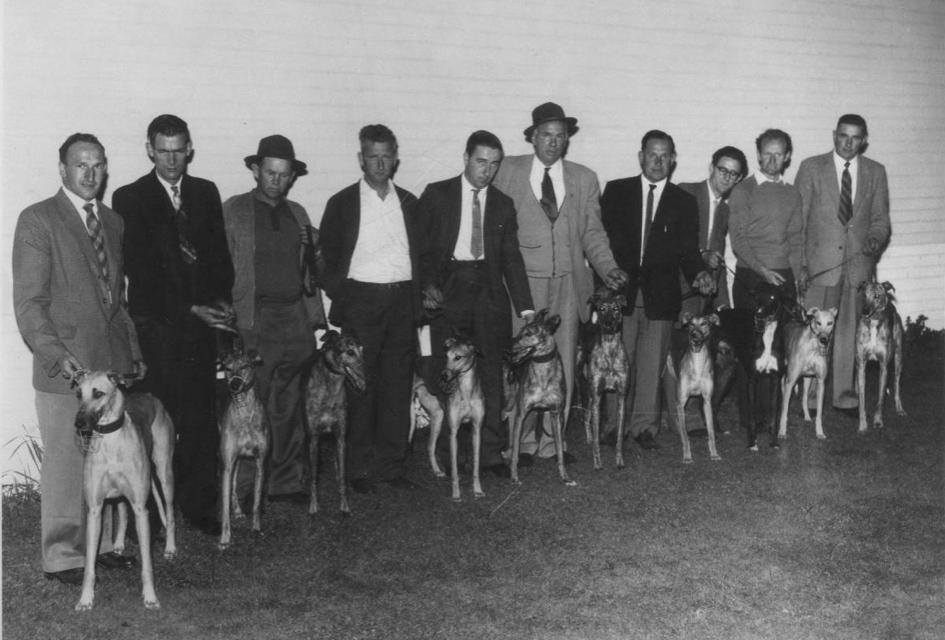 An Interstate winner, this mighty dog also represented Tasmania in the 1959 N.S.W. St Leger at Wentworth Park, running 3rd in a Semi Final behind Super Samson. On March 21 1960 he ran 3rd in a Heat of the Australian Cup over 595 yards at North Melbourne, starting from a yard behind the frontmarkers.
There were so many other notable stars carrying the "Titch" Wilson brand. In the mid 1950's Lady Marcola won 25 races. Chippa Malloy won 13, including the 1957 Nelson Cup and 1957 Ken Thompson Memorial. Red Stoker was a smart type that also won a Nelson Cup, in 1954. Rocca's Ways was a ripping chaser that ran 3rd in Chief Agricola's 1948 Launceston
Cup, after making the Final of Hero Minda's Hobart Thousand in that same year. Wilson won the 1966 Sturges Memorial at White City with Pleasant Oak, who later became the dam of champion sprinter Mountain Rock. Wilson also had significant success with hurdlers. In particular, Freight Train was a star, and won many races over the brush, especially in 1959.
Reg "Titch" Wilson stamped a remarkable presence in our sport between the 1930's and 1960's. As a breeder, owner and particularly ………..trainer, he was leader in the sport of greyhounds. He was indeed the leading trainer at Launceston for the 1956-57 Season, and was usually towards the top few trainers, for number of winners trained. He trained two Hall of Famers in Oak Queen and Western Idol, and a litany of other high achievers over more than thirty five years. Those fine deeds now see him enter the Tasmanian Greyhound Hall of Fame.