Richard Stamford
Inductee Hall of Fame 15 December 2012
Richard Stamford, born 29 January 1951, is the son of John Alexander Stamford and Phyllis (nee Roberts). His father, known to all as Jack, was undoubtedly one of Tasmanian Pacing's most famous names, connected to legendary pacers like Logan Derby, Raiarmagh, initial Tasmanian Pacing Championship winner Master Barry, Anthology………the list goes on and on.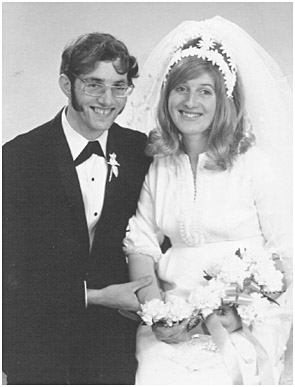 Richard joins the Tasmanian Greyhound Hall of Fame, entering his fifth decade in greyhound racing; an all encompassing involvement, as an owner, breeder, rearer, breaker, trainer, administrator and Club delegate. Affectionately known as the Wizard of Westbury, his success has been nigh on unprecedented in this State, and he is a true lover of our great sport.
Richard grew up on the 170 acre family property at Riverside, bordering the golf course, initially following his father's footsteps in training and driving pacers, between the ages of sixteen and twenty years. A broken leg in a race fall at Carrick ended his pacing involvement, but already Richard had been smitten with the longtails.
Famous trainers Bill Day and the Rosevear Brothers, Colin and Cyril, used to gallop their charges on Stamford land near the Riverside Golf Course, and a young Richard was ever present to help with the hand winder or catching. Richard was also friends with Ted Medhurst senior, another pacing man that saw the light and entered greyhound racing.
Even before his fall, Richard was heading towards dogs. He drove a winner at Scottsdale in 1971, and promptly took his new found $150 to White City and purchased a chaser called Winter King from Bill Renshaw, which had success here and in Melbourne on the flat and hurdles.
A young lady called Jillian Anne Jory lived in Riverside, also went to Riverside High with Richard, and helped with the horses at the Stamford property as a teenager. The rest is history. Richard and Jillian married on 28 August 1972, initially living in a flat in Elphin Road, before moving to a property in Pensioners Row at Westbury. They rented whilst building, and lived there till the late eighties, before moving to nearby Reid Street, where Diamond Park kennels have been situated for the past twenty five years.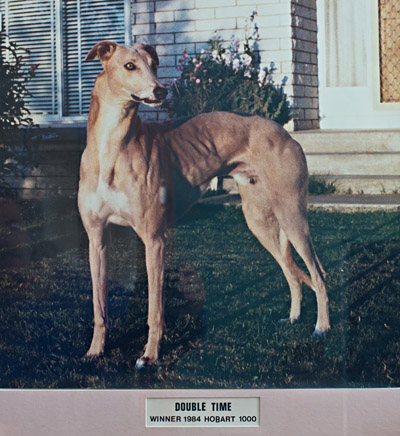 Working at G.E.C. in Brisbane Street Launceston for fifteen years, Richard's initial involvement in dogs was small and with modest success. He broke a horse in for Vivian Berresford; in return getting a free service for his brood bitch Absent Miss to Ripple Bay. The progeny included Dainty Print, Absent Boy and Spring Idol……all winners, but none stars.
The first really good Stamford dog was a bitch called Clun's Wonder, a Tivoli Chief bitch that won the 1977 L.G.O.T.B.A. Final and the 1977 Tasmanian Oaks.
That initial big race victory was simply the launching pad for a career which saw Richard and Jillian breed, rear, break in and train, litter after litter of high class chasers. Their strike rate in big races was incredible. Richard also became the last of Tasmania's serious studmasters, all the while holding senior positions with the L.G.O.T.B.A. and then the Launceston Greyhound Racing Club.
The Stamford's have won three Hobart Thousand's. Double Time (1984), Shantytown (1990) and Shantung Tiger (1997) not only won the modern day Group One, but were among the greatest Stamford dogs.
Double Time was a freaky chaser that raced only 20 times for 15 wins, breaking his hock in a straight track trial when barely two and a half. A Stamford home bred, by Time Bonus from Majestic Wonder, he won a vintage Thousand in which star Victorian Chariot Supreme led and only ran fourth, Highland Port and the great Sheila's Teresa chasing Double Time home. He was never beaten in eight Showgrounds starts, and in two of those wins be toppled Busy Vintage. He also won a Breeder's Classic and was second in a Devonport Cup.
Shantytown was a mighty dog that won 23 of his 38 starts before standing as one of Richard's most successful sires. The red fawn son of Tempix also won the 1990 State Final of the National Sprint and the 1990 Christmas Cup at White City.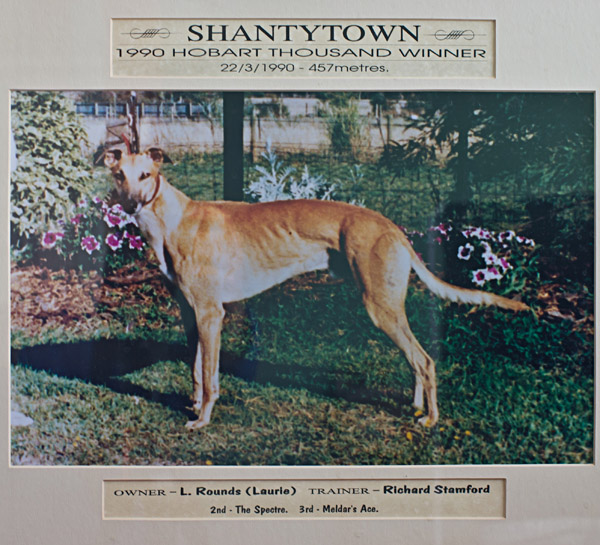 Shantung Tiger, the red brindle son of Shantytown – Westlee Silk was arguably the greatest Stamford greyhound. Also, cut down before his third birthday with a shattered hock, when going for eleven straight wins, this champion won 28 of his 44 starts and 11 placings. At 21 months old he ran second to Bomber's A Flyer in the 1996 Hobart Thousand before bolting in the 1997 Thousand as a 5/2 on favourite.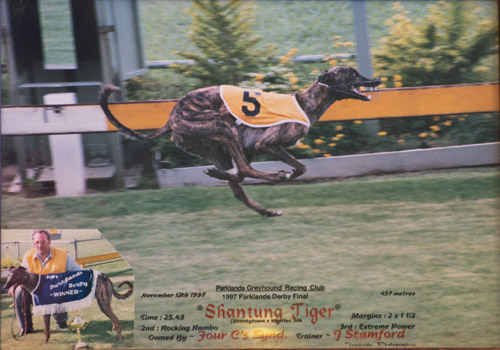 He also won the 1997 Devonport Cup, 1997 Tasmanian Gold Cup, 1997 Easter Plate, and was runner up in the State Final of the National Sprint and third in the Tasmanian Derby. "The Tiger" also ventured to Queensland in November 1997 and easily won the prestigious Parklands Derby on grass. Little wonder he was 1997-98 Greyhound of the Year.
There were so many great chasers from Diamond Park kennels. Jim Bowie was Tasmanian Greyhound of the Year in 1993-94, with 15 wins from 22 starts that included a Devonport Cup and Breeders Classic. Both Modern Diamond and Majestic Wonder were great sprinter- stayers, winning in excess of twenty races each and scoring multiple victories in Melbourne. Slick Bonus won heat, semi and Final of the initial rich Dapto Maiden in 1983. Sam Spur, beaten by Highland Summer in a famous White City Match Race, was a Derby runner up and a star chaser.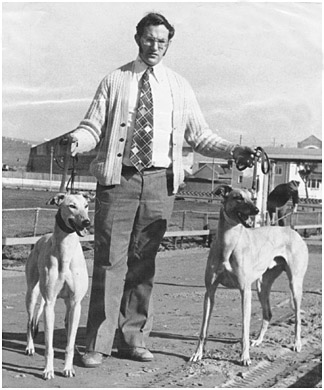 Brampton Park won 28 including the 1997 Illingworth Classic. Final Point was also a prolific winner. Apart from being the 1981 Tasmanian Derby victor, he won the Outback Championship at Geelong. Scootalot broke the Devonport track record in 1983, Diamond Babwe's many wins included the 1988 State Sprint Final and Breeders Classic. Both Heavenly Fox and Stockholder won Maiden Thousands in the early eighties. The Stamfords not only won the 2008 Hobart Breeders Classic with Capetown Bomber, but had both placegetters as well, in Fine Line and Capetown Harry.
Other Stamford greats included Bon Armagh, Launching Pad (Laurels), Always Dark (23 wins and Winter Stakes), Capetown Tiger (14 wins), Dual Voltage (1977 Young Star Classic), El Cheetah(1999 Medley), Shantyman (15 wins), Bee Speedy (1986 Gold Collar) and so many more.
Richard Stamford stood four dominant stud dogs during this period of enormous racetrack success. N.S.W. star Silent Wonder was the forerunner in the mid 1970's as were Dashing Disco, Time Bonus and Shantytown. With most breeders in Tasmania now preferring mainland sires, Richard Stamford was certainly the last major Studmaster in Tasmania.
Richard Stamford had a long association with the L.G.O.T.B.A. including a period as Secretary. His efforts on behalf of the Northern owners, trainers and breeders earned him life membership of that body. He was also Chairman of the now defunct Deloraine Coursing Club in 1990.
More remarkable has been his decades long involvement with the Launceston Greyhound Racing Club. He has performed numerous roles for his beloved club, including long time Committeeman, past Chairman, Secretary – Manager, and since 2004, Liason Officer, which, not least of all, sees him working from midday to midnight on race nights at the track. Richard has also been the Launceston Delegate to A.G.R.A. for more than twenty years.
Little wonder he is a Life Member of the L.G.R.C. and how fitting the Club decided in 2003, to establish an annual race in his honour, the Richard Stamford Perpetual Trophy.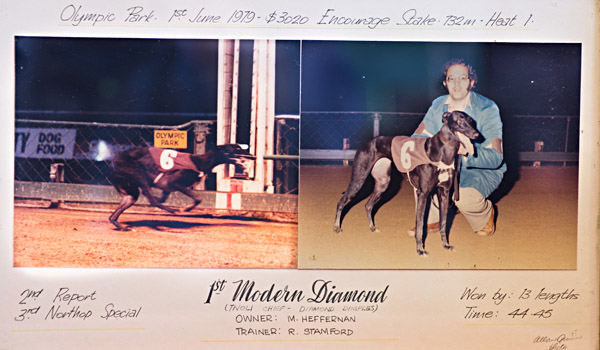 Like other Hall of Famers Reg Ivory and George Johnson, a remarkable woman has backed the efforts of Richard all the way. Jillian is the hardworking, quite achiever that shuns any spotlight, but the greyhound fraternity in Tasmania respect the amazing role she plays in team Stamford. They have three children in Rodney, Sonia and Nicole, the former pair also seriously involved in our great sport.
Richard Stamford has embraced virtually every aspect of greyhound racing in this State. He and Jillian continue to breed and race greyhounds with great success, whilst he continues to work tirelessly to help make Tasmanian Greyhound Racing the best it can possibly be. So very fittingly, Richard Stamford now takes his place in Tasmania's Greyhound Racing Hall of Fame.