Robert William "Bobbie" Brown
Inducted into Hall of Fame 2008
"Unassuming, softly spoken, gentle gentleman, always keen to help, very disciplined and man of action." Must be talking about Bob Brown! Where do you start with this enigmatic man of so many colours?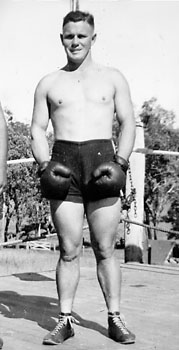 Bob Brown was the champion junior boxer, footballer, soldier, wharfie and revolutionary greyhound trainer that elevates to Hall Of Fame status in 2008.
Born on November 3 1919 Bob was a junior boxing champion with a keen interest in greyhound racing. In fact, as a sixteen year old, he sold programs at the gate of the T.C.A. at Hobart's first ever greyhound meeting. He was to witness every Hobart Thousand until his death on December 17 1998, ironically the day of the 59th Thousand.
His boxing prowess was legendary. He won 69 of his 72 bouts and after his split decision loss to Ian Ellis for the Australian title at sixteen, never lost another fight. After a host of school boy titles, he was Tasmanian light, welter and middle weight title holder at the same time. During the war he was all services champ often fighting heavyweights. Ambrose Palmer wanted Bob to turn professional post war but continued bouts of malaria prevented him pursuing this course. He did become a noted referee and presided over an Australian title fight. Bob Brown also played league footy for New Town in 1938/39 in his beloved back pocket.
On New Years Day 1942 Bob married Mavis Harboard, daughter of his boxing trainer Bernie Harboard. His first girlfriend became his wife of fifty one years and they had five children, Bob, Ross, Chris, Phillip (deceased) and Gail. Bob was a man of many interests but family was foremost. He was a devoted husband and father.
Bob commenced war service in 1941. He taught physical training and unarmed combat. He was a tank gunner in the 2nd/Fourth Armoured Regiment which engaged the Japanese in Borneo and Papua.
Upon his return he worked briefly as a bootmaker for George Chester before becoming a waterside worker on the Hobart docks. Apart from a three year stint as a fulltime trainer/breeder at "Ravenswood" on Chapel Street in Glenorchy (terminated because the owner Alf Rowbottom sold the land to the H.E.C.) he was a wharfie for the rest of his working life. A staunch unionist, Bob was President of the WWU for many years and for twenty two consecutive years was their delegate at the National ALP Conference. He was also a member of the Chigwell Branch of the ALP.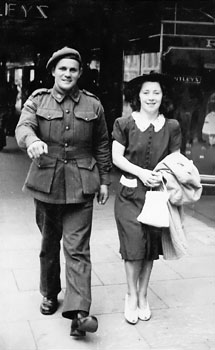 Bob's first greyhound was Queen Kitty, a bitch he purchased for five pounds from Sid Beattie. Soon after he paid twelve pounds for Phar Night which won a heat of the Thousand and ran third in Silver Rover's semi.The next year Phar Night ran first in the heat again and second in the semi.
Bob and Mavis lived at Castray Esplanade near the silos in these early years and he would walk his charges to the rifle range (now University) and all over the Queen's Domain. After the three year stint with his own track in Chapel Street, Bob made the move to 5 Coraki Street in Chigwell in 1958, from where he trained his dogs and raised his family until ill health in his latter years saw him move into a unit in Kensington Street Glenorchy.
Bob Brown could never stop asking WHY? when it came to greyhounds. And he was basically self taught. He read all material relating to the greyhound. Books, veterinary journals, national conference notes – everything. But unlike most of us, he took it all in. He refined it, enhanced it — improved it. He carried out his own autopsies on greyhounds. He had to know how everything worked, where everything went and what affected what. No wonder he became the greatest dog checker this state will ever know. His fame in this field was not confined to Tassie. Legendary trainers Australia wide (none more so than the great Stan Cleverly with whom Bob's son Chris spent much time) would consult with him and revere his advice. He would advise the vets! He knew every muscle, joint and bone. He knew all the medications and would even tell you what the potassium did, what the magnesium did and so on.
Most trainers used Bob's prowess to find injuries and more importantly fix them. He'd have been a rich man if he had ever charged a fraction of what his advice was worth. On Sunday mornings after race night at the TCA, there would be a stream of greyhound trainers with their charges, lined up down the driveway of Bob's house, and down past his neighbours houses in Coraki Street. Those that remember him checking dogs will recall how gentle and meticulous he was and how dogs responded in kind. Just watch his son Chris check one today! One Christmas Day Mavis had to put a hold on Christmas dinner because Bob was still checking dogs from the night before.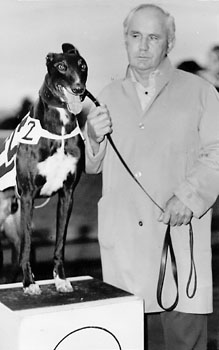 With this great knowledge and love of the greyhound, Bob Brown became a master trainer with a succession of star performers and a litany of big race wins. Midnight Cowboy was probably his favourite. A tremendous sprinter, he won the State Final of the National Sprint in 1971 and ran fourth in the National Final at Harold Park. He also ran second in both the 1971 Devonport Cup and 1971 Launceston Cup. He won the 1954 Maiden Thousand with Kialga and repeated the dose with Hurly Burly in 1976.
He held track records with Flying Armatree and Friendly Guy, these two also winning Devonport Cups in 1969 and 1978 respectively. The marvellous all distance bitch Flash Cloe ran second to Sue's A Credit in the 1973 Hobart Thousand, the closest he came to winning the one race he really deserved to win. His star of the forties Glenolan was fourth in Hero Minda's 1948 Hobart Thousand after winning a heat and semi, and toppling Tumble Bug on his way. Mowgli ran third in a Derby and a Devonport Cup, whist he won the Tasmanian Oaks in 1984 with Yoyangamble.
Apart from these greats, Bob Brown also guided the career of stars like Tudor Mist, Swiftalong, Princess Kef, Ewag and Minda Madam in the early years. In later years he also had great success with Snoopy Casper, Carnival Lodge, Perfect Swap, Matador Magnet and Wee Bonnie.
Bob was so respected and trusted he even ventured interstate with some great dogs for other trainers. He took Slick Bonus away for Richard and Jillian Stamford, winning the heat, semi and final of the inaugural rich Dapto Maiden. Also in the eighties, he took Lygon Leader to Sydney, winning three of four at Harold Park against Australia's best stayers.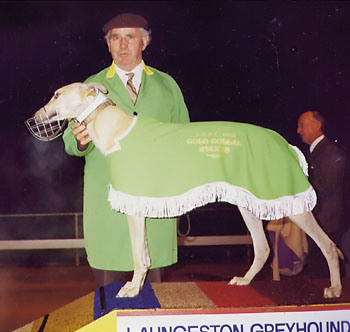 He pursued the betterment of our sport through his association with the S.T.G.O.T.B.A which he joined in 1946, and this association never ended. He held every role with this body and was made a life member in 1967.
Bob made so many great friends through greyhound racing. In the early days these included Claude Brooks, Tom Moriarty and Alf Rowbottom (until Bob threw him over a gate). The middle (vintage) years saw great friendships with Jock Trousdale, Kevin Gregory, Tullah Redman, Maurie Nicod and Tony Roach. In later years Bob was everyone's friend, almost the grandfather to all in our sport. He developed very close ties to Margaret Rossendell, Pat McClenaghan, the Faheys, the Stamfords and so many others.
In 1999 the H.G.R.C. acknowledged the great man by renaming the Consolation Final of the Hobart Thousand. It is now the Bob Brown Memorial and fittingly his race is on the premier night of the year.
Bob Brown was a sportsman of great note, a family man first and foremost, served his country in war, was a passionate unionist, a great story teller and could quote Banjo Patterson at will. AND he changed the sport of Greyhound Racing in Tasmania forever.