Hall of Fame inductee 2008
Red Brindle Dog,   Black Shiraz – Helena's Fine  Whelped February 1997
Owner and Trainer: Pat McClenaghan
Top trainer/breeder Pat McClenaghan is renowned for how many stars he has not only trained, but also owned and bred. Top chasers such as Opal Crusher, Level Charm, Real Heaven, Real Gentle, Perfect Shine, Storm Level, Yoyangamble, Helena Level and Helena's Fine were but a few of these.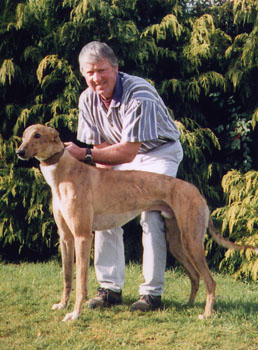 But it was when Pat mated Helena's Fine with Black Shiraz for a February 1997 whelping that he struck real pay dirt. This produced a good bitch Lady Shiraz which won twelve races, other winners Blondie Shiraz, Classic Helena and Fine Helena, but more importantly two superstars in Top Shiraz and Fine Horizon.
A red brindle dog, Top Shiraz started his career at 19 months weighing 34.1 kilos and ended as a four year old weighing 35.5 kilos. In between, he raced 65 times, mainly at the elite level, and amassed 45 wins, 6 seconds and 4 thirds. This equates to an amazing 69% strike rate, made even more impressive by the number of feature races he acquired along the way.
It was July 2 1998 that he debuted, and it was straight in at the deep end, taking on the Hobart Breeders Classic. After winning the heat in a modest 26.73, he struck trouble running second to King Lamoni in the semi. But when it counted most, he sped clear from box eight in the Final to blitz a top crop by eight and a half lengths in a slippery 26.29. In his wake were his sisters Fine Horizon and Lady Shiraz. So third start – first feature. Off to Devonport he followed a Juvenile win with a heat win of the Johnston Puppy. A luckless final fourth to Scar Capone, was followed by four wins on the trot, and he was starting to run time. The fourth of these wins was a five length Gold Collar heat win. Flattened at the start, he ran sixth in the Final to Lavender Pearl, his sister Fine Horizon beaten a nose.
After a Hobart Showgrounds second, Top Shiraz then strung together ten wins in succession. Times in these wins included three sub 30 second wins at White City, a 25.80 at Devonport and 26.18 at the Showgrounds in Hobart. This string of wins also included two major age Classics. In April 1999, and at six to one on, Top Shiraz won his heat of the Illingworth Classic. This was followed by a three length Final win from box seven at even money favourite beating Double Delight. In June'99 he led from box one to win his Tasmanian Derby Heat at fives on, and backed it up with an all the way Final victory in a best of night 30.93. In this he defeated Fortune's Flame by four lengths, exiting from the white.
After a Hobart third, the now "Champ", proceeded to win twelve of his next fourteen, and now the big wins were getting even bigger! His August '99 heat win of the National Sprint was in a superb 30.73 at White City. But that was nothing compared to his all the way victory from box five in the State Final of the 1999 National Sprint on August 23 1999. He ran a near record first split of 5.96 seconds, broke the second split record running 17.55 seconds, before smashing the 522 metre track record in stopping the clock at 30.53. Off to Sydney, he ran a gallant fourth to Harry Hand in the National Final at Wentworth Park.
Back in Tassie, he ran a personal best 25.75 seconds over the 457 metres at Hobart, before heading to the coastal track for " cricket pitch" heat win of the Devonport Cup at fives on. The Final was a one act affair. He led the "unleadable" Proper Lass from a tricky box seven and recorded his career Devonport best time of 25.54 in scoring by three and three quarter lengths.
Then to Hobart for the "Thousand". He beat the NSW visitor Nambor Bale in his heat, blitzed Darren McDonald's Victorian Amongst Thieves in his semi, before a rare blunder at the start saw him finish fifth in Latest Lad's 1999 Final. Four more wins on end included the heat and Final of the Hobart King verses Queens.
At White City, his endeavours to win the 2000 Launceston Cup, saw him win a heat by a mere twenty lengths, ran third in the semi thus failing to make the Final (which his sister Fine Horizon won). Not to be denied, he was awesome winning the Consolation Final by nine lengths in a slick 30.78.
In August 2000 Top Shiraz attempted to represent Tassie for a second time by winning his heat of the National Sprint by five and a half lengths in a best of night 30.80 at White City. However, he was cleaned up in the State Final and ran last to Kialdu D'or.
Now three and a half years old, and seemingly in his twilight hours, Top Shiraz was to have eleven more starts. Amazingly, he not only won nine of these eleven, but sealed his greatness in so doing.
Back to back Invitation wins at White City, was followed by a heat second to Collica in his Devonport Cup heat. Like the Lonnie Cup, he went on to win the Angus Evans Consolation Final, beating great rival Proper Lass. After another win and a fall at Lonnie, he won his last six career starts —- and not just six ordinary wins!
On December 7 2000 he blitzed Darren McDonald's Trigger and Stylish Doctor in his Hobart Thousand heat. A week later he flogged Chris Johannsen's Final Conflict and Stylish Doctor in his semi running 25.98. On December 21 2000, Top Shiraz sped to Group One glory by leading every step of the way from box three in the Hobart Thousand Final. In so doing, he left the great Brett Lee lamenting a length away in second, with star Tassie bitch She's Capable two and a quarter lengths further back in third. The time was another slick 25.91.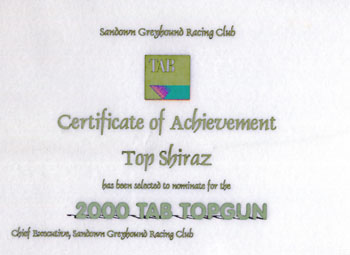 His next start was on February 12 2001 in a heat of the Launceston Cup. Now a four year old, he blitzed She's Capable to score in his heat from box four. He exited box eight in his semi and had five and a half lengths to spare over Supa Sonic in 30.93.
The amazing career of Top Shiraz came to an end in the 2001 Final of the Launceston Cup on February 26 2001. True to the script, he started an odds on 4/6 favourite from box two. And true to script, he led every step of the 522 metres to score running way by six and a half lengths in a brilliant 30.79. In his wake were quality sprinters Shanlea Title, She's Capable and Elle's Supremo.
So in his 65 start career he won 45 times, a 69% strike rate. As a youngster he won a Breeders, an Illingworth and a Derby. He broke the Launceston track record, he won a Launceston Cup and the Consolation Final of another. He won the Devonport Cup and the Consolation Final of another. He made two State Finals of the National Sprint, winning one. And he made two Hobart Thousands, winning one. In 2000 his achievements were acknowledged Nationwide when he received an official invitation to the Topgun. What a freaky dog!
Tragically, Top Shiraz was never given the opportunity to prove his worth at stud, cut down in his prime in a veterinary mishap, which Pat and Helen are still coming to grips with.