Inaugural inductee to Hall Of Fame 2007
Black and White Bitch,   Busy Vintage – Little Jackie   Whelped January 1985
Owner : Debbie Burgess   Trainer : David and Margaret Crosswell
Some argue True Vintage was the greatest of Tasmania's greatest!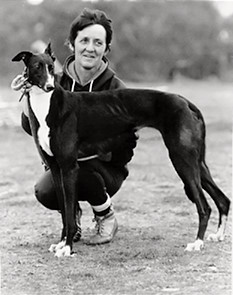 After an unlucky debut second at Hobart on October 2 1986, True Vintage went on to amass an array of big race victories and track records that will possibly never be matched in Tasmania again. The end of her career came on May 8 1989 by which time she has raced 66 times for 40 wins 13 seconds and two thirds.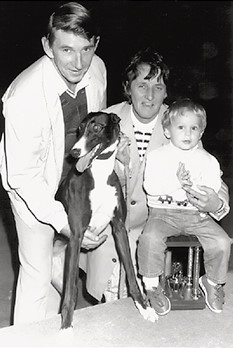 A sound beginner but possessing electrifying early speed True Vintage has most races won after travelling a mere fifty metres. Her early racing saw her win a Breeders Classic at White City, after she had spent a brief period racing on the mainland.
Even at that tender age she broke the 400 metres track record at Maitland running 22.90 and a staggering 29.56 at Olympic Park over 511 metres in a heat of the Maturity. The club refused to ratify that run as a record because it was in a heat. In that event, she was so far in front that Ron Hawkswell was calling to second dog as the winner.
She held the 457 metre record of 26.32 (which she ran twice) at the Hobart Showgrounds. On her fifteenth straight win she broke it again running a staggering 26.06. Further, True Vintage obliterated the 502.5 metre record at Launceston running an unthinkable 29.52.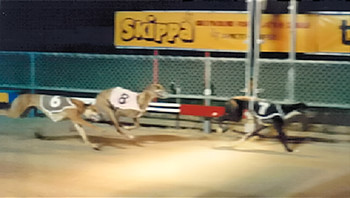 But it was the season of 1987-88 that she sealed her greatness. It was also in this season that a Queensland offer of $75,000 was refused by her connections. It was said to be an Australian record offer at that time.
She won the minor features of the NWGOTBA Cup at Devonport, the Siggers Silver Trophy at Hobart and the Coca Cola Cup at White City, before letting loose on the majors.
She won a stirring duel with Bookie's Regret to win the Gold Cup at Hobart. She blitzed Tania Glass in the Tasmanian Oaks at White City (at 5 to 1 on!) and waltzed away with the 1988 Hobart Thousand starting at an amazing 7/2 on favourite from box one. Again she beat the great Maurie Strickland's great sprinter Bookies Regret.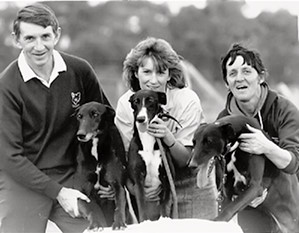 After bolting in the State Final of the National Sprint Championship at Hobart she was narrowly run down at the same track in the National Final by the West Australian Freemantle Echo. The very wet night possibly attributed to this defeat, one of the rare occasions she led and was defeated.
But she bounced back into action with a heat, semi and Final win in the 1988 Launceston Cup Final. Here she beat Some Gain and Family Chariot in a brilliant 30.07.
The only Tasmanian major she didn't win that season was the Devonport Cup in which she ran third to Falcon Prey.
At one stage in that season she won 15 in a row and was a shock defeat at Hobart when going for the Australian record of 16 on the trot. It is little wonder she won the 1987-88 Tasmanian Greyhound of the Year.
Fittingly, this wonder bitch of Tasmanian greyhound racing is an inaugural inductee into the Tasmanian Greyhound Hall of Fame.