Inductee Hall Of Fame 11/12/2010
Red brindle dog Farrago – Bright Ess Whelped March 4, 1955 Owner/Trainer Jim Breen
There has never been and never will be another dog quite like Valiant Spirit. By Farrago out of Bright Ess and bred by Mrs. Andy Johnson, he was whelped on March 4, 1955. From a smart litter that included the outstanding bitch Majestic Star, and high class chasers Mervandy, The Mainline and Vermont Lad.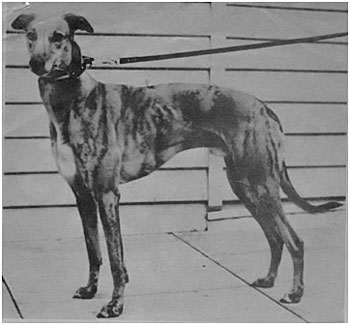 Valiant Spirit commenced racing at eighteen months of age with an inglorious 7th at the TCA, and finished racing with another 7th, this time in a hurdle and also at the TCA on December 9, 1961, as a six year and nine month old.
In between he won 12 flat races, but more importantly became Tasmania's greatest ever hurdler with 42 wins, and in the main, off the most amazing handicaps any greyhound in this State was ever asked to perform under. Remember, all of this was in ten dog fields, and in the halcyon days of jumps racing in this country. In fact, it is reasonably safe to elevate "Ginger", as he was affectionately known, to the status of Australia's finest ever at the "up and overs".
Trained initially in Launceston by Jack Slater, Valiant Spirit did win his third start in a race, a Juvenile at White City. Quite a few starts and a couple of wins later, his connections considered his prospects to be limited, and owner John Hawksley sold him for 50 pounds. The purchaser was Jim Breen, a Waterside worker and accomplished dog trainer, who must have seen something other than this dog's wonderful nature that he liked. Jim lived at Dry Street in Inveresk, not too far from White City.
A common sense trainer, Jim rarely consulted a vet, treated all his dog's injuries, believed in two pounds of steak and vegies for tea, and bread and milk on Mondays after racing to cleanse the system. It was a four mile walk of a morning and two miles at night, and very little running in between races. Well it certainly worked for Valiant Spirit!
Jim soon improved this stylish red brindle dog. Valiant Spirit raced exclusively at his home track White City, and the TCA at Hobart. Gradually progressing through the grades, his finest flat performance came at White City in the 1958 Easter Cup Final. Exiting from box ten, he forged clear of the smart Gaze Away over the 548 yards in a smart 30 8/16. He was to have one more remarkable flat win much later in his career.
Soon, Jim changed tack with "Ginger" and decided to try him as a hurdler. What a decision! Teaching him to jump by keeping him on the lead and constantly jumping the race night hurdles, Jim also had Valiant Spirit jumping logs in a paddock. A centre track runner, this dog's flawless jumping was the key element in his ability to overcome such amazing handicaps later on. A dog of remarkable character, Valiant Spirit sometimes won by huge margins, but at other times was content to toy with his opponents and win by just the required amount.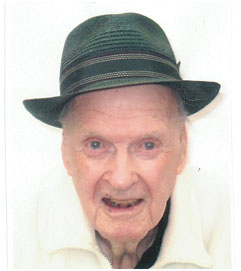 The Mercury article with photo 15 September 1961
Valiant Spirit was an instant success at the jumping, despite not starting at this caper until three years and ten months of age. After two minor placings, he racked up six in a row at White City, before his May 23, 1959 hurdle debut in Hobart, which was a victory.
By the end of his career, Valiant Spirit had won 25 hurdles in Hobart and 17 in Launceston. He had proceeded to make a joke of the severe handicaps metered out to him, and established many precedents, that would seem impossible by today's standards.
At Hobart six of his wins were off 5/10's of a second behind scratch. He won another eight off 4/10's behind. In one period at Hobart he raced 18 times for 10 wins, five seconds and 3 thirds. The last win of his career, number 54, was at the TCA on October 7, 1961 when he was a mere six years and seven months off age! And even that night he was still conceding 4/10's to the front markers.
Valiant Spirit's handicap achievements at White City were even more remarkable, and the handicapping even more severe. On October 29, 1959, he won a White City hurdle off 7 yards behind on a 7 yard front. No dog had ever done that, and that's as far as the fence behind the boxes allowed a dog to be handicapped. The rules meant this dog had to be handicapped further, so the LGRC Committee amazingly ripped the fence down, allowing more room to further handicap this "wonder jumper".
But it failed to dent his utter dominance! On March 10, 1960 he won off 1 yard behind scratch, that is, giving away 8 yards. But still he kept winning, and still he kept going further. On June 10, 1961, "Ginger" won off a mark that no dog would ever come near to before or after him. On that fateful night, he was 5 yards behind scratch on a 7 yard front, thus giving away 12 yards start over the 548 yard hurdles. In a field of 10 and from box 10, he won running away from David's Whisper by an incredible 6 lengths in 33 1/16's and at the luxurious odds of 4/1. This type of handicapping did see the great dog race less at White City and more at the TCA in his latter days.
But what about this for versatility! In February 1961, when at the height of his jumping prowess, Jim Breen entered the great dog in a heat of the Launceston Cup. Now 5 years and 11 months of age, and not having raced on the flat for ages, he beat Roslyn Speed in 30 15/16, at only 7/1, with Australian Cup winner Meadow Vale unplaced. Please!!!!
At career end Valiant Spirit had raced for 5 years and 3 months, his last as a rising seven year old. He won 54 races, with 20 seconds and 11 thirds. 42 of these victories were over the hurdles, mainly from staggering handicaps. He earned over 2500 pounds in stakes, averaging over 9 pounds a week for in excess of five years.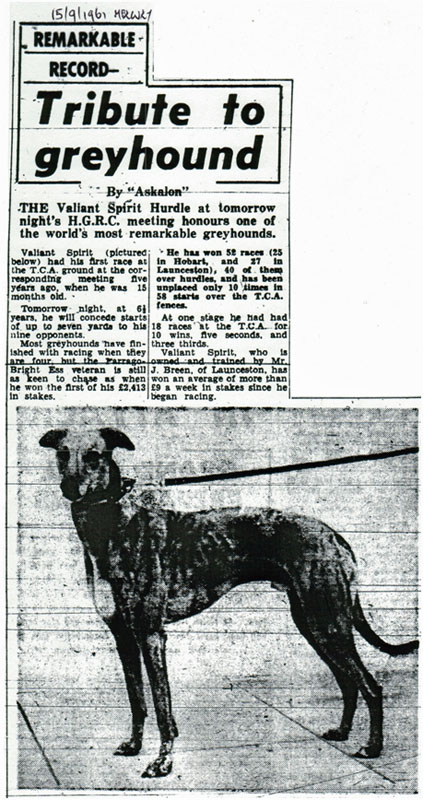 Valiant Spirit was as famous during and after his time and the accolades were many. "Askalon" in the Mercury of September 15, 1961 called him "one of the world's most remarkable greyhounds". L.G.R.C. Chairman, Tom Chaplin, in the Club's Annual Report of 1960–61 noted " the outstanding performances registered by veteran hurdler Valiant Spirit … and … there is little doubt this grand hurdler's performances will long live in the memory of all greyhound enthusiasts". In the Mercury of September 28 1959, Hall of Famer Arthur Morgan stated " Valiant Spirit would more than hold his own with the best dogs in Australia".
Despite the fact his fame came as a hurdler, he did serve a short career at Stud producing some fine chasers. Devonport Show Cup winner, The Punchbowl Spirit, was his best flat performer, also making a Launceston Cup Final. Not unexpectedly, he produced a number of top hurdlers, most notably Swanky Spirit, Blue Valiant, Fast Valiant, Another Valiant and Valiant Ace.
Jim Breen was born on December 7, 1922, and at 88 years of age is now living at Hervey Bay in Queensland. He owned and trained other great chasers such as Warsaw in the 1940's, the wonderful stayer Iona Ripple, Devonport Cup winner More Champagne and the classy Rockaway Queen.
But it was Valiant Spirit that he kept and spoilt until 17 years of age as a reward his great service. It would be understating the facts to call Valiant Spirit the best hurdler of his generation. He was the greatest hurdler of all time and rightly takes his place in Tasmania's Greyhound Hall of Fame.